When we realize our insignificance in this world,
it some how relieves the pressures from society to succeed -
Cindy Bonish 04/07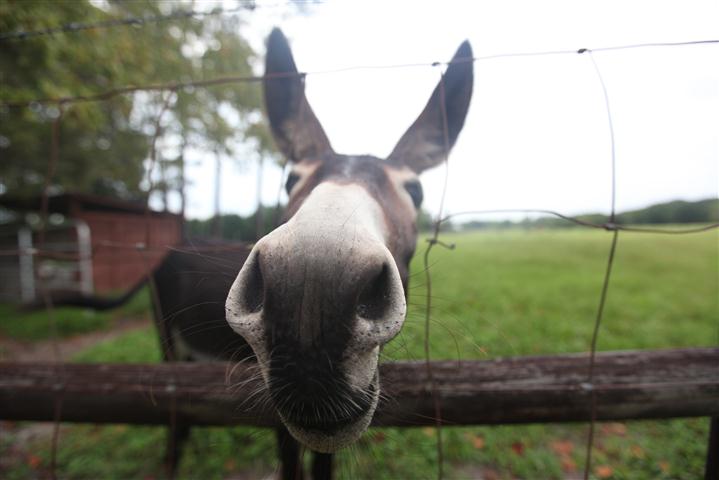 Pat's August 2011 Blog
If this is your first time here, you might want to start from the beginning of our fulltime Journey with our Past Blogs
If You Don't Know Me Yet, Click Here to Read My Bio
****
Monday August 8th 2011 - The Short Vacation
I know I always say I'm going to update my blog on a more regular basis, but sometimes life gets in the way. When we're on the road fulltime, I make it a point to sit down and type out what I've done each day.
Working in Cedar Key, there are times this is impossible. From early in the morning, many times well before the sun comes up, Cindy and I will be doing day to day chores around the motel that carries us through the day and well into the late evening.
Many times we'll be in the middle of a project when someone knocks on the door or we happen to look up from what ever we're doing only to realize we have customers at the tiki bar. This lets us know that it's Happy Hour and we have to stop what ever it is we're working on to move to our night time job.
Believe me, that once you've worked from sun up till after sun down, the last thing you have energy for is to come inside, gobble up some food and sit down in front of the computer to blog about what you've done all day.
There are times I walk into the house, flop down on the couch and fall asleep within seconds of hitting the comfort of the soft leather and that cold air conditioning of the climate controlled house.
Last August, we had closed down for the entire month to head up North to visit our best friends Derrick and Tish in Minnesota, attend the U.P. Overland Adventure and visit with family back in Michigan.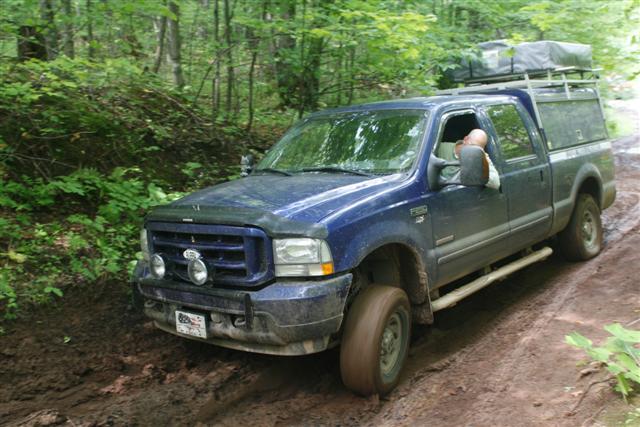 During that time, we maybe missed a hand full of calls so we expected this year to be the same way....NOT! We've been booked solid for the entire month of July and into this first week of August.
A few months ago, Cindy finally went into our reservation system and just randomly picked some days that she thought we'd take off. She made it look like we were booked solid and told me we were going to go a few hours North of Cedar Key to a little B&B in Hatchbend, Florida called the Smoakhouse Ranch.
Cindy had decided we needed some time away from the hustle and bustle of Cedar Key. For those who have come to our idyllic little town, you know how strange that sounds. But for those who have spent any time there, you know how hard the two of us work.
Just like when we owned the Red Dog Saloon in Michigan, and everyone who sat at the bar would tell us "Someday I want to own my own bar", but they have never worked in a bar in their life, the same goes for the motel business. So many people who come and visit see us with our big smiles on our face and see us out at the tiki bar having a ball and laughing all night long and will say "I'd love to work at a place like this, this has to be so fun!", but what they don't realize is the hours spent to make it look the way it does, and keep everything running smooth.
If you haven't figured it out, its a lot of hard work! I'm not complaining, believe me, we have a camper and fully outfitted rig if it got too much, but Cindy and I are weird in a way that we actually enjoy that sort of hard work.
This wouldn't be all that hard if there was a labor pool to pull from, but Cedar Key is unique in a way that everyone who lives here is either retired, or already working. It's not like a big city where you can put a 'Want Ad' in the local paper and have a dozen phone calls the first day it runs. It's taken us 18 months to find a girl we can have clean the rooms to our standards and we still go behind her to check on everything because the motel has such a good reputation of being so clean.
She's been working with us for the past month and it's been amazing how much more stuff we've been able to get accomplished. Normally Cindy and I spend the majority of the day cleaning the rooms, but when we assign that task to someone else, it frees us up to accomplish other things that guests will take notice of. Things around the yard, at the tiki bar or just catching up on the yard work.
Getting back to our vacation, we spent the morning cleaning up around the place and locking everything down. Rather than have anyone try and run it for us while we'd be gone for a few days, we simply put the No Vacancy sign out and locked it up tight.
Since its summer and we're headed to a small ranch that is surrounded by the abundance of Central Florida's springs, packing was as easy as throwing a few pairs of shorts and t-shirts into a duffle bag.
I loaded the camera gear into the back of the truck and we loaded up the dogs into the back seat. Luca was going crazy watching us pack and you could see the anticipation in his eyes. There was no way he was going to let us leave without him on yet another trip without figuring out a way to tag along.
Luckily for them, this small ranch was pet friendly so we had already planned on bringing them with us. I'm sure by the multiple pounds they've added to their frame from sitting still, much like Cindy and I, they're longing to be back on the road and hiking and exploring on a daily basis.
As excited as they both were to be going for a car ride, they were both sound asleep and snoring away just like old times within 10 minutes of being out of Cedar Key.
The ride up North, I think Cindy and I both just sat and tried our hardest to get 'WORK' out of our heads. It was hard to be taking a few days off and not be staying back at the motel to get things finished that we normally put off because we're too busy with guests and the rooms being full.
It has been so long since we've taken a vacation, I think we both forgot how to get into that relaxation mode.
We were almost to Chiefland before either one of us spoke a word. That's 28 miles for those who aren't familiar with our location.
The entire drive North, we were dodging rain storms and lightning bolts. This time of year is when we get hit with non-stop rains, and believe me, we need every ounce of rain we can get, so neither of us were complaining.
If it rained the entire time we were gone, it would be one of those vacations that we'd be just fine with bad weather and staying locked inside relaxing.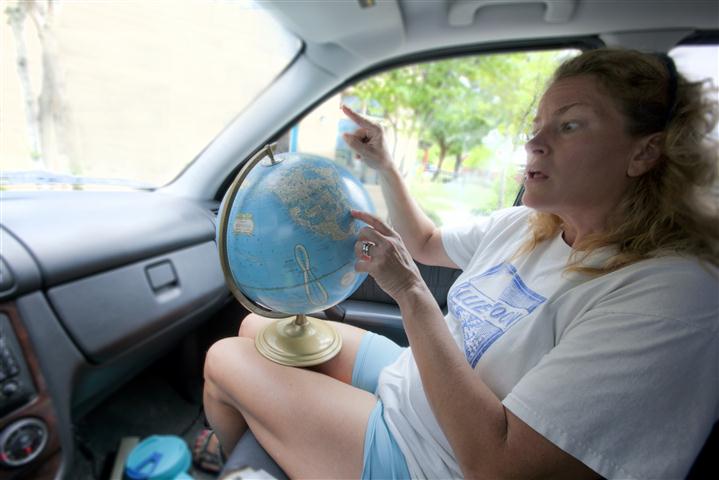 The Smoakhouse Ranch lists some directions on their website that are anything but follow-able, and it states right on their website that GPS will get you lost, so Cindy was sure to bring multiple types of maps to make sure we'd find our way.
Even with the GPS turned on, a Google Maps print-out of the directions and her trusty Globe, we still managed to get lost a few times. But we finally found it and pulled into the quaint, farm setting where we'd stay the next few days.
Remember this is a working ranch. Not that we were looking for anywhere that we'd be put to work, but the property is lined with fenced pastures filled with cattle, goats, donkeys and the earthy smells that go along with those animals.
The rustic Earl Cabin, where we'd be staying looks like something out of a Hemmingway novel. If you've ever read of the retreats writers find when they go lock themselves down to hide out and put their thoughts to paper, this would be the picture you'd see in the dictionary describing such a place.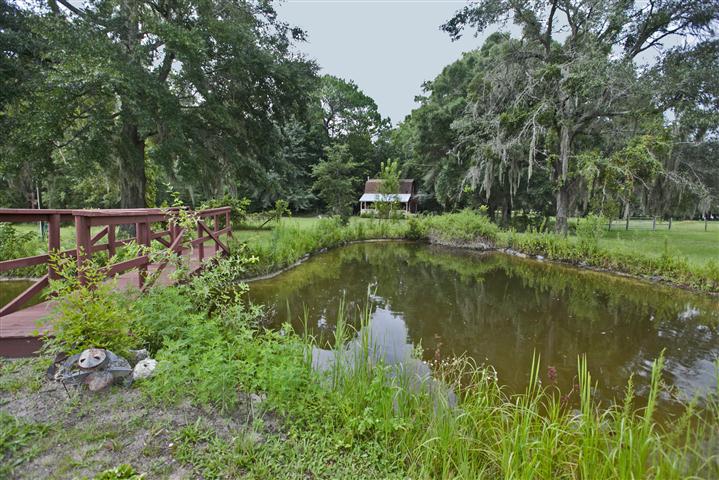 Looking across the pond to the Earl Cabin
It's a small one room cabin with a master loft upstairs that is something you'd expect in the Smoky Mountains or on any ranch in Wyoming. The walls, ceiling, floors and pretty much every square inch of interior are lined with rough sawn wood that has an beautiful aged patina to it.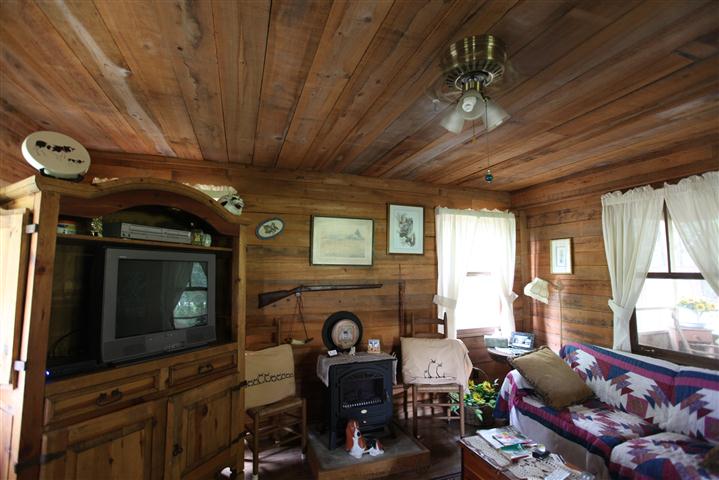 The Living Room inside the Earl Cabin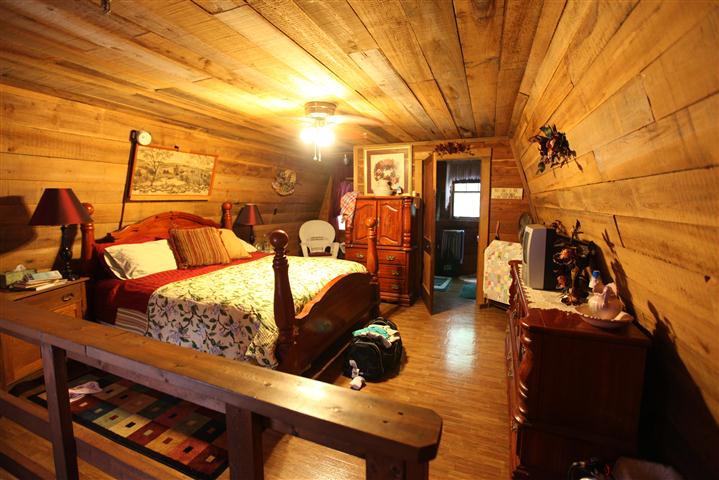 The Loft Upstairs with its big King Sized Bed
The screen door has a squeak that is only found from metal sitting in humid weather for years upon years and reminds me of my Grandmothers house from childhood when every house came standard with a slamming, wooden screen door.
As we pulled up to the small wooden house, Cindy met the owner Emily in the yard who let us into the cabin just as the sky opened up yet again. She showed us around the small cabin, showed us where all the switches to various lights and fans would be and let us know if we needed anything, she'd be over in her house which is only a stones throw away.
Our first job was to crack open a couple of beers and plop down on the rocking chairs on the covered front porch and watch the rain storm pass by. This was one of those amazing Florida Thunder Storms that had lightning and thunder echoing across the sky from all directions.
It would be like sitting in a stadium with the best surround sound system known to man surrounding you and all you had to do was sit back and watch...which is what we did for the remainder of the afternoon.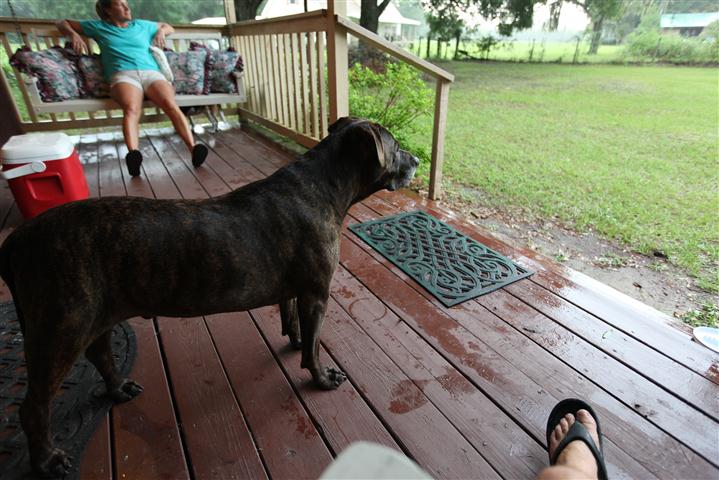 Luca taking in all the glorious farm scents during the rainy day spent on the porch
Luca is just recovering from an upper respiratory infection, so the sounds he was making with his nose pointed straight into the air and his lungs huffing and puffing at an alarming rate as he took in all the beautiful smells from the countryside were leaving Cindy and I with much entertainment. Lucy probably has one of the best noses on the planet, so the two of them were in total heaven just sitting on the front porch sniffing the fresh country air.
The four of us all sat there silent, except for the rain falling on the metal roof when one of the donkeys went into a howling, screeching fit. We would later find out that this is totally normal and happens about every 20 minutes, but this first time the dogs heard it, you'd have thought someone was being murdered right before their eyes.
Luca and Lucy both sprang to attention, their ears moving in every direction possible to try and absorb and make sense of the nightmarish sounds coming from this Jackass only about 100' from us. I wasn't sure if Luca was going to go running at it trying to attack the beast or run from it scared at the sounds coming from it's mouth.
Cindy and I were laughing at them so hard I think it was the only thing that calmed them down.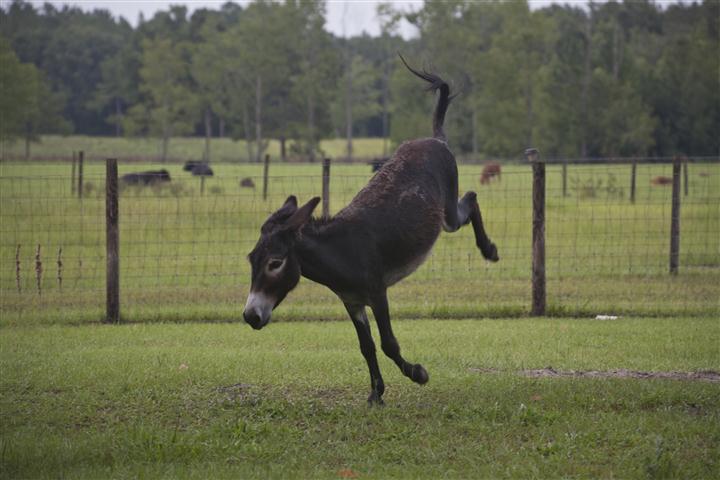 When the mosquitoes came out and drove us inside, we retreated to the comforts of a big couch lined with a heavy, antique quilt and chilled out in front of the TV. Something we rarely get a chance to do without being interrupted by the front door bell ringing or the phone making us get up at a constant rate.
The night was spent with comical one liners we've heard from guests staying in Cedar Key that we were thinking about calling Emily and asking.
"Excuse me, where is the nearest movie theater?"
"Can you tell me where the best place to get a pizza delivered from would be?"
"Can you recommend a spa where we could get a massage?"
"We want to go shopping in the mall, can you give us directions?"
Granted we knew none of these things would be available and even if they were, we wouldn't use them, but these are all things that people ask us on a regular basis. This is back in Cedar Key that actually has a population. Hatchbend is something of a farming community that doesn't even have a main street. This is why it was so funny for us.

Cindy and the Dogs Chillaxing
When we finally climbed into the King Sized Bed, we were both sound asleep within minutes of crawling under the heavy quilt.
About 3am, we were both awoken to the sounds of a frog that must have been sitting on the nearby window sill. This thing sounded like it had a microphone to its mouth for how loud it was croaking. I don't know if this would be as funny for anyone reading this as it was for me, but I sat up and said in a really loud voice to Cindy "Hey, I think Lucy is trying to tell you that she needs to go out!"
This put us both into a fit of laughter before Cindy was punching me in the head telling me to go back to bed and stop waking her up. I think it took me about 15 minutes to stop laughing at my own stupidity.
Tuesday August 9th 2011 - Driving Around in the Rain
This section of Central Florida is loaded with an abundance of natural springs. There are dozens of them within an hours drive of our current location. Other than Manatee Springs State Park in Chiefland and the 3 Sisters Spring in Crystal River, Cindy and I have yet to go explore any of these natural wonders.
That was going to be out goal for today. We started with a nice breakfast on the front porch of the cabin listening to the animals make their funny sounds before we packed up a bag with towels and a change of clothes and headed out for the day.
Our first stop would be Ginnie Springs. This is a privately owned outdoor nature park that spans over 200 acres along the Santa Fe River. There are seven freshwater springs to choose from and tons of things to keep you busy which is why we chose this area first. There is also camping available if anyone is interested which will be something we'll look into in the future. This section of springs is also where many of the divers come visit because of the cave systems they offer for underwater exploration.
It was $12 per person for an entrance fee, but when we pulled up to the main gate, it was just starting to rain. We asked if we could just go check out what was available and see what the weather was going to do before we actually paid our entrance fee because we didn't really want to spend the day sitting in the water in the rain.
They said we'd have to pay upfront, but we'd have 30 minutes to drive around, look at the springs and see what Mother Nature was going to do. If we decided we were going to stay, then just stay, but if we wanted to leave, we had to be back within the 30 minute time slot to get our money back.
We pulled up to the first spring that happened to be Ginnie Spring, and as we were walking up to see the turquoise waters with a bunch of divers bubbles coming up from underneath the cave system, the heavens opened up and it started down pouring on us. Such a shame because it looked picture perfect and reminded me of something out of a movie set.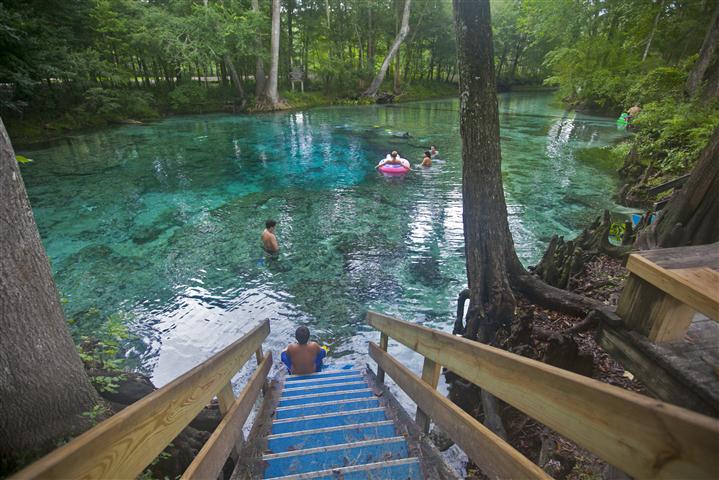 Looking down the walkway leading to Ginnie Spring
This sort of sealed the deal on whether we'd be getting our money back. We waited a few minutes in the vehicle to see if the downpour was just going to pass right over the way many of the storms do, but when we started seeing lightning and hearing thunder way off in the distance, we knew that this was going to last awhile.
We went and got our money and headed into High Springs, which is the nearest town to Ginnie Springs. This is another one of those historic towns that makes Cedar Key look big, if that's even possible. We found a great restaurant, The Great Outdoors Restaurant and had lunch while we waited out the rainstorm.
This particular storm waited us out, because it continued to rain for the rest of the day. Not just a light sprinkle, but one of those rainstorms that adds to our ground water issues Florida is having. We stopped at a few other River Guide Services to check out a paddle for tomorrow, before we headed back to our little cabin on the farm.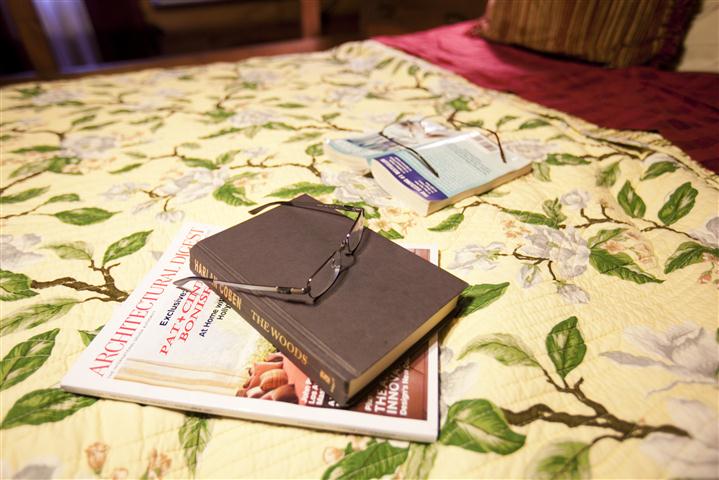 The rest of the day was spent with both of us either kicking back in a rocking chair on the front porch or curled up on the couch reading and relaxing. Isn't that what vacation is all about!
Wednesday August 10th 2011 - Paddling the Santa Fe River
We had planned on waking up first thing this morning so we could get an early start on the day, but since we're on vacation with no real plans, we never set an alarm and it was about 11am before we left the cabin to head out to go paddling.
In our search for something to do yesterday, we had stopped at the Santa Fe Canoe Outpost in High Springs and had talked with a college kid named Greg.
Greg was very knowledgeable when it came to our dozens of questions about the river and we had decided we'd take the longest paddle they offered. Right up front he warned us that the rive is down due to our lack of rains and if we left right from their dock, we have a few portages we'd have to deal with.
He had suggested we pay an extra $10 and he'd move our boat down river a few miles which would put us in safe water and we'd never have to worry about dragging the boat over solid ground.
Cindy and I are old pro's at portages and one time while paddling in Michigan's Upper Peninsula, we had a portage that took us the better part of the day. We had to drag two loaded down kayaks through the thick Michigan woods for about 1/4 mile. When Greg told us our longest portage would be maybe 40 yards, we both shrugged it off thinking we'd have no problem with that at all.
Paperwork was filled out and we were soon in full vacation mode on the water.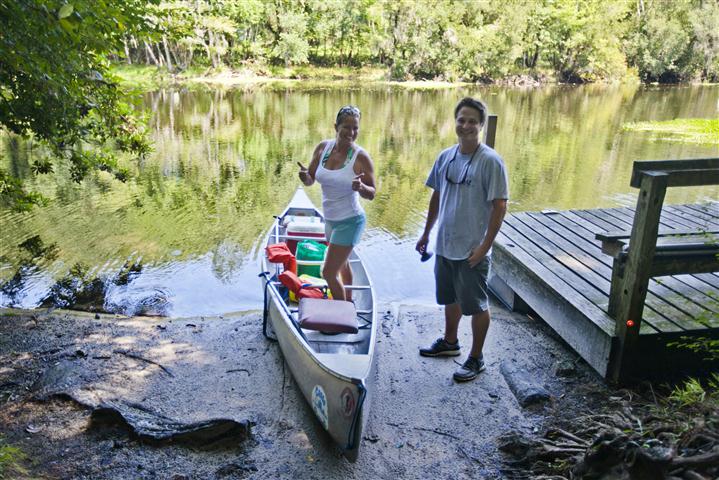 Cindy and Greg at the launch site on the Santa Fe River
Back when we lived in Michigan, Cindy and I were pretty serious when it came to paddling. We've paddled almost every river in Michigan's Lower Peninsula. We've tried our hardest to add many of the Upper Peninsula's rivers to that list and over our almost 4 years spent roaming North America, we've tried our hardest to explore any river we came across.
It's been too long for us to be off the water. You could tell that by our lack of paddle skills when it came to our first mile in the canoe. It didn't look pretty, and I'm sure Greg watched us paddle away from his dock thinking "Good Luck making it to the end of the river in that amount of time!"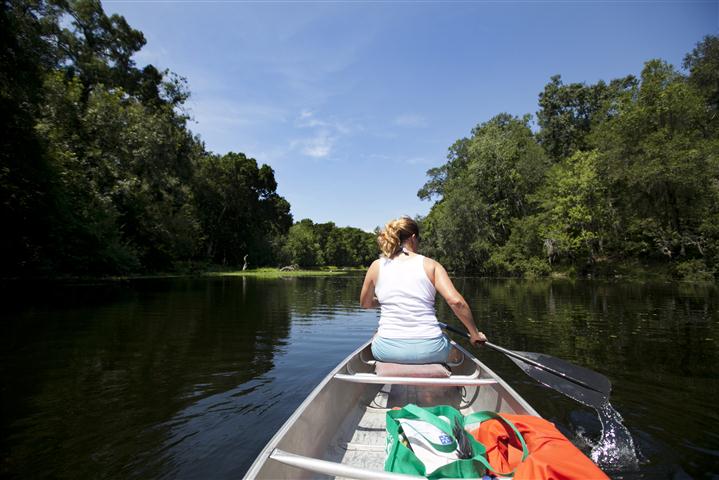 It didn't take long before we both said "Ok, remember what we used to know! Person in back does the steering, person in front is just the motor and don't argue over who is putting the boat in what direction." We both know who ever is sitting in the back of the boat is in charge of steering and the person in front is simply the person propelling the boat.
Within that first mile, it all came back to us and we were quietly floating our way through Florida's remote backcountry. Funny how we're only an hour away from Gainesville, but looking at the banks of the Santa Fe River, you can picture dinosaurs roaming the landscape without too much thought being put into it.
Cindy said "The landscape looks so tropical." My reply was "It doesn't look tropical to me, it looks Jurassic!"
Of course Cindy was the first one to spot a alligator. One that would have me eating my words for the rest of the day. When we first put in, I said "This water is all spring fed and pretty cool at a almost year-round 72°. I don't think there will be any gators on the river."
Then we're paddling along an area where the river is lined with shelf's of Limestone when Cindy says "I'll bet alligators would live right around here."
I said "Alligators don't live along rocky banks, they like mud banks so they can hide and burrow into caves." I'd be eating those words and saying "OMG Cindy you're 100% right!" only a few seconds later.
I hear Cindy's voice go a few octaves higher as she's saying in a very excited but hushed whisper "Look right beside us, there is an alligator right along the bank!"
We paddle in the direction she's pointing till we're only a few feet away from it before it drops below the surface. We see it sink into the crystal clear water and slither below a rocky shelf where it disappears.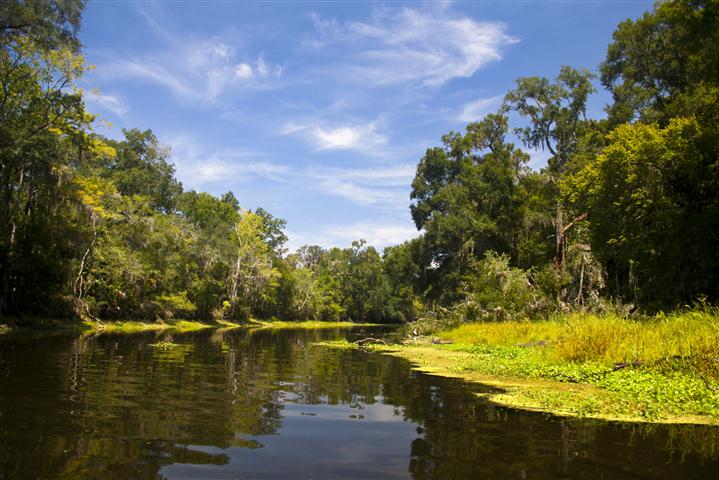 This puts us both in Hyper-Aware mode and of course gives Cindy the self appointed title of Gator Hunter for the rest of the day. This title would be turned into a little song she made up for herself that goes something like "I'm the Gator Hunter, the Gator Hunter, yes I am." That line would be sung to me about a million times throughout the rest of our day long paddle.
Our first series of rocks had me getting out of the boat to pull us down the river while the Queen stayed put. We switched spots so she was the pilot and I was simply the motor and went back to enjoying our trip.
This section of the river was somewhat wide, but pretty shallow. It was loaded with an abundance of birds we're used to seeing in Cedar Key. The trees were loaded with Ibis, Egrets, Blue Herons, Tri-Colored Herons, Red Tailed Hawks and Osprey. The giant cypress trees lining the banks had large flocks of Wood Storks that only added to the Jurassic look of the landscape.
Wood Storks stand about 4' tall, so to see a large flock of them perched along the branches of a towering cypress really makes you feel like you're being watched. Even if the birds aren't that type of predator, I mean they're more afraid of us than anything, but it looks very intimidating seeing so many along the banks and lets you know you're truly in some deep woods.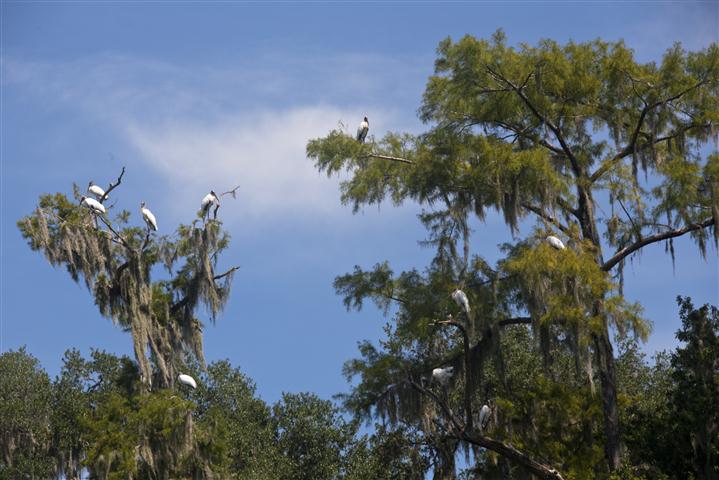 The downed trees in the water were lined with turtles, and not just a few turtles, I don't think I've ever seen so many in my life. Hundreds of hundreds of them.
Our second portage would have Cindy saying "You'd have to pay me a million dollars to put my foot in that swamp knowing there are alligators and so many turtles around!" To a few minutes later having her walk through it in shin deep depths, whimpering and cussing me out the entire way.
Plunging your foot into the shallow, almost scalding hot water was very creepy, when not being able to see the bottom. This second portage was only about 30 feet of exposed lime rock, but dragging the boat over solid rock isn't fun for any length.
The crazy part was where we got confused because when we saw the exposed rock, with what looked like the river stretching behind it for miles, we turned and headed in the opposite direction. Reason being is when the water flowing downstream hit the exposed rock, it turned and flowed into a small hole that looked like it was going to turn and go in another direction.
We started to paddle into the hole before Cindy started yelling "BACK PADDLE, BACK PADDLE FAST!"
We back paddled and got ourselves over to the shoreline where we both got out of the boat and walked up along the rocky bank. We explored the hole that was sucking all the water down into the earth. It didn't go anywhere, and the water from what appeared to be downstream was actually floating upstream and into this hole.
We later told Greg about it who said "During this time of year, when the river levels are really low like this, it's actually called a 'SUCK' as it sucks the water into the ground and pumps it back out through holes in the lime rock further down river."
So were back to dragging the canoe over the lime rock with Cindy and I in ankle deep water that is covered in a layer of small, green lily pads. It wasn't all that bad, but having just seen an alligator was having both of us take each step like it was going to be out last. Before long we were back to floating and paddling downstream.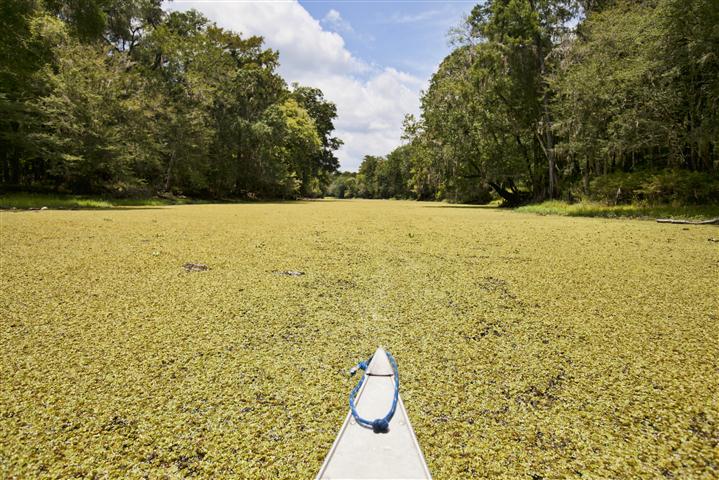 The canoe is actually floating here, but only in about 5" of water
The third and final portage was the longest one. It was at this point when the "Why didn't we just pay the extra $10 and have Greg shuttle us around all of this!?" Which is like saying "I told you so!" and "This is your fault" without actually saying it.
We only had to drag the canoe about 40/50', but once on the other side of the rock, we had to paddle through a few hundred yards of stagnant water that was dammed up due to the shallow depths. This didn't smell all that good, and it was like paddling with an anchor dragging behind us. It felt like we had left the emergency brake on because if you stopped paddling for a second, the canoe came to a stop very fast.
My suggestion if you paddle this river and Greg offers to drop you off below the low water mark, pay the extra $10 and have an easy float.
Once below the upper section where he had told us we'd be good for the rest of the day, the river widens out and gets much deeper. We also were getting closer to where the springs start popping up every mile or so which explains why there is so much more water. The natural springs dump millions of cool, fresh water into the Santa Fe River. You can paddle up the narrow cuts and get out and swim in the springs if you like.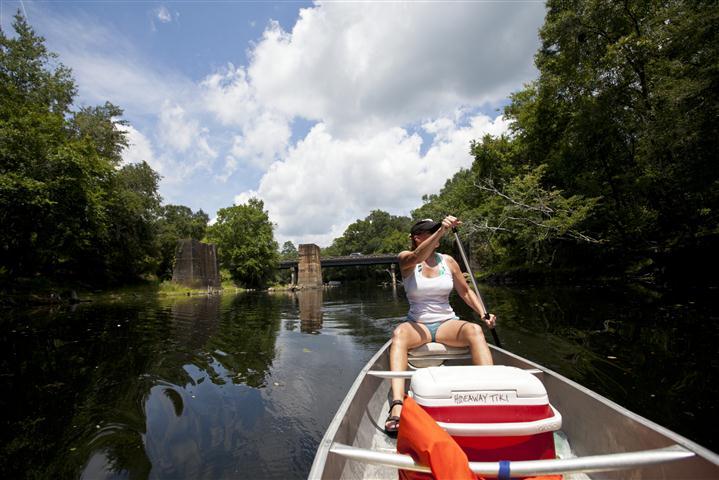 Most of them are privately owned, so some charge you a fee if you get out of your boat, some allow you to swim in the spring for free, but if you want to picnic or use the restrooms, then you have to pay a fee.
We stopped at the first spring we came to, Poe Springs to cool off and get in the water. There was a large group of what looked like High School kids swimming and snorkeling around the springs which were the first people we had seen since leaving the docks back at the Canoe Outpost. Wait, we had seen a one armed guy paddling around in a canoe which was sort of weird, but that was our only other person we had seen over the first few miles.
We knew when ever we'd be getting near a spring because the silence of nature would be broken by kids shouting and girls screeching as they'd be getting in the cold water. Funny that this time of year, 72° feels so cold, but during the winter months, steam will be rising off the water as it mixes with the cooler air temperatures. We both said we'd like to come back and paddle it during the cool months to see the difference in wildlife and river flow.
From Poe Springs we paddled down river till we hit Lily Springs. Lily Spring is very famous because of the caretaker who tends to the private property that surrounds the springs. Naked Ed is a legend in these parts. A local guy that grew up in Lake City who suffers from a form of disease called Brittle Bone Disorder. His bones can break for no reason.
25 years ago someone told him he should bathe in the springs to help his bones. A group was skinny dipping so Naked Ed, just Ed at that point decided to strip down to his God given swim suit and join them. Legend has it that he enjoyed the free feeling of swimming naked so much, he's yet to put his clothes back on.

Cindy standing in Lily Spring talking with Naked Ed who is up on the dock
When we had eaten lunch at the Great Outdoors Restaurant yesterday afternoon, we saw their beer special which was Naked Ed's Pale Ale. Our plates the salads were served on had an artists drawing of Naked Ed's bust on them. When you go to the bathroom in the restaurant, the doors have the same bust of Naked Ed screwed to the wooden door.
Lily Springs is probably the prettiest spring along the river. The cut leading back to the springs is narrow and twisting with high banks and loaded with cypress knees. Once back into the area where the springs feed the river, there is a small clearing with a white sandy beach. Ed's little cabin is situated on one side, and there is a clearing on the other side that is set up for people to camp on.
Ed told us you can camp there for $10 per night, but it's limited to small parties and he prefers families over groups of kids that tend to trash the place. Ed's the caretaker of Lily Springs and spends the summers watching over the place, so the area is very clean and almost groomed.
There are small wooden signs nailed to the trees that have funny sayings on them.
"God made my swimsuit, if you check the label on yours, it was probably made in some other country and sold to you by Wal-Mart"
"If I tried to please everyone, I'd be Miserable"
"Most of our problems we create ourselves"
"Love is a four letter word we don't use enough"
"I don't care how much money you have, if you aren't happy, you're a failure"
"If you're here to make fun of me, laugh at me or argue with me, take your clothes of first so we'll be on equal terms"
These are just some of the sayings nailed to the trees that made me laugh. There are plenty more, but you'll have to go visit Naked Ed yourself to read them all.
There is a small dock beside his cabin that overhangs the water and Ed's built a half wall so when paddlers are approaching, he can stand there in his nakedness, and not offend or shock those who don't know what they're paddling into.
The norm is for people to get their picture taken with Naked Ed in front of the springs. Rumor has it Ed has a photo album filled with photos people send him from their visit. Him standing there with the visitors usually naked beside him.
As we sat in the spring, both Cindy and I fully clothed, well we were both in our bathing suits, but not naked like Ed, I commented that "I'm sure in the 25 years you've been sitting on this dock, you've probably seen some beautiful things here surrounded by all this nature."
Ed got a big smile from ear to ear and said two words "College Girls!"
That made us all laugh pretty hard and he said "See, I am a dirty old man the way everyone says I am."
Naked Ed told us that most people paddle up to the beach, strip down to their birthday suit and jump in the spring for a swim to cool off. He told us some people, usually college girls will spend the afternoon lying on the beach and bathing in the cool waters sans their clothes. It was at that time that I thought about a career change and asking Naked Ed if he needed a protégé.
I could see me spending my summers sitting on a dock overlooking a crystal clear spring that is loaded with naked college girls. I mean most guys would pay for that, Ed simply has to sit on his dock and wait for them to come to him. Even if there was no naked college girls, the view looking off that dock was one I could handle seeing everyday for the rest of my life.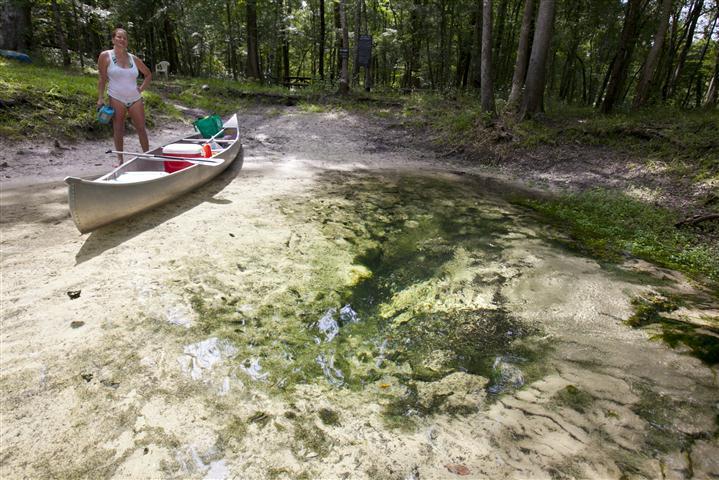 One of the springs in the Lily Springs area
Cindy had told me in advance of paddling into Lily Springs, "Don't you dare ask me to take a picture with Naked Ed!" Something tells me she knows me too well, and the last thing she wanted was a picture posted on the blog of her naked with Naked Ed beside her.
We talked with Ed for awhile before we said 'Goodbye' and wished him well. We paddled back out the narrow little cut away from the springs and into the wideness of the Santa Fe.
We never stopped at Rum Island, which is the next spring downriver because of how loaded it was with people.
We had planned on stopping at some of the springs along the Ginnie Springs area. This is the place we came to visit yesterday that has so many different springs to explore.
Paddling up from the river side was a totally different experience. Our entire day we'd talked of how clean and clear the water was. We'd both noticed the lack of litter and the shorelines were free of any beer cans or discarded Styrofoam coolers.
All that changed when we neared Ginnie Springs. Remember, their big thing is a tube run where you put in at the top of their property and float downriver to the end of their property where you take out. This lasts maybe an hour or so depending on how fast the river is flowing.
Ginnie Springs should be ashamed of themselves for how much littler they allow in the Santa Fe River throughout their section. As soon as we passed the section where the tubers put in, the river bottom was lined with empty beer cans and debris.
The banks of the river were loaded with aluminum cans, coolers were washed up in the cypress knees, clothing was hanging from branches beside the numerous rope swings and the whole area looked like a college spring break had just ended.
Now wouldn't you think the folks who own Ginnie Springs would institute some sort of policy that people floating down the river have to carry their beers in mesh bags so they can just drop them in the river?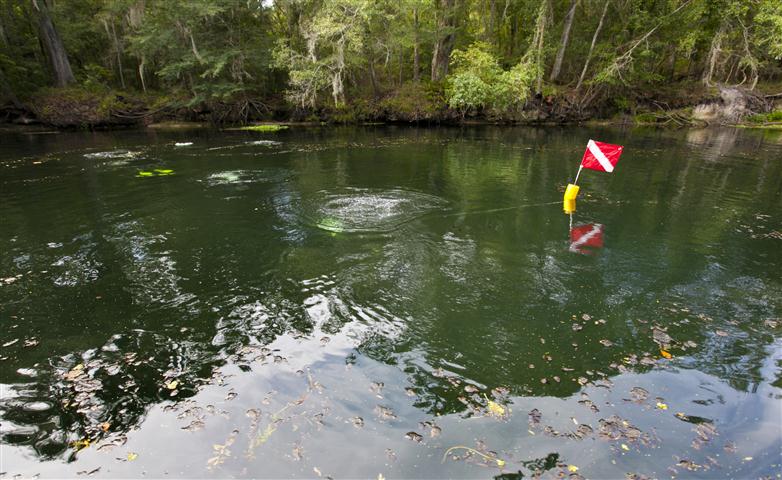 Divers on the Santa Fe River
I mean this is how they're earning their income. Or wouldn't you think the Florida Wildlife Department would come around and write some tickets for those idiots who just leave all their garbage along the pristine banks of the river?
It was disgusting that the second we hit the property line of Ginnie Springs, the entire river changed. Divers were floating down the river exploring the limestone edges and the river gets much deeper in this section. Cindy and I both said that it would make total sense for Ginnie Springs to offer divers some sort of incentive to come back with empty beer cans from the bottom of the river in exchange for their dive fees.
It would be a simply way to keep the river clean and wouldn't cost them a cent. For how many aluminum cans we saw on the bottom of the river, I would think you'd make some serious money just in the recycling fees you'd collect from all the scrap aluminum.
This meant we never stopped at any of the springs along the Ginnie Springs section. Such a shame too because this section of the river would be the most beautiful section if it wasn't for the amount of litter we saw.
From Ginnie Springs, the river picks up steam and flows faster than it was at the upper sections. Probably because of how much water is being pumped into the river from the multiple springs.
By this point in the day, our backs were tight and we'd been paddling for almost 4 hours straight.
The last hour we just kicked back and let the river carry us downstream. We talked about taking more time off and enjoying more of the bounty Florida has to offer. People come from all over the world to take in many of these sights that are only an hour or so from our house. Yet we don't even go out and enjoy them.
We both made a promise that from here on out, we're going to try and get out more often and enjoy more of this.
We had planned to meet Greg at the State Road 47 take out at 6pm and as we rounded the last turn, we saw him sitting on the boat ramp waving to us.
When we paddled up we asked what time it was because neither of us knew if we had made him sit and wait for us. He looked at his watch and said "It's 6:06, you're right on time."
Driving home, we were both having trouble keeping our eyes open. 6 hours of non-stop paddling in 100° heat is enough to drain anyone. Add to that the excitement of watching for alligators the entire time (Cindy, the Gator hunter ended up seeing one more gator bringing her total to 2) and we were both wiped out.
We got back to our little cabin and plopped down in those wooden rocking chairs with an ice cold beer. It was about that time the heat of the day caught up with us. We both went inside, filled up the big claw footed tub with somewhat cold water and washed off the days sweat.
It was all I could do to stay awake, which sounds real romantic doesn't it. I think we were both asleep before the sun set. But we're on vacation, so it doesn't matter.
Sunday August 14th - Karaoke at the Tiki Bar
We got a call from our friends Amanda and her husband Hazie who called to say they were coming down to Cedar Key and they were going to bring their Karaoke Machine.
Hazie got an awesome Karaoke machine last week for his birthday and while at the birthday party at his house, he realized how in love with singing and holding onto a microphone Cindy is (She never let go of one of the microphones the entire party)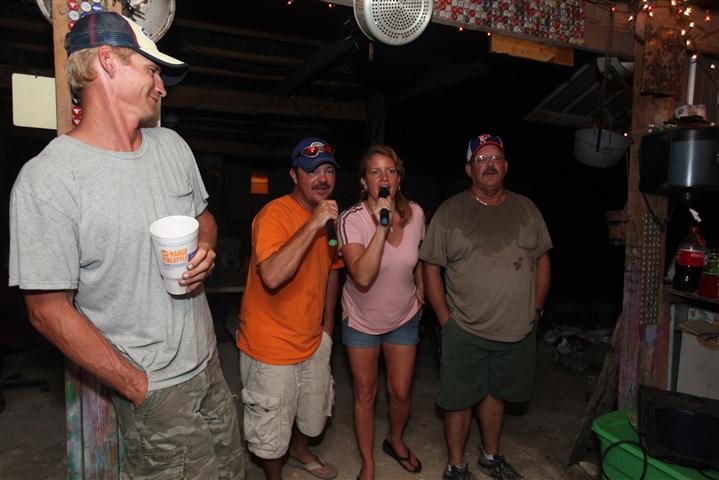 Hazie and Cindy on the Mic's with Kevin and Harold looking on
When we got home, Cindy said she wanted to get one for the tiki bar, but I keep saying it will be too loud. Sunday night we had no guests staying in the motel and we knew it would be a really slow night. So Hazie said he'd bring it down and set it up at the tiki bar, and we'd see how loud it was inside the rooms and around the grounds.
You know what this meant, it means that Cindy was in total heaven. She's always jokes around saying "I want to have my own karaoke machine so I can sing when ever I want to!", but to have one out at the tiki bar was the next best thing.
So our night was spent singing, laughing and watching a beautiful sunset.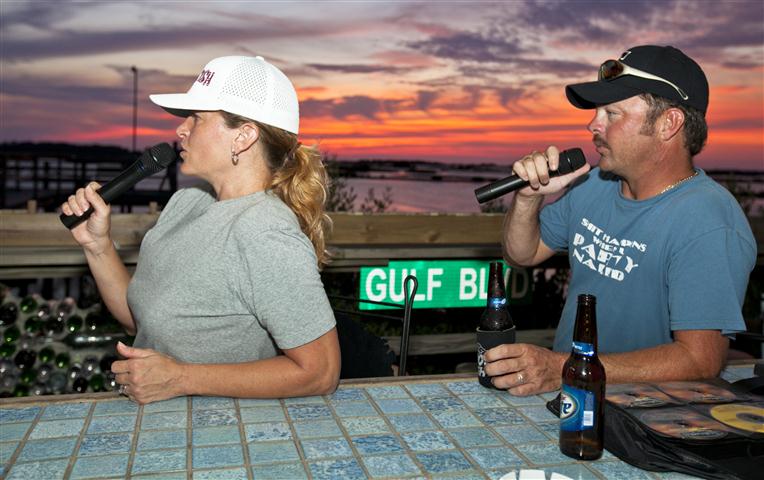 Cindy and Hazie doing their Favorite Thing - Singing Karaoke
We found that the sound inside the rooms wasn't all that bad even with all the crooning going on just outside the back door. Weird part was it was pretty loud out in front of the building. Almost like the sound was jumping right over the building and standing in the road, it felt like you were sitting right in the tiki bar it was so loud.
I think we'll have to do a few more test runs before Cindy gets her dream karaoke machine.
But man, it was a fun night out at the tiki bar. Then when it was time to pack everything up, Hazie asked "Do you think I could just leave this here tonight? I don't feel like packing it all up this late."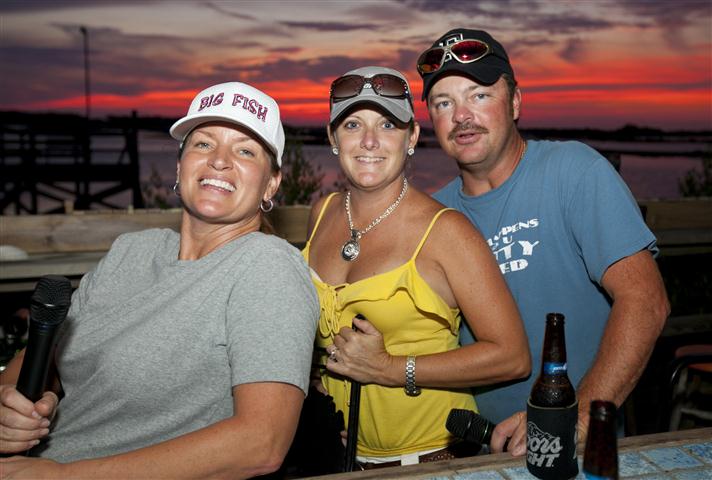 Cindy, Amanda and Hazie enjoying their night at the Tiki Bar
I didn't feel comfortable with leaving it out at the tiki bar because the open air bar isn't 100% waterproof. If we get heavy rains, which we get quite often, the entire bar gets wet. But I said I could load it onto the dolly I keep out there to move beer around and we could just wheel it right into the house.
You should have seen Cindy's excitement when she found out we were going to bring the system into our living room. It was like seeing a 6 year old on Christmas morning.
As I was showering and getting ready for bed, she was sitting out in the living room still singing to herself. As if the last 5 hours of singing around the tiki bar wasn't enough, she still had to cram in a few more songs before she went to bed.
Tuesday August 16th 2011 - Getting Ready to Leave
I'm now counting down the minutes till we leave for Minnesota. The past few days have been downright agonizing while we wait to go visit our friends.
Agonizing for me because I've been living with a crazy woman who has a PA System in the living room.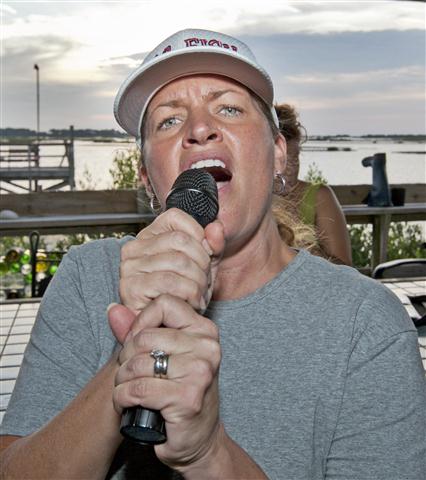 Monday morning I wake up to Cindy singing her heart out. She spent the entire day with a microphone in her hand booming her voice to me through the speaker system. Something as simple as asking me if I want more coffee would be asked through the PA System as her voice echoes around our house.
Funny part is the cordless mic's work throughout our entire place, so she'll be in another room yet still talking over the speaker system that is sitting in the living room.
Last night I come in from sitting out back talking with a guest and what is she doing? Sitting in the living room singing karaoke to herself! I swear she's gone totally mad with this thing.
We're getting ready to have a new sidewalk put in front of the motel, so I finally got her away from the Karaoke Machine long enough to come out and help me pull out the railroad ties that have been rotting away and holding water.
Once those were removed, we sat out back talking with Tim and Kathy MacLean who run Foundation Stone Ministries. They're staying with us right now and were telling us about their mission work they do in Africa.
It sounds very rewarding and sounds like something Cindy and I might try out if we could figure out how to make a trip to Africa. Tim brings missionaries down a few times a year to help build orphanages and help those who are less fortunate than we are.
We shared some travel stories from our past while sitting out back as the sun set over the Gulf of Mexico. It was funny because we've all visited many of the same places around the country, we've just visited them at different times throughout our lives.
Tim and Kathy told us stories of raising their kids while traveling and living in various parts of the world. Its always fun to hear fellow adventurers talk of their favorite places and relive some of their worst experiences, which always make for the best stories.
We finally had to excuse ourselves so we could make it into town before the restaurants closed. Everything closes so early here, you have eat pretty early or you'll end up going to bed hungry.
We met Heath and Jolie at the Island Hotel so we could get our weekly Burger Fix and sat talking with them for the rest of the evening. This would be our last time we see them before we leave for Minnesota.
Thursday August 18th - Leaving for Vacation
Our flight left at 8am out of Orlando this morning. This meant we were up and on the road at 4am. Orlando is a couple of hours drive from Cedar Key, and we needed to be there an hour early to put the truck in the long term parking and get the shuttle to the airport.
The flight itself sucked, but what more can you say about sitting in a hard seat with no elbow room, breathing re-circulated air for a few hours? The fact that we can crawl in this aluminum skinned bird and be on the other side of the country in a matter of a few hours is just awesome.
Cindy and I both love driving and going on road trips, but when you need to take a weeks vacation and you need to be in Minnesota for that vacation, driving isn't an option.
We didn't pack all that much because we planned on going to the Mall of America so we could actually buy some clothes. Everything we own has become work clothes since being in Cedar Key. We don't really have clothing stores to restock the closet and shopping in Florida stores you don't find the clothes we'd need for those cool fall mornings and evenings we'll be experiencing up in Minnesota.
This was a scheduled part of the vacation and something I think Cindy was looking forward to. Neither of us like to shop at all! We buy most of our clothes on-line or out of catalogs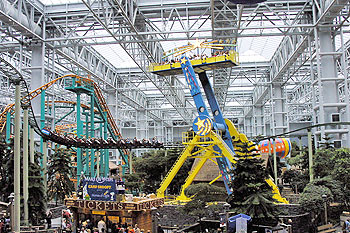 since we live so far away from the real world. If you've never been to the Mall of America, it's an experience all itself. There is an amusement park with big roller coasters, an entire floor with nothing but restaurants and bars, and multiple floors of clothing, shoes and every other kind of accessory you could wish for. There is a hotel, there are churches and all sorts of other things you wouldn't expect in a mall. Plus, there is no Tax charged on clothing in this mall.
We needed a camera crew following us around because it was very comical to see us arguing over the buying of clothes and the various fashions that are the current rage. I hate, and I mean HATE skinny jeans. I think anyone wearing them looks silly and should be pointed at and made fun of. Plus, this is the style that suits the 17-25 year old crowd. I'm not in that crowd anymore and I know what fits me and feels comfortable and that's what I'm looking for.
Cindy on the other hand thinks I should follow the current trends and was trying her hardest to get me into a pair of these ridiculous looking jeans. Not Gonna Happen!
There were stores that had big advertisements of half naked men and women that looked like you could wash your clothes on their abdomen that she kept saying "Let's go look in there!" I'd just simply ignore her and keep walking. I don't look like that guy nor will I any time soon.
While she was in one store trying things on, I went and found the Columbia Store. This is the type of store, that if I was to ever win the lottery, I could probably walk into and spend my entire winnings on apparel and outdoor gear. Much like a Patagonia store, an R.E.I. store or any other technical clothing company that I usually buy my clothing at, this is where fashion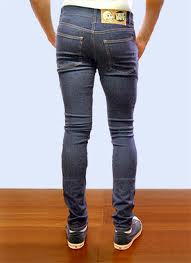 takes a back seat for usefulness yet still looks very good.
I know I can spend a little bit more money than at a big box store, but the clothing is meant to breath, stretch to the activity we're doing or just keep up with active folks like us. Funny part is when Cindy caught up with me in the Columbia store, she ended up getting more things than I did. I limited myself to one pair of pants which was very hard to do. I think she got a shirt and a pair of pants for herself. She's a lot like me and it was hard for her to not want one of everything, but the clothing is a little beyond our price range, so we really had to be picky with what we bought.
I wont bore you with the entire day of shopping, but it was a lot of fun, and that's a stretch coming from two people who hate to shop. It reminded me of being a kid and going Back-To-School shopping with my parents.
Funny fact that I will share. When I was packing my luggage last night in Cedar Key, I picked up a pair of dress shoes...the only pair I own. I said "Man, these are in rough shape" holding them up to show Cindy how worn one edge was on the sole.
She threw down her clothing she was packing and walked over and snatched them out of my hands. She said "NO, you're not going to wear these anymore!" She then walked over and threw them away.
I gave it some thought and said "Do you realize I bought those shoes when we owned the Red Dog and flew to Minnesota for the NHL All-Star Game back in 2004! I think I actually bought them in the Mall of America!" We both got a good laugh out of that and I realized I hold onto my clothing for too long. Show's you how much I wear dress shoes. I've gone through a half dozen pairs of hiking boots and probably 10 pairs of flip flops, but I guess I can keep my dress shoes for longer than I should.
I joked with Cindy and said "Heck, by this point, those Dr. Martin's have probably come back in style."
With arms filled with shopping bags and a credit card that had smoke simmering off the back of it, we loaded up our new wardrobe in the rental car and headed for Victoria. Derrick and Tish live in a quaint town about 45 minutes from the downtown St. Paul area.
Within no time, we were passing out hugs and saying hello to one another as we arrived at their place.
Let the Games Begin!
The rest of the evening was spent with us catching up on what's been going on in one another's lives since we last visited. Remember they spent a week with us in Cedar Key during the spring time.
If Derrick and Tish were to ever quit their day jobs, they could both get jobs as gourmet chefs. Our dinner consisted of thick juicy steaks grilled with just the right seasoning. Pan seared scallops that could fill the palm of your hand and steamed greens that stayed crunchy yet tasted sweet and juicy.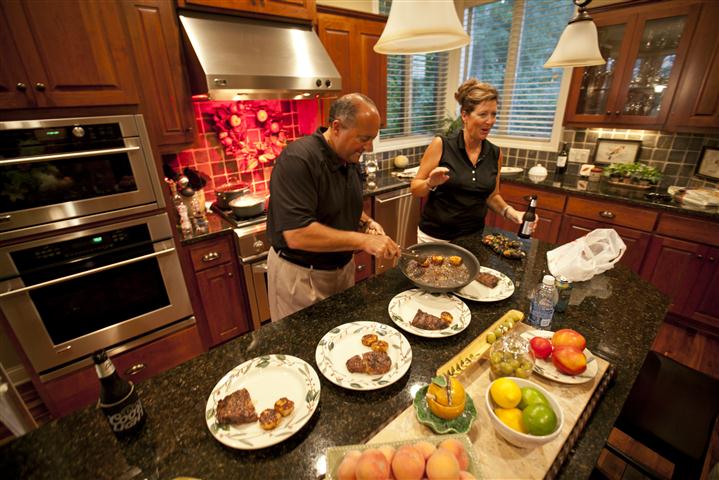 It was an awesome night with the perfect cool weather on the screened in back porch of their house spent around a big roaring fire in the fireplace. It's good to be on vacation and spending it with such good friends.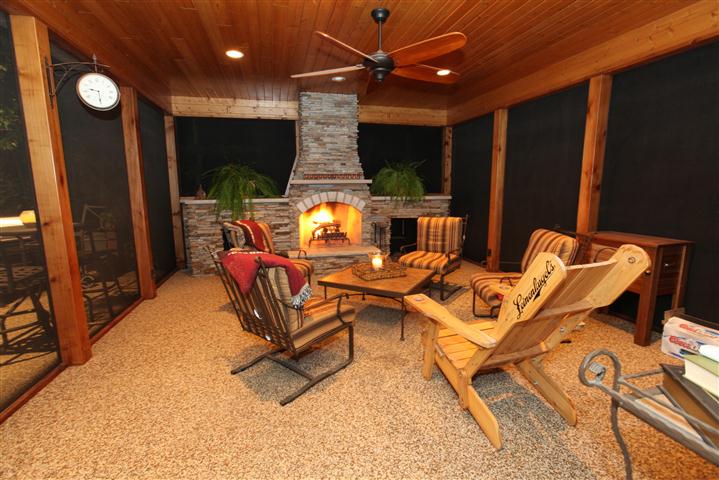 Friday August 19th 2011 - Boating on Lake Minnetonka
We were all up bright and early this morning and it looked like it was going to be a perfect day on the lake. Derrick and Tish had a big day planned for us and couldn't wait to show us their new boat.
Derrick had upgraded from the Four Winns they had the last time we visited to a much bigger and wider boat that is more comfortable and suited for entertaining. Something they do a lot of.
We unloaded the gear at the marina they store the boat at and we met some friends that would be joining us. Introductions were made and the boat was untied as we headed out on the beautiful water.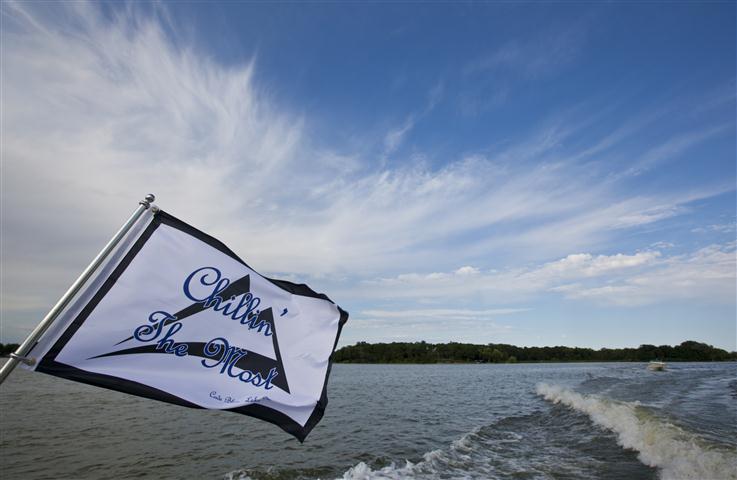 Just picture a perfect summer afternoon in the Heartland. Temps were in the high 70's, I think it was 78° with a slight breeze that had a chill in it to keep you comfortable. There were big white clouds in the deep blue sky and the beers were ice cold. If I was to fall over dead right here and now, I'd picture myself waking up in heaven to the same scenes around me.
I know why Derrick and Tish love this place so much. With their jobs, they tend to move to different cities every 3-5 years. They're coming up on the 5 year mark of being in Minnesota and they both said they don't really plan on leaving here, they love it that much. I can fully see why, for it's beautiful here and everyone we meet seems very outgoing and energetic.
We motored around Lake Minnetonka for an hour or so just talking and getting to know Randy, his wife Juline and her sister Liz that had joined us on the boat. After awhile of just sight-seeing, something that is very fun around Lake Minnetonka because of the mansions and beautiful homes that line the humongous lake, we found a nice secluded cove to anchor in and everyone got in the water.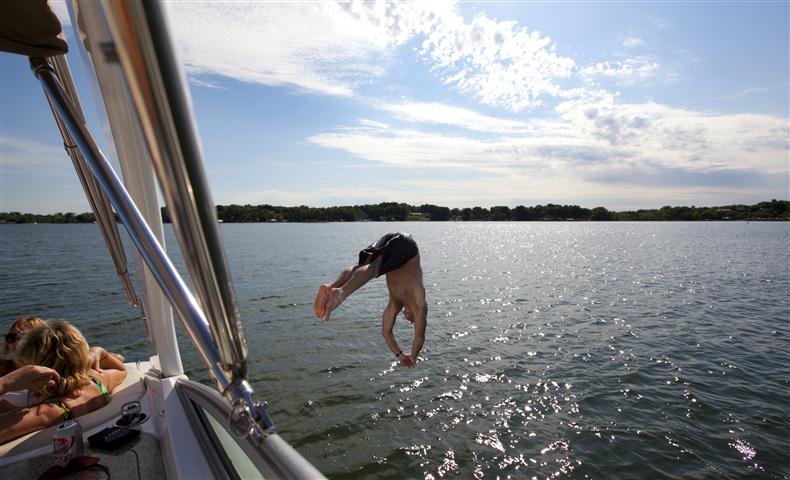 Hours seemed to fly by as everyone talked, laughed and just relaxed the best way known to a working man, sipping on ice cold beers while floating on the water.
After a few hours of this work, we motored across the lake to Lord Fletchers Restaurant. This place is a Mecca for boaters on Lake Minnetonka and it's hard to get a seat on the patio during the summer months because of how busy the place is.
True to Derrick's form, we sat down at a table and he orders a Case of Coors Light and one of EVERYTHING from the appetizer menu. The waitress just looks at him thinking he's joking and he says "Look I'm gonna make this easy on you, just bring us what I ordered."
The rest of the afternoon was spent listening to the live music and laughing our heads off at the various stories being passed around. There were numerous times that Cindy was heard saying "Do you think the musician has an extra microphone I could use?"
You could see her chomping at the bit just wanting to get up and karaoke. I think this obsession has turned into a sickness.
This was all before the rounds of Patron started coming to the table. It was all downhill from there.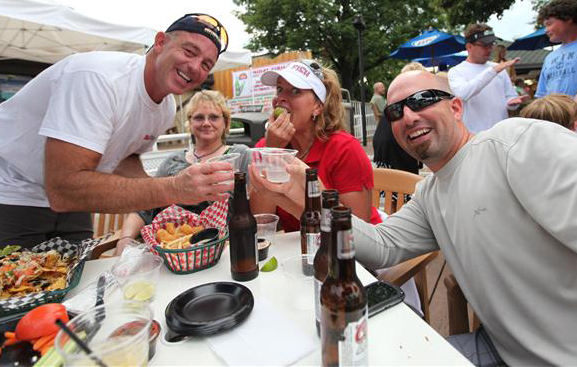 It was getting late in the afternoon so we all piled back onto the boat and headed back for the marina.
I think it was around this time that Derrick or Tish, I cant remember which one went and got it, the microphone that is. I think they were sick of seeing Cindy sing into her Beer Can pretending she had a microphone. Actually she was using anything she could get her hands on to pretend she had a microphone. When Cindy saw the actual microphone, she went ballistic and the party had now officially started.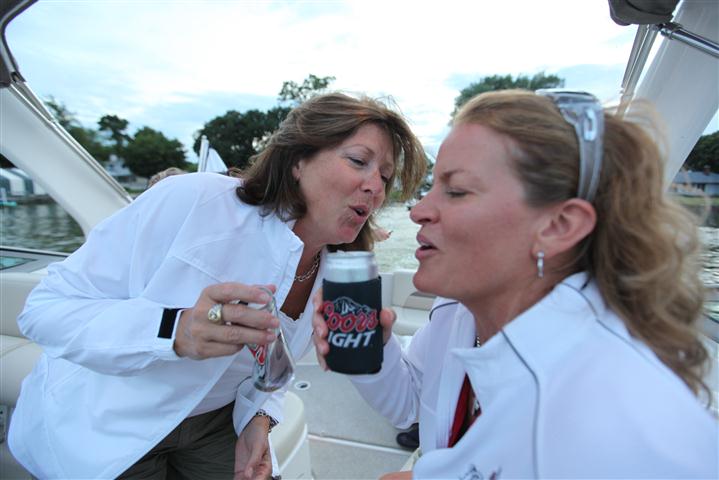 The Beer Can Microphone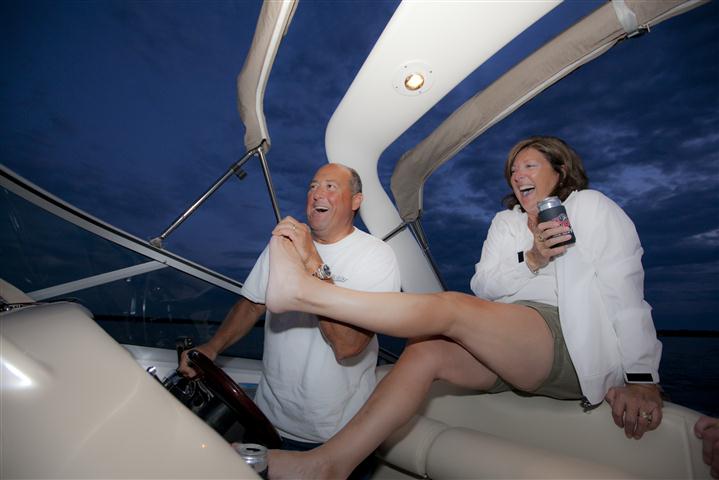 Big Toe Microphone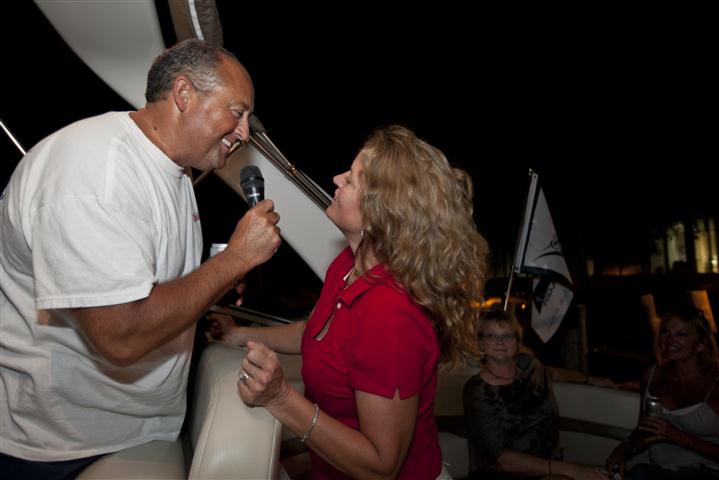 The Emergence of the Real Microphone - See how bad Cindy wants to Snatch it out of Derrick's Hand!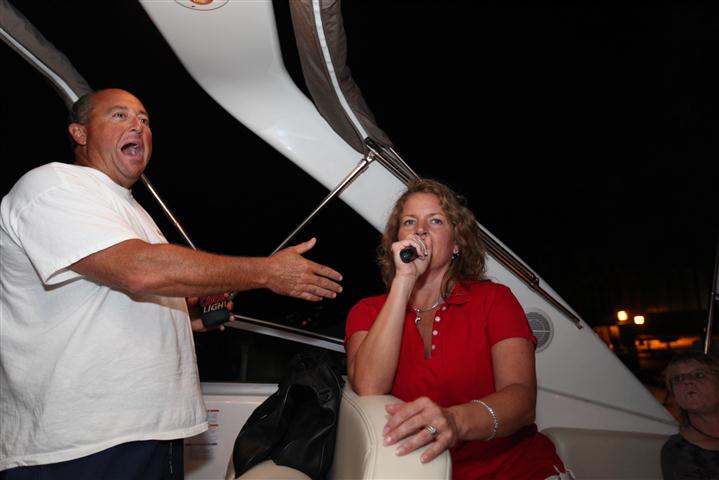 The Passing of the Microphone - Derrick announcing that Cindy Bonish now has a real mic
Within Seconds, she went from just singing into what ever resembled a microphone to full on Entertainer Mode.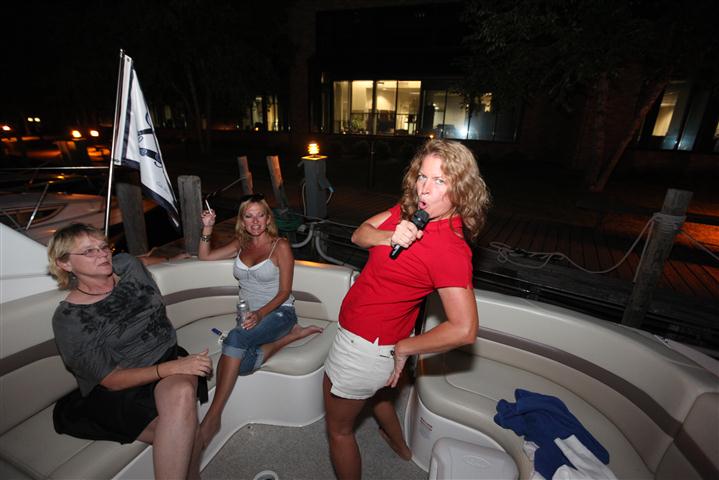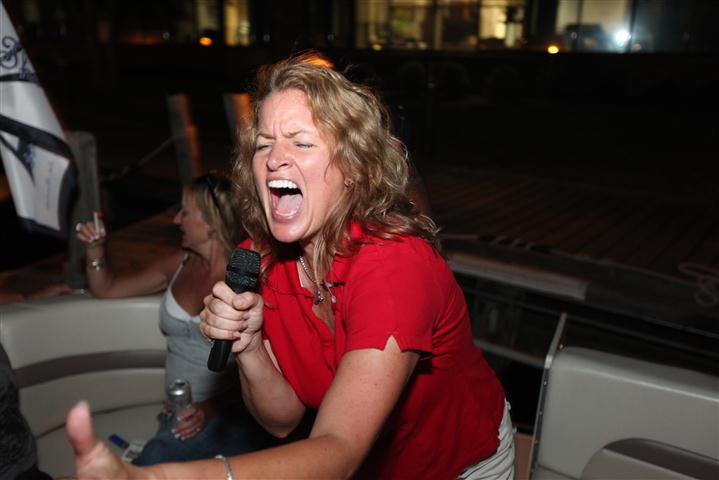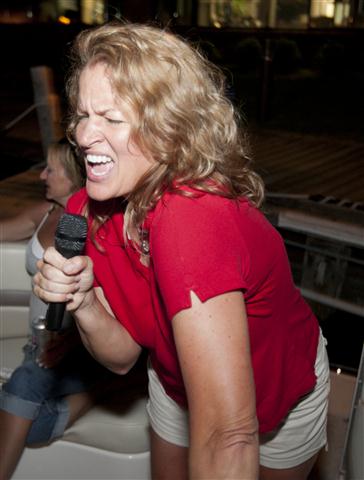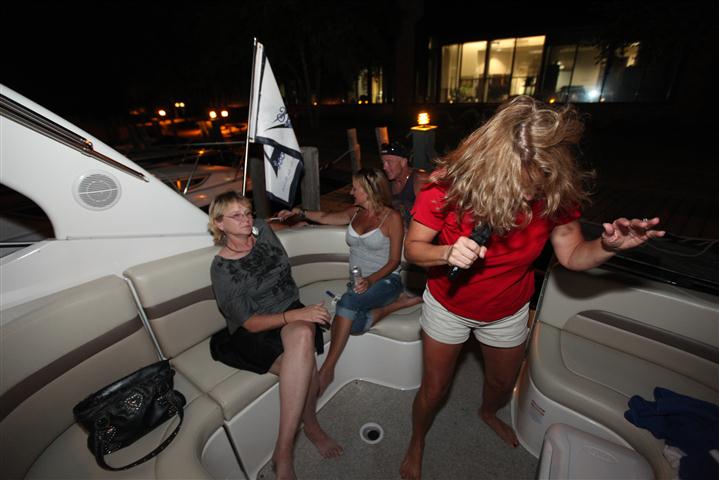 With the music blaring, Cindy singing her heart out, I think Randy and his wife Juline were starting to wonder what they had gotten themselves into.
Remember that by this point, we're back at the Marina where Derrick and Tish keep the boat. This marina is pretty high end and has a beautiful restaurant with a big outdoor patio. The patio is about 4 slips down from their boat and everyone was getting quite the show from Cindy on the Microphone. Probably much more of a show than they bargained for on a Friday night.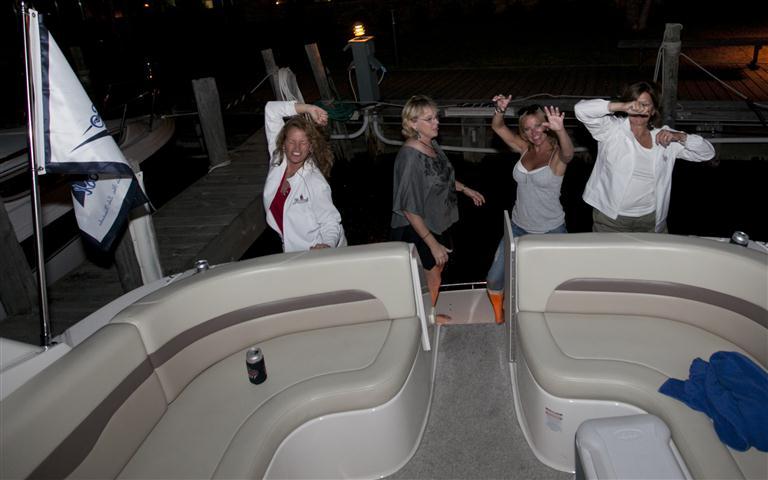 From Singing, the show moved to dancing on the back swim platform. The girls were great entertainment for the people enjoying their dinner at the restaurant.
When the music was finally turned down and while we were packing everything up, numerous people came by to thank us for the show and comment on how fun it was to watch. So I guess we didn't upset anyone, they just knew we were harmless and out to have a good time.
What an awesome day we had on the water and the only thing we had to look forward to for tomorrow was a total repeat of today, only it would start much earlier.
Saturday August 20th 2011 - Big Island, Lake Minnetonka
Yesterday was just a warm up for today. Friday was more of a teaser as to what today would be like. Derrick and Tish kept talking about the sandbar at Big Island and how crazy it will get on a good weather weekend.
Today would live up to all the expectations and then some. For most of the time we had sat in the quiet cove yesterday, Derrick and Randy had rolled t-shirts so today they could shoot them out of Derrick's T-Shirt Launcher. Yep, I said T-Shirt Launcher....like the ones you see in the big stadiums.
We were on the boat early this morning despite all of us moving somewhat slower than we were yesterday morning.
Good friends Deb and Scott would be joining us today. You might remember them from last year when we attended WeFest in Detroit Lakes Minnesota. They were camped right beside us and we've kept in touch via Facebook and emails since.
By the time the 4 of us showed up at the Marina, Deb and Scott were already sitting on the back of the boat sipping on Bloody Mary's. We loaded up the coolers with fresh ice, topped off everything else (5 cases of Coors Light) and were soon motoring out over a glass like Lake Minnetonka for yet another day of perfectness.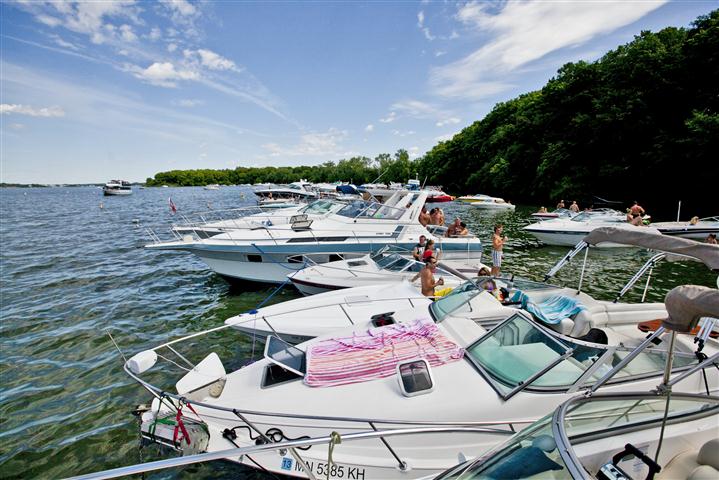 Looking down the line of boats -
This was when we first got here...By the end of the day, add 100 more boats to this line-up
Big Island looked a lot different today than it had yesterday. We were pulling up just a little after 12 noon and the boats were already lined up from edge to edge (roughly a mile long line of boats stacked two deep). My first thoughts were "I cant believe the amount of money that is tied along this shoreline right now!" That thought would soon be out of my head as I noticed the amount of beautiful women that were on the boats!
Derrick backed us in-between two boats that had some music blaring and before long, everyone was either in the water, lounging out in the sun or just kicking back trying to work off the grogginess from yesterdays festivities.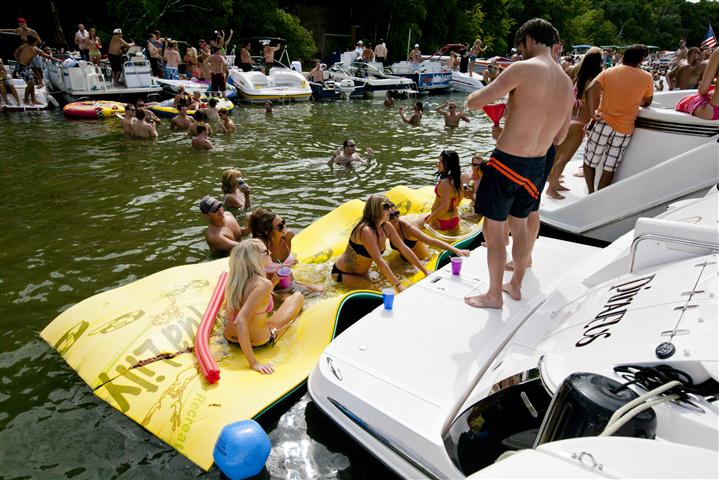 Girls Floating on a Lilypad
Imagine Spring Break on the strip in some Beach Town. Big Island is similar to that, only it's on the Sand Bar and everyone is standing in waist deep water playing catch with Frisbee's, lounging in a float or just standing on the back of the boat dancing to the music. Imagine music as loud as it would be pumping out of a night club DJ system and plenty of dancing and craziness going on from every boat in the line-up.
When Derrick would pull out the T-Shirt Launcher, the people all around us would go crazy yelling and screaming for him to shoot one in their direction. When it shoots the shirt out, it sounds like a shotgun going off as it uses compressed air to launch the shirt.
The T-Shirt launcher is the ultimate One-Upper. On the water, no matter how big of a boat you think you have, someone will pull up beside you with a bigger one. No matter how much money you dump into an amazing stereo system, someone will pull up with one that is louder and has more bass than yours does.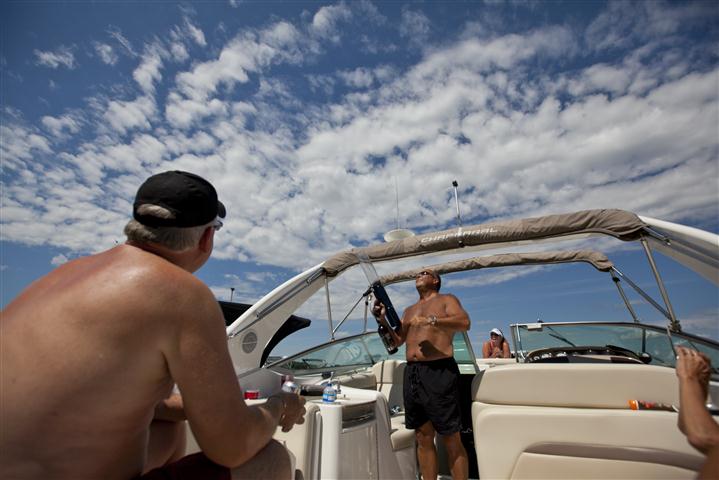 Derrick with the T-Shirt Cannon
But just when everyone thinks they have the biggest boat, the loudest stereo system, or the most women on their boat, in floats Derrick with his T-Shirt Cannon. When he stands on the back of his boat with that thing, that boat a few slips down from us that is pushing 50 feet in length or the boat that has drowned out every other boat on the water with their stereo system, well all the beautiful women on those boats start going crazy for the shirts Derrick is launching. Instant One-Upper...LMAO!!
The antics going on around the Island can keep one occupied all day long. From boats with Stripper Poles to Pontoons with Bachelorette Parties with all the girls in their bathing suits. One girl was in a full Tigger suit dancing on the back of the boat for the better part of an hour or more till she finally fell over and passed out.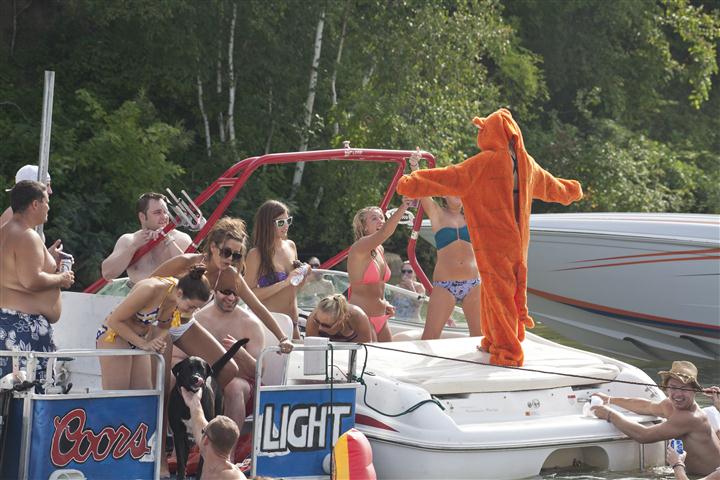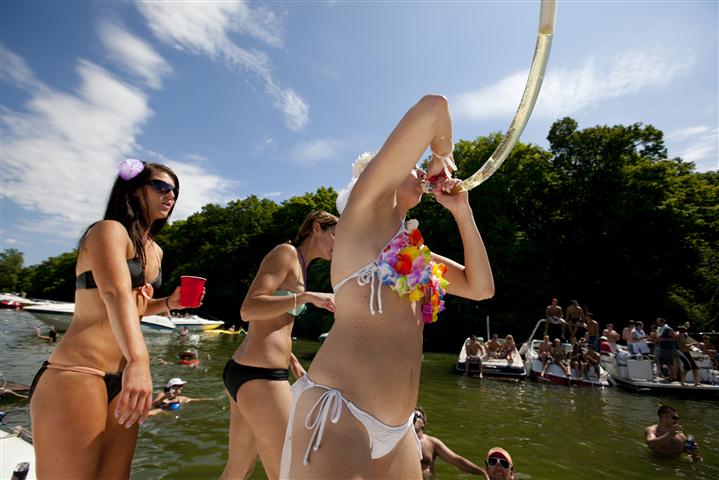 Bridal Party Beer Bong
Some people will never get in the water the entire day but will make their way up and down the line of boats by simply walking from boat to boat and mingling with everyone along the way.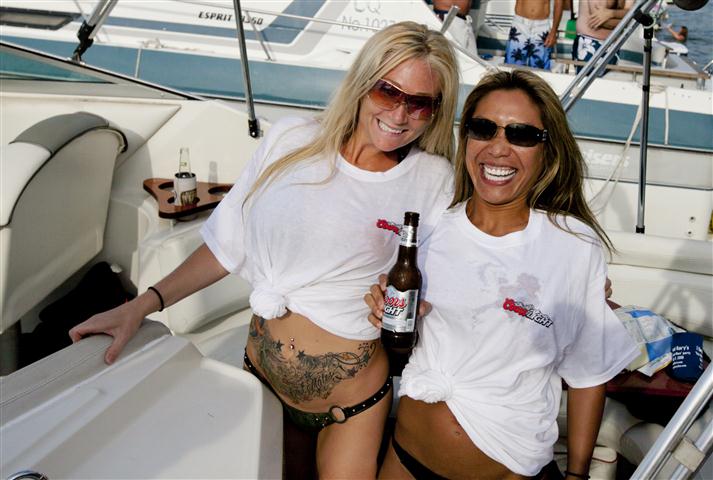 The Horrible Life of a Beer Rep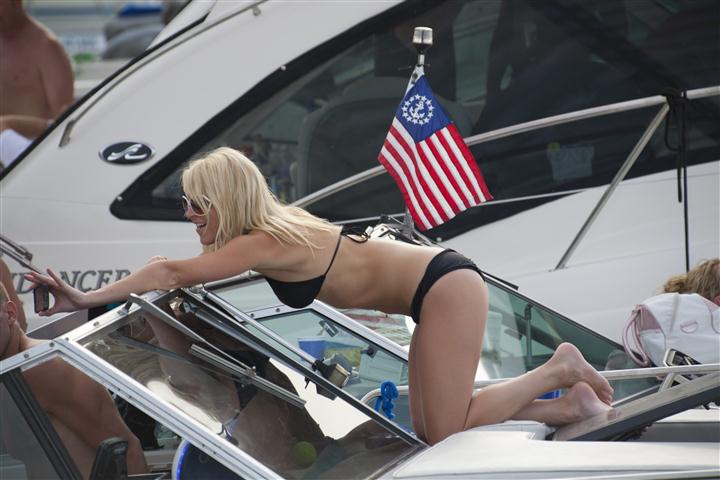 All American Boating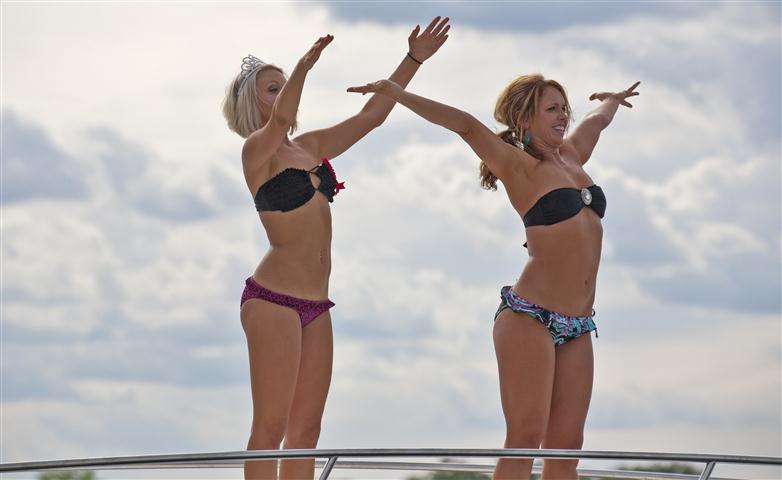 Girls get excited for T-Shirts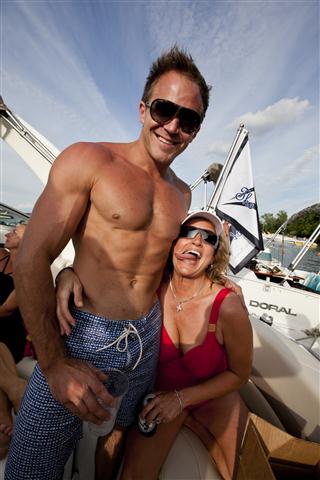 Don't think for a second that there was only Eye Candy for us Men,
Cindy and the Girls had plenty to look at
The day was nothing short of spectacular and when the sun started to set, we packed everything up and headed back for the marina. We'd make another grand entrance tonight much the way we did last night. Something tells me the restaurant is used to this as they still keep their membership there without being asked to leave for all the wild partying going on.
Although tonight we'd up the ante a little as Derrick started firing off t-shirts landing them on the patio of the restaurant....LMAO!!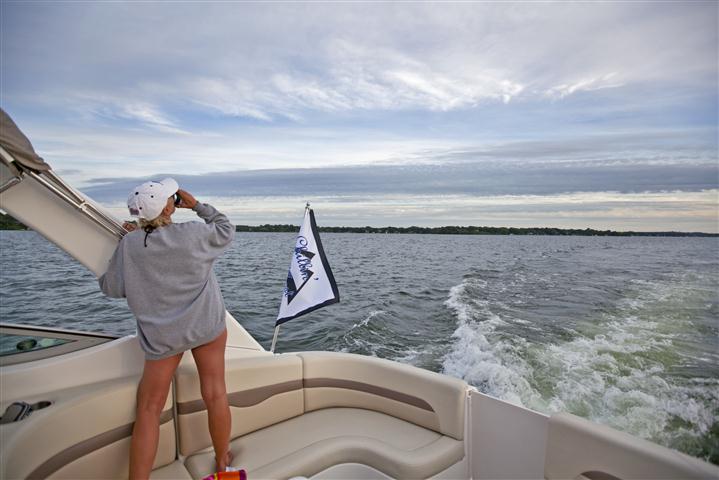 Deb taking in the Sunset while Taking in a Coors Light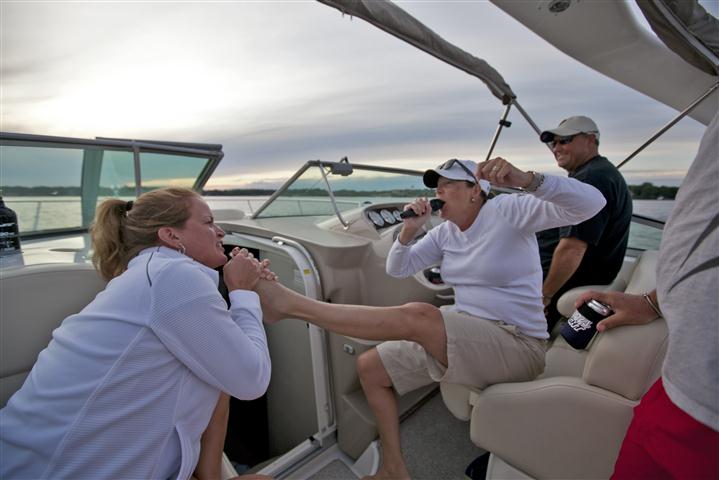 Cindy & Tish Singing a Duet
Once back at Derrick and Tish's house, what would you expect to happen? They pulled out the Karaoke Machine. I know, I know...this is stating to sound like a World Tour of Karaoke, but I'm just along for the ride as the photographer to Cindy Bonish's World Tour of Karaoke songs.
I think I sobered myself up from all the laughing. I was literally crying at the antics of Cindy, Lauren's boyfriend Jeff and Derrick who were all arguing over who got to have the microphone more.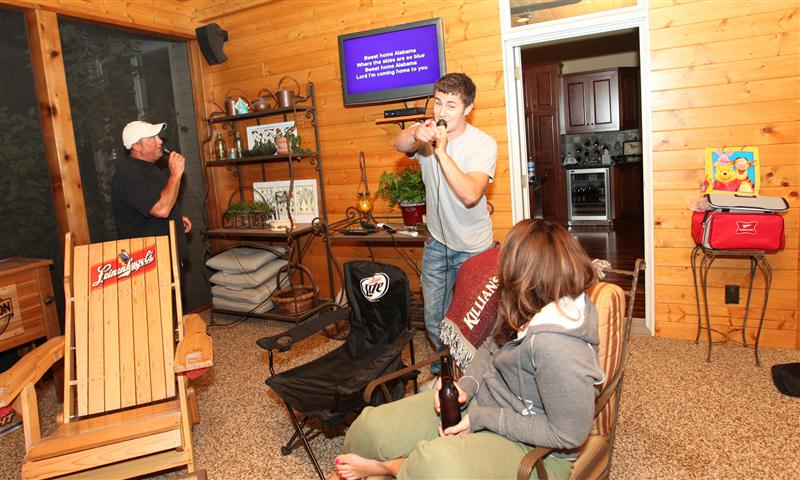 Derrick and Jeff Singing Karaoke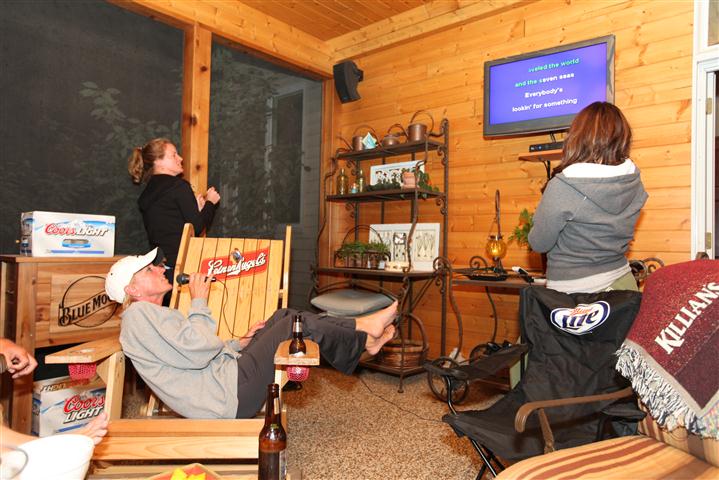 Deb & Lauren are singing, but notice that Cindy is still make-believing she has a Mic in her hand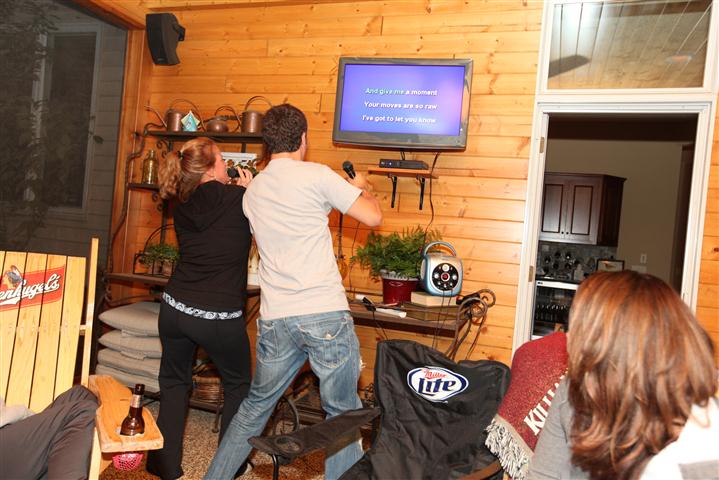 Cindy and Jeff singing a Duet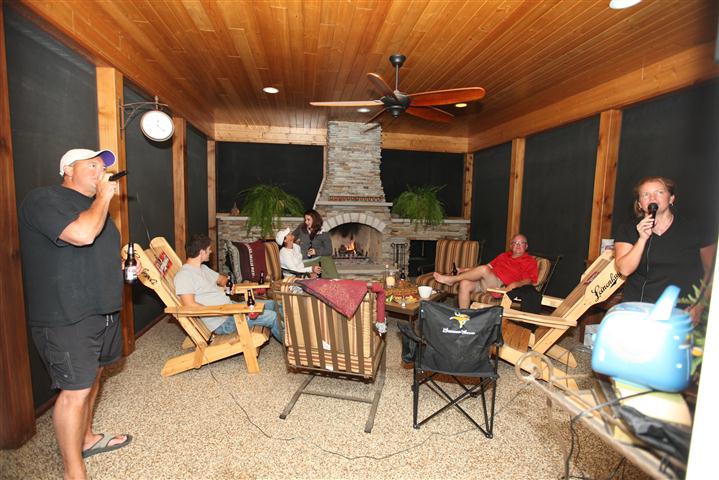 Derrick and Cindy with the last duet of the night before the machine got broken...LOL No Kidding
Sunday August 21st 2011 - Twins Baseball with the Leinenkugel's
We were all up first thing this morning to get ready and head into St. Paul for the Twins vs. Yankee's game.
Derrick had arranged for Jake Leinenkugel, the owner of the Leinenkugel Brewery to throw out the Opening Pitch of the baseball game and I was going to be down on the field with them taking photos.
Cindy and Tish and the rest of the Leinenkugel Family would be up in the suite watching the action from perfect seats.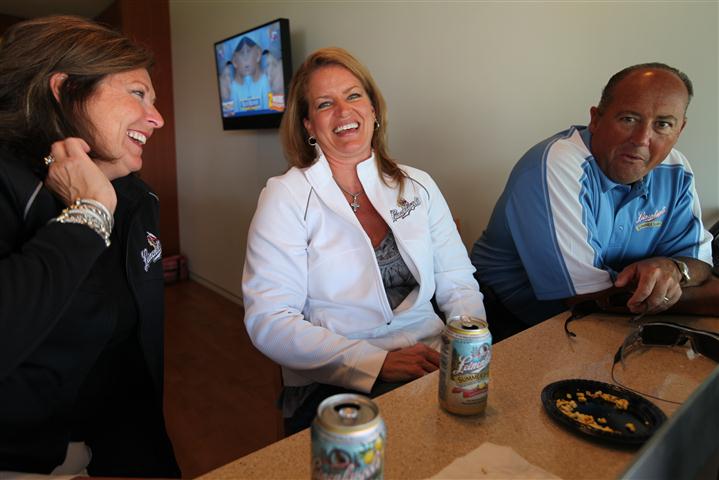 What more could you ask for when you have the flat screen broadcasting the game right in front of you, while you can listen to the crowd cheer in the best form of surround sound while sitting on the balcony of the suite.
The Leinenkugel Family were all such nice people and fun to talk with. Even though we started out as total strangers, by the end of the day, we felt like friends.
It was an awesome day spent in St. Paul...too bad the Twin's lost to the Yankee's, but it was still a really cool experience.

Jake Leinenkugel and Derrick behind home plate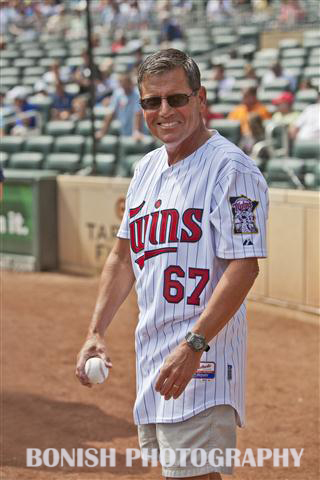 Jake Leinenkugel and Joe Vavra, Coach of the Twins shake hands after Jake threw out the 1st Pitch
Monday August 22nd - Just Chilling Out and Playing Catch Up
After the last few days of non-stop fun, we needed a day to just kick back and do nothing. I think I slept in till 11am, which is unheard of for me, and the rest of the day was just spent answering emails and updating the blog.
Derrick and Tish are both still working, so they put in a full days work at their professions. Around 5pm, everyone was ready to go out on the boat for a sunset cruise around Lake Minnetonka and just kick back.
Tonight would be an awesome night of just idling around the beautiful lake, cool breezes blowing and great conversation.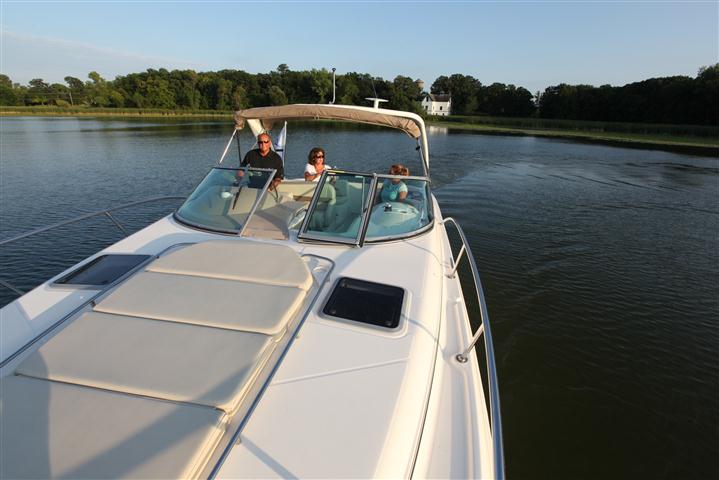 It was one of those nights you wish would never end. When the sun finally set and it was dark out, we pulled back into the marina and headed home. I think we needed an early night for once.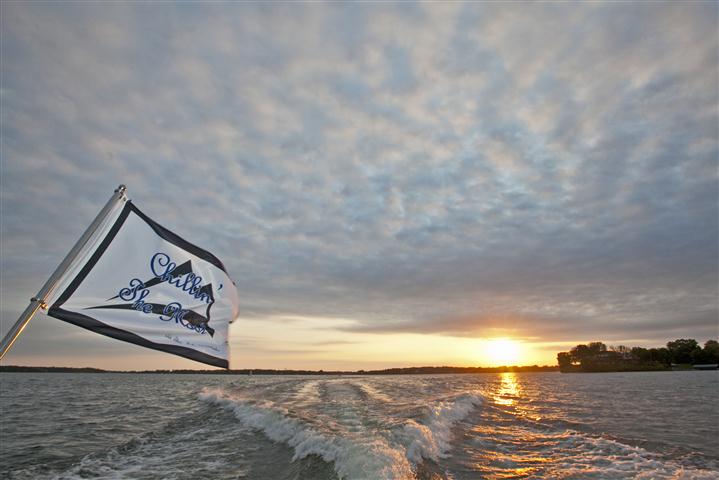 Tuesday August 23rd - Minnesota Landscape Arboretum
Looking for something to do that would show us some of the surrounding attractions, Cindy and I headed down the road from Derrick and Tish's house to the Minnesota Landscape Arboretum. We had passed by the acres of gardens and rolling hills each time we would go to the marina or up to the store, but wondered what was hidden behind all the beautiful trees that line the property.
This Arboretum is more than 1000 acres of a nature lovers paradise. Rolling hills dotted with terraced gardens with plants from all around the world. The University of Minnesota Landscape Arboretum is part of the Department of Horticultural Science within the College of Food, Agricultural and Natural Resource Sciences at the University of Minnesota.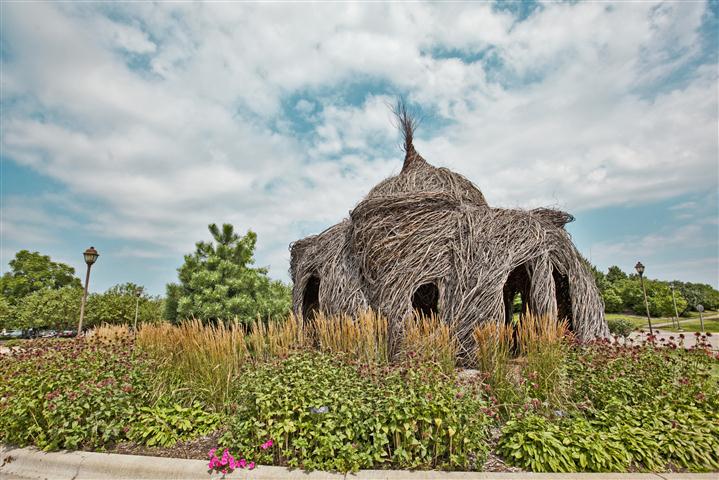 This Structure was built from Willow Branches
They use the property as somewhat of a research area for the colleges students to be able to work in a real world environment. They also try to develop different species of plants that aren't normally native to Minnesota by creating hybrids so they can deal with the harsh weather conditions Minnesota is known for.
It was $9 per person to enter, and well worth the admission fee. We spent hours walking the paths leading around different sections of landscape.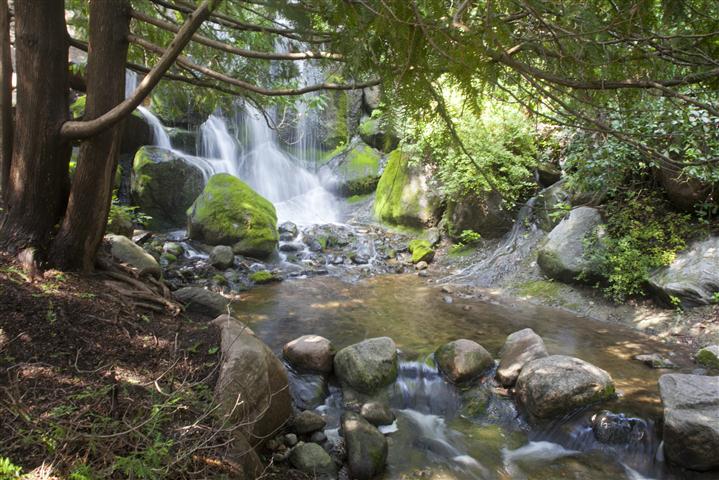 Rose gardens that stretched for ever. Thick woods that blocked out the bright sunlight with hiking trails snaking their way through them. Ponds surrounded with weeping willows that looked like a storybook landscape. With the deep blue sky and white fluffy clouds as a backdrop, I expected to see painters and photographers everywhere.
We did see tons of fellow photographers but never saw any painters which surprised me. Every direction I looked just reminded me of something I'd see in a gallery, so I figured the landscape would be dotted with easels set up with artists trying to paint the next Rembrandt.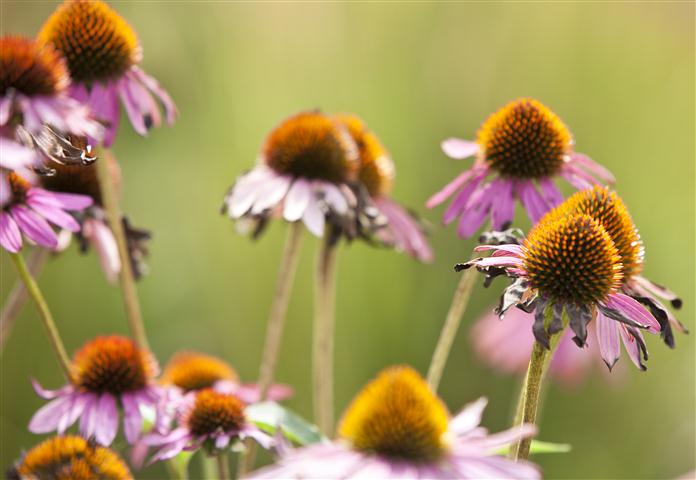 After a few hours of walking around, we had both worked up a serious hunger, and the Arboretum offers a cafe with fresh grown fruits and vegetables. Lunch was awesome overlooking the gardens and today was just what we needed to kick back and relax the way we normally do while on vacation. Plus, we got tons of ideas for landscaping the grounds around the Low-Key Hideaway.
After a drive around the 3 mile loop that brings you around the grounds, we headed out and up to a store to get some food for dinner.
Derrick would be leaving on business first thing in the morning and Cindy and I fly out tomorrow. So tonight would be our last dinner together.
As always, the food was 5 Star and the company was immeasurable. You know you're around good friends when you can sit and talk for hours upon hours for days straight and the conversation never stops. It's probably one of the reasons we've always enjoyed spending time with Derrick and Tish when ever we vacation.
Wednesday August 24th - One Expensive Trip Home
Today was spent packing things up and copying all the vacation pictures to a hard drive so Derrick and Tish would have a back-up copy.
Tish took us out to lunch today that was totally awesome. Good food and a beautiful location right on the water in downtown Excelsior. Then we got home and I got out our flight information because I was going to check on the flight status.
That was when we realized how big of a mistake we had made. Cindy had made all the reservations and I was just along for the ride. I had asked numerous times when we were going to be home because I was trying to figure out some schedules with having stone delivered for our parking lot.
We kept getting our plans crossed because she was saying we're going to be home on this day, but we're not going to be working. When I pulled out our flight info, I noticed our flight plans were to have left yesterday. YESTERDAY!! This meant we had missed our plane and we now had the rental car an extra day which would add fee's for a late drop-off...NOT GOOD!
We drove to the airport hoping the airlines would have some sort of sympathy for us and maybe we'd be able to figure something out.
Turning in the rental car incurred a $168 fee for one day extra. That's the same price we paid for the car for the entire time we had it rented. This was adding up fast.
Talking with the woman at the ticket counter, she basically just gave us a blank look saying "Sorry, there is nothing I can do, you have to buy new tickets!" Even when we asked if we could fly stand-by, she said "No, that's not an option."
That was total bullshit because after we paid $200 per ticket, while we were boarding the plane, we heard them call a person up to the boarding desk to say that the flight wasn't sold out and they'd be able to get their stand-by seat they were waiting on.
The flight home wasn't all that bad. I finished the book I have been reading on how the world discovered how to find the Longitude lines around our globe. It's fascinating to think that a man named John Harrison had to invent the Chronometer to figure it out. He spent his entire life devoted to solving this thing we explorers take for granted.
While flying home, we were at 30,000' over Iowa when we flew over this wicked storm. We were over top of it, but looking down into the clouds you could see lightning flashing all around and could see the rain dropping down on the Fly Over States below us.
I had to put the book away while we flew over this storm to watch the entire time.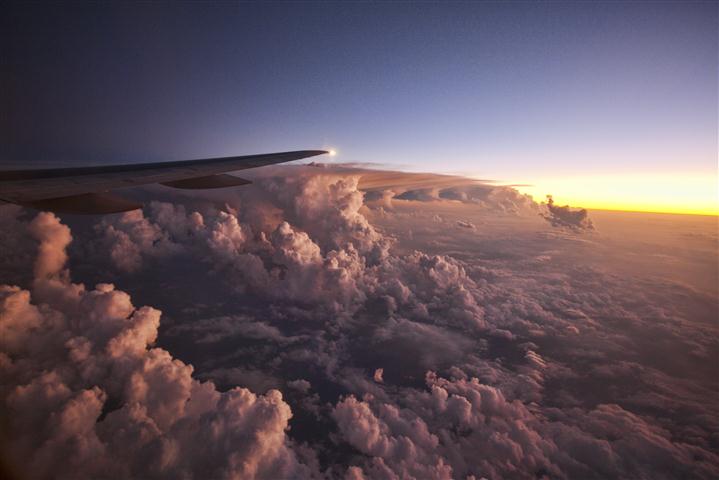 Flying over the Storm
We landed in Orlando around midnight and had a few hours before we'd be home. By this point, I was ready to go to bed. We'd been up since 5am because of the time difference. By the time we pulled into Cedar Key, I was a walking zombie. More like a stumbling zombie. I fell into bed and was asleep within seconds.
Thursday August 25th 2011 - Getting Busy Back in Cedar Key
You know you've had a good vacation when you're excited to get back home and get to work. Traveling around seeing other landscape designs always gives us ideas on what to do at our own place.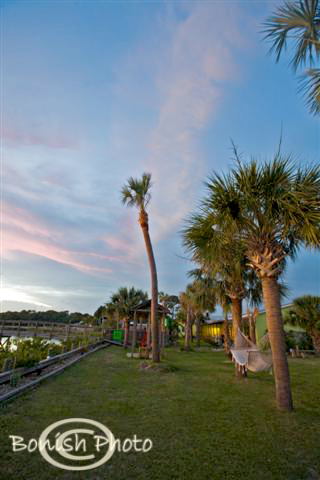 We had a sidewalk put in front of the motel the day before we left, and we had stone showing up to cover our parking lot tomorrow. The grass was shin length since this time of year I'm cutting it twice a week. Being gone for 5 days meant that the entire day would be spent working around the yard cutting the grass, picking up the branches that have blown off the trees and cleaning up all the debris that has washed up from the strong winds due to Hurricane Irene.
We were both up bright and early and sweating out pure alcohol. The entire day was spent outside. The grass took forever, but by the end of the day, it was all cut, bagged and looked great.
I had trimmed a bunch of trees and weeded the various gardens which is a non-stop battle here in this tropical paradise. Then I started cleaning up the debris on the other side of the sea wall. I cant believe how much stuff washes up every time we get these crazy storms.
While throwing tons of cans, bottles, fishing bobbers, and wood up into the yard so it could be disposed of properly. The amount of 2x4's and 2x6's that get washed up is just astonishing. Someone's dock must have been demolished and it's all washed up behind our place.
I jumped up onto the sea wall and went to jump from the sea wall back into the yard. Not paying attention to where I was jumping, I landed right on a 2x6 that had big, rusty nails sticking up in the air.
I went from being totally in tune to how hard I had been working to the most excruciating pain I've ever felt in my life. I could feel the two nails deep into my foot and instantaneously I yanked my foot off the board.
Screaming at the top of my lungs every curse word I could think of, I ran to the front of the motel where I knew Cindy was working.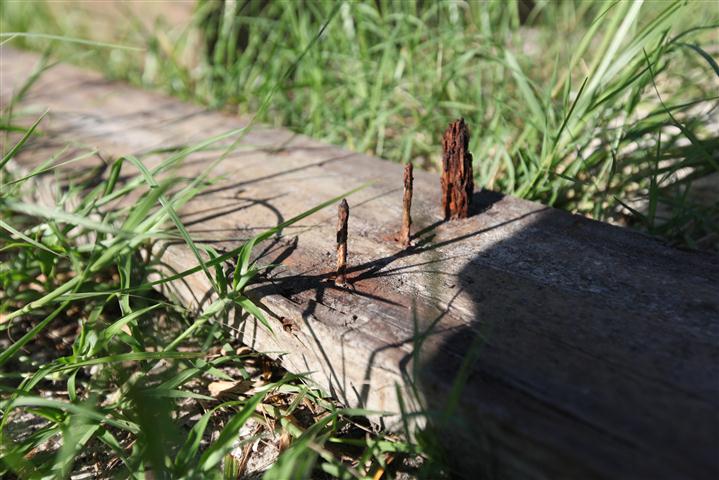 As I ran around the corner, I yanked my shoe and sock off to see blood squirting all over our brand new sidewalk. Cindy looked up from the flower bed she was weeding and asked why I was yelling and swearing so bad.
I plopped down on the sidewalk not really being able to stand at this point. I don't know if I was passing out or just in so much pain that the endorphins in my body were making me dizzy.
I lifted my foot up to show Cindy the two holes that were squirting blood out about 12 inches from my foot and she jumped out of the way so she wouldn't get blood on her. She had the hose in her hand and she instantly just started hosing down my foot. I don't think I've ever seen so much blood in my life.
She told me I needed to lay down because I was as pale as a ghost. By this point it was like I was looking down a tunnel and I had pinhole vision. Cindy ran in the house coming out with the first aid kit and a handful of clean rags.
The first two that would be put on my foot would later be thrown away due to the amount of blood on them. She helped me up after she had rags tied around my foot. I limped/hopped into the house where I practically fell over by the time I got to the kitchen.
Cindy went to work administering to the foot as I drank down a cold glass of water. I think the combination of working outside in the 100 degree heat all day, not eating lunch and then sticking two rusty deck nails almost all the way through my foot got the best of me.
I got over to the couch and put my foot up in the air and took a deep breath. Cindy went outside to clean up all the tools since our work day had come to a screeching halt.
This sucked bad! We both had an entire page full of chores we were planning on getting done over the next week. Having two puncture wounds on the bottom of my foot would put all that on hold.
Damn, how could I be so stupid. Like the saying goes, Stupidity hurts! This hurt worse than anything I'd ever done, and I've done some rough things to my body.
The rest of night would be spent on the couch with my foot up in the air. Cindy did a good job of nursing me with food, water and tending to the foot with Neosporin and an Epson salt soak.
We watched the movie Hurt Locker which was a very depressing movie. Cindy and I never try and bring politics into this blog, but the chaos going on over in the Middle East is beyond my brain capacity to understand.
The fighting going on over there is something we should NOT be a part of. It's been going on for thousands of years, and no amount of money we spend on the wars there will stop the fighting.
Pull everyone out and solve the debt issues in one swift move. Thousands of American soldiers lives would be spared too....Ok, Rant Over.
___________________________________________________________________
Photo Gear We Use - Solar Tips, Fact's and Trick's we've learned while on the road
Camper Check List - A list of things we do before leaving camp. Again, this isn't gospel, but its a good start for those who might not already have a list made up.
Return to Top of Page
Need Unlimited photo storage- FREE Trial of Smugmug