When we realize our insignificance in this world,
it some how relieves the pressures from society to succeed -
Cindy Bonish 04/07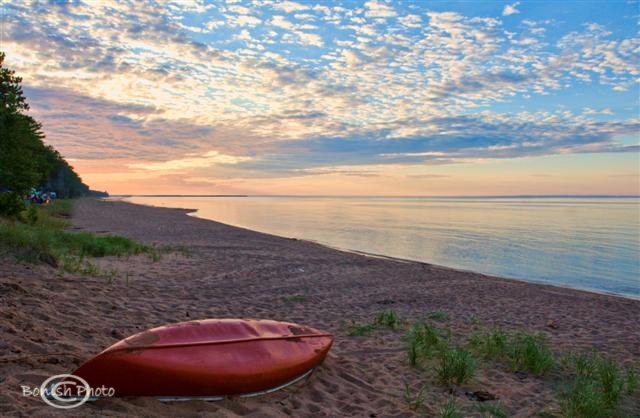 Pat's August 2010 Blog
If this is your first time here, you might want to start from the beginning of our fulltime Journey with our Past Blogs
If You Don't Know Me Yet, Click Here to Read Pat's Bio
****
Tuesday August 31st - Getting Back in the Swing of Things
The past few days have been amazingly productive. We've cleaned every room from top to bottom. Not they were dirty with no one staying in them, but we've gone through them with a fine toothed comb to vacuum the walls, the floors, the baseboards and wipe everything down.
The yard has now been mowed 4 times because it was so tall and long. Each time I mow it, I drop the mower deck down to a lower level and I think I'm finally where I normally keep it at.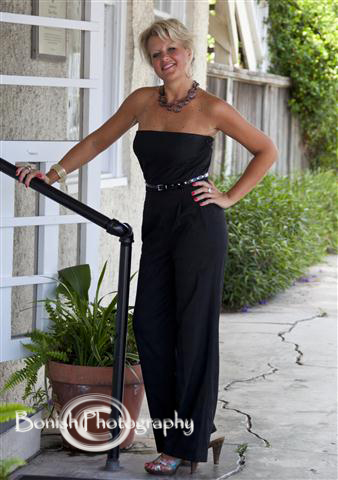 I spent a few hours yesterday trimming the palms and making the place look like we want it to look, like a little tropical hideaway.
Luckily for us, we had planned a few days with no one staying here which would give us time to get all this done without having to work around guests and visitors.
We do have someone in the RV Park who will be here for the next few months. I guess in June, a big dry dock sunk 10 miles off of Cedar Key. His company was brought in to bring it up, so the dive team will be here for the next few months working on pulling that off the bottom of the ocean. The rest of them are staying in town, but he has a RV so he's staying with us.
I also got a call from a visitor to Cedar Key who wanted to see if I could take some photos of her while she was in town. So Cindy and I took a break from cleaning to go do another photo shoot downtown.
It went great and with the funky architecture the Island Hotel offers as a backdrop, the photos turned out wonderful. One thing to remember if you're ever planning a photo shoot with a photographer. It takes most people awhile in front of the camera to get comfortable and look natural.
Unless you're a professional model and do lots of photo shoots, give yourself a few hours to get relaxed and know how to get your smile looking real and not so posed. Just a tip for those who are wanting photos done. Dont cut your time short or try and pack too much into the shortest amount of time possible.
Most of our shoots we do, the last hour of the shoot produces the best photos. By this time, the model is feeling comfortable and when they see the finished photos, they see a look they normally perceive themselves as.
This is another reason why most people hate photos they get when they simply go somewhere and think they're going to get a memorable photo in a 20 minute shoot. It doesn't work that way and you usually come home with photos that look like a deer caught in the headlights.
Thursday August 26th - That Final Stretch Home
We were both up around 5am this morning due to our eyes itching so bad. The small motel had advertised a continental breakfast on one of the billboards which is why Cindy had chosen this place.
We've found that if we're going to stay in a motel, at least find one that serves breakfast and it saves us from having to pack up, go find a restaurant and it's cheaper in the long run.
We both wish we had the capabilities to offer something like this at our place, but the office is nothing more than a small room for people to check in, so breakfast isn't really an option for us to offer.
As we were pulling out, we stopped in the lobby to find a basket with some bananas, some coffee and a box of glazed donuts. Neither of us are donut people, so our breakfast was nothing more than a cup of coffee and a banana.
While driving home today, we listened to a segment on NPR that talked about our country and our lack of vacation habits, it was titled No Vacation Nation. It couldn't have been more fitting to be listening to this while we were on our way home from a month long vacation.
The program talked of other countries, specifically Germany which is one of the most productive in the world and has some of the best paid vacation benefits for their workers.
It talked of research that has proven that the more time you take off from work, the time you do spend at work is much more productive.
The entire time while driving yesterday and much of today, Cindy and I had talked about how eager we were to get back to work and how much we were looking forward to buckling down to get certain things done. This has always been the case for the two of us and I think one of the reasons we've always enjoyed what we've worked at. No matter how hard we're working, we always took small vacations to get away from work and de-stress.
I've never understood those people who go months or even years without taking time off. The program talked about how unhealthy this is for your body, your mind and for your actual work performance.
It talked about how America is in the top 5 when it comes to countries that work too many hours, how we have the worst health for our residents and how we spend the most amount of money on our health insurance because of this. That's a triple negative for America.
One of the stats from the report cited that - 'The sum of the average paid vacation and paid holidays provided to U.S. workers in the private sector = 15 in total, would not meet even the minimum required by law in 19 other rich countries.'
If you're reading this, do yourself a favor and start planning your next vacation. Do it for your health, your sanity and for your productivity at work, most important, do it for yourself.
We pulled into Cedar Key late in the afternoon and my legs were killing me. I think I bruised my tailbone from sitting for so long. The yard looked like a tropical jungle and I went straight to the lawn mower.
Spending the next hour walking around the yard sweating out the two days of sitting still would do me some good. Cindy got to unpacking the truck and within no time, a few hours really, the yard was mowed, the numerous flower beds were all weeded and the Low-Key Hideaway was back to looking like a motel and not an abandoned building.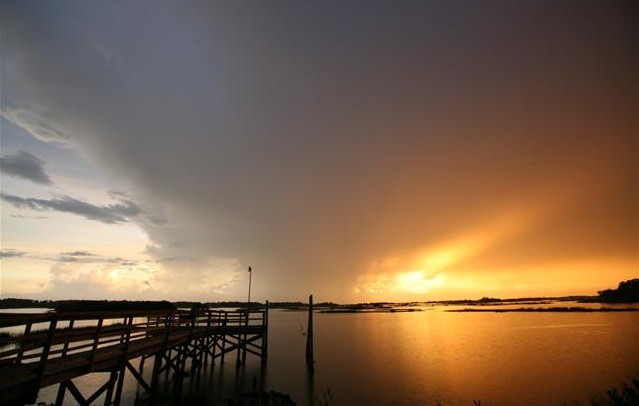 It was good to be home and the dogs were as excited as Cindy was.
Wednesday August 25 - Leaving For Florida
Rather than get up and on the road first thing, which would put us in rush hour traffic, we hung around with my sister and played some more with the kids. We had a big breakfast and finally got on the road around 10am.
As usual, Cindy was asleep within the first 20 minutes and proceeded to sleep for a few hours straight. Is it any wonder she enjoys road trips?
The day of driving was uneventful and we made good time. Our truck has been running like crap the past few weeks so I had changed out the air filter and both fuel filters while I was at my parents house.
I think the fuel filters helped with out fuel mileage because we averaged 21mpg today, and that was cruising along at 70mph.
Late in the afternoon, Cindy asked if I wanted to take a break from behind the wheel, which is very rare, so she drove for a few hours while I started the long process of downloading the photos from yesterdays shoot onto the computer.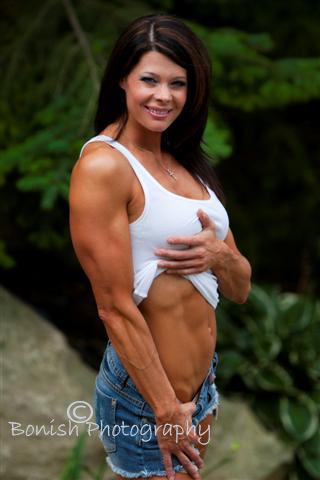 This is going to be interesting because Luz had given me a new laptop that she had but wasn't using. It's much faster and better than the dinosaur I've been using for the last 10 years, and I had mailed up to my guy in Michigan who does all my computer work for me.
He stripped it clean of Vista and put on Windows 7, moved me up from Photoshop CS3 to CS5, and updated a bunch of other programs. I had him put in 6 gig's of RAM, and bump the hard drive up to a 500 gig model so I can actually store some of the photos right on the computer rather than always working off of externals.
Learning a new computer is one thing, learning a new operating system and multiple ones all at the same time is downright frustrating. Now try and do all of this while working on the finger pad of the laptop while driving in a truck and I was ready to whip the thing out the window.
But I will say the new cpu is amazingly fast and that hour glass I was so used to watching is no longer present. Especially with these new humongous file sizes the Canon 5D Mark II produces.
As the sun was setting and we were passing through Southern Tennessee, Cindy said she wanted to pull over for the night. I was pretty tired and my legs were cramping up from sitting for so long.
I hate driving for long stretches and prefer our usual 2-300 miles per day which gives us plenty of time to get out and explore. But our vacation was over with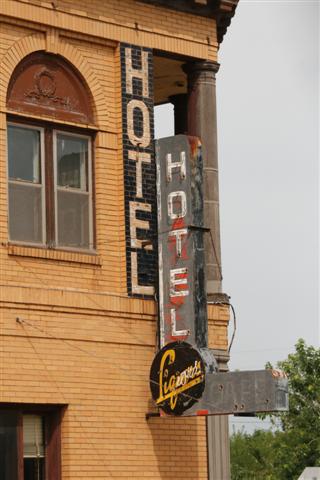 and we were both eager to get home.
We found a little motel at some random exit and grabbed a room for $50. You get what you pay for and I think people should learn that you need to keep air movement in closed up rooms to keep the must and dank odors down.
We opened the door to the room and got hit by a wall of musty air that instantly closed up our eyes and lungs.
We both just looked at one another debating whether we wanted to even stay here. It was too late to get back on the road and $50 is $50, so we grabbed a bottle of wine out of the cooler, left the front door wide open, pulled the filter out of the A/C unit and cranked that up on high and went and sat by the pool for an hour letting the room air out.
I think I could have injected the daily dose of our prescription of Allegra we take for our allergies and it still wouldn't have made a dent in this nights sleep, but I was tired and a shower and a bed was needed to get me ready for the final push home tomorrow.
Tuesday August 24th - One Last Photo Shoot & More Family Fun
Before we could leave Michigan for Florida, Cindy and I had one last photo shoot scheduled for this morning. We had made arrangements before we had even left Florida almost a month ago to meet with an old friend of ours and put together some photos that would capture the more feminine side of a girl with a next to perfect physique.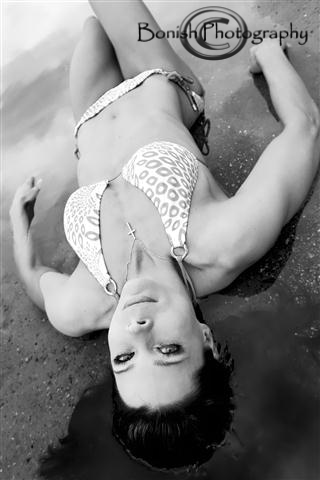 Rebecca is proof that it doesn't matter what your job is, or how busy you are, you can still find time to hit the gym and stay in shape. She's 100% natural and has been able to build this body of hers without resorting to steroids like most body builders do.
Rebecca owns and works at her own office where she's a successful chiropractor all while raising two young kids with her husband. That right there is impressive and makes me feel like a bum when I see how successful she is while staying in such amazing shape.
After our last shoot at Diane's house, we had asked if we could use her home for a back drop for some of the photos of today's shoot, and Diane said she'd more than happy to lend us the beautiful architecture.
I told Cindy I'm going to get spoiled with these last two photo shoots because the girls are so easy to photograph, all I simply need to do is pay attention to my lighting and camera settings and it's hard to take a bad photo of them.
We spent a few hours with Becky and ended in a local park where we used the very small beach as a backdrop. I had scouted out a spot that I had wanted to try some shots earlier in the week, but as we pulled up, a Park Ranger pulled up in his squad car asking what we were doing.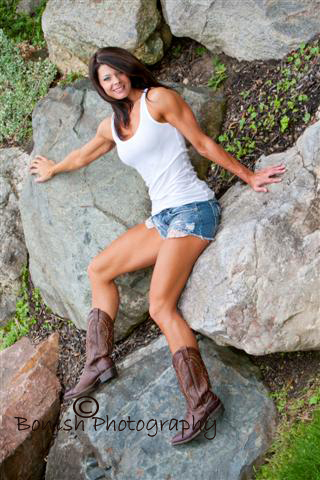 When I explained that we were going to be taking photos for an hour or so, he informed us that we were in a restricted area and we couldn't be back here. He was about to lock the gate and if we didn't leave right away, we'd be locked in.
The only reason I knew of this area was it was a favorite spot Cindy and I liked to stop while Kayaking the Huron River which is where we were going to be doing the photos. I guess that explains why every time we paddle up to this area, it's always empty and we have it all to ourselves.
The Park Ranger was really helpful and pulled out a map, circled a few areas in the park that he thought were very scenic and when I told him we were looking for a beach or water location, he explained that one of the beaches in the park is only open on the weekends, so if we parked in this area (Circling it on the map) we could walk over and have the entire beach to ourselves.
Thanks Mr. Ranger, you were of great assistance even if you were kicking us out...LOL
By the time the shoot was done, I had filled up every Compact Flash Card I own and realized that the new Canon 5D Mark II camera eats up memory faster than my cards can write to it. Looks like I'll be in search of some new, larger cards as soon as we get home.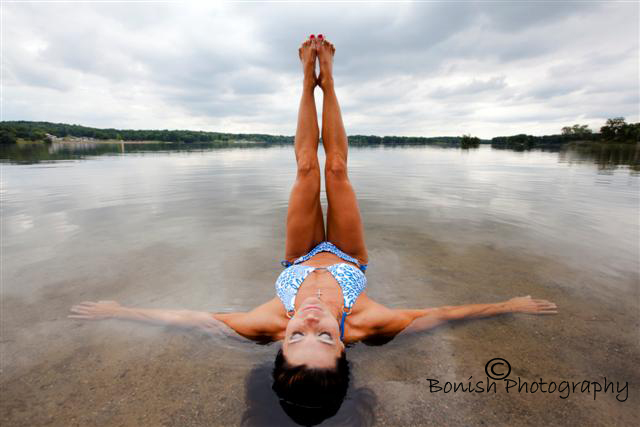 The next task was to load the truck up with all our junk. This is much harder than you think because we were bringing a bunch of stuff home with us that we had left in Michigan due to being on the road fulltime.
Since we're sitting still and have a home to decorate now, Cindy wanted to bring most of it home with us. If we would have brought our Cargo Trailer up with us, we could have filled it to the gills, but luckily we didn't, so we'll have to come back to the storage locker at another time.
We wanted to have one last visit with my sister and her family, so we headed into Hartland to see them. My parents were there for the dinner and my brother spent the entire evening with us. This is strange for Cindy and I because we were so used to having my brother avoid the family due to his drug problem.
Now, he's been around our entire visit and very talkative, which is normally not his style. It's such a breath of fresh air and great to see. It had been years since we have seen him like this and it made us feel so good to know he's out of that haze and on a road to some place new.
Tonight was nothing short of hysterical memories being made that will be talked about for decades to come.
My sister has the Nintendo Wii and the family all plays the game Just Dance. This game requires you to follow dance moves you see on the screen and no matter how good of a dancer you think you are, to follow moves that are popping up on the screen at a very fast rate makes for some awkward body movements.
For those watching this self induced seizure happen it's the funniest thing you can do without the use of foreign substances.
To see my brother Joe, my brother-in-law Sean and I all dancing around like a couple of school boys while the girls laugh and giggle in the background is nother short of hysteria. I cant figure out how to upload the video directly to my blog, so if you want to see it, we Uploaded it to Facebook. OMG is it funny!
To think that grown adults could have this much fun while being sober was a true testament of wholesome family fun. Normally when we're visiting family, Cindy and I cant wait to get home and get away from the stress, but this time we're seriously going to miss leaving them.
Monday August 23rd - I'm Gonna Need A Vacation When I Get Home
Most people take a vacation and go somewhere to kick back, forget their daily stresses of life and just relax. I guess Cindy and I are backwards? We go on vacation and we're so dang busy that by the time we get back to Florida to go back to our normal life, we're going to need a vacation.
Since we've been in Milford, we've been crazy busy with family and visiting friends. Our daughter Donielle and her fiancée Allan flew in last Thursday for the big birthday party that was held on Saturday at my sisters house.
We spent the entire day on Friday helping to set up for the party and helping to sample as many of the Jell-O shots that my sister and her kids had made for the party as we could handle.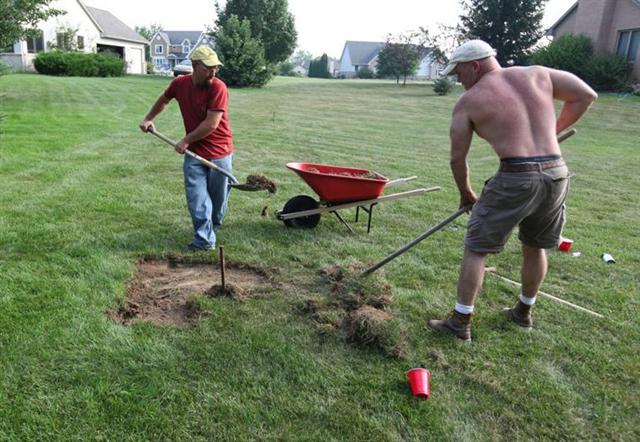 Sean and I digging the Horseshoe Pits for the Party
You know it's going to be a crazy shin-dig when you make 1200 Jell-O Shots for your husbands 40th birthday party. This meant that planning for the party turned out to be a little party itself. Cindy and Sean got totally crazy with the grapes at the end of the night and I'm not sure if we scared our new son-in-law to death, but I know we were all laughing so hard my sister pee'd her pants at one point.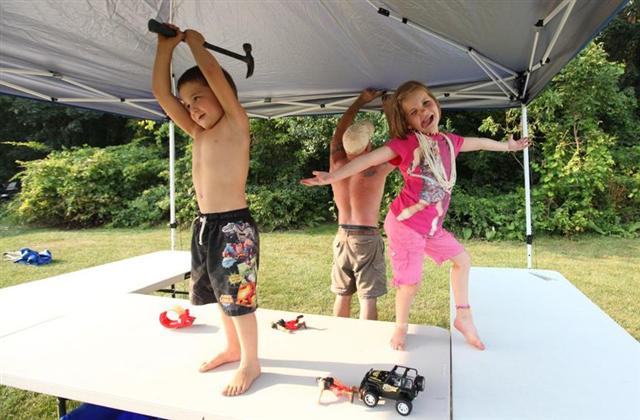 I love this photo and it shows the randomness of my family. As Sean/Dad is babysitting the kids in the back yard and setting up one of the tents, the two youngest are dancing on the tables while one swings a hammer over his head :) It makes me laugh every time I look at it!
You have to remember that my family is a bit crazy, and with my sister Monica and her husband Sean having 5 kids that range from 5 years old to 16 years old, you'll have such a swing in things you'll be seeing depending which kids you're around at that moment, that you sometimes have to remind yourself you're not in a comedy skit.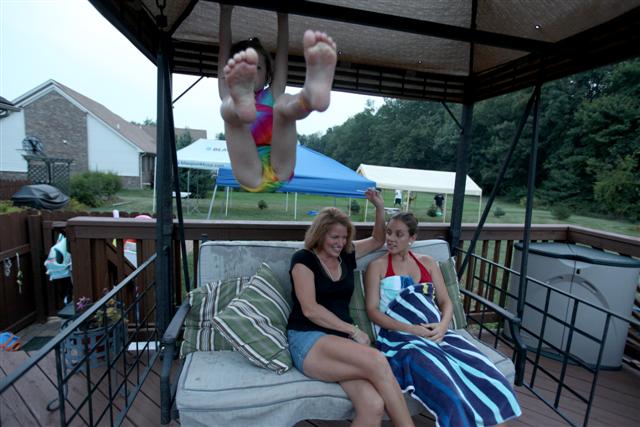 Just a quiet Mother/Daughter talk on the porch swing - HAHA!
Plus, my sister has the best kids on this earth. I'm not just saying that because I'm family. Ask anyone who has met them and they'll agree. To have this broad of a range in ages, have them all get along like good friends and have them be some of the most polite kids you'll ever meet is a major task in life. If I was to ever have a nanny or a care giver, I'd want it to be my sister.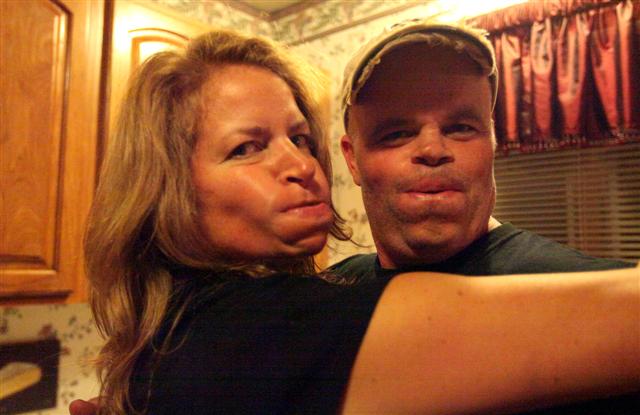 Lets have a contest to see who can put the most amount of grapes in their mouth. This is what resulted in the peeing of the pants
Coming from Irish and Polish parents, our family has always thrown huge parties at any chance they can think of. Weddings and funerals are notoriously huge and have been known to last for a few days, but birthday parties, anniversaries, holidays or heck, a good sunset or a full moon might turn into a big rockin' party. Probably one of the reasons I went into the bar business and one of the reasons you'll always hear Cindy and I having big parties ourselves.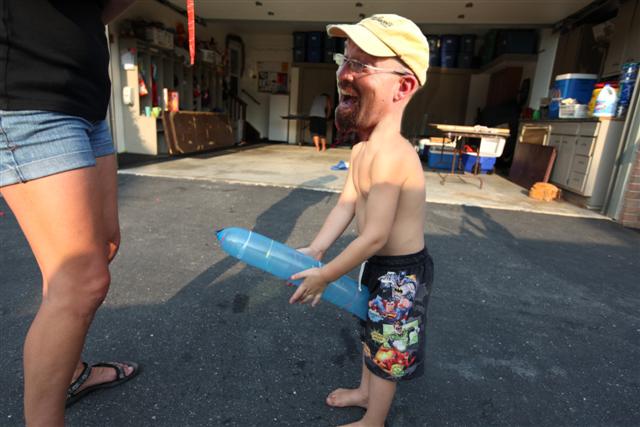 It's been a long vacation staying at the parents house...HAHA!!
I was actually voted the 'Class Partier' in High School and one of my teachers signed my yearbook as 'To the Host with the Most' after spending a few years hearing about all our wild parties we had.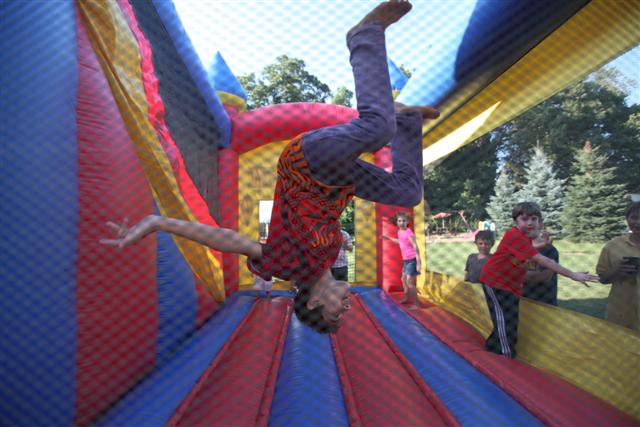 Austin the acrobat in the bouncer
My sister takes this heritage to another level. Rather than just throw a family gathering for her daughters Sweet 16th birthday and combine it with her husbands 40th birthday, she turns it into somewhat of a family reunion mixed with a class reunion and a neighborhood block party for a little more than a 150 guests.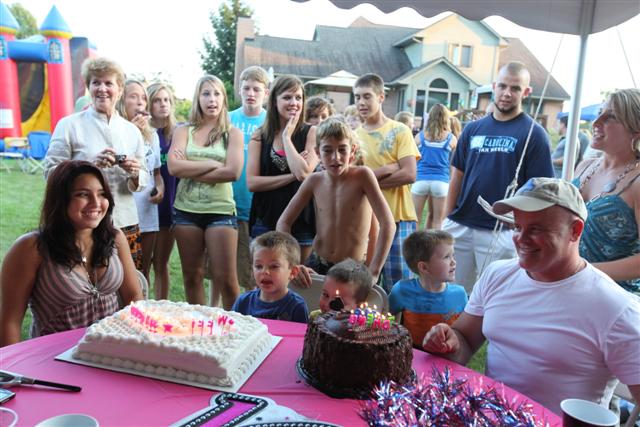 The Birthday Duo blowing out their candles
We got to see family members we haven't seen in years and I reconnected with friends I haven't seen since Cindy and I sold the bar. My daughter even said at one point, "Heck we should have just called in a Justice of the Peace and got married right here since the entire family and all our friends are together in one spot!"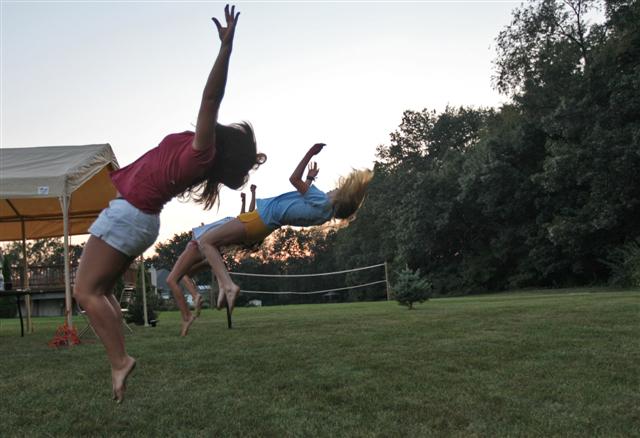 Since my Niece and all her friends are Varsity cheerleaders, the really flip to have their photos taken
Monica rented an inflatable bouncer for the kids to play on, had big top tents brought in for shade or shelter incase the rains stuck around and had enough food and drinks to have an Army go home holding their guts from being overfed.
The party was amazing and everyone had a riot, including the kids. A few of my high school buddies and I were sitting around talking about the differences between our childhood and the youth of today.
We remembered having to sneak around our parents in order to have a good time and enjoy a party like this. In today's world, the parents and children are all so close that they can both have fun together, listen to the same music and enjoy the same games. I guess it's a sign of the digital age.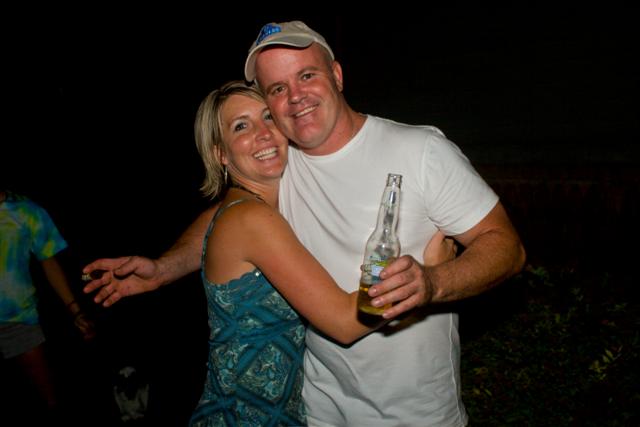 Thanks Monica & Sean for such an awesome party
Our daughter also announced to the entire family that her and Allan are pregnant and going to have a baby. Life never seems to amaze me when it comes to things like this and there's nothing we can do other than be happy for them and wish for the best. I like Allan alot, so what more could a father ask for when it comes to the husband of his only daughter?
I guess Cindy and are now going to be grand parents, which is a scary thought considering we're still kids ourselves, and Cindy has sworn that she will NOT be called Grandma.
Since she's of German descent, we found that German's call their grandmothers Oma, and she said "This is what I want to be called! NOT Grandma"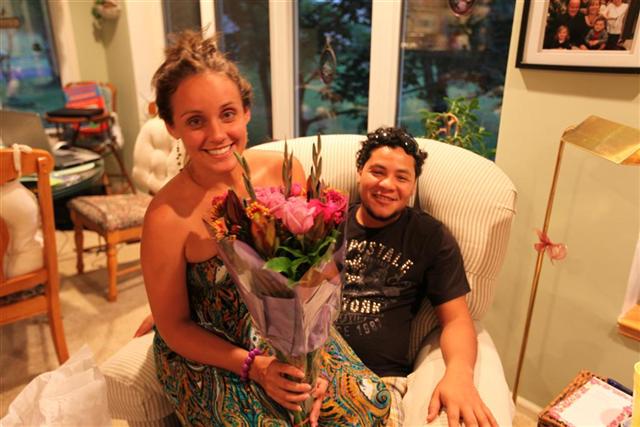 Donielle and Allan announcing the new arrival
The party was a huge success and even though we woke up to pouring rain, the rain turned to blue skies by mid afternoon and we had amazing weather. To prove to my daughter who was arguing with us during an earlier conversation about drinking and partying too much, I decided not to have one drink the entire night.
I had just as much fun and made sure not to make an idiot of myself around a bunch of people I haven't seen in years. Best part was I felt great the next morning for our photo shoot.
When I had mentioned on Facebook that we were going to be in Michigan for a week, a friend contacted us asking if we could do some modeling photos for her daughter.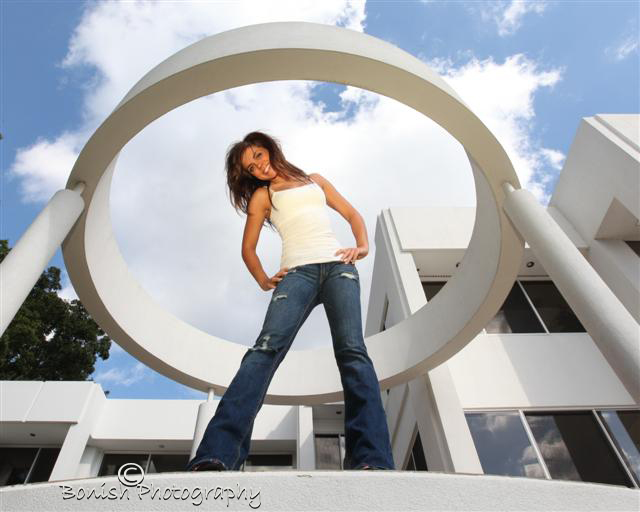 Yesterday was spent behind the camera at one of the most beautiful homes in our area. The house alone could be in any design magazine and the daughter I was pointing the camera at was hard to take a bad photo of.
Last night was spent editing photos, packing things up to get ready to make the trip back down to Florida and just kicking back for once.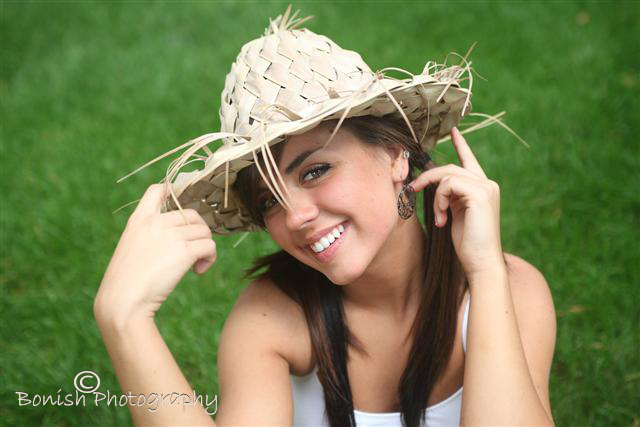 Donielle and Allan had flown back to New Orleans on Sunday morning and were home safe and sound. So for our first time in Michigan, we had a night off with just the two of us to ourselves.
Tomorrow we'll pack the truck up, work on a few more loose ends around here that need to be tied up and be ready to leave on Tuesday evening. We have another photo shoot on Tuesday morning/afternoon that we have scheduled and then we're gone for good.
By this coming weekend, we have guests checking back into the motel and we have all the rooms that are stripped and cleaned that need to be put back together and ready to rent out.
Like I said, we're gonna need a vacation from our vacation.
Oh, incase you're one of the many people who have been emailing asking about WeFest Photos, the gallery is now uploaded.
Wednesday August 18th - Back to Reality
The last few days have been nothing but stress for me. Monday we had planned to spend the day kicking back and checking out Beaver Island which you have to take a Ferry to from Charlevoix.
The island has some really interesting history and even though I've lived in Michigan off and on for most of my life, I've never visited the place.
As luck would have it, we woke up on Monday morning and some storms had blown in. The winds were kicking pretty bad and Lake Michigan looked like something I didn't really want to be on in a boat.
So we decided to just hightail it down to Milford where my parents live and rather than spend the next few days sitting in a hotel room playing catch-up, we'd try and save some cash and just do it while staying at my parents house.
Here's the problem. I have a huge family and when we get back into town, it's almost impossible to get anything done that requires one to sit quiet and work on a computer.
Cindy spent the entire day cleaning out the truck, deciding whether it would be easier to simply burn our dirty clothes or try and wash them, and clean out the coolers.
I've been trying to get to the emails, the voice mails and everything else we've been putting off for the past week.
I've gotten dozens of emails from people wanting to see photos from the WeFest and I've yet to even look at them.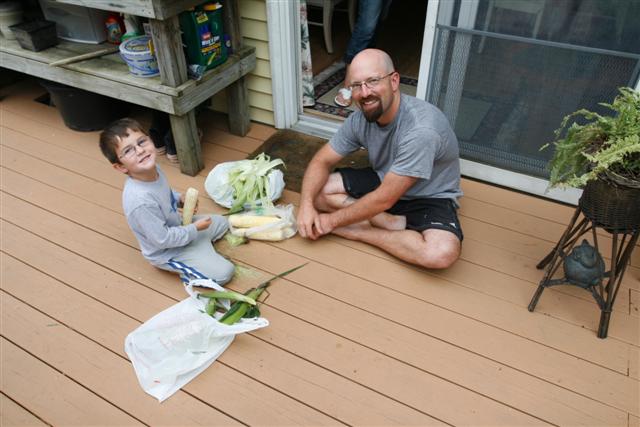 My Nephew Ryan teaching me how to Shuck Corn - He can 2 pieces to my 1
I got to spend time with my brother who is still drug free after all this time. I'm so proud to say that and so proud of him. I got to see my sister and visit with her kids which is always a treat.
Her kids are so dang cute and I love spending time with them. We've had dinner with my parents and got caught up on all their daily chores that keep them busy.
And now I'm caught up on the blogs. Man, I never thought this would happen. I pulled a Cindy and once you let it get too far away from you, it's really hard to go back and play catch up.
Cindy as usual did what she always does. She keeps saying "Oh I'll get to it tomorrow." but once you've gone more than a few days away from what you've been doing, it's never that exciting as if you write about it right after it happens.
Luckily for me I keep notes if I cant use the computer, so I simply have to copy my notes onto the laptop, but Cindy isn't that strict. Hopefully she'll find some time to work on her blog, because I know she had a blast this past week.
When we were driving home from the U.P., she looked at me and said "I cant remember a vacation that I've had that much fun. I'm so glad we got to do that!"
It's times like that when I know we're so damn lucky to do what we do, have each other to share it with and know who we are so we dont let it go to our heads.
Make sure you check out the U.P. Overland Gallery
Sunday August 15th - Heading Home from Northern Michigan
I've never been good at waking up to photograph the sunrise. I can photograph the sunset with the best of them, but waking up early isn't on my list of things to do, especially when you've been sitting up all night drinking tequila with friends who play guitars.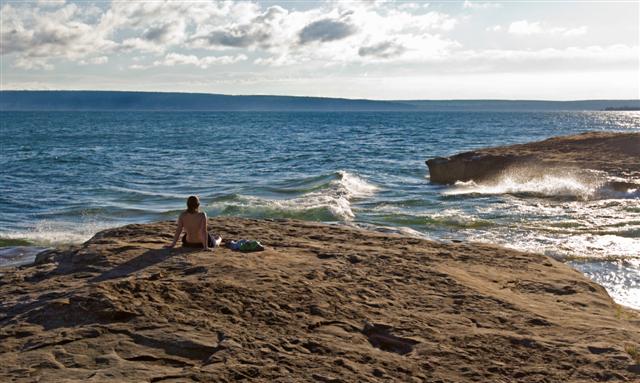 After seeing Joash's photos of what he captured this morning (Check out the thread on the Expedition Portal Forum), I was upset with myself for not waking up, but when you're lying beside a beautiful woman, you have views of Lake Superior and it's rocky shoreline out the window of your roof top tent, and the cool morning air is blowing over your naked body, sometimes the photography isn't all that important.
Once we finally did wake up and get going, we decided to take a hike down the cliff trail to see if we might be able to find Sean.
A quick check in his Jeep told us that he never came home last night.
Amy and TJ volunteered to take Cindy and I for a hike and act as guides, since they know this area so well.
TJ owns U.P. Auto Tech and has been a U.P. Local for most of his life. Amy is a transplant, but she's been here since she was in High School, so I consider that plenty enough time to know the area like the back of her hand.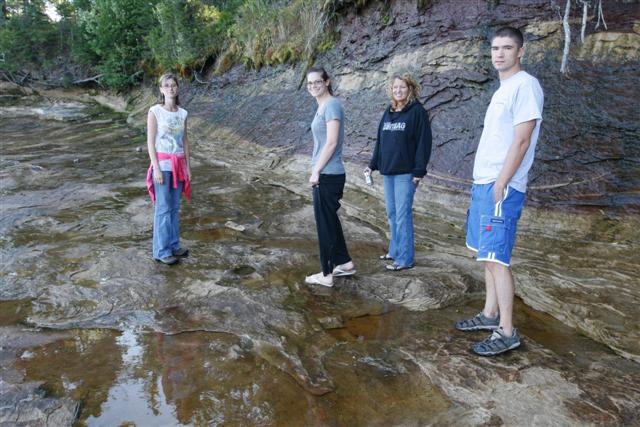 As we hiked down the trail, they told us stories about partying out here as kids and how they love to come out here in the winter time when the trees are all covered in frost.
They were telling us that the waves will crash along the rocks and the mist from the water will cover the trees in thick icicles. They said its something you have to see to believe and it's something few people brave the cold temperatures to see.
We walked down a ways till we could get down onto the rocks where you could see caves and very cool rock formations caused by years of Superior crashing against the shoreline.
Tom and his girlfriend Myra came hiking up and we all just sat around talking and enjoying the cool morning.
A cold front had moved in last night and that thick morning air we've been experiencing for the past week was replaced with a crisp temperature that felt just about perfect.
As we were hiking on the rocks, a girl came hiking up to us saying that she was lost and couldn't find her camp. We asked if she happened to be camping with a guy named either Sean or Ian that would probably have had a Russian accent.
She laughed and said "Yeah, he slept in our tent last night."
So at least we knew Sean was alive, now we just needed to find out where their camp was so they could all meet back up.
She told us she had went out hiking this morning along the trail, but then decided to hike back along the rocks like we were and now she couldn't remember where her camp was.
We told her to follow us back to camp and at least she'd know where her truck was.
While we were breaking down camp and saying our goodbyes to everyone, Sean came back into camp with a big shit eating grin on his face.
Dave and Joan (his parents) where right around us saying goodbye, so we never got to hear the story of what happened last night and what all the screaming was about. I guess that will have to wait till next year at the 4th Annual U.P. Overland.
Cindy and I said one last goodbye before we drove into Munising and aired up our tires. With the Goodyear's back to a firm 80psi, we were ready to put some miles behind us.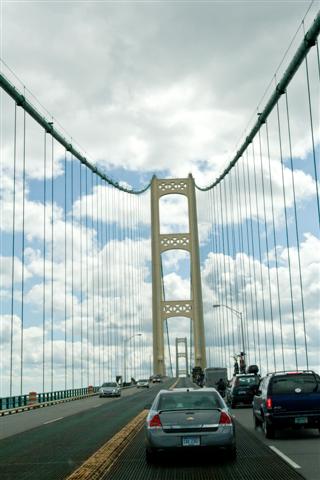 We had both thought about staying around for a few days, but considering I have a broken camera, close to 20 gig's worth of photos to download onto a hard drive and I've yet to even look at the WeFest photos, I'm thinking I need to find a motel room where I can sit my butt down in front of this laptop and do some work.
Plus, I haven't been able to work on the blogs this entire time due to not having a power source, so I'll need a few days worth of time to translate the notes I've been jotting down when ever I had the chance and type them here so you can read them.
I dont think we were out of Munising before Cindy's feet were on the dashboard and she was sawing logs.
We made good time across the Upper Peninsula, but just shy of the Mackinaw Bridge I was hitting a brick wall and had to pull over at a rest stop so I could take a nap.
We looked at a motel, but there was no way I was going to drop $120 just to sleep for a few hours and sit somewhere to work on the computer.
We crossed the bridge and became the Troll's were used to being (anyone who lives below the Mackinaw Bridge in the state of Michigan is considered a Troll by those who live above the bridge)
We drove for a few hours and finally stopped in Charlevoix. This little port town on the banks of Lake Michigan is right out of a story book. The streets are lined with cool shops and the marina makes me realize I dont make enough money to be staying here.
We found a hotel that was reasonable and set the computers up.
We both opened up our email accounts and started the process of allowing the weeks worth of emails to start flooding in.
We then left to go have some dinner and let them do their thing so once we came back, we could spend the rest of the night playing catch up on what little bit of normal ness we have in life.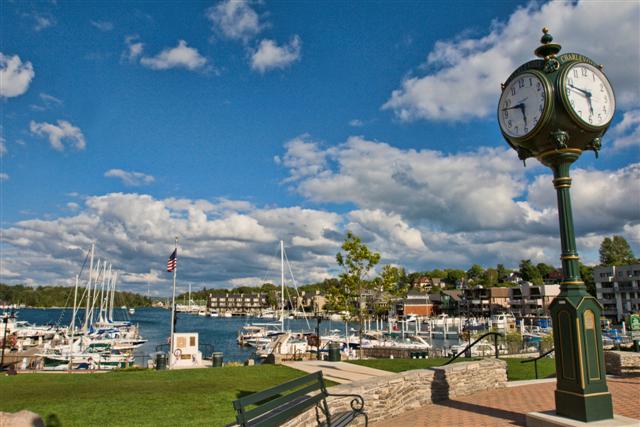 After dinner and a short walk around town, we came back to the motel room to find Cindy had a little over 2000 emails. I dont get as many as she does, but I was close with some 1500 emails to sort through.
She gets more spam than I do because she plays more on Facebook...LOL
She took one look at her inbox and said "I'm not even going to deal with that right now." The motel had cable and more importantly had HGTV, which is like crack for Cindy.
The rest of the night she sat watching television as I downloaded the photos from the past week.
Once that was done, it was late and I was ready for bed.
I missed the cozy feeling of crawling into the Roof Top Tent and not wondering what tomorrow is going to bring. I know what I have in store for me for the next week, a lot of time spent in front of this keyboard. I wasn't really looking forward to it, I already missed the U.P.
Saturday August 14th - U.P. Overland - Gone, Seen, Done
Today would be our final day of the adventure, or so we thought.
It would be the most fun and that's for sure. It all started with an early sunrise after a night of heavy showers.
Even though we were camped in the woods tonight, we had a small creek running right beside us, so the sounds during the quiet, early morning hours were nice and refreshing. I missed not having the big lake to go take a swim in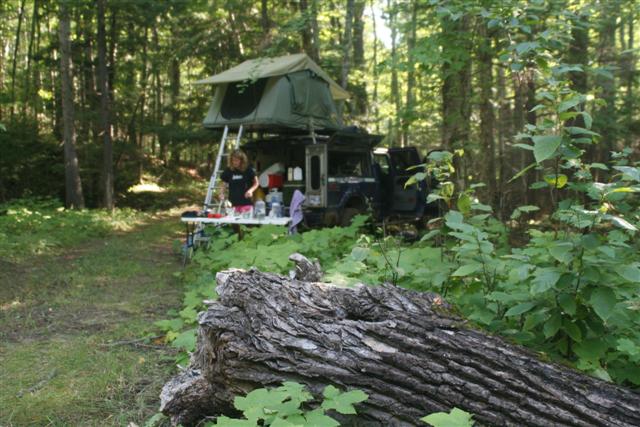 and get that fully refreshed feeling, but I guess I'd have to make do with some cold water splashed on my face from the creek.
We were packed up and ready for our 10am Drivers Meeting where Tom explained that this weekend, with the Oar to Shore Race going on in downtown Marquette, the traffic was going to be crazy due to a bunch of detours.
Half the group needed to stop for fuel, and half the group would make their way through town and wait for us at the trail head.
I wont go into the logistics of getting a group this large through a busy downtown, but anyone listening over a scanner would have been laughing by the chatter coming over the CB's.
When we were finally re-grouped and sitting on the trail head, everyone got in their lines and our last day of the U.P. Overland would start officially.
Today was a beautiful day weather wise with bright blue skies and big fluffy clouds as a backdrop.
Today's route would be a simple one with lots of dusty fire roads mixed with smooth logging roads. There were a few stops here and there at waterfalls, charcoal kilns and a lunch break or bathroom break here and there.
Our pace was kept pretty fast and with the two new guides to keep everyone together, it seems like the day flew past us.
The only real obstacle was right at the end of the day. Everyone grouped up at the top of a giant hill where Tom would walk up to your vehicle and explain how he wanted you to get down this hill.
He had let everyone know during the mornings drivers meeting that even thought this was a downhill section, it was way off camber and not something you wanted to be fooling around with.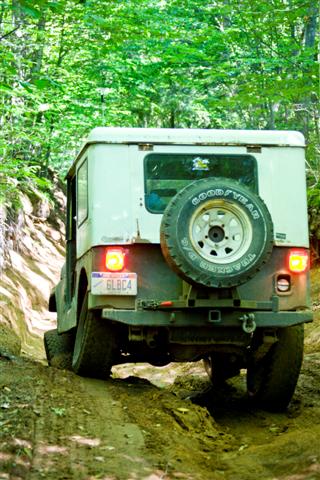 One fast slide to either side and more than likely the momentum of the slide would keep the weight of the truck moving and unrecoverable rate and you'd end up rolling over.
That right there had Cindy scared shitless and once again, she got out of the drivers seat to make me drive. I tried to talk her into giving it a go, but she wouldn't have anything to do with it.
Of course as soon as we got to the bottom of the hill, she gave one of her "Sheesh, I could have done that no problem!" speeches, but she always has to be too chicken to try it herself.
I told her that I'd drive the truck back up to the top if she wanted to give it a go, but she just laughed and said "That's OK, I can wait till next year."
At the bottom of the hill the entire group gathered up where Tom gave one last speech saying that a group of us were going to head out to a secret camp spot if anyone wanted to spend one more night camping.
A bunch of us went into town so Tom could hand out t-shirts to those who had ordered them in advance.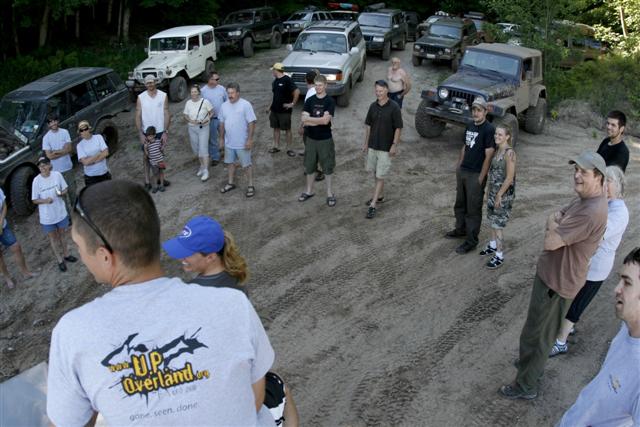 The Last Drivers Meeting to Say Thank You & Goodbye
Once all that was done, Cindy and I followed Tom and his girlfriend Myra over to their house so we could jump in the shower.
By this point, I was ready to kick back and just relax. Of course that would never happen. We had just enough time for a cold beer and a really quick shower before we got a phone call that everyone was meeting up at one of the local restaurants in town.
We all headed down for some dinner and drinks and of course a bunch of laughs. Frank and his wife met us there, Hod and Joash came by and TJ and Amy, two of the local Munising residents who also acted as guides stopped by.
As we all sat around talking, Hod and Joash were talking about the secret camping spot and how amazing it was. They told us we had already missed out on the group that went straight there from the trails end for a group swim.
I guess the rocks lead right up to a steep drop off where the water is deep and you can jump out into Superior.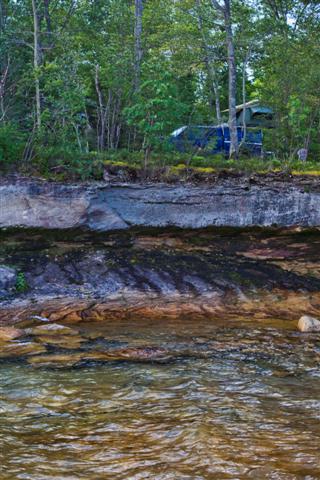 That sealed the deal, forget getting a hotel room tonight, we were headed out to the campsite for one last hurrah.
By the time we got there, almost every campsite was taken. The secret spot is really small and only a place that Munising locals know of.
The reason it's kept such a secret is for its beauty. You can sit out on the ledge and watch the sunrise, and if you have nothing to do, you can stay on that same ledge and bath in the sun the entire day till you watch the sunset on the other side of the earth.
You're surrounded by Lake Superior with awesome views of Grand Island across the bay from you, and the best part about it all is you're only a few minutes out of downtown Munising.
By the time we got our Roof Top Tent set up, the group was well into a grand party.
Everyone was out on the rocks with their feet hanging over the edge watching the sunset. Coolers had been carried out there and everyone was geared up for a awesome night of partying.
Tom brought two guitars and what we didn't know was he and Joash are both amazingly talented pickers.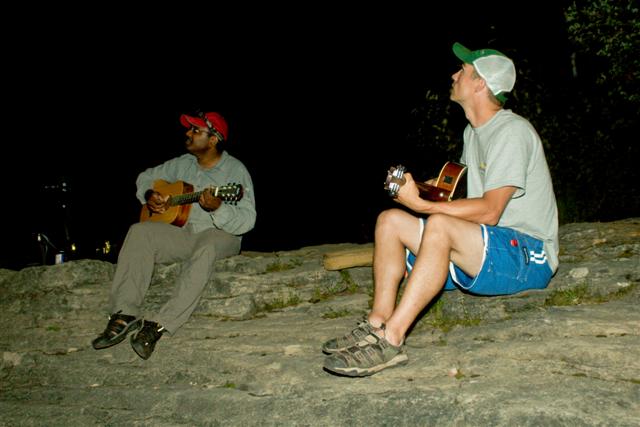 Strummin' and a Star Gazing - Joash and Tom enjoying both
With the two guys strumming their guitars behind us, one of the best displays of shooting stars above us, and an amazing lightning storm out on the horizon, I cant think of a better night I've had in ages.
I mean how do you top this? I cant think of anything I'd rather be doing right now than sitting out on that rock with the Superior breeze blowing over me while I sip cold cocktails and talk amongst good friends.
Hod, Cindy and I sat talking and telling stories all night long while we were serenaded by the guitars behind us.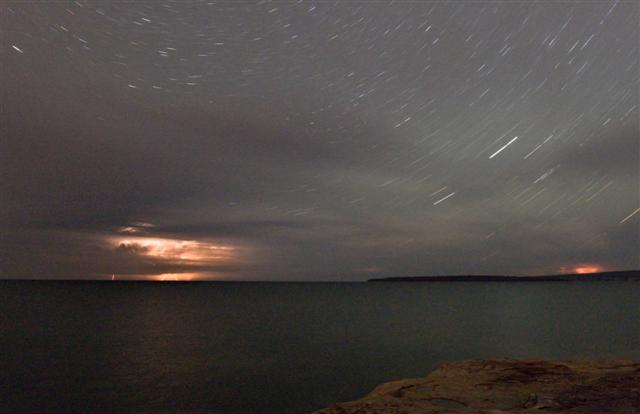 Around midnight, an old beat-up International Scout pulled up to camp with one guy, and three girls in the truck with him. They came out to talk to us and Ian, who by this point was strictly talking in such a heavy Russian accent that none of us could even understand him, got up and started talking with the girls.
Next thing you know, he's saying good night to us and helping the girls to carry their cooler full of beer out into the woods where they say they're going camping.
We all just sat there watching as the last words we heard him saying in a thick Russian accent was "In my country, this is the way we do it" and his voice was drown out with the crashing sound of the waves.
As the night grew later and that storm we'd been watching out over the horizon grew closer, people slowly started heading back to their camps.
When only a handful of us were left standing around the fire, the Hebrew name for Cindy had been translated to "Sandy" and the Hebrew word for "Every Miles A Memory" had been translated to "Every Second Counts" we were ready for bed.
I had been laughed out and my stomach hurt by this point from holding it for so long due to laughing so hard.
It was then we heard some serious screaming coming from the woods. All of us got quiet and listened to what sounded like a guy and girl screaming at the top of their lungs.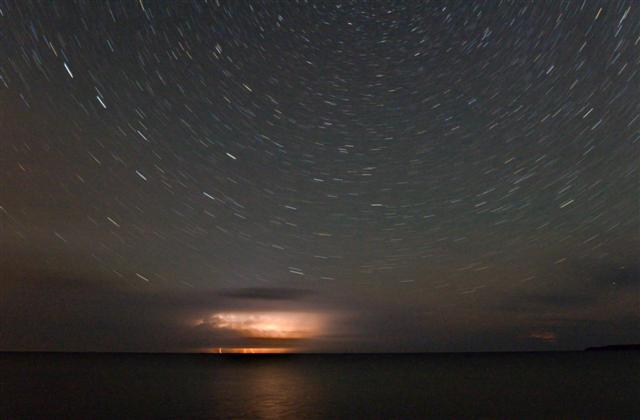 Hard to tell in this shot because of how small it is, but there are 3 lightning bolts coming out of the cloud on the horizon
Sean/Ian was still out there with the group that had pulled in late, but none of us really wanted to go out walking in the dark woods to look for him.
You have to remember that we're camped along the face of a cliff that drops down into Lake Superior, it's pitch black and we've all been drinking.
One of the girls in the group said "Ok, I'll go look for him, if I'm not back in 20 minutes, then you guys come looking for me."
This had me busting out laughing saying "Wait a second, are you serious? That's the plot of every scary movie I've ever seen in my life!"
Us men piped up saying "No one is going in those woods to look for Sean, or Ian or who ever he is right now. It's dark, were all drunk and he's a grown man who just went out with a cooler full of beer and 3 girls!"
It was left that if he wasn't back by morning, we'd all go out looking for him when it was light and we were sober.
This would be the last night I would be sleeping in the tent for some time, and I'll have to say that if there was ever a way to end a camping trip, this night would be it.
Friday the 13th - I Haven't Laughed This Hard in a Long Time
Yesterday we had woken up to the thundering sound of the waves smashing against the rocks, this morning was 180° different. I opened my eyes to hear the soothing sound of the wind whistling through the tall pines we were surrounded by.
The water on Lake Superior was completely calm and quiet and there looked to be a big storm blowing in off the water.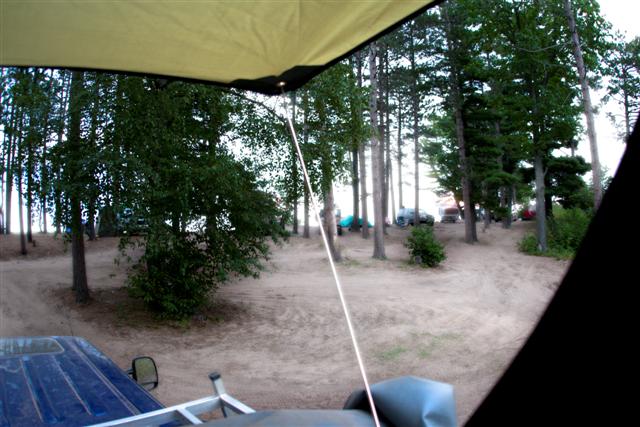 Cindy and I woke up and went for a swim. I'm starting to get used to this and it makes me wish our Ocean Front property in Cedar Key was on the type of water I could wake up to every morning and go for a dip.
By the time we finished up bathing in Superior, the winds had picked up some and the campground was just starting to come alive.
Not wanting to be packing up in the rain, I hurried and loaded everything up while Cindy made us some breakfast.
By the time we had our stuff ready to go, we were glad we did because the winds were really blowing now. Typical Superior weather with one second you have flat calm water only to turn to a raging torrent of waves and wind in the next instant.
Probably one of the reasons they call it the Graveyard of the Great Lakes.
Tom held this mornings Drivers Meeting where he introduced a few new Guides from the U.P. Overland Forum. This would help keep the group together and keep anyone from getting lost.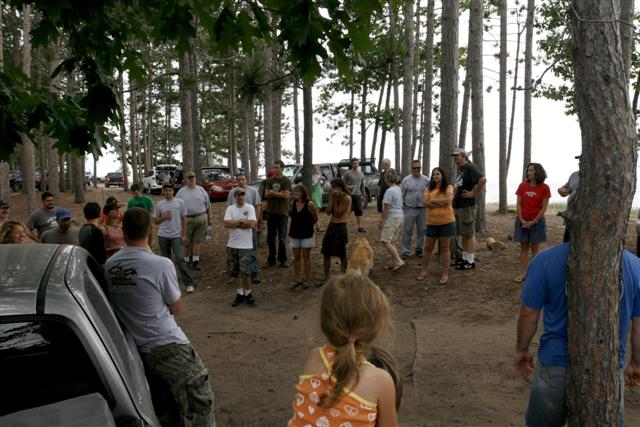 I guess the guides were supposed to have been with us right from the start, but Kristian got a call that he had been accepted to the World Cup Ski Team, so he was in the middle of winter right now. One of the other guides had to go to a job interview yesterday and couldn't change it, so that was why we were short a guide.
Today it should be all good. They stressed that if you're lagging behind, then you need to "Keep Up, or Speak Up" This means if you cant see the truck in front of you, give a call out on the CB to tell them to wait up. This keeps group from getting too far ahead of you and keeps you from getting lost.
As we left the campsite, the skies opened up and we pulled out in the pouring rain. This would only last for a few minutes and we'd soon be covered in dust as we were outrunning the rain storm behind us.
We should have stopped and let the storm catch up or pass us as the dust being kicked up by 30 something trucks rolling down a dirt road.
When we dropped off the wide, county maintained roads and onto some narrow logging roads, things got interesting. Much of Michigan is still under heavy logging and when barreling down a narrow trail and you come up on a giant piece of Logging equipment, it means either someone has to move, or you both have to back out.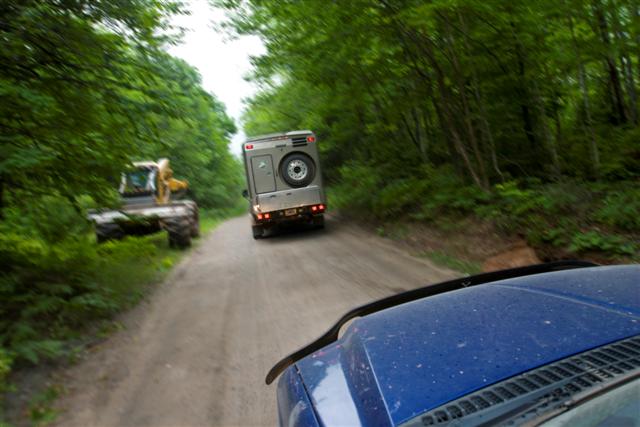 Not the two pieces of Machinery you want to meet up on a narrow road
Luckily when we met up with one of the big logging machines, we were in an area that the machine could pull off the road and allow us to pass.
The deeper we got away from any civilization, the narrower the trail became. I was thinking about how much pin stripping we were getting on the sides of our vehicle, till I noticed that Vince's EarthRoamer and Dave's Dodge with the Alaskan Camper on the back might as well been clearing the way for the rest of us.
We then hit the hill that had everyone eager to see what their driving abilities were. This couple of hundred yard long section of rutted, sloppy steep incline would add some serious fun and excitement to the driving portion of the U.P. Overland Adventure.
The hill looked awful. Very deep ruts with large rocks hidden under a few inches of sticky mud. The width of the trail would mean that many of us guys with full-size trucks would have to drive straight up it rather than be able to maneuver around some of the more serious obstacles like the smaller Jeeps and Land Cruisers could do.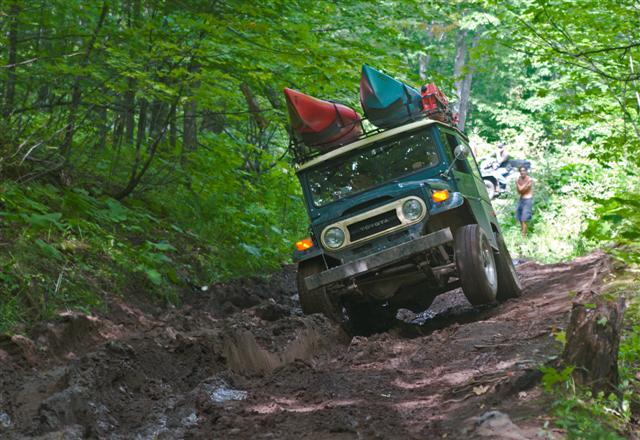 Brian having some fun with his FJ40
This would also bring many of the group members closer together as you had to rely on a spotter to get you through some of the more serious sections.
It was great fun to see the various vehicles climb up the hill. Some would walk right up it like they were driving on a flat surface, one being Peter's bone stock 2004 Lexus GX470 that everyone had been ragging on him about.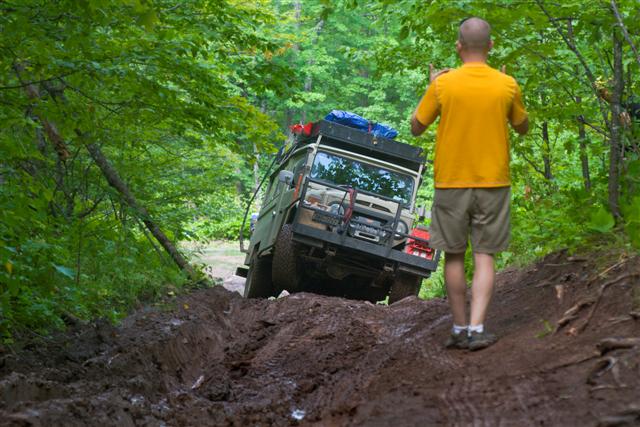 James & Lynn testing the limits of their FJ45
I think the way he climbed up the hill while holding onto a champagne flute with some opera music playing on the Bose sound system while watching a DVD on the flat screen left everyone with their jaw agape.
When one of his tires was literally left dangling in the air because of how twisted the truck was, the traction control kicked in and applied all its power to the tire that was still on the ground.
Hod and I were laughing pretty hard because everyone else who had spent thousands of dollars on lift kits, larger tires and things to make their truck walk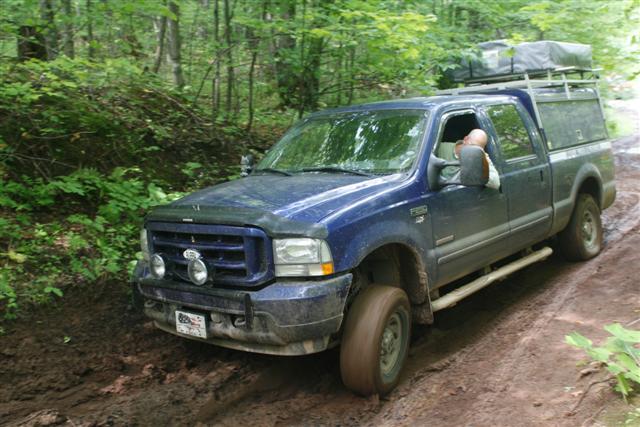 right up obstacles like this were left watching Peter do it with ease and in style the entire time.
I tried to talk Cindy into driving this section since she had driven the entire day up to this point, but she'd have nothing to do with it and refused to even attempt the hill.
I got behind the wheel and did my best at breaking something on our truck, which I did when the length of a 4 door F-250 kept me hung up on a big rock. Not that I'm worried about the simple step bar that got a nice dent in it, but it does make me wonder what the truck would be capable of if it was lifted a few more inches.
When one of the U.P. Overland Guides pulled up to the bottom of the hill in a lifted Jeep with huge tires, everyone laughed saying things like "He should be able to walk up this with his eyes closed."
We were all amazed when half way up the hill, in the roughest section he just started spinning and got stuck. Everyone started screaming and hollering till he stuck his head out the window and said "I guess I cant make it up in 2-Wheel-Drive."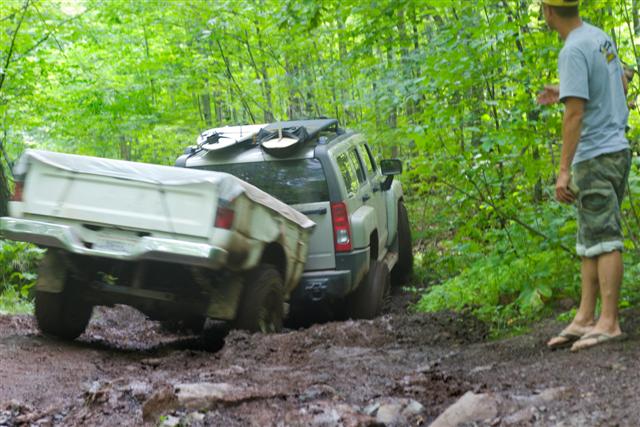 He then shifted it into 4-Wheel-Drive and walked up the rest like he was on a Sunday drive.
I never got to see Dave tackle the hill with his big Dodge and the Alaskan Camper because he was two trucks behind me and was done by the time I got to the top and got my truck situated off the trail.
But I wanted to make sure I would be able to see the EarthRoamer tackle this beast of a hill. Vince and Bettie should win some sort of award for simply having the balls to attempt something like this with a truck like they have.
Just so you know, most EarthRoamers start around the $200,000 range and go up from there depending on how you have them outfitted. Like a custom yacht, each one is hand built after you've put a down payment on them.
You meet with the company to pick out how you would like the interior laid out, which materials and colors you'd like and the options you'd like to have them install. They're built on a Ford F-550 chassis and weigh in around 19,000lbs.
The EarthRoamer was the last one in line and the sides of the trail were lined with every other member of the group.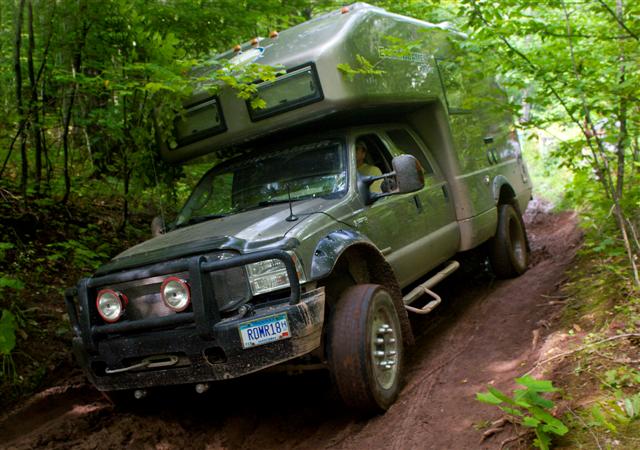 Vince and Bettie Showing Everyone How it's Done in an EarthRoamer
Our biggest fear was the width of the shell on the back of the truck and whether they'd smack into any of the trees with the crazy angles they were going to be pitching and rolling back and forth during the rough sections.
With the truck shifted down into 4-LOW, they climbed up and over the first section, which was some of the roughest parts of the hill on their second attempt. They got hung up on the same rock that I did and like me, they had no option but to hit it head on rather than be able to maneuver around it.
Their truck is lifted higher than mine, so they simply rolled over it with the big Powerstroke Turbo spooling up like some rocket engine ready for take off.
Once over that section, they dropped into the 3' deep hole that was leaving the other trucks with wheels dangling high up in the air as the vehicle would try and climb through the hole.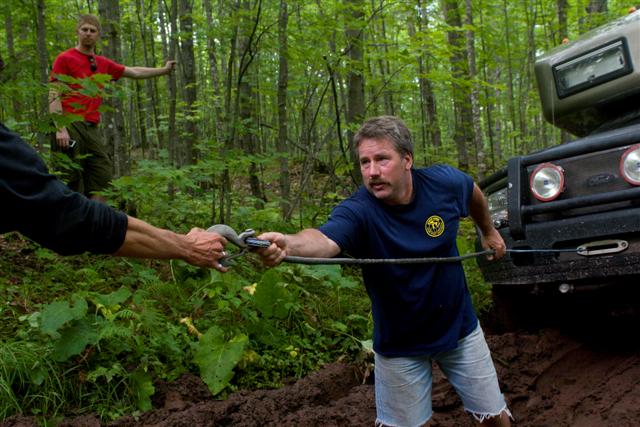 Dave handling the winching of the EarthRoamer
With a 19,000lb vehicle, wheels dont hang in the air! If there is a hole, a wheel is going to fall into it and the top of the shell of the camper is going to swing to the side at a fast rate of speed.
Once their wheels dropped into these holes, the big winch on the front of the truck had to be let out for assistance.
Our biggest fear was the size of the trees surrounding the hill. The area we were in was very rocky, so most of the trees are shallow rooted and can topple over in nasty storms.
Strapping a large vehicle to the base might just yank the tree right up and out of the ground, but luckily with the help from the motor pulling the truck up and the winch picking up the slack, the big EarthRoamer made it to the top without incident.
Vince and Bettie all the while stayed in the cab with big smiles on their faces loving every second of the adventure.
Once at the top of the hill, the water that was making all the mud which was giving us such a hard time only got worse. This must be a natural spring because there was large holes filled with water that were a few feet deep.
Many of the little trucks could simply drive around them without a risk of falling off the trail into the much that lined the edges.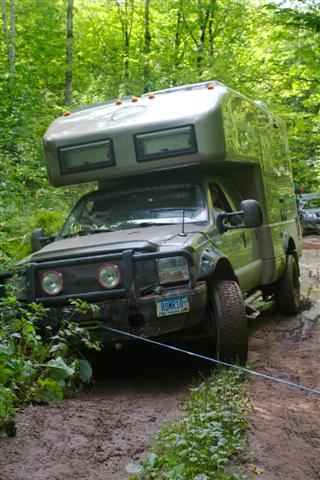 Cindy and Dave made it through, but while dodging a tree branch, the EarthRoamer had to take one of the turns wide and ended up getting a front wheel off the two-track.
Once off and into the muck, the rest of the truck had nothing to do but follow.
Most of the group by this point was far ahead of us, but a few of us trucks were close enough to turn around, come back for assistance and spool back out the synthetic line to hook the winch up again.
This would happen two more times over the next hour which kept us far behind the rest of the group. Luckily we had contact with them via CB, so they knew what we were doing and they were simply waiting for us at a clearing in the trail.
With the EarthRoamer finally clear off all the mud holes, we were on our way only to catch up to the rest of the group who was huddled around Dave's Dodge with a jack under the rear axle.
I guess while coming down a real rocky section of trail, he took a sharp rock to the sidewall on one of his brand new Goodyear's and they were in the process of changing his tire.
On our first night in camp, Dave had just told us about his new tires and the fact that he had gotten them installed a few days ago for this trip. He was telling us that he had paid a few bucks extra for a roadside assistance program and if he had a flat, they'd come out and change out the tire for him.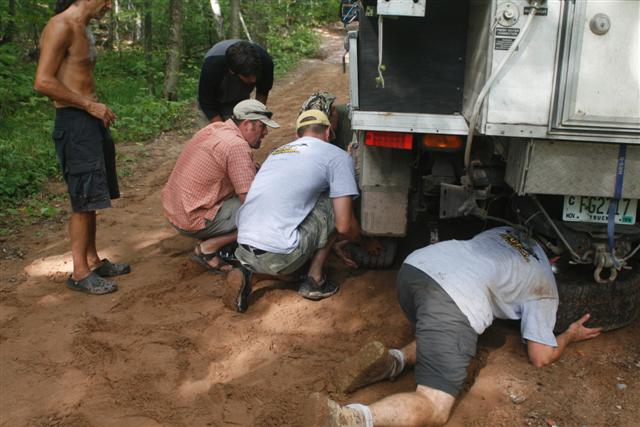 We all joked saying that he should call them up and see how good the service is. See if they'll send some big 4x4 tow truck that can come find us and change the tire on the trail.
The group had the tire changed in NASCAR speed and we were back on the trail heading for tonight's camp.
When we pulled into camp tonight, we grouped together so Tom could give out some instructions. We were only a few minutes from downtown Marquette so he was letting everyone know that if they were going to go into town for the night to get a hotel room, as some had already made reservations or simple to re-stock their supplies, then they needed to be back here by 10am for the drivers meeting.
Cindy and I headed into town for some dinner since our cooler was running close to empty. We found a nice restaurant where we both devoured some food that was cooked by someone else...Not that I ever cook my own food, but you know what I mean.
Throughout the day today, I had spent most of the time running up and down the trail in my hiking boots through deep sugar sand in order to get pictures of different vehicles.
I had ran up and down the big hill a few dozen times when we were in that area and had probably jogged a few miles total. I know that's not all too much for people who are used to this, but I'm way out of shape. As I sat down in the air conditioning of a restaurant, I felt like I had been run over by one of the trucks.
It was all I could do to keep my head off the table for how tired I was.
I ordered a few iced tea's and downed them as fast as I could to get the caffeine rush and hopefully have it wake me back up.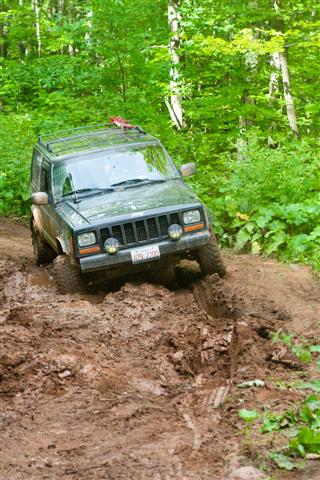 It worked because by the time dinner was finished, something that we scrapped the plates clean because of how hungry we both were, I felt like I had gotten a second wind.
We headed into town to get some groceries so we wouldn't be this hungry again. While driving around town, we both were talking and thought maybe it would be good to get a hotel room for the night and be able to take a real shower, use a real toilet and actually get some sleep.
That was till we stopped at one of the hotels who told us this weekend was the annual Oar To Shore mountain bike race and every hotel in the surrounding area would be sold out.
In reality, I'm glad they were because neither of us really wanted to stay in a motel, I think we were both just saying it because it sounded good at the time. What we wanted was to be hanging with Hod, Joash, Peter, Luis and Ian back at the campground and laughing like we did last night.
So we threw our supplies into the cooler and raced back out of town to get to the campground before it got too dark.
When we pulled in, Hod came over and said they had saved us a spot right by their trucks and we pulled in and set up the Roof Top Tent.
By the time we had the tent set up and had changed into some different clothes, the party had started and we were being fed by Peter and his array of meats and cheeses, handed strong drinks by Hod and Luis and entertained by the entire gang.
Sean/Ian by this point had perfected his Russian accent and if you were new to the group, you'd think he had just moved into the country.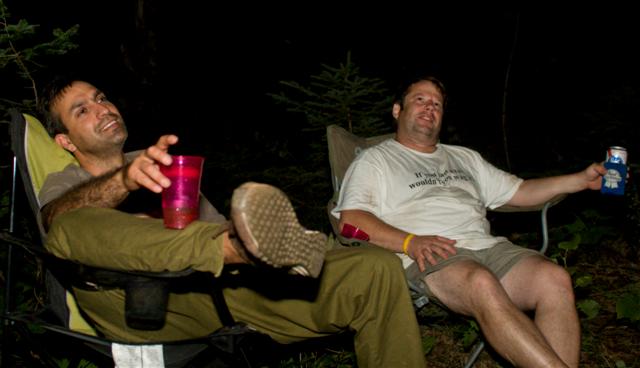 Hod & Peter hanging out in Camp
Much like last night, our night tonight was filled with laughter, stories about our travels and our friendships were bonded together even tighter than they were the night before.
By the end of the night, I felt like I knew these guys like they were some of my best friends. I think that people who travel alot have a tendency to share more intimate stories with their fellow travelers because they know that they might not ever get a chance to see them again.
When you meet someone new, many times you have a wall built up around you until you get to know this new person better. But if you know that you're only going to be spending a few days with this new person, you're usually more likely to share stories that might take years to come out in another circumstance. At least that's how I felt with these guys.
It was a great night and I made sure to crush my last Leinenkugel's before I crawled up into the tent tonight. Cindy slept much better and didn't wake me up but once to tell me to close the storm flaps because it was raining.
Thursday August 12th - Waking Up In Heaven
We woke up to a somewhat cloudy sunrise and a slight breeze, but dont get me wrong, it was nothing short of a spectacular way to start the morning. The waves had calmed down a bit, but they were still much larger than they were yesterday when we first arrived.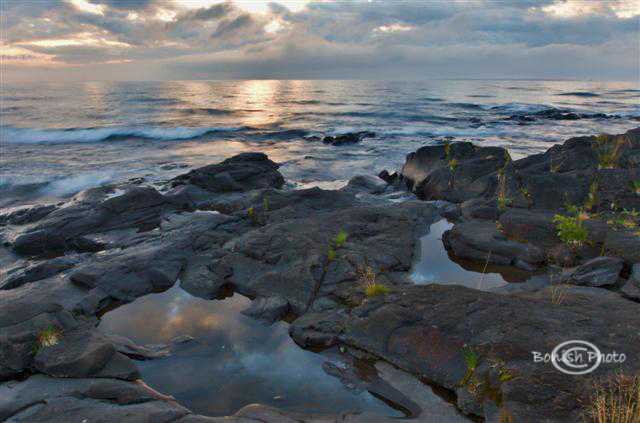 Sunrise from 10' behind our Campsite on High Rock Bay
We got our day started with another bath in Lake Superior which is an amazing way to clear a groggy head from the awesome bottle of Red Wine that our friend Luz had given us as a gift for this trip. The wine went fantastic with the burgers and dinner Cindy had cooked, and the few Leinenkugel's that ended the night cleared right up when that chilly water encompassed my body.
If you've never seen Lake Superior, it's a very deceiving lake. First of all the water is a tropical blue and crystal clear. The fact that you cant see the other side makes you think you're looking out over a vast ocean of Caribbean water. That is till you put one foot in it and realize it's quite chilly. To be able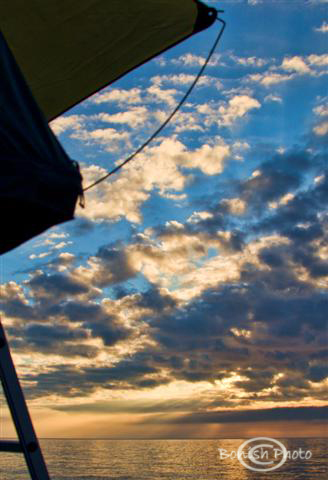 to swim in it, especially this early in the morning is a rarity that I dont know if we'll ever have again, so we were taking full advantage of it.
We both stripped down in a secluded section where no other campers were at and washed away the last few days worth of dust and trail. It felt amazing and completely energized me for today's leg of the adventure.
Tom had the morning briefing scheduled for 9am and everyone had their camps packed up and ready to roll by then.
He held a quick raffle where he gave away prizes that participants and Northern Michigan businesses had donated. One of the members donated a SPOT Locating Device, which was the top prize. Peter, one of the other members who had driven up from Kentucky brought a nice bottle of Bourbon and as luck would have it, one guy one both of those prizes....Lucky Bastard.
With the raffle finished and all the prizes given away, we got the vehicles lined up and ready to head out for today's fun, and fun it would be.
The section of trail we were driving today wasn't all that rough, but mixed with tight two track and bouncy forest roads. The canopy was so thick in some sections you'd almost have to turn your lights on, but the skies were bright blue so it made for crappy photos do to the dappled light.
Yesterday was probably the best day for photos because the rain made the light more uniform without any harsh glares off the metals. It's very hard to get photos to look good when you have very dark sections while traveling through the woods mixed with bright sunlight. There is either areas in the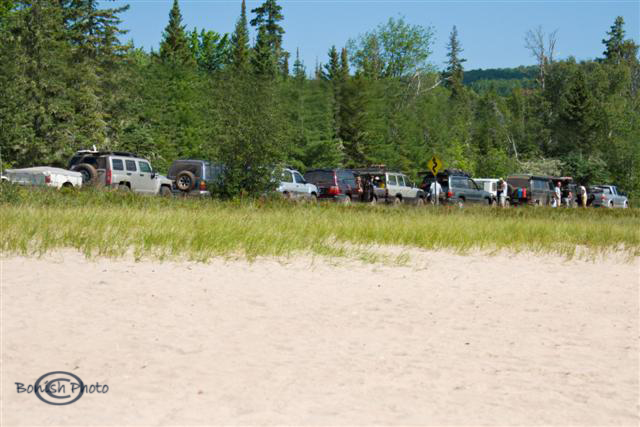 photo that are too dark, or areas that are totally blown out, so I didn't even really take that many photos during this mornings trail drive.
When the trail dumped us out onto pavement, we all grouped up at a beautiful sandy beach in Bete De Gris Bay so everyone could use the bathroom and we could make sure we didn't loose anyone during the multiple turns we had to make.
When the head count was made, we realized we were missing 7 vehicles. Tom went back to look for them and when he got to the last intersection, he found that there was fresh tracks heading in the wrong direction.
He tried to radio to them, but they were beyond the distance his CB would reach, so he called the U.P. Overland member who was pulling up the tail end of the group and just left a voice mail on his cell phone.
We were way out of cell range, but we were all heading towards a small town where service would probably pick back up. And the Guides of the U.P. Overland group all have the routes punched in on their GPS units, and we all know where we're supposed to meet for lunch and our scheduled breaks, so we werent too worried. Besides, if they were to get lost, everyone here is fully self-supported, so the chance of anyone getting in trouble is close to none.
Our next destination was Gay Beach. In Northern Michigan, just South of Copper Harbor is a small town named Gay, Michigan. There is only one bar in town, and guess what it's called? You guessed it, the Gay Bar.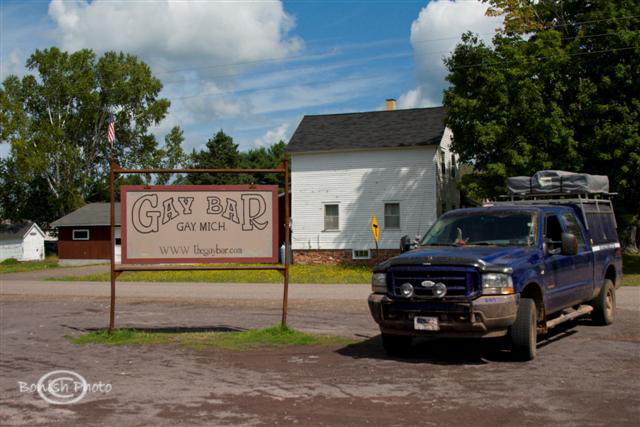 Too Good Not to Stop and take a photo - Gay Bar, Gay Michigan
This town of jolly ol' Yooper's is an old mining town as many of the surrounding settlements are in this area. I'm sure they've heard every gay joke in the book by the people passing by who have to stop at the Gay Bar and take a photo. I know our group was having a blast coming up with innuendos to go along with the towns name.
Gay Beach is an oddity in and of itself as it's actually a man made beach made up of what they call Stamp Sand.
This course sand is tailings from the mining days that they dumped on the once pristine white sand beach area. The section with the Stamp Sand is probably a 1/2 mile wide by a mile long. I guess they had been dumping here for decades before they realized the tailings were toxic and they were spoiling Superiors once clean waters.
They stopped dumping here ages ago, but the Stamp Sand is like driving on little, black ball bearings and it's very heavy. I had my tires aired down to 40psi, and as long as I stayed in someone else's tire tracks, I seemed to float rite atop the surface.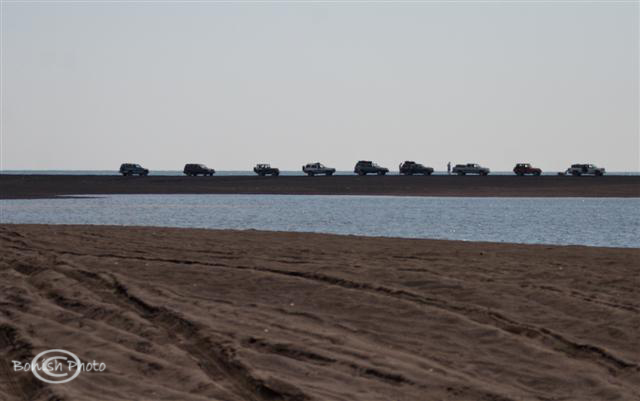 Overlanders Lined up along the shoreline of Gay Beach
The trucks were lining up along the edge of the shoreline to have lunch and wait for the lost members of our group to meet back up. As we pulled up to the group, Cindy was saying "Dont go up this far, you're not following in anyone's tire tracks, this if fresh sand and we're going to sink", but of course, I didn't listen and pulled up to the front of the group so I could stand on top of the truck to get some photos.
We proceeded to have lunch, talk with the other members of the group while some went for a swim and others let their dogs run free along the big empty beach.
When the rest of the group meet up, we started to pull off the beach and what do you think happened?
You guessed it, Cindy's words were burning in my ears as I stated to pull forward. I had parked on the top of a little incline and as I began to pull forward, the weight of the truck made my tires plow deep into the Stamp Sand and pulled me down the incline towards the water.
I threw it in reverse, but this did nothing more than burry the tires deep into the sand. Cindy just looked at me, opened up the truck door and said "I'm going to talk with John while you figure this mess out."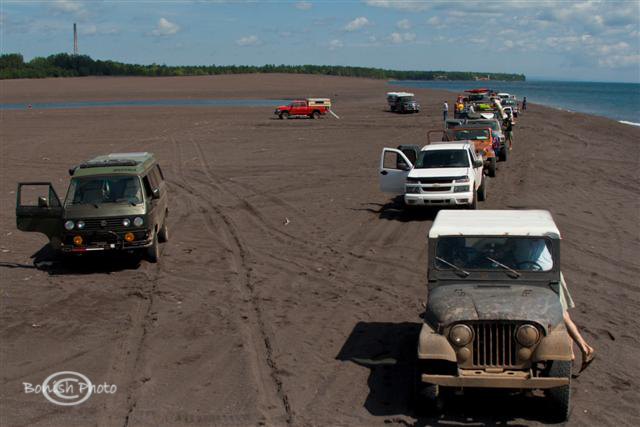 Trucks Lined up along the Stamp Sand on Gay Beach
With that, she stepped up, and out of the truck, something you're normally stepping down from, and walked away to go talk with John, a new friend who owned the really cool VW Bus with the huge dog that Cindy had fallen in love with.
One thing about Overlanders and off-roaders in general, they all have recovery toys, and they all love to be able to pull another Overlander out of bind.
Before I could even get out of the truck, I had a few guys who had come over to my rescue to give pointers on ways to get me out of this gritty slop, and they had a tow strap hooked up to my bumper in no time.
As they hooked up the strap, I aired my tires down even more which would help me float over the sand better. I guess 40psi was too much, and aired down to a low 20psi, my tires seemed to do much better over the ball bearings.
I was surprised that Frank's H2 would be able to pull me out, because my truck loaded down with all it's gear is quite heavy, but with the strap hooked up, Frank pulled me forward to build up some speed, then we both turned to head up the incline back onto the more solid sand.
It pulled it like it was nothing. Thanks Frank...Beers are on me tonight at the camp fire.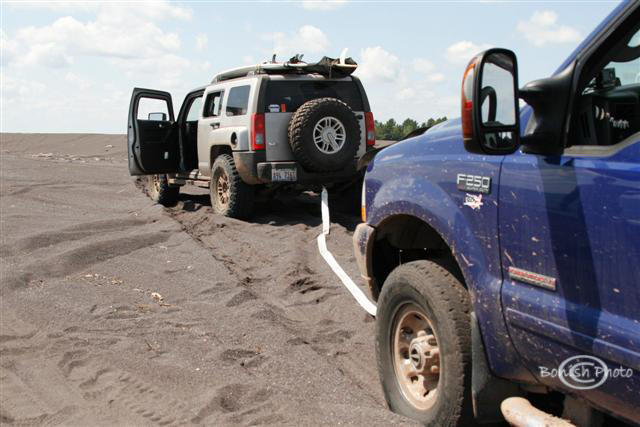 Ok, let's hear the comments about a Ford being pulled out by a GM
When I posted the photo of our truck hooked to Franks on Facebook, our good friend Jana from South Dakota left a reply that said "I was wondering when I was going to see Bubba on a leash!"...HAHA!! That comment made me laugh real hard.
I wasn't the only one who got stuck on the beach either. Bryan and his Dad John who have an awesome 1974 FJ40 they've spent years rebuilding were going to go around another truck that was stuck and pull through one of the little ponds.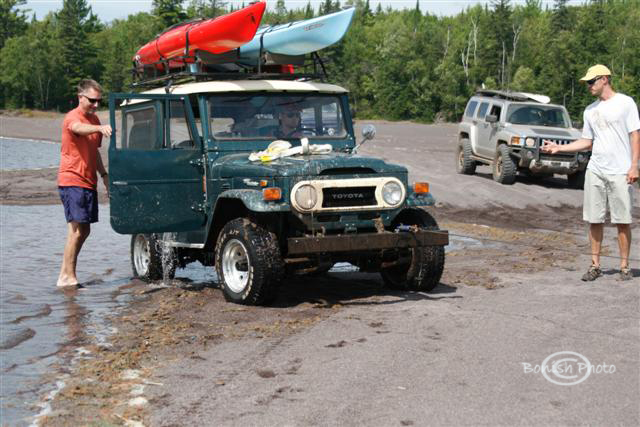 Notice the water pouring out the door as John opens it up to drain the FJ
Bryan thought he could see the bottom of the puddle and it would simply be a short cut. That was till his FJ40 dropped into a deep hole that was hidden in the black water.
This allowed another FJ owner to use the winch he and his brother had just installed. Basically Gay beach was a place for a bunch of grown up men to use all the toys they outfit their trucks with.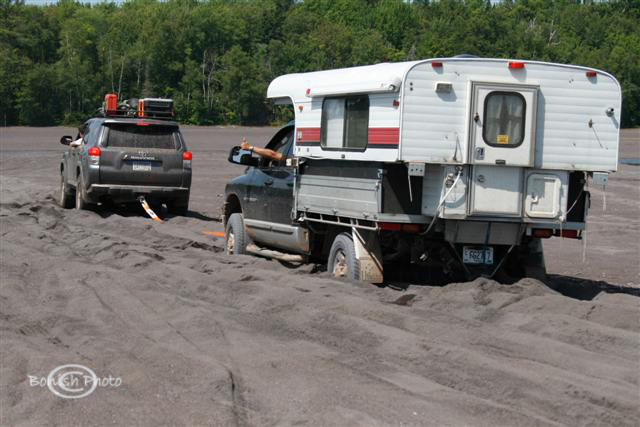 Ryan & Britteny pulling out Dave's big Dodge
Dave and Joan got their Dodge stuck and I was amazed to see a tiny little Toyota Forerunner pull them out. I never thought the smaller forerunner would pull out Dave's loaded down full-size Dodge with that big Alaskan Camper on the back, but it pulled it along the sand with no problem.
I guess from what I was told later that night around the campfire, the truck that is getting stuck is pulling itself down into the sand. By hooking another vehicle to either the front end or the back end, it simply pulls the weight in a forward direction and doesn't allow it to dig into the sand.
So it's not necessarily the weight of the truck doing the pulling, but simply the fact that it's keeping the truck from digging into the sand. This theory probably wouldn't work for sticky mud, but for sand, it was amazing to see the smaller, lighter vehicles pulling out the big full-size trucks.
When the big EarthRoamer pulled onto the Stamp Sand, it didn't make it more than a few hundred yards before it buried itself deep into the sand.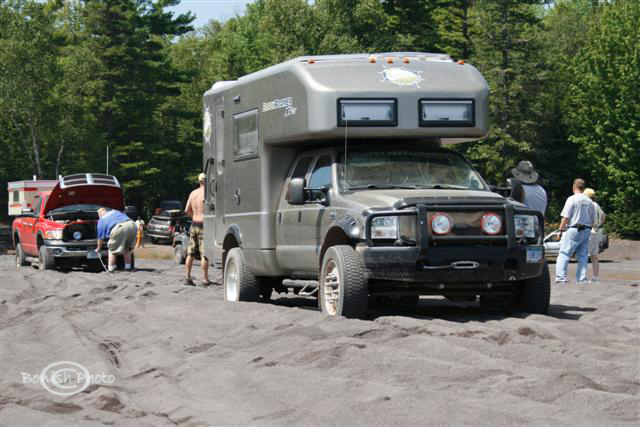 Dodge Power Wagon Winching out the EarthRoamer
Now this one I was worried about. I was thinking this was going to be multiple trucks with multiple straps hooked up to get this big behemoth out of the Stamp Sand, but Brian, with the bright red Dodge Power Wagon was able to winch Vince and Bettie right out on his own.
With everyone fully schooled on proper winching techniques, tow straps rolled back up and stored in their boxes, everyone was lined up and ready to roll back onto another trail.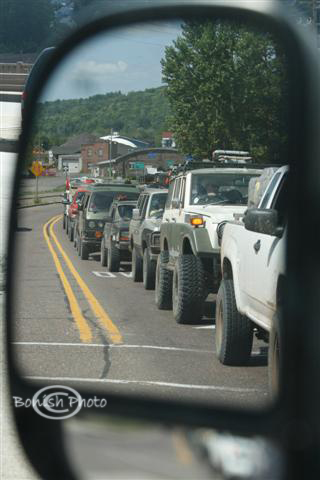 We had a bit of pavement to get to before we would hit more two track, and I learned that my truck rides really funny when the tires are aired down to only 20psi and we're doing 55mph down an asphalt road.
It felt like I had marsh mellows as tires, but we made it fine and once back on the dirt, it rode like I had new shocks installed.
As we were passing through L'anse, the group stopped one last time at a gas station to top off the tanks, grab a few bags of ice and make sure we had everyone. The logistics of trying to maneuver 33 trucks through a city with construction going on was humors to listen to on the CB's.
Having 33 very unique trucks all sitting in a gas station makes for some serious rubber necking as the locals drive by. It's amazing we didn't cause an accident.
From L'anse we dropped onto a forest road that was kicking up some serious dust. This area must have missed the rain we've hit the last few days because the roads were hard to drive down due to the limited visibility. The group had to put some serious space between the vehicles so no one would risk running into the vehicle in front or behind them.
I was really surprised that the big, off-roads lights actually help cut the dust even in broad daylight. Plus it makes the vehicles able to be seen so you know if they're getting close.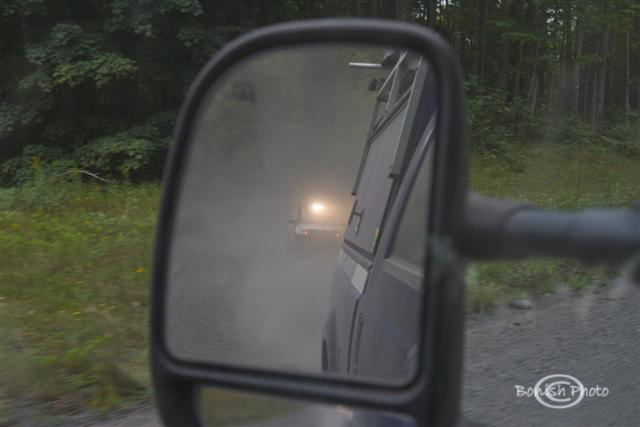 Luis's Rooftop Lights seen in my Rearview Mirror
Tonight's campground would be the Huron River Beach area which was different than the others. For one, it was heavily wooded and for two, it had other campers in it.
I guess School starts next week in this area of the country, so many of the families are taking their last vacations of the summer. Tom had told us that in their scouting of the routes, every time they'd stay at this location they would be lucky to see another camper the entire time.
Tonight as we pulled in, we'd be lucky to fit all our trucks in the campground. I guess the secret campgrounds have been getting to much attention and people are finding out about them.
It didn't make any difference. Everyone found a campsite and the party had begun by the time we were finished setting up our Roof Top Tent.
Lake Superior was like a pane of glass and this beach was one of those sand bar style beaches that you could walk a few hundred yards out into the water and still only be chest deep.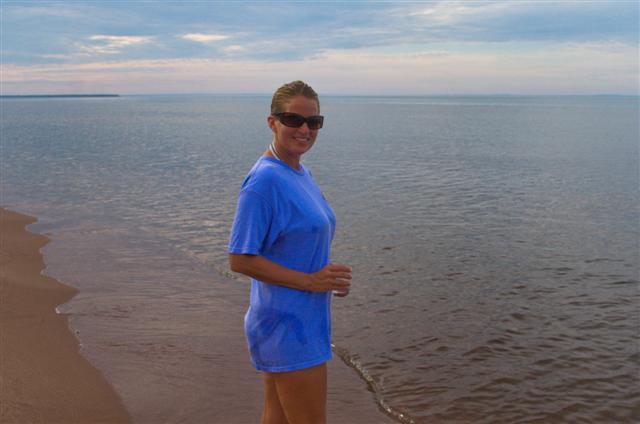 I know I'm starting to sound like a broken record, but the water was amazing. Cindy and I put on our swum trunks and went for a swim. When you have the chance to swim in Lake Superior without a thick Wetsuit on, you take every opportunity to do it that you can.
After a long swim that had us fully refreshed, we changed into some dry clothes and went over to Peter's camp. Peter is from Kentucky and each night has had his camp tables lined with food, drinks and makes it a point to feed everyone who comes by for a visit.
Peter's camp had Brett and Tracie who are from Grand Rapids Michigan, Luis who is from Illinois, Sean who is from Wisconsin and a few others who are scattered around the Mid-West.
Joining us in the party was Joash and Hod. These guys are down right hysterical and made the night one I'll never forget.
I fell like I know Joash even thought this would be the first time I've ever met him in person. He's a member on the Expedition Portal Forum and is an amazing photographer. He's always posting photos that make me drool on my keyboard and we're always talking photography online on that forum.
This would be the first time I ever met Hod, but by the end of the night I felt like we were long lost friends.
Hod and Joash are of Indian decent, Hindu not Native American, or Slurpee not Casino, as they said it.
Sitting around Peter's table filled with exotic cheeses, delicious meats and the occasional sip off a bottle of very nice Tequila that was being passed around, the stories and cultural differences being talked about should have been videotaped.
I cant remember the last time I've laughed this hard or had this much fun, or the last time I've been fed this well at a campsite. Peter's spread was nothing short of a professional caterer.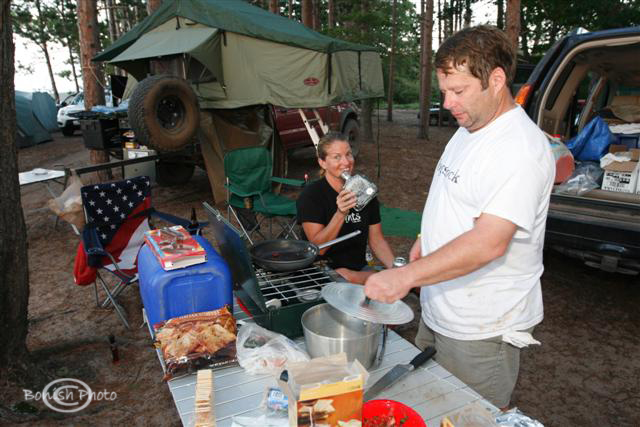 Peter Making some sort of food dish up, and Cindy excited because she's found the Tequila
Hod is nothing short of a professional comedian and one of those people that not only makes fun of his own religion, he makes fun of everyone else's too. It was impossible to get offended because he was usually making so much fun of himself at the same time of ripping someone else apart, you barely had time to stop laughing.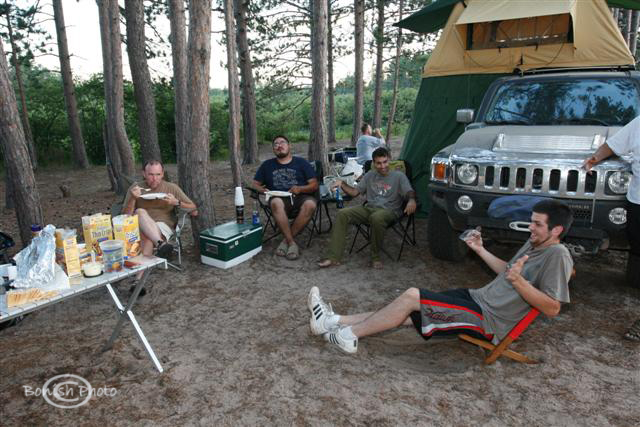 R to L - Sean/Ian, Hod, Luis and another Camper laughing at the Stories being told
Luis was of Mexican decent, and Hod was trying to tell Sean that he needed to come up with some sort of accent because the ladies go crazy over foreigners and then the group of them could all be alike.
Hod within seconds had Sean renamed Ian and said he should figure out a Russian accent to go along with his new name.
Hod kept calling Joash his brown friend and when Cindy asked "Well if Joash is brown, what color are you?" (both of them had darker complexions than the typical white boy)
Hod replied that "Joash is coffee, I'm more Cafe La Te".
The night was hysterical laughter mixed with a spectacular sunset over Lake Superior. We all sat up talking, laughing and if I haven't mentioned it already, we laughed well into the night.
I think we finally went to bed when someone from our own group of U.P. Overlanders came over to our ring of laughter and asked us to be quiet because it was 2am and they were trying to get some sleep.
Cindy and I grabbed a blanket and walked down onto the beach to watch the amazing array of stars. There were so many stars in the ink black sky, it reminded me of being in Yellowstone when there is no such thing as light fall-off to hinder the darkness.
We sat out on the beach for awhile till some clouds blew in and blocked our view of the amazing light show. We had both counted at least 5 shooting stars each, and couldn't remember the last time in such a short period we had seen so many stars fall from the sky.
I haven't checked, but I'm sure there must have been some sort of meteor shower going on that night, either that or I should have been running around like Chicken Little yelling "The Sky is Falling".
I dont remember too much about going to bed by this point, but I remember Cindy waking me up a few different times throughout the night to tell me she was very uncomfortable because of something she was sleeping on.
I would usually just grumbling something at her and go back to bed.
In the morning, she awoke to find that I had gone to bed with a can of Leinenkugel's and after finishing it, decided to crush it with my hands, throw in beside me (where she was sleeping) and she had slept on top of the beer can all night in a puddle that had dripped out from the can being crushed.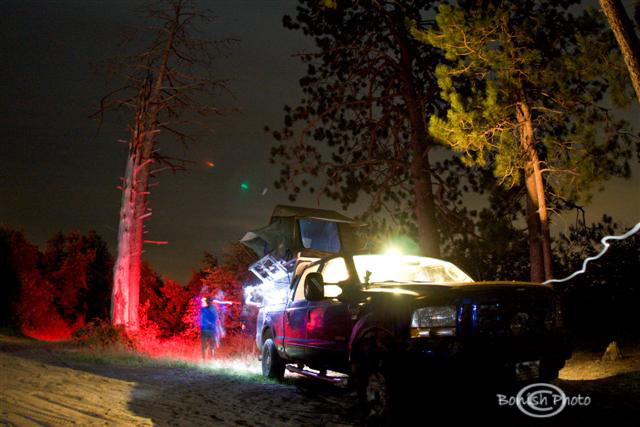 I cant explain why I do these things? But I think it's safe to say that hanging out with Hod, Peter, Luis and Ian, the crazy group of foreigners, wasn't all that good for my sobriety.
Wednesday August 11th - U.P. Overland Tackles the Bill Nichols Trail
Waking up to rain isn't a good thing. Packing up a tent when it's soaking wet isn't all that fun. Luckily the RTT only takes a few minutes to pack up and the heavy duty cover would keep any more rain from getting in.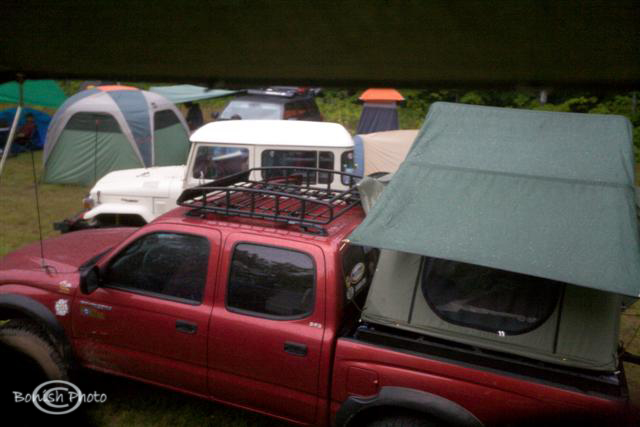 Right after we finished packing up, the local news station showed up to do some interviews for the 3rd annual Overland Trip getting ready to head out on their first day of adventure.
Tom had asked if I'd be willing to talk to the reporter on camera since we took home the award for traveling the greatest distance to get to the event.
By this point, Cindy and I had logged some 2300 miles from when we had left Cedar Key almost two weeks ago.
Of course I looked like a total idiot once I saw the footage on the Channel 6 website, and Cindy did her typical 'Freeze Up' when it comes to talking in front of a camera.
Any time we get the chance to do an interview, Cindy turns into a scaredy cat and runs in the opposite direction.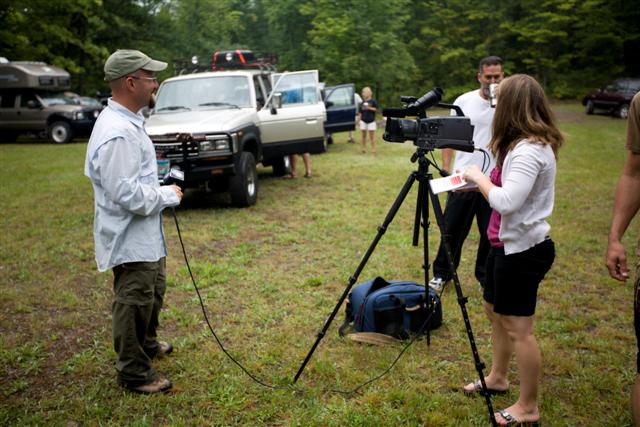 Doing my Interview with Channel 6 News
Once the interviews were done, Tom held the first of many Drivers Meetings where he'd go over our planned route for today's adventure, and he'd talk about where we hoped to be for lunch, what we'd be seeing along the trail and where we'd end up for tonight's camp.
Once the briefing was done, everyone would pile into their trucks and the 33 vehicles and 1 motorcycle would head out for a day of beautiful scenery amongst some of Michigan's best trails.
One thing the Upper Peninsula of Michigan is known for is their extensive trail system. The U.P. is most known for its winter snowmobiling and many of these trails can be driven in the warmer months if you know the route.
Tom and a few other Yooper's, what the local U.P. Resident is known as, spend hundreds of hours scouting and mapping these trail systems in an effort to show the Forest Rangers that you can have Vehicle Dependant fun without trashing the trail systems like many of the ATV's are known to do.
This entire event was riding on the the Tread Lightly Motto and we were making sure all our wheelin' was on designated trail systems, our camps were always left cleaner than when we found them and we did our best to not tear up any of the trails as we passed over them.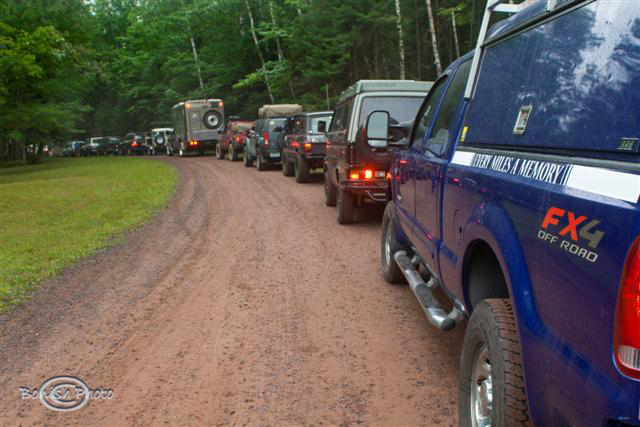 As we got under way on the Bill Nichols Trail, we pulled out of the Adventure Mine in the pouring rain heading East away from the Porcupine Mountains. The heavy rain was very good for two reasons.
#1 being it keeps the dust down, and #2 Michigan is known for being very sandy.
Many vehicles can get stuck on a flat, level trail simply because the deep, sugar sand is known to swallow tires without hesitation. The rain binds the sand together and many of the vehicles were simply floating right over sections that would normally have required aired down tires and constant 4 wheel drive.
Most of the Bill Nichols Trail system follows an old, abandoned railway grade, so today's route wouldn't be challenging in the least. But remember, this is Northern Michigan, and every now and then a tire swallowing hole would pop up to make sure you were paying attention to the narrow, dirt roadway ahead of you.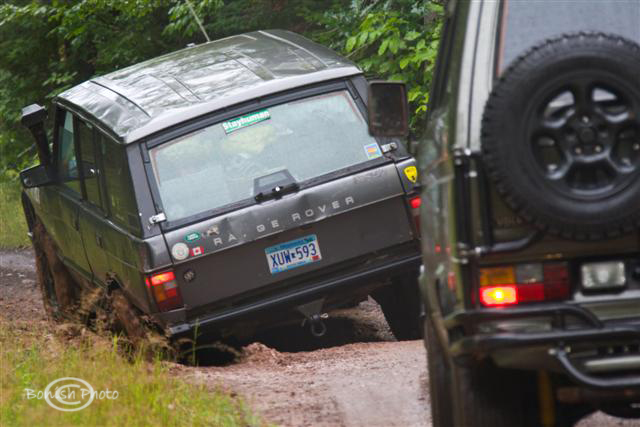 To give you an idea, those are 35" tires on that Range Rover
Many times the trail would be narrowly sandwiched between lush vegetation that was trying it's hardest to completely erase any sign that humans had once clear-cut this thick forest for it's rich bounty of timber.
At times you would be hard pressed to think you hadn't been transported to some tropical jungle with the dark green grasses, the bright flowers blooming and the heavy moss growing on anything that doesn't move on a regular basis.
There are many streams and river systems that criss cross their way through Northern Michigan and tall bridges had been built so the trains could haul out the logs.
Crossing these tall trestle bridges, one is tempted to stop and take a gander out over the thick pine forests that are making amazing comebacks from the years of being ravaged by loggers. Black bears roam these areas staying fat off the abundant supply of wild blueberries, thimble berries and other various sweets that grow wild along the forest floor.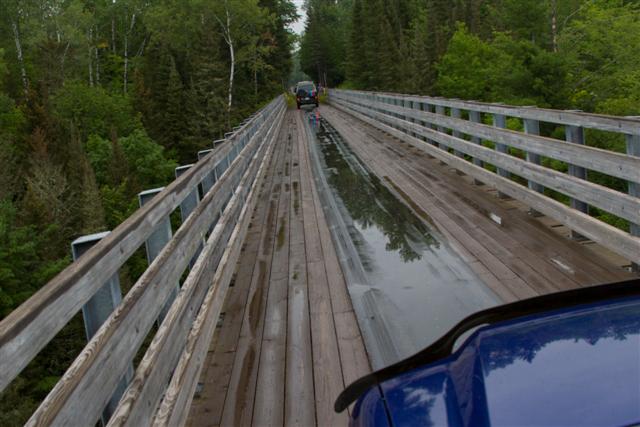 Numerous times did we see fresh bear scat on the trail, although we never got to see a wild black bear.
When the trail dropped us into the Houghton area, the group split up planning to meet back up after an hour lunch break. Tom gave everyone directions on where to meet saying that Houghton had a bunch of places that were good to visit so they could make their own decisions on where to stop.
Rather than risk getting lost, Cindy and I simply stopped for fuel, grabbed a few bags of ice to throw in the coolers and found the next 'meet up' location.
Up to this point, Cindy had been driving for the last few hours so I could either be taking photos, or downloading them onto the Laptop while we would both be in the vehicle. Isn't it funny that the truck has 105,000 miles on it which Cindy might have put a few hundred of those miles on.
But she has driven the White Rim Trail so I could photograph the truck, and now she's driving almost all of this adventure.
I should mention that my Canon 5D stopped working early this morning so I'm running on one camera, and a Cropped Frame Model to boot. I doubt I'll get any photos that will be worth a damn, because I have a few things I like to do with the Full Frame 5D that cant be done with the 30D. It's all about the perspective and the 30D cant give me the look I want.
What pisses me off the most is this will be the second time this Camera Body has broken for the same reason? Starting to wonder if I'm too hard on my equipment, or I might need to start looking at different manufacturers.
Once the group met back up, we got all 33 vehicles together and headed back along the trails. When you have a group this large, especially with this many unique vehicles, it really turns some heads as we'd pass through the small towns that dot the landscape of northern Michigan.
Many of these towns only have a few hundred residents during peak season,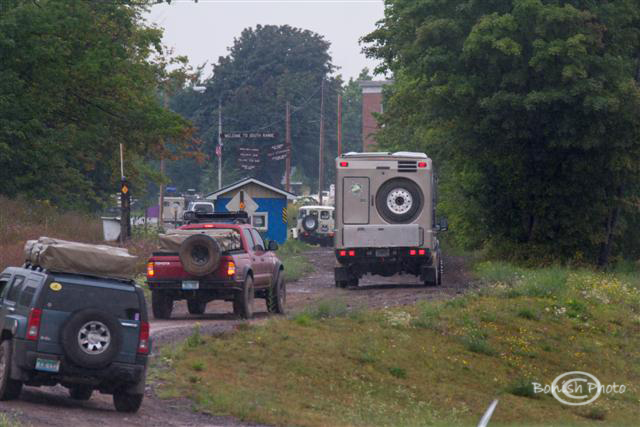 so having a line of exotic trucks, vintage Land Cruisers, Jeeps and especially the EarthRoamer mixed in with the group, it really was funny to see the expressions on the peoples faces as we'd all be waving while rolling through town.
Little towns like Eagle Harbor and Copper Harbor that border Lake Superior are great places to visit and luckily Cindy and I have spent plenty of time in them on past U.P. Vacations. Many of the participants were taking notes on places and locations they would return to when they could do more exploring on their own time. A bunch of the group members were using this U.P. Overland as a start to a longer vacation, so they'd have time to go back and explore the various towns we simply passed through.
This trip was about off-road, vehicle dependant travel and camping in breath taking locations that few people other than Upper Peninsula locals know about.
Above Copper Harbor we stopped at a lookout that offers some amazing views across the Michigan landscape. From this lookout, the road turned to dirt for the next four miles till it dumped us off at High Rock Bay.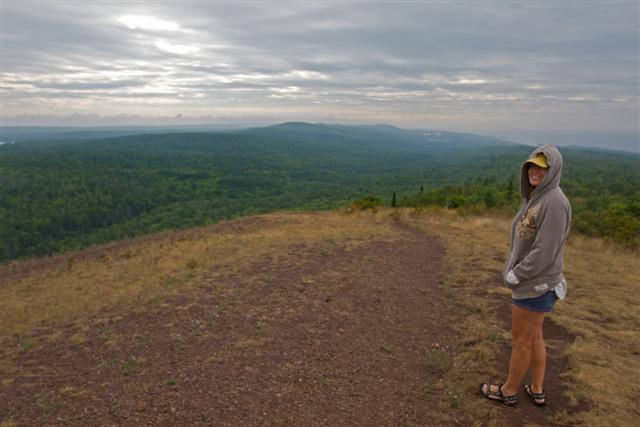 Cindy Atop West View Lookout - Nothing North of Us except Canada
From what I've been told, this is a favorite amongst the past attendee's and one that never seem to let anyone down.
Cindy and I have been on the road for over 4 years and have camped in some beautiful locations. Its hard when people ask us "What's your favorite spot you've stayed?" and this question gets asked all the time.
For us, each spot holds a different feeling of emotion. Some were amazing for the sunsets. Some locations were amazing for the wildlife, some were jaw dropping for the sunrises and some were just too good to talk about for their privacy.
But from this point on, when people ask me about my favorite place to camp, I will say High Rock Bay.
This rocky shoreline that allows you to watch the sun set on one side, and rise on the other is something out of a movie set. It's one of those places that if you saw it in a movie, you'd be thinking "How do they create these mock up sets so lifelike?"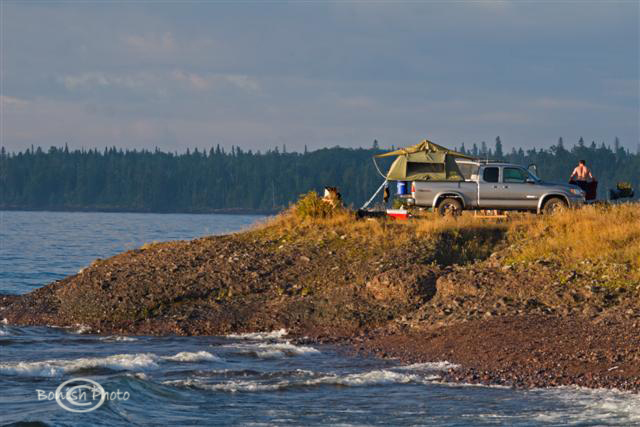 The heat and humidity we'd been fighting for the last few days was gone due to the strong breeze blowing in off of Lake Superior. This meant it also kept the bugs away from us because they couldn't fly in this strong of a breeze.
The sound of the waves crashing into the rocks only a few feet from the ladder of our tent was one of Mother Natures symphony's that people search their entire lives to find.
I told Tom and Cindy that if we would have known this campsite was here, we probably would have just drove straight here and waited for the rest of the group to meet up with us.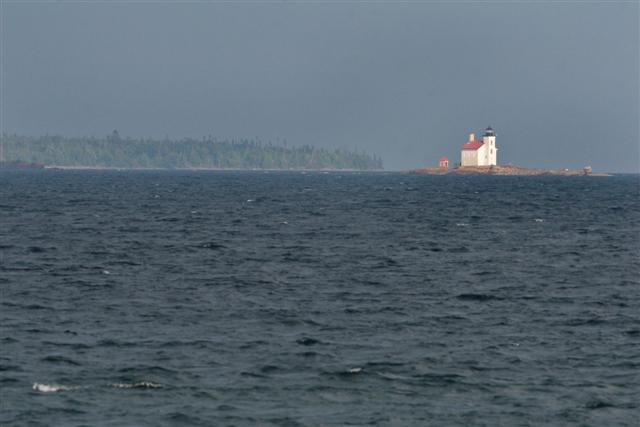 Manitou Island Light House glowing in the Afternoon Sun
Across from the point where we were all camped, there is a small piece of land, Manitou Island that has a light house on the far edge of it. Upon closer inspection, we found that the light house actually sits on it's own little island and there is water between the two pieces of rock. I'm sure during a nasty storm, something that Lake Superior is known for, the island the light house sits on get covered with waves that must crash right into the structure itself.
That would be an amazing sight to see and something we'll have to come back for.
Once everyone got their own campsites set up, people slowly started making their way towards the churning waters of Superior. Cindy and I have taken dozens of vacations up to this area of Michigan and normally the lake known as Gitchie Gumie is always too cold to get into for more than a moment or two of bone chillin' shivering while you bath off the days dust.
This year, with the unseasonably warm temperatures Michigan has been having, the massive lake is surprisingly warm. Well warm for Lake Superior standards. It still takes your breath away when you first go in, but this is the only time in my life I've seen people actually enjoying themselves while swimming in it's normally icy waters.
Cindy had me get out the Weber and she grilled up some awesome burgers. Tom came over for dinner and we all sat around enjoying the evening.

Our Campsite at High Rock Bay - What a Piece of Heaven
With Tom being in charge of the group, we didn't want to hog all his time, so as soon as our feast was finished, we went over to where the main group was camped and enjoyed some of their bonfire they had roaring.
On the way back to our tent, we stopped at another couples fire to talk for a few before we finally crawled up into the Roof Top Tent for the night.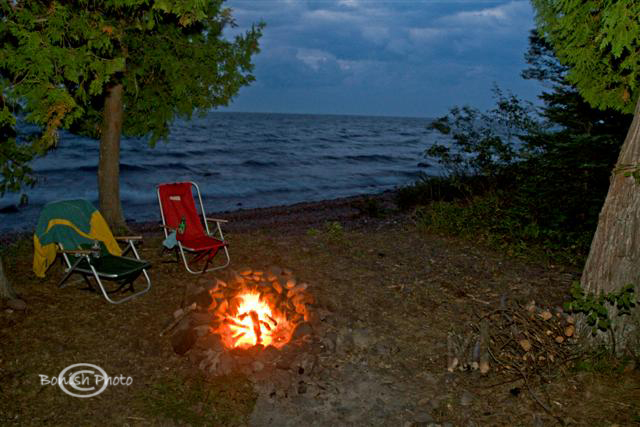 I had dreams of being front row at a rock concert with the fans screaming at the top of their lungs. When the screaming got too loud for me, I woke myself up and realized it was just the sounds of the waves crashing along the rocks.
A storm was blowing in and the waves had gotten much lager than they were when we had gone to bed. The sound was now deafening and the winds were causing the tent to flap around something awful. I had flashbacks of our first time we ever used the tent on the White Rim Trail in Utah and the bottom half was flipping up in the air.
Cindy woke up when the bottom section started flapping again and asked if I should be doing something. I wondered what I could do other than just sit there and laugh it off. We talked for a few about how loud the waves were, sat up and watched the tiny, quarter moon shimmer across the rough waters of Lake Superior and both went back to bed.
It was another good night on the U.P. Overland trip and I was starting to wonder if we should ever go back home to Florida.
Tuesday August 10th - Start of the U.P. Overland Adventure
Sunrise on the beach with a cup of coffee is the way we started today. I learned that Instant Coffee sucks, no matter how much sweetener you add.
For some reason, Cindy decided that leaving the percolator at home would be easier than making our usual Cowboy Coffee. Instead she bought some instant coffee, which in her confusing logic thought it would be easier to just boil the water rather than have the percolator make our traditional coffee.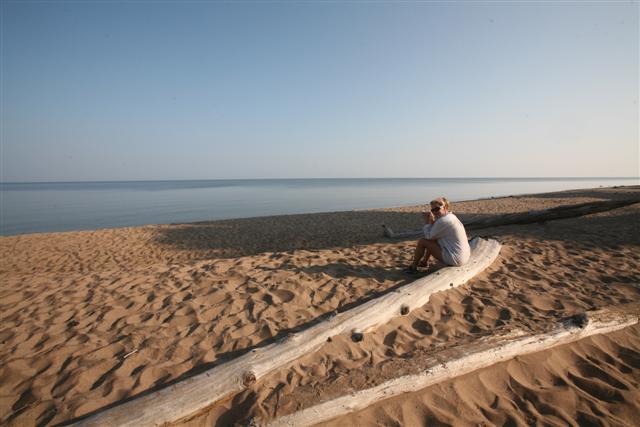 In my logical way of thinking, if we're boiling the water in the first place, why not just have the Percolator sitting on the stove rather than just a pot of plain water?
What this tells me is that I wont be drinking coffee for the rest of the trip.
While sitting on a piece of driftwood on the beach, we were commenting on the fact that the calm water was the same color as the early morning sky and we were having trouble distinguishing where the two met when Cindy pointed to a big, bald eagle that flew low right in front of us.
I think that's a good omen for the rest of the day, heck, probably the rest of the year.
We packed up camp and headed over to Greenland where the Adventure Mine is located. As we pulled up, there were only a few trucks set up in the cleared field that would soon be packed with Overlanding Rigs and act as our Campsite for the night.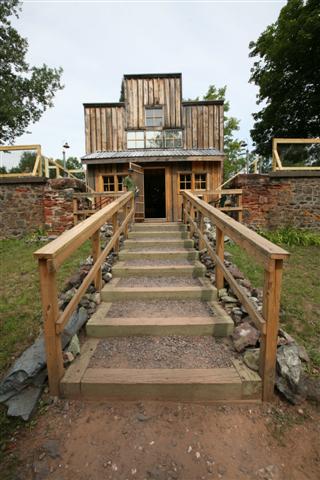 Tom Dolaskie, the main man who is in charge of the U.P. Overland group had capped the truck count at 40 trucks trying to keep the group small enough to allow us into some secluded campsites.
We met Tom down at the Adventure Mine gift shop where he was talking with Sean, another one of the guides who would be riding the trails on his motorcycle.
We got to setting up our camp to make sure we'd get a nice level spot and not have to worry about it later in the afternoon.
The heat was awful today and very unseasonably warm for Northern Michigan. I can remember past camping trips we've had this time of year where we're wearing our jackets and bundled up already.
Not today, the temps were hovering in the high 80's with high humidity and you couldn't take enough clothes off; heck, I was hoping to try and make some new friends, not scare everyone away from me. One way to escape the heat would be to take one of the mine tours they offer.
The guides were telling us the tunnels snaking their way underground stay at a cool 48°. That sounded like a slice of heaven right about now as I could feel sweat running down my back just standing here talking to the Overlanders pulling into the campsite.
As cool rides kept rolling in and we met more and more people who had traveled from all around the Mid-West to attend this event, we got a big group together to go do a tour and escape the heat.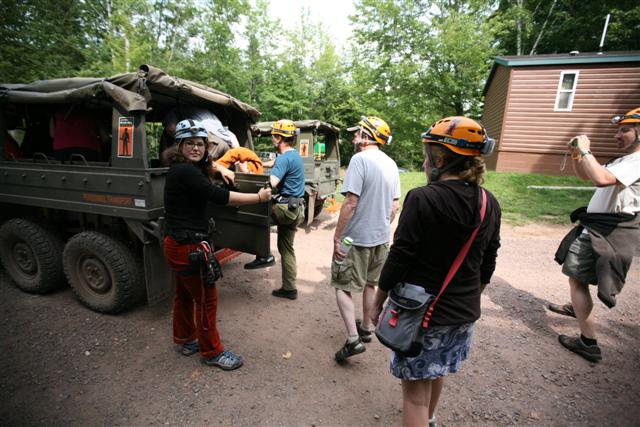 Our guide was awesome and kept us on our toes as she walked us through miles of dark caverns. The history of this section of Michigan is fascinating and Ali was like a knowledgeable history guide.
Our tour lasted almost 2 hours and I learned more about Copper Mining than I thought possible. If you're ever in the Ontonagon area of Northern Michigan, or heading to or from the Porcupine Mountains, make it a point to stop by the Adventure Mine for a great tour.
As we exited the mine, it was like leaving a walk-in cooler and entering a sauna. The cool air of the mine made the late afternoon heat feel even worse.
Luckily we had a cooler filled with iced down Leinenkugel's back at camp waiting for us. By the time we got back to the camping area, the field was filled with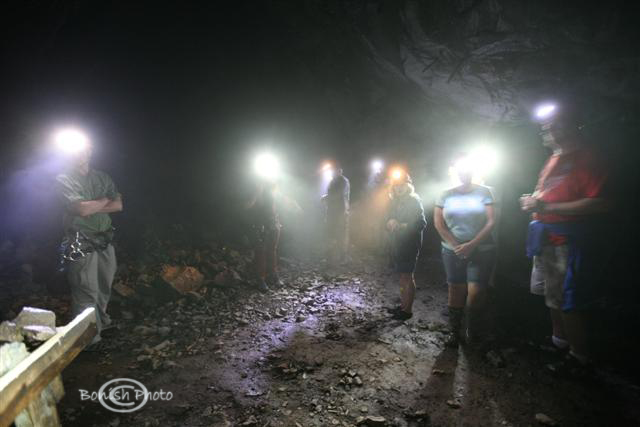 exotic Overland Rigs.
There was a great mix of vehicles ranging from multiple versions of the Toyota Landcruiser, to bone stock trucks, to highly modified units that had us all drooling over them. There was a 1978 Jeep CJ5 that the owner Joe told us he had bought for only $150. Parked a few spaces down was one of the always impressive EarthRoamers that can fetch a price similar to the cost of a beautiful house, only difference is this house has wheels.
What impressed me most was the owners of the EarthRoamer and their laid back attitude. While talking to them about their truck, I commented on the fact that it was sporting plenty of scratches, know as 'Pin Stripping' which means they aren't afraid to take their rig down narrow trails which results in the branches from trees and bushes scraping down the sides of the shiny paint.
Vince and Bettie, the owners of the Earthroamer were busy giving tours of the interior, since most people rarely get a chance to get a guided tour and shown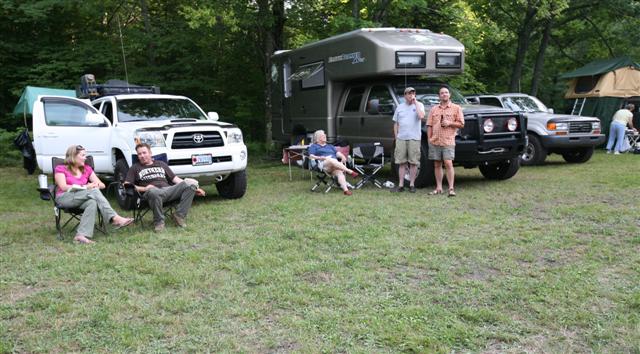 how everything works. The vehicles are simple works of art when it comes to the craftsmanship and design.
Another camper that was drawing lots of attention was Brian's 1978 Bethany Pick-Up Camper. This mint condition pop-up truck bed camper was mounted in the back of a bright red, Dodge Power Wagon. The combo made for a beautiful combination and the story of the Bethany Camper was one I had never heard.
Brian told me that the Bethany Campers were made as a way to teach the bible school students to learn a trade as they studied. The building of the campers taught the students many different skills from welding to electrical to carpentry. The campers were well sought after and the school used the sales of the campers to add income to their teachings.
Quite and ingenious way to earn money while teaching students at the same time.
As the night grew later, everyone gathered around a large fire pit where a big bon-fire was lit. Plenty of travel stories were shared as the large group got to know one another better.
Many of the Overlanders had brought kids, so there was no wild antics going on, just simply good wholesome fun that happens on any family camping expedition.
The night ended as people slowly excused themselves to head back to their tents. Half way through the night, I was woken up to rain drops on the tent fly. All that was needed to do was a quick zip of the flaps that were unzipped to allow more air to flow through the tent and I was back asleep.
One thing with having ours mounted so high is we almost always have a breeze cooling us off. I simply zipped up our windows and went back to bed. The rains had cooled us off and it was another great nights sleep.
Monday August 9th 2010 - Heading to Michigan
Neither of us could believe how good we had slept last night. I mean we could have had a bear rummaging through the truck all night long and I dont think I would have woken up.
We were only a few hours from where we needed to meet the U.P. Overland Gang for the start of the Adventure. We still needed to get a few more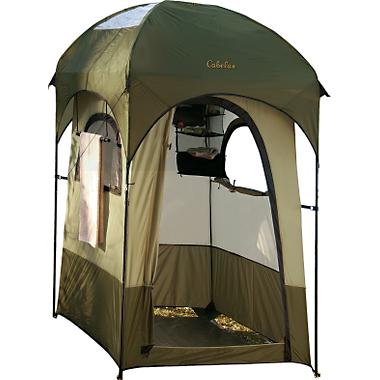 supplies and we were looking for one of the portable outdoor shower enclosures, but we'd yet to find one.
We had stopped at a Wal-Mart, but the one they sell looked somewhat flimsy. Cabela's sells one that is much nicer, but finding one of their stores in Michigan's vast Upper Peninsula would be next to impossible.
This was one of those arguments that I had been having with Cindy for the past few days. Each time we would pass a Cabela's, I'd suggest we stop and buy the shower enclosure, but each time she'd say something like "Let's just wait till we get closer to Michigan, it's silly to just carry it around with us in the truck."
Her procrastination would now lead to us not having a shower available to us the entire trip. There was one more Wal-Mart that we would pass and we both agreed that we'd stop and buy the one that looked flimsy just so we'd have it to use as a bathroom and a changing room.
As luck would have it, this Wal-Mart didn't have the shower enclosure in stock. This means that we'd either be bathing in the frigid waters of Lake Superior for the entire week, or living like bums and not bathing at all.
This also meant that Cindy would be acting like a bear and doing all of her bathroom duties in the woods with a shovel. The next week is going to be funny to see how this all plays out.
The last big town before we would hit the Adventure Mine in Greenland would be Ontonagon. This small town has a great community campground right on the shore of Lake Superior.
I've always been confused why more towns across the United States dont figure out how much money they could earn by offering a campground for visitors simply passing through.
The Ontonagon Town Campground offers a dump station for RV's, their sites have water and electric available and they have nice bathrooms and showers that are shared by campers and day visitors alike.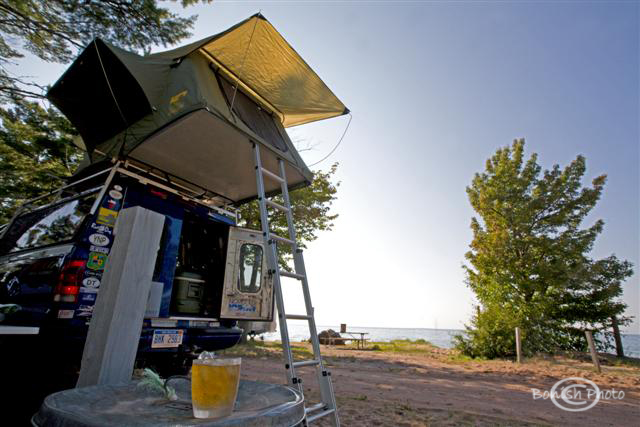 The place was packed and we were lucky enough to find one of the last campsites. Their sign says the sites are only $18 which is a great price for such a beautiful location right on Lake Superior. A site like this in California would have been around $80!
We still needed to re-arrange our gear in the bed of the truck one last time. We had started to do this last night, but we were both so tired, we never really got anything accomplished before it got dark.
Once camp was set up, which is now only taking me about 10 minutes total, we started pulling everything out of the back of the truck.
Remember that we're pretty new to camping out of the bed of the truck like this as we haven't had to do it for years since we've had the Travel Trailer. Our camper is usually organized pretty well and everything has it's place to go or stay put. Having to bring enough stuff with us to stay on the road for the entire month, and do so many different things on this trip, we had to bring a bunch of stuff that we wont need for the Off-Road section of the U.P. Overland leg of the adventure.
That gear was all put in the front of the bed because we knew we wouldn't be needing to get to it till we got down to Lower Michigan.
Another piece of equipment I've been wanting to either build or buy was a Camp Kitchen. I had my eye on one of the Kanz Field Kitchen Models, which are the Cadillac of Camp Chuck Boxes, but of course Cindy said they were way out of our price range, so we're simply using a few Rubbermaid boxes loaded with all our cooking gear.
This makes preparing meals very aggravating because you have to pull everything out of the box in order to find just about anything. We also brought up our Weber Q 200 BBQ Grill, which is an awesome grill, but the dang thing takes up so much space in the bed of the truck, I dont know if it's worth the weight to lug it around.
Again, this is a big learning experience for us to scale down our gear and we're taking lots of notes the entire time.
Another thing we're learning very quickly is how much attention the Camping Lab Roof Top Tent draws to our campsite.
When it's folded up and just sitting on the roof of the truck, it simply looks like a light grey box atop the roof rack. But take off the cover, erect the roomy green tent and you might as well get ready to spend the next few hours answering questions from every other camper in the campground or anyone who passes by.
I didn't realize they were so unheard of in the United States. The questions were hilarious and no one could pass by without stopping to get more information.
"Did you build that yourself?" was one that was asked alot. The campground host came driving by in his truck staring like there was an Alien on the roof of my truck and said in a loud voice to the guy in his passenger seat "Now I've seen everything!"
A group of young girls that were walking around the campground doing what ever it is that 8 year old girls do while on vacation stopped to look at it. I was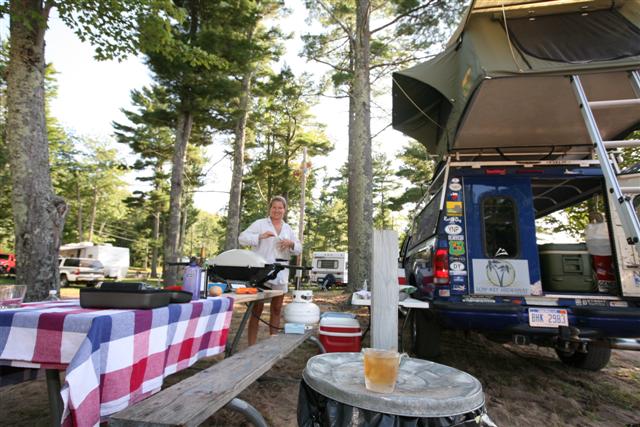 doing something with one of the cameras when I heard one of the girls whisper to the others "I think that's very stupid! Who puts their tent on the roof of their truck?"
I dont think she realized that her whisper was loud enough for me to hear her, so I turned around and said "Now why is it so stupid?"
Her face turned bright red and she fumbled with a reply "That little ladder wont hold it up, it's just going to fall if you try and climb up into it."
I laughed and said "Climb up there and see for yourself, it'll hold my wife and I no problem while a strong wind blows through the campground."
Cindy who was cooking some burgers on the BBQ grill chimed in saying "It holds adults fine, but it seems to have a problem with bratty girls" to which the girls got the hint and took off running to go bother someone else.
There must be a big difference between boys and girls because a group of boys riding by on their bikes almost wiped out because they were rubber-necking so bad as one of the 10 year old boys said in a really loud voice "That is the coolest thing I've ever seen in my life!"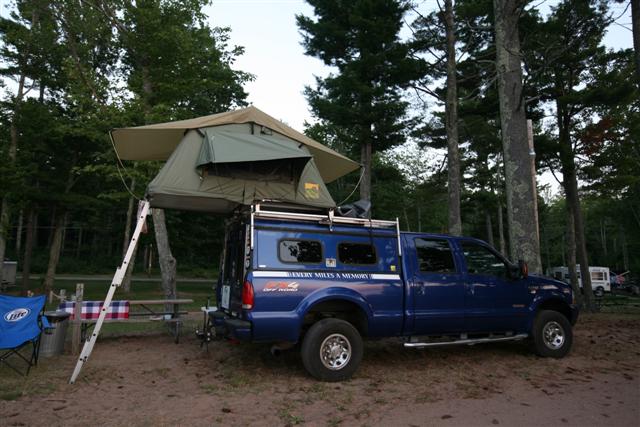 One adult woman who was walking back to her camper stopped to ask a ton of questions. She said she just loved the way it looked and thought it reminded her of a little fort up on the truck.
The sunset was only made better by the juicy burgers Cindy cooked up. With a nice breeze blowing off of Lake Superior, our nights sleep was again something you're usually paying big money for. The sounds of the waves lapping on the shore made me have dreams of being camped on a tropical beach.
Who would ever imagine you'd mistake Northern Michigan with a Caribbean Island? What an amazing way to end another beautiful day.
Sunday August 8th - Leaving WeFest for the U.P. Overland
Even though everyone told us they wouldn't be up till well after noon today, and made sure we all knew that if we planned on pulling out of camp early, we'd be leaving by ourselves; I was really surprised when I had been working on photos and my blog for a few hours and looked out the window of the camper to see most of the camp had already packed up and the Frog Creek Saloon was almost completely dismantled.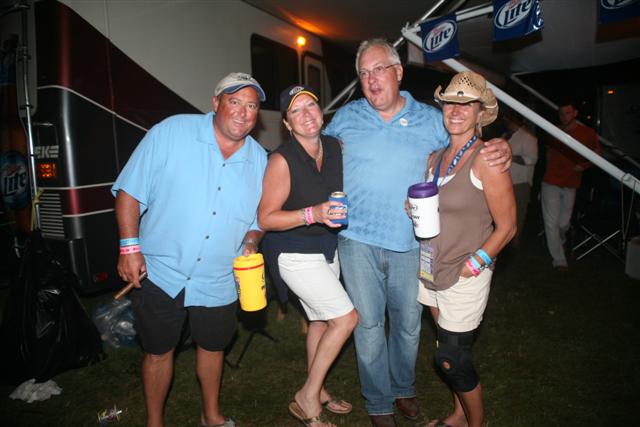 It was only 10:30am and it looked like everyone was in a hurry to get home and go back to bed.
Cindy and I scrambled to get packed up. Big Hugs were passed around, many handshakes were given and emails were exchanged so photos could be passed around and shared. You know everyone has to swap the incriminating evidence of WeFest.
I cant even begin to thank Derrick and Tish for all their hospitality and gracious generosity they've showed us the past week. Friends like them are very rare and we always love seeing them. Thanks to Kyle and Chris from Miller who went out of their way to make sure we had everything we could possibly need and the Gang from the Frog Creek Saloon who made sure we were well fed at the end of each night with burgers and hot dogs.
The WeFest was one hell of an event only made better by the great people we shared it with. I'd recommend it to anyone who enjoys good country music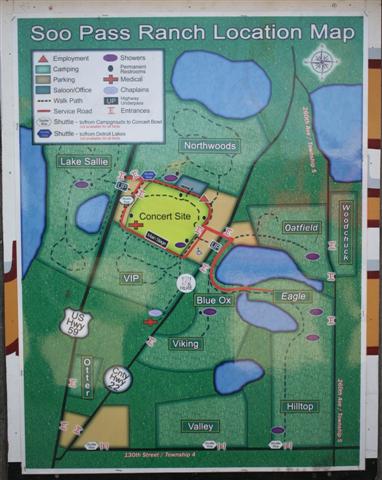 and a party atmosphere. There are a few items I'd make a special note of if you were thinking about attending -
Unless you're in the 19-25 age group and really enjoy sweating it out without shade, make sure you either camp in one of the campgrounds that have shade trees, or better yet, spend the extra money and camp in the V.I.P. campground.
It's location right behind the stage is worth the extra money for how quick you can be back in camp after the performances. We found it was faster to walk back to the camper to use the bathroom and re-stock our drinks than it was to wait in the long lines in the arena area.
I was amazed at the fact that they allowed cameras into the event and I'm not just talking little point & shoots. As press, we're only supposed to be taking photos for the first 3 songs during each performance. This is so we dont get photos of the artists all hot and sweaty after being under the lights working their hardest.
I for one try and stick to the rules, but I was pissed off when I would not be taking photos because I'm trying to follow the rules and a few seats down from me there are people using cameras better than mine, with lenses bigger than mine who are shooting the entire show from start to finish.
Another thing professional photographers know to never do is to use their flash during a performance. This is a big No-No and will usually result in you getting thrown out of the venue and getting your press credentials revoked. Yet numerous times would I watch as people would be shooting with their flashes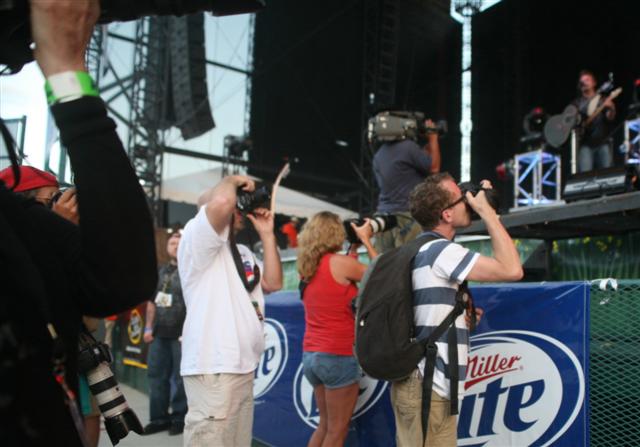 on and getting right in the artists face. I'm not sure who these idiots are because anyone should know that's not cool to do, especially when the performers are working their hardest to give a memorable show. Just doesn't seem fare does it?
So if you have a nice camera, dont leave it at home because you'll probably be able to get some great shots. Just try and be respectful and not use your flash.
Make sure you visit the other campgrounds to see what they're all about. Who knows, maybe I'm just spoiled and you might enjoy them more than we did our experience in the V.I.P. section, but I highly doubt it.
Also make sure to visit the various make-shift bars and saloons. The people who build the Frog Creek Saloon were a riot to party with and hand around the entire weekend.
So once we got our things packed up, we said our goodbyes and headed East across the big state of Minnesota. I kept commenting on how green and lush everything was.
Florida is green and lush, but its a dark green and usually only green. Minnesota has fields of bright yellow sunflowers, the corn is head high this time of year and topped with a yellow layer of fraying tips. Looking across the long stretches of emptiness, the green looked like its plugged in and glowing.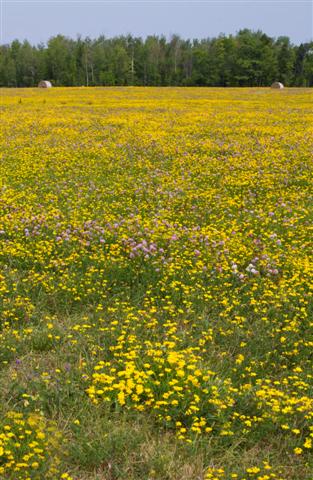 We spent the day driving across HWY 10 before it got even smaller and we jumped onto HWY 210. We passed through little towns that had populations in the couple of hundreds. Main streets that were only a block long and filled with character.
We stopped at a few various towns to browse the antique shops but with the truck packed to the gills, it's not like we could purchase anything if we found something we had to have. I guess we'll save money this way.
One thing about farm country in Minnesota, they dont get rid of old vehicles. Yards and fields were filled with cars, trucks and tractors from past generations. Cindy laughed saying "I'll bet when the mower hit that car it about scared the operator to death!" as we passed one vehicle that looked as it had just been uncovered by a big rough mower.
As we approached Duluth, we had hoped the Tall Ships Festival would still be underway, but it had ended earlier in the week, so we kept heading East into Wisconsin.
There was a heavy layer of fog coming in off of Lake Superior and it felt like it was going to storm at any moment. Not wanting to be setting camp up in the rain, we found a campground and got the Roof Top Tent set up before it got dark.
I'm still pretty new to this thing and each time I set it up, I get a little faster and learn a new technique each time.
The Nemadji Mobile Home Park was nice and quiet. It's basically a Mobile Home Park that has people that live there year-round but have a few extra slots for RV's or campers who are just passing through.
For $20 we got a nice level spot that backed up to the woods. Behind the thick layer of trees was a river that flowed out to Lake Superior. We could hear the river flowing and the breeze blowing through kept the bugs at bay.
This is when having the tent up off the ground comes in handy. Talking with the campground host, she told me they had got dumped on the previous day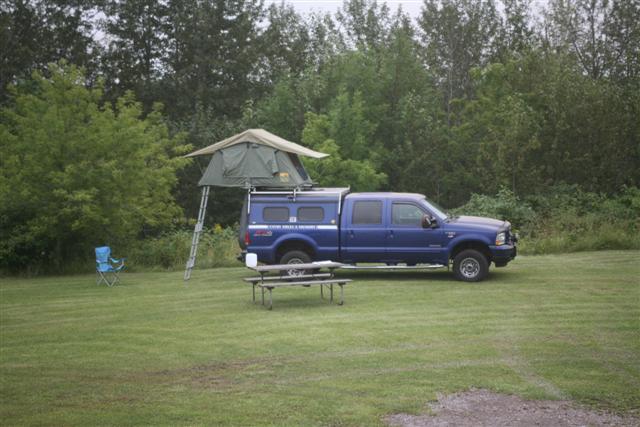 by non-stop rain. I was worried that we'd sink into the lush grass when we drove over it because when we stepped on the grass, our shoes would make water flow out.
If we were to be setting up a ground tent, it would have been a wet night for sure. We had to do a load of laundry and the campground had a really nice shower house that also had a laundry room, so we were able to get our clothes washed while we cleaned ourselves up.
This would probably be our last real shower for the next week, so it was nice to get a clean shave with running hot water.
After our last week of non-stop partying with much alcohol involved, it was nice to hit the sack with a clear head and a full belly from one of Cindy's great dinners.
I think we both were in bed and snoring like a couple of hibernating grizzlies by 8:30pm. I dont think I moved till morning when I woke feeling 100% and fully refreshed.
Saturday August 7th - WeFest Overload
Wow! What a day of amazing music, wild partying and good times had by all.
The morning started with people slowing crawling out of their campers and into chairs left circled around the campfire from the night before.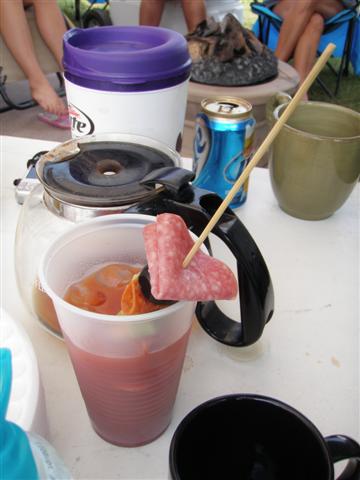 Cindy had woken up early and cooked up 3lbs of Bacon and a few dozen eggs. She figured everyone would need a good coating of something solid to line their stomach walls in preparation for another day of solid partying.
Scott and Deb, campers and friends in the RV right beside us had the coffee brewing and Deb has an amazing home made Irish Cream that really gives the morning cup of Joe that extra kick needed to get you going again.
I'm not a Bloody Mary kind of guy, but from what I've noticed of the surrounding campers all making their way into our camp each morning to get one of Deb's concoctions, she must be doing something right. We joked that she could re-coup her entrance fee's if she was to charge for these big, red drinks with the skewer sticking out that is filled with slices of meat, jalapeno stuffed olives, and a few other items to make the strong drink more of a meal.
I think Friday was the big day for WeFest as today the entire festival seemed to be moving a little slower. It was hot and humid today, so that might have had something to do with the laid-back atmosphere of the campgrounds, but it didn't take long before the freak parade started in front of the Frog Creek Saloon and the chairs were lined up to watch the show.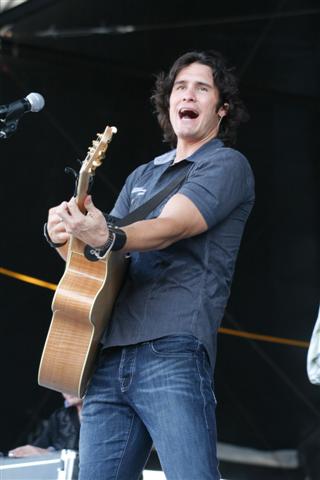 Today's line-up would be another stellar performance after another on the main stage. Joe Nichols would start off the headliners after Hitchville got the crowd riled up a bit. I was still moving too slow to make my way over for Hitchville, but they sounded great from our campground seats in front of the Freak Parade.
I've always been a big fan of Joe Nichols music and with the release of a new album, he had plenty of new songs to entertain the crowd with. The heat was really affecting the performers today and at one point, Joe stopped to take a big drink of water and said "Wow, I feel like I'm standing at the gates of Hell right now!"
I cant imagine how hot it must have felt for them on stage with all those big, hot lights on them in this blaring summer heat.
Gretchen Wilson came out after Nichols performance and put on a great show. Wilson made it known that the reason she has been out of the limelight for the last few years was due to the hassles she was going through with her last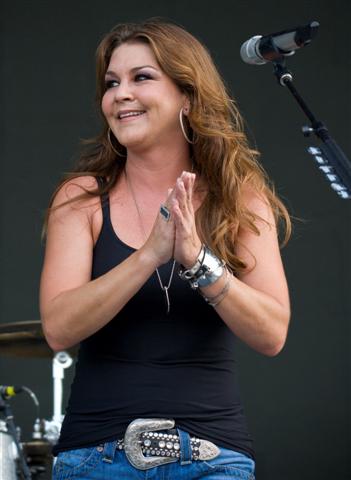 record label. She said she was happy to announce that she had started her own record label which fits her attitude perfectly, it's named "Redneck Records"
She played her mix of country hits, southern rock jams and had the ladies in the audience standing on their heels dancing to the great sounds filling the afternoon air.
After the show, Cindy said "I want to go buy her new album simply to help support her new record label. Any woman who will go out on her own because she doesn't want to have to follow the strict rules the record labels put on their performers and how they act and what image the label wants them to portray is a woman after my own heart."
I'd have to agree with her. Hearing too many horror stories of amazing artists being tied down and never allowed to rise to their ability because they might not want to go the direction the label is telling them they have to, I love to hear when artists buck the system and go out on their own. Kid Rock did this, Toby Keith did it this way, Jewel just created her own record label because she was sick of having the big labels hold them back.
As the big sun was setting to the West, bringing in some cool breezes with the night air, Dierks Bentley took the stage.
Dierks put on an amazing show with hit after hit being belted out from that distinct voice of his. Bentley is one of those performers who puts in every ounce of effort he has to his music and it shows watching him perform.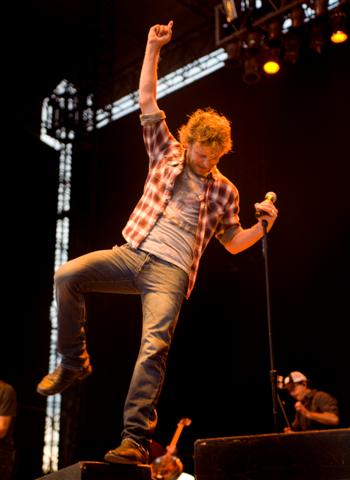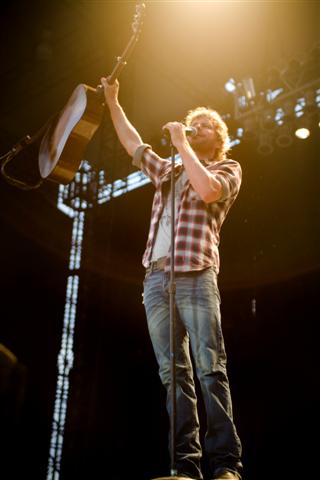 Dierks Bentley on Stage @ WeFest 2010
He wasn't worried that the heat was making him look like he was standing under a shower. Nope, he was crabbing cameras out of the audience and taking photos of himself with the fans, getting down into the crowd and dancing with the screaming ladies and just having a great time.
Some artists will call off the photographers when it gets hot and their worried that they might be seen with sweat dripping off their face, but come on, we're all human and personally I just think it shows the fans that you're willing to work a little harder to give them what they want.
Many artists will only allow the press to cover the first 3 songs because they wont be all hot and sweaty in that short amount of time. But we've seen Bentley a few different times now and he's always been one of the performers who allows the photographers to shoot the entire show.
Dierks had even talked of spending the day driving around the campgrounds partying with all the people who came out to WeFest to spend their hard earned money. He joked about how wild they all were and told the fans to keep an eye out because he'd probably be back out there later tonight.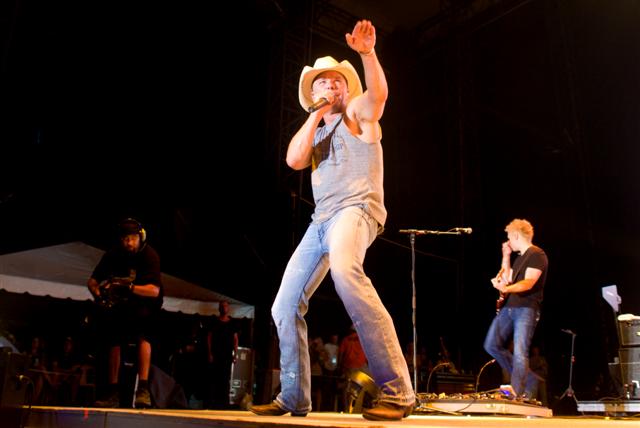 With the night fully upon us, the crowds were all riled up and anxiously waiting on Kenny Chesney to come out and end this wild festival. I honestly couldn't think of a better act to end the show then Mr. Chesney.
He puts on an amazing show and there isn't any questions as to why he's won Entertainer of the Year for so many years in a row.
The night ended with one wild party in the Frog Creek Saloon as everyone was doing their best to make sure there was no Miller left in the coolers to haul home on Sunday morning.
Friday August 6th - One Solid Day of WeFest
After yesterday, which was our first real taste of what the rest of the weekend was going to be like, Cindy and I were up early this morning trying to flood our system with as much fluids as it could take.
We had a long day ahead of us and with the musical line-up that was going to be performing, the shutters on our cameras were going to be getting a serious workout.
I had mentioned that there were numerous campgrounds scattered around the huge festival grounds of We Fest, but getting to some of them would mean hours of walking through shadeless farm fields...Not something I really want to be doing in the heat of the day.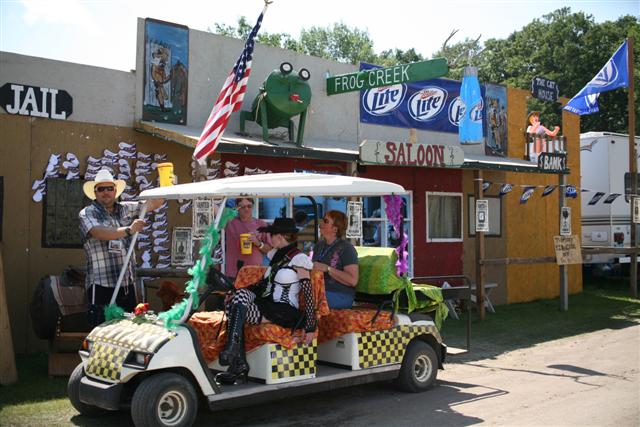 Our Taxi picking us up in front of the Frog Creek Saloon
So we got a few other campers together and rented one of the 5 passenger Golf Cart Taxi's to chauffer us around the entire camping area. It made it even better that we had the most colorful driver of all the taxi's who was a great tour guide.
What this showed us was our VIP Camping is basically a nursing home compared to the wild parties going on non-stop in the other campgrounds.
Our campground has big mature shade trees, thick, green grass and the camps themselves are set up with Huge RV's that have full power supplied to them, so you dont hear any generators running. Our camp is within a stones throw from the entrance to the stage, and if one of the bands are playing and you dont feel like walking over to watch them, you can sit right in camp and listen to the music just fine.
You cant see them perform from our location, but you get to hear what they sound like live and can even hear the roars from the crowd like they're surrounding you.
The other campgrounds pale in comparison and Cindy and I have both agreed that the only way we'd ever come back to WeFest was if we were camping in the VIP Campground.
Remember when we attended Bonnaroo back in 2007 and said it left a bad taste in our mouth? The main reason was there was no shade anywhere for the campers, there was no electricity for the thousands of RV's and we felt like we were being smothered by the exhaust from all the generators that were running non-stop.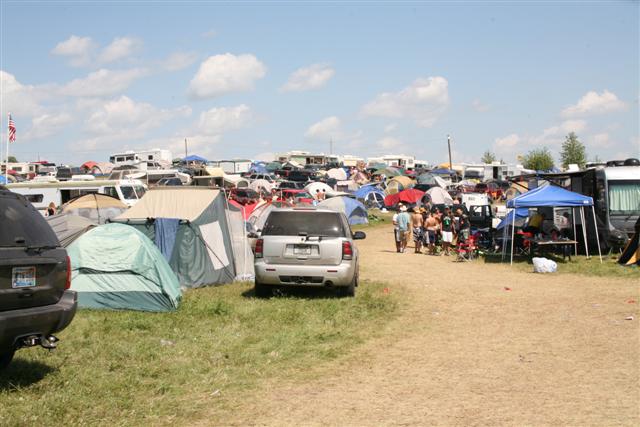 Tent City @ WeFest 2010
This is probably what WeFest would be like if we werent camping in the VIP Area. Although a few of the campgrounds we visited today were simply beautiful whether you were here for the concert or not.
Some of them are situated in heavily wooded areas, some are perched right on a beautiful lake that has a big beach and some are simply open fields packed full of partying kids that resemble a make-shift tent city.
These were the ones we were warned about and really wanted to see. The gulf cart allowed us to cruise right through without being pulled into the giant parties going on even though it was only 1pm on a Friday afternoon.
Busses set up with DJ Booths off the back, with hundreds of people dancing and partying around them. The loud thumping of Techno music keeping everyone from standing still.
There were camps set up with full swimming pools, Toy Haulers that had inflatable Hot Tubs in the back section, entire bars set up with multiple tables for patrons to be served at and one camp where we learned that the owners, an elderly couple in their 70's have been coming to WeFest for 26 years.
We pulled up to the Pink Pig Camp where one of the grandkids, a guy in his mid-20's, grabbed ahold of me and said "You have to take a photo of my grandparents. They've been coming to WeFest for 26 years now and this is going to be their last year."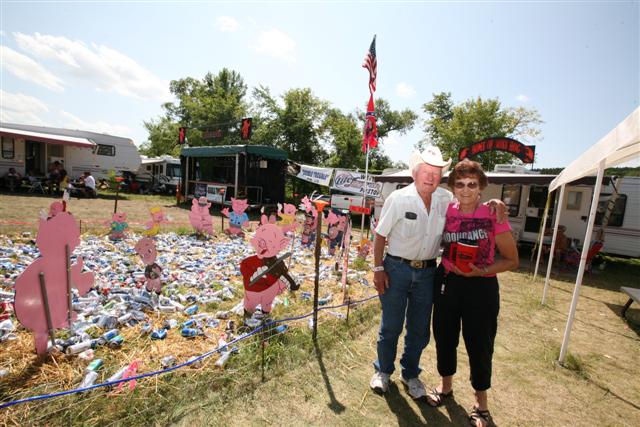 Grandpa & Grandma @ The Pink Pig Camp
He said they have brought the entire family over the years and have always got the same spot each year. With children bringing their children, it showed that this festival isn't all about the wild partying and good music, but it's a way to bring people together to enjoy their summer vacations. The partying and music is just a sideline to our American way of doing things.
As we drove from one camp to the next, we were passing by a big hill where a large group of kids had gathered and were in the process of unrolling a huge piece of plastic.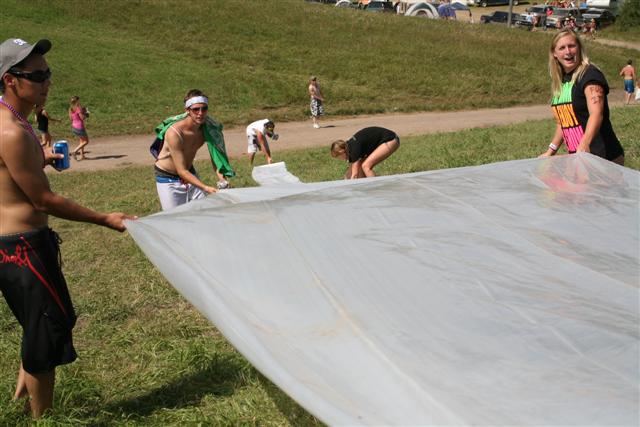 Unrolling the Plastic for the WeFest Slip & Slide
The guys at the top had multiple bottles of baby oil and were squirting down all the guys and girls who were standing near the start of the make-shift Slip & Slide.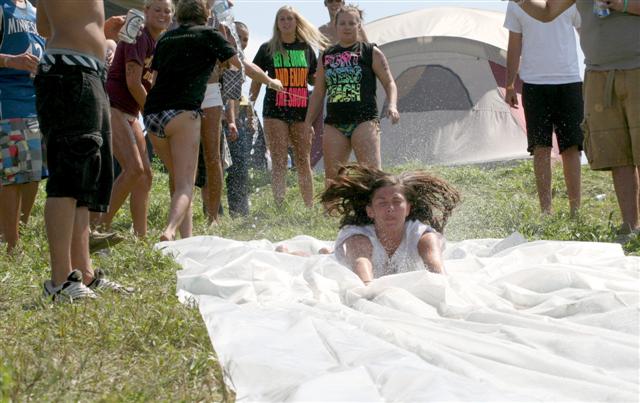 Hitting the Plastic covered in Baby Oil & Beer
Shouts were being thrown out that the "Horses were Coming" and they needed to hurry. I asked Todd, our tour guide from the Frog Creek Saloon what they were talking about and he said "The security and police ride around on horse back so they can easily and quickly patrol the various campgrounds, they'll be here within a few minutes to shut this down before someone gets hurt."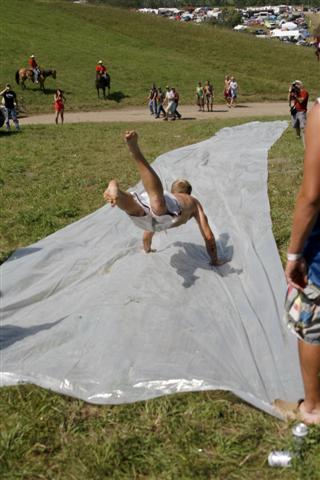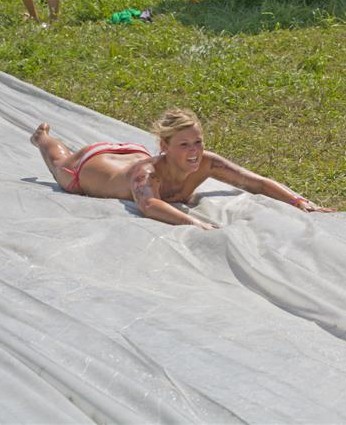 It was fun while it lasted. Guys and Girls running and screaming towards the start of the Slip & Slide hurling themselves down the oiled piece of plastic all in an effort to have some fun.
It was hard to watch because the plastic was simply laid down on a thick field of tall grass, so it was all lumpy, bumpy and curvy. The people sliding down the hill would be bumping around catching air and sliding off into the tall grass as they tumbled to a stop.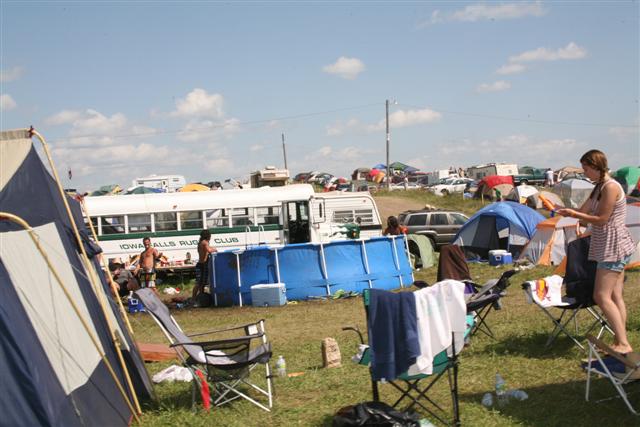 Girls would be getting up with bathing suit tops down around their waist while cheering and hollering as they ran back up the hill to do it again.
The Horsemen showed up just as expected and told the partiers they had to stop immediately or they'd be arrested. As quick as the Slip & Slide had been set down, it was rolled back up and the crowd dispersed back into the campsites.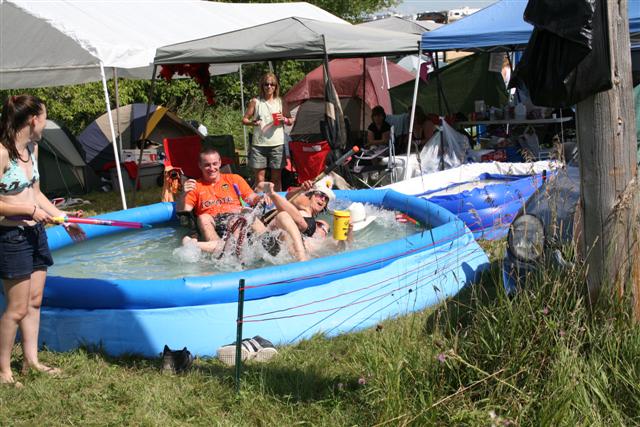 After Seeing numerous pools and working up a mid-day sweat, Todd North from the Frog Creek Saloon leaps into one of them to cool down
By the time we made it around each campground, it was time to get back to the Main Stage for the days music to start. I couldn't wait to see Eric Church perform his line-up of hits.
If you've never heard Eric Church, you're missing out. This guy isn't about the glam or latest fashion, nope, he's about good music and making sure his fans are having fun.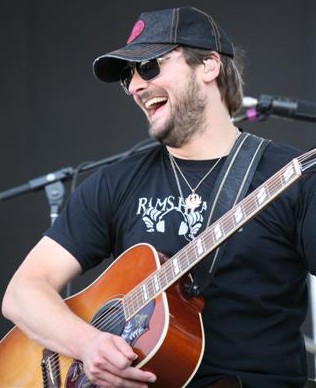 You could tell he's liked by the size of the crowd and the cheering coming from behind us. With nothing more than a worn out baseball hat and an black t-shirt, Church got the day started off with a bang. Yesterday's crowd hadn't gotten this big till Montgomery Gentry came out, who were the 4th act to draw the crowd in, but today the place was almost full and Church was only the 2nd act.
Blake Shelton came after Church, but we ended up missing his performance due to the party going on back at our campground.
We listened to the performance from our campers, but never made it back to see him on stage.
Jason Aldean was next. He put on a great show, but I almost felt bad for him because of how wild and unruly the crowd was by this point. While he would be trying to talk to the crowd, they'd be cheering over the sound of his voice or screaming wildly for no apparent reason.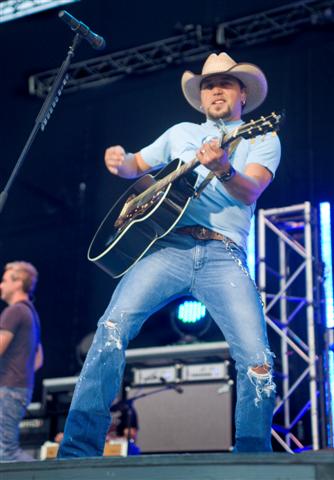 Aldean performed an amazing version of Asphalt Cowboy, one of my favorite songs in his line-up, but I dont think the crowd was in the mood for any slow, love songs. When he blew the set with That's Country, the place erupted and I'm thinking this was what they had been waiting for. Southern Rock mixed with a few fiddles and the rowdy party goers were in heaven.
The night ended with our hometown bad boy himself, Mr. Kid Rock. Over the years, Cindy and I have seen Kid Rock dozens of times. From small theaters to sold out arenas, we've watched him perform so many times, I can honestly say I wasn't even that excited to see tonight's show.
That was till he took the stage and came out with one of the best performances I've seen in years. Pyrotechnics exploding with 30' flames, never standing still for more than a seconds time. Bringing Jason Aldean back out on stage to sing the Waylon Jennings theme song to Duke's of Hazard, watch Jason Aldean bust out some rap music as the two sang Kid Rocks I'm A Cowboy and basically bring the house down with the performance of a lifetime.
It was awesome to see him again. Kid Rock has always pushed the envelope with mixing various genre's of music, and tonight was a prime example that his Southern Rock mixed with a heavy Country influence is liked by anyone in attendance.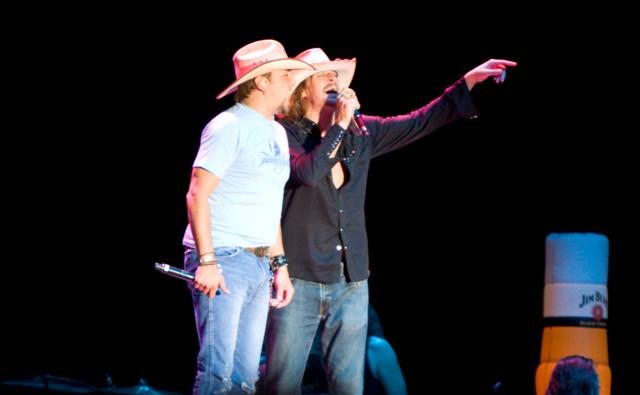 Jason Aldean with Kid Rock on Stage @ WeFest 2010
I was laughing as we watched the young girls, barely dressed going just as crazy as the couple a few rows over from us who were pushing their late 60's. They werent together, and by looking at the four of them, they looked like they were worlds apart, but tonight at WeFest, age was no factor in enjoying the cool Minnesota air while listening to some of the best music our era has to offer.
Thursday August 5th - ***END OF DAY UPDATE***
Today lived up to the rumors and all the talk building up to it and then some. With the start of the concerts when the band from North Dakota, 32 Below took the stage and got the crowd all riled up, the day only got crazier as it got longer.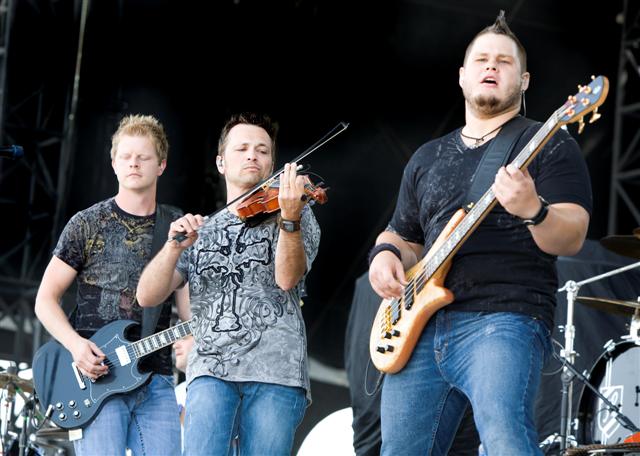 The Members of 32 Below Rockin' the Crowd at WeFest
I had never heard them before today, but the band blends a great mix of Southern Rock with classic Country melodies to create a sound that keeps you moving as you wait anxiously for the next song, never wanting it to end.
Their music will be added to the computer as soon as we get home and have a strong enough signal to download all their albums.
Gloriana, a group who is so easier to take photos of than it is to listen to perform live followed 32 Below. Gloriana was voted Top Vocal Group at the Academy of Country Music Awards this year, and also won the ACM Award for Top New Artist this year. Their music is only shadowed by their model like good looks.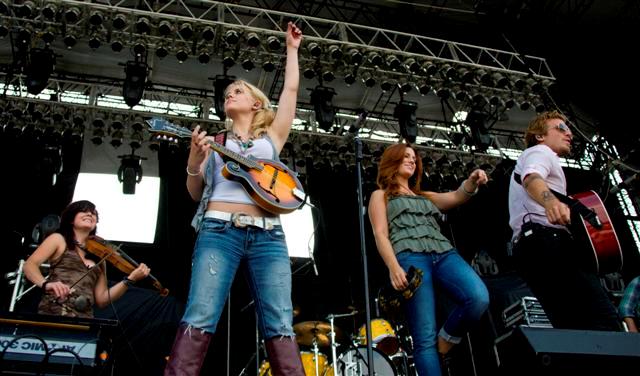 Gloriana on Stage at WeFest
For me, they're a little to main stream and teen sensation-like, but they put on a good show for the fans and there was lots of them in the crowd, so I'm guessing everyone doesn't think the way I do.
In between each performance, we'd have an hour break to walk back to the VIP Campground, which is only a stone's throw from the stage, and clean the cards on the cameras.
We'd download the images, grab a ice cold Miller and do some people watching. The campgrounds are so full now, people are packing campers into places you would never think one would fit in the first place.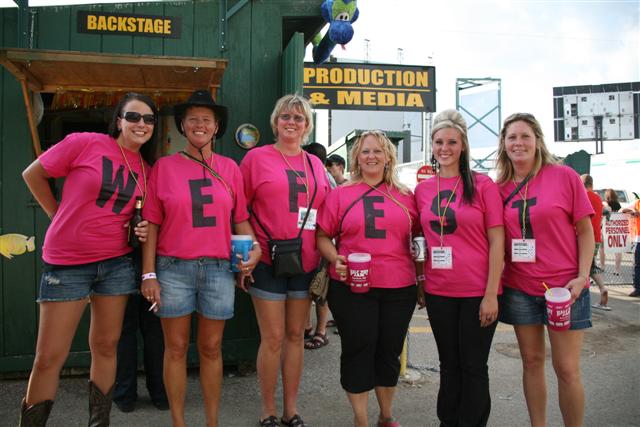 The dirt road between our campers and the Frog Creek Saloon is now a packed parade of scantily clad cowgirls and buff cowboys strutting their stuff to and from the stage and the various campgrounds.
From what I've been told by Lauren (Derrick and Tish's Daughter) and her friend Ashley, our campground is the most expensive one to get into, so it's also the most calm when it comes to the partying.
There are numerous campgrounds and the further away from the stage you get, the less expensive the camping fee's are. They've told us stories of nude spectators sprinting down the campground isle ways, two story beer bongs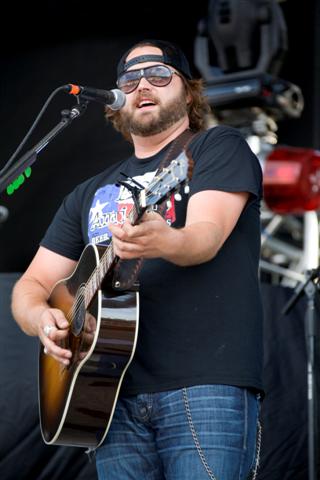 and antics that we're going to have to make a trip out, away from our own camp to go witness first hand.
I was really looking forward to seeing Randy Houser perform live. Now when I said earlier that Gloriana is more Teen Beats and Mainstream Country, what I was getting at was when you compare their music with a style like Houser's, you'll see a big difference.
His style reminds me more of Waylon Jennings with a mix of Johnny Cash, two men who epitomize the raw country feel. Randy's voice is rough, his lyrics are wild and his style is the type that could play on my radio for days on end before I'd grow tired of it.
He reminds me more of Jason Aldean and that side of the Country Music Spectrum. There is a whole genre that is blending Southern Rock and Classic Country and doing a great job at it. You could tell by the swelling of the crowd for Houser's performance that many of the fans agreed with my musical tastes and enjoyed his show with roaring cheers.
As the sun started to set on the first day of We Fest, Montgomery Gentry took the stage with their long list of hits that kept the crowd riled up. We've seen this group many times and its always good to hear their hits live.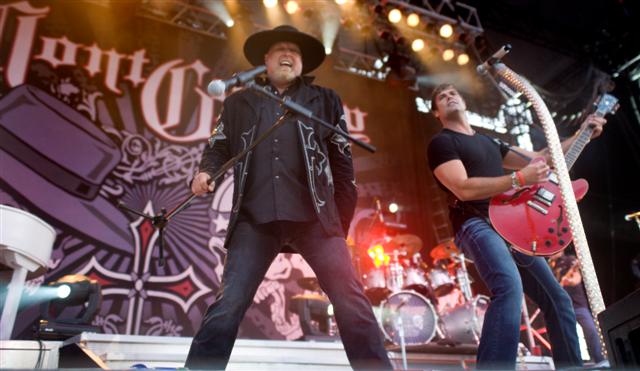 Eddie Montgomery & Troy Gentry rockin' at WeFest
The Headliner of the night was Keith Urban and he pulled out all the stops for this sold out crowd of 50,000. There wasn't an empty seat in the house when he took the stage, and I was worried you werent going to be able to hear the music due to how loud the crowd was screaming by this point.
When the lights went dark and he took the stage, there was no need to worry you werent going to be able to hear his music. With his tight guitar pickin' and his smooth sounding voice, he entertained the crowd and gave them every dollars worth.
If the entire event would have ended tonight, I think people would have been satisfied...the show was that good.
I was interested to see what sort of performance Mr. Urban was going to give the crowd tonight. Cindy and I have seen him before, but it was in Michigan at the Fox Theatre, which is a very intimate venue and most of the show was acoustic with Urban sitting on the edge of the stage with the sold out show staying in their seats just enjoying the music.
Tonight was a complete 180 with a performance that would rival any I've ever seen to date, and we've seen A LOT of shows.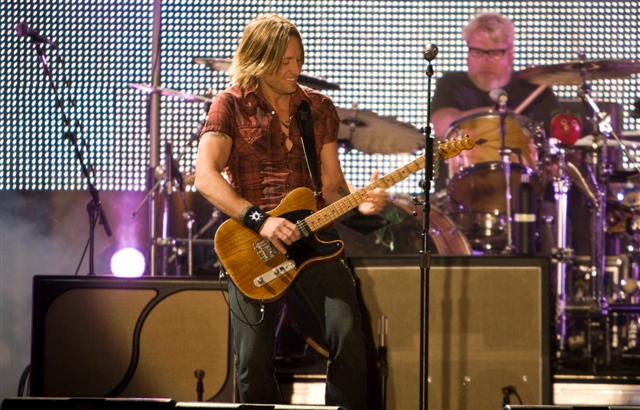 The Amazing Keith Urban
I was surprised when we were told that Press wouldn't be allowed up front because Urban had told the security to take a break tonight because he wanted to let the fans right up against the stage.
Mid-way through the show, he got down into the crowd and walked half way out into the main floor seats playing a long guitar solo, chatting with the hundreds of screaming girls who were wrestling to get a touch of this heart throb and just getting in-tune and up-close with the fans.
As the show ended after a long encore performance, the stage lights came on and the band stayed on stage to sign autographs, talk with the fans pressing up against the stage and allow photos to be taken at a normally never allowed closeness. It goes to show that some performers really know who is paying their paychecks and they enjoy giving it back to them.
As we walked back to the campground, all we kept hearing from people talking was "That was the best show I've ever seen in my life!"
The night ended around 2:30am as people started nodding off around the bonfire and the cool night air was driving everyone into the comforts of their campers.
What an amazing day of good fun and amazing musical performances. And to think this is only Day 1.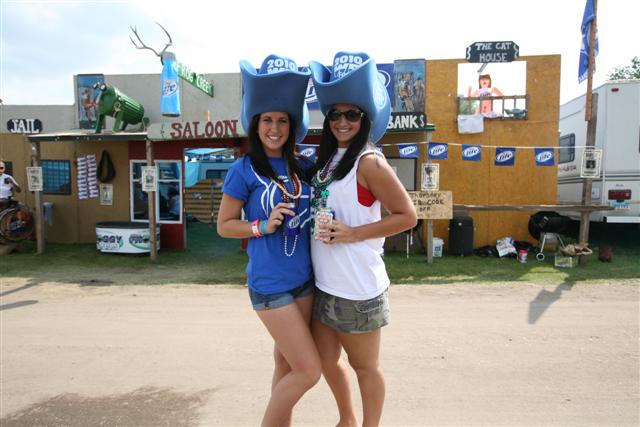 Ashley & Lauren with their 10 Gallon Hats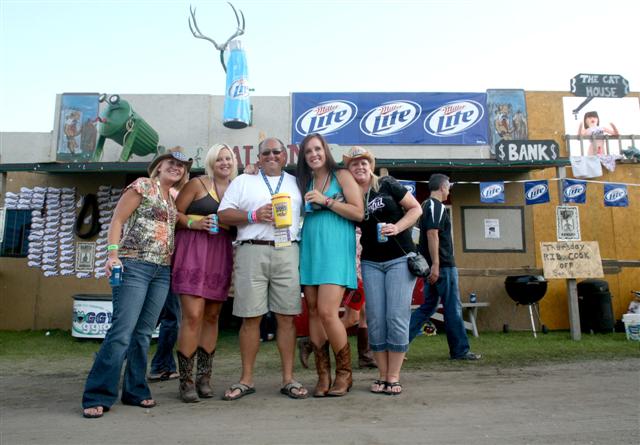 Mr. Man with a host of Cowgirls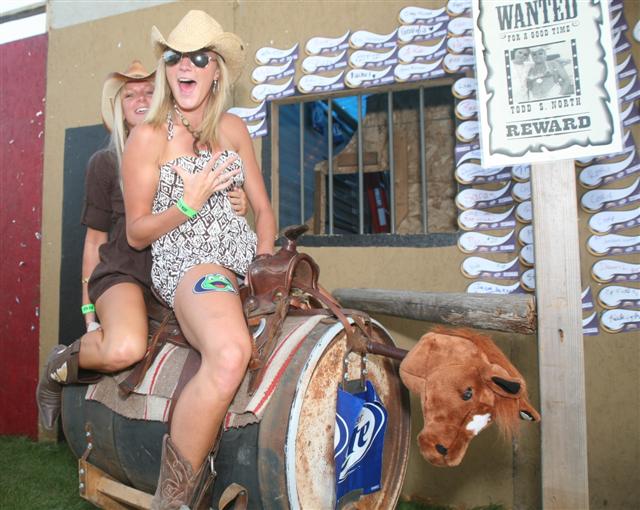 Riding the Bull in front of the Frog Creek Saloon @ WeFest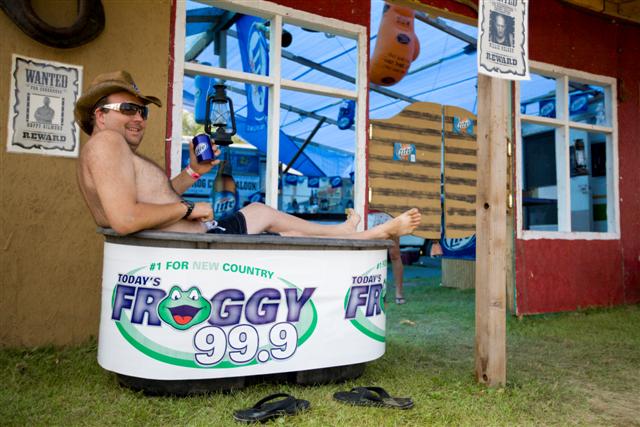 Todd North, the owner of the Frog Creek Saloon taking his morning Bath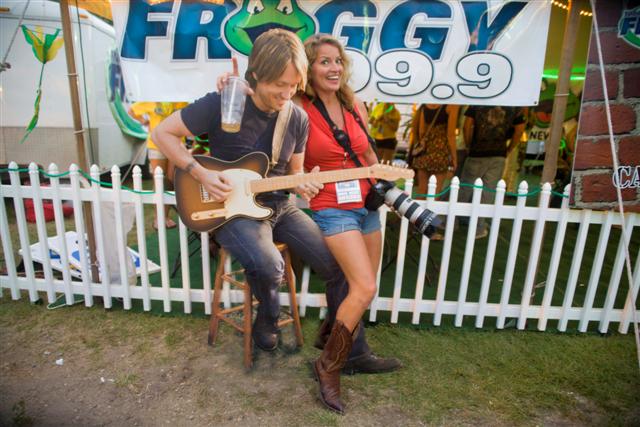 Cindy with the Love of her life - Mr. Urban Cowboy
Thursday August 5th - Waking up in a New Camper
I had dreams all night of being at the Winter Olympics and being on the sidelines of one of the Downhill Ski Races.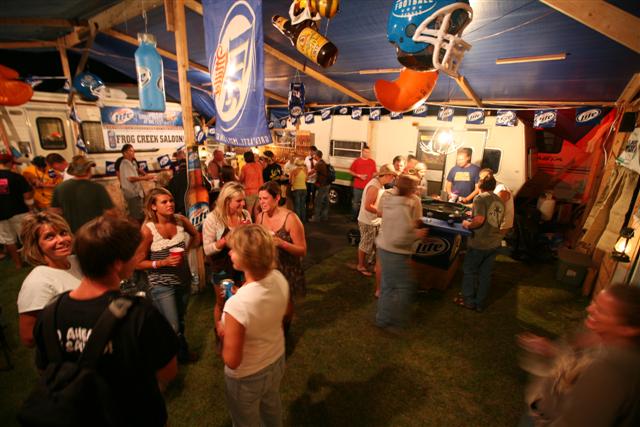 You know how the fans ring Cow Bells while the racers come flying past them? Well the Miller Lite Saloon across from us has a big cow bell hung on the swinging doors of it's entrance.
I think the last cow bell was heard just after 2am when the screaming, the hollering and the wild antics finally calmed down.
I've been warned that the next few hours will be nothing short of spectacular people watching and Cindy has already let me know that she's back in Heaven with all the young, studly cowboys strutting around in their tight jeans and cowboy boots.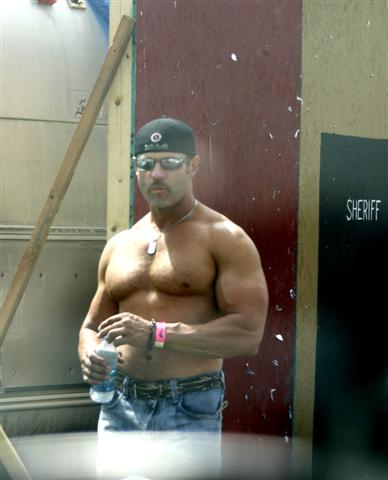 One of Cindy's photos she's taken for the scrap book??
Tonight's WE Fest line-up starts with the local band country band 32 Below who will take the stage around 3 in the afternoon.
Gloriana will follow them with Randy Houser, Montgomery Gentry and Keith Urban ending the nights festivities. I'm geeked for this as we have our press passes in hand and except for Montgomery Gentry, all today's artists will be new to our cameras.
Stay tuned for a full report to follow either later tonight if I can still stand, or first thing in the morning.
Wednesday August 4th - Leaving Victoria for Detroit Lakes and WE FEST
The last few days have been nothing but relaxation and awesomeness. Our best friends Derrick and Tish know how to show their guests a good time, from motoring around Lake Minnetonka on their beautiful boat, to just hanging out at their amazing house, its like hanging with Royalty.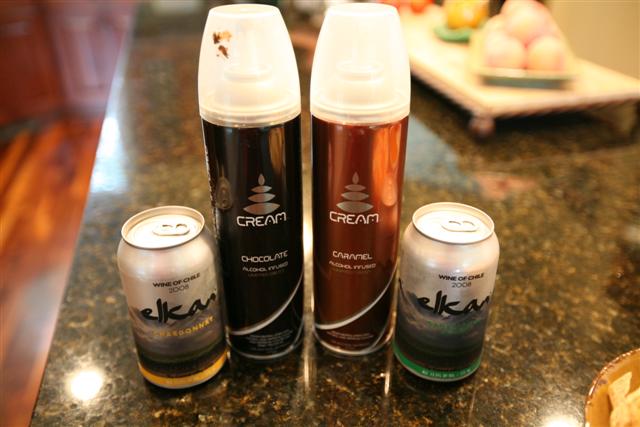 Benefits of hanging around with a Beer Rep - The 2 middle bottles are Alcohol Infused Whipped Cream, the 2 cans are wines from Chile that come in a can
They're both proof that a college education, determination and a serious work ethic will take you to beautiful places in life and allow you to have some of the coolest toys to enjoy.
Plus, they've never let it get to their heads, and even though they travel the globe wining and dining with very important people, you'd never know it by hanging out with them.
Sunday and Tuesday we spent on the lake enjoying the cool, clear waters and catching up on the past few months apart from one another. Derrick and Tish had come to visit for the Month of April when Cindy and Derrick's birthdays are only a few days apart.
That was when we made plans for this visit that we're on now. We're always making arrangements a few months away sort of like we've done already for our next get-together.
While kicking back on the water, we were laughing at all the Blue Gill that would surround us and nibble on our soaking bodies.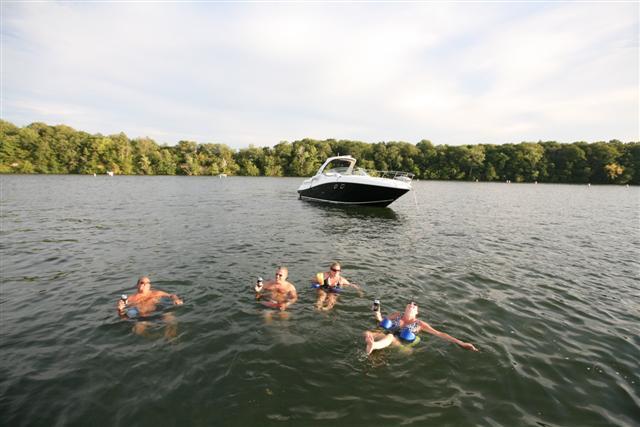 At one point, Cindy let out a loud yelp and came paddling back to the boat saying something had bit her on the back pretty hard. We were laughing an we normally do at Cindy's Big Fish Stories, but when she climbed up out of the water, a small mole she has on her back was bleeding and half tore off.
Apparently Blue Gill like mole's for bait. Who-da-thunk-it?
So yesterday we loaded up the trucks and drove across the state of Minnesota to the Detroit Lakes area. Rolling hills covered in a lush green canopy is our setting for the 2010 WE Fest. What a line up we have in store for us over the next few days. Keith Urban, Gloriana, Eric Church, Dierks Bentley, Montgomery Gentry, Blake Shelton, Joe Nichols, Kenny Chesney, Randy Houser, Gretchen Wilson, Kid Rock, Jason Aldean and a few others thrown in for good measure will be on the stage.
Derrick works for the Miller/Coors Brewery and this is one of their sponsored events. Cindy and I thought we were going to be sleeping in our Roof Top Tent while they all kicked back in Campers the company brings in for the music fest.
Come to find out Derrick hooked us up in a 25' FunFinder Travel Trailer that we have all to ourselves. How awesome is that!!
The festival doesn't even start till tomorrow, but the campgrounds opened today, so we wanted to get here early to beat the 50,000 people that will be pouring into this area over the next few days.
Remember when we covered Bonnaroo in Tennessee back in 2007 and the line to get into the campground took over 4 hours just to get in? Well we beat that mess by getting here a day early.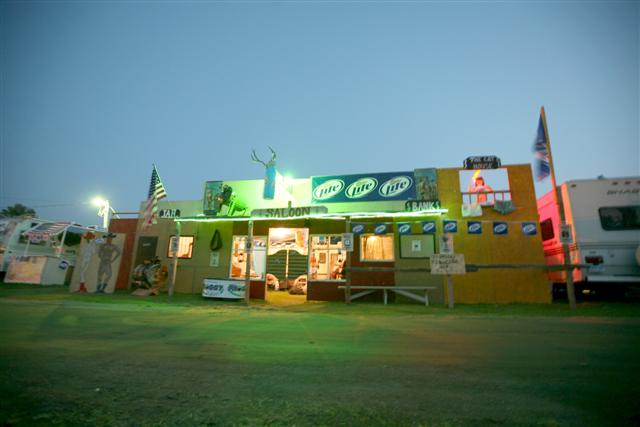 The Make Shift Miller Lite Saloon across from our Camp
One of the local radio stations, Froggy 99.9, has a contest for campers who can decorate their camp the most elaborate using Miller Products. I guess the guys right across from us have won the last few years because they go all out and build a complete bar.
They're builders by trade, so they get here a few days early and construct a complete building with windows, swinging doors and a complete Western Saloon theme to it.
The guys are pretty cool and our first night was a long one even though the festival hasn't even fully started yet. I've stocked up on Vitamin B12, Milk Thistle and Pedialyte to combat the copious amounts of beer we'll be drinking the next few days.
___________________________________________________________________
Photo Gear We Use - Solar Tips, Fact's and Trick's we've learned while on the road
Camper Check List - A list of things we do before leaving camp. Again, this isn't gospel, but its a good start for those who might not already have a list made up.
Return to Top of Page
Need Unlimited photo storage- FREE Trial of Smugmug