When we realize our insignificance in this world,
it some how relieves the pressures from society to succeed -
Cindy Bonish 04/07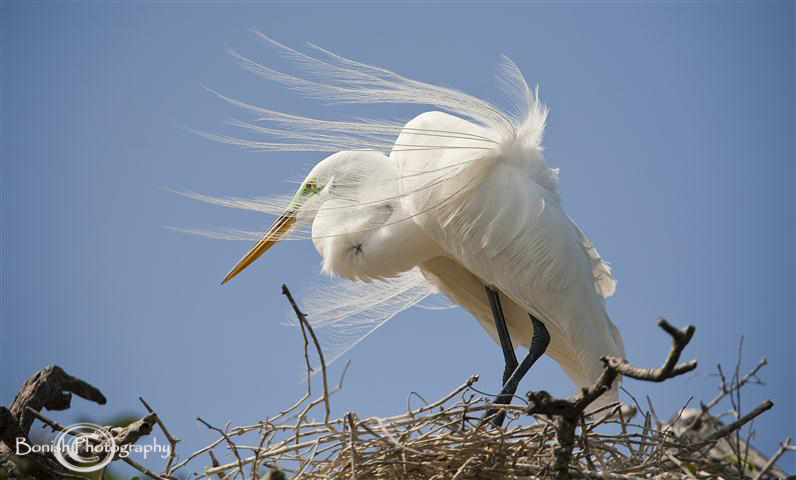 Pat's April 2011 Blog
If this is your first time here, you might want to start from the beginning of our fulltime Journey with our Past Blogs
If You Don't Know Me Yet, Click Here to Read Pat's Bio
****
Wednesday May 4th - Having Fun on the Water
Derrick and Tish came into town yesterday and we spent the night having fun out at the tiki bar with dinner at the Neptune's Lounge in the Island Hotel.
I thought it was funny that Cindy had said "Clean up the house, I don't think Derrick and Tish will enjoy sitting out at the Tiki Bar because of how humid it is today."
I looked at her and laughed saying "Are you kidding me? They're flying in from Minnesota! It was snowing there a few days ago."
When they got here I asked where they wanted to go and they both blurted out, "The Tiki Bar! This weather is PERFECT!"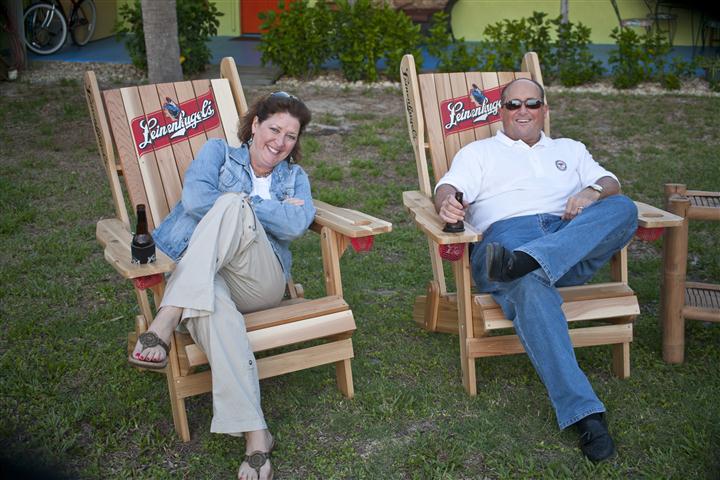 Tish & Derrick kicking Back on the Leinenkugel Chairs
We watched the sunset sitting out back on our new Leinenkugel's Adirondack chairs, caught up on our families, the kids and what's gone on since we last visited. That's when you know you're around good friends when you pick up right where you left off...and it was months since we've last seen one another.
Dinner consisted of big juicy burgers at the Neptune's Lounge which always fill you up. From there we had a night cap before crawling into bed.
Today was picture perfect weather wise. A cold front blew through last night, so the humidity is gone, but the temps are still in the high 70's. Derrick and Tish kicked back in the backyard lounging in the sun and just soaking up some beautiful weather.
Once Cindy and I were finished with that nasty 4 letter word...WORK, we all met Heath at his house and loaded up a cooler full of drinks on the boat.
Heath had said he'd love to take us out and since the last time Derrick and Tish had visited Cedar Key, it was so cold we never got on the water, I couldn't wait to take them out and show them what we live with every day.
It turned out to be a great afternoon. We were able to get the boat stuck on a sandbar while trying to bring them to one of the islands, so during heir first boat ride, we made the notch of getting stuck, which happens very frequently in Cedar key.
We floated for awhile just talking and relaxing and we came up on a huge pod of dolphins that turned out to be an experience I'll never forget.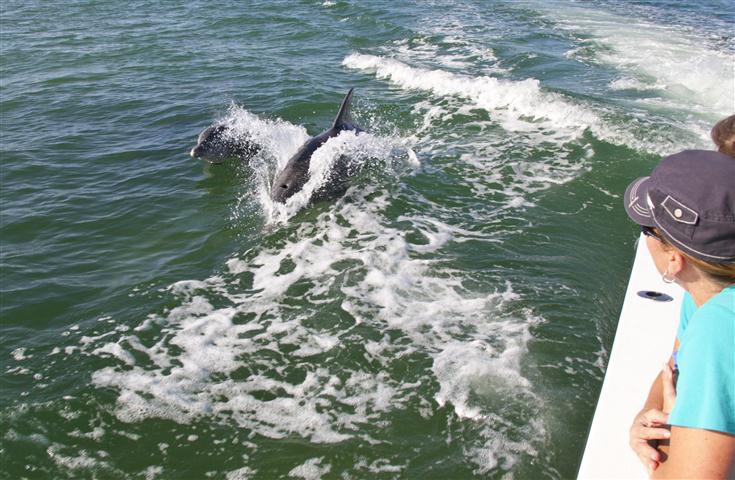 Cindy & Tish watching as the Dolphins Play Beside Us
This particular pod had a bunch of baby dolphins with them that they must have been teaching how to swim. The little dolphins would swim with their bodies literally touching the adults the entire time. The adults were pushing the little ones towards us like they were showing them how to swim in the wake of the boat.
We were just circling around creating this huge wake with the boat and the dolphins wouldn't leave us alone. This entire experience lasted for about a half hour and was just amazing. The 10-15 dolphins seemed like they had just as much fun as we did. They would swim right beside the boat looking up at us and jumping in the wake like they were enjoying it more than us.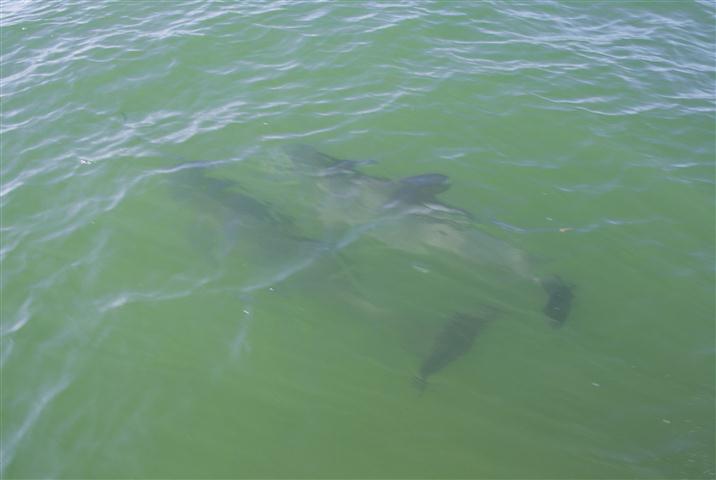 Pair of Dolphin swimming beside the Boat
After awhile we motored away as the pod split up and went in different directions. Some of them followed us for some time but they soon grew bored with us and went in another direction.
Heath and I bought a Small Trolling Motor a few weeks ago and have been testing it to see how long it will push his various boats around.
As we sat just off Seahorse Key, we wanted to see what the trolling motor would do pushing the big boat into a stiff wind. Result = Nothing. It would keep us sitting still rather than allowing the wind to blow us backwards, but it wouldn't push the boat forward. What we're trying to find is a electric motor that wont cause any vibrations to shake the boat like the big 2 strokes do.
Where hoping that when we do our photo tours we're planning for the future, the electric motors will be able to keep camera shake to a minimum and allow us to recharge the batteries off of some solar panels we'll be purchasing. The testing is the best part because it gets us out on the water and gives us an excuse to do it often.
Being as it was getting late in the afternoon, we headed over to the Island Room so we could go to the Chamber of Commerce Mixer that Peter was hosting tonight. Something about Drinks and Top notch food can bring anyone in off the water.
We tied the boat up to the outside dock and walked over to the Island Room. Plates full of stuffed peppers, bruschetta and fresh clams were gobbled up while business owners from all over Cedar Key were mingling around chatting and swapping new ideas.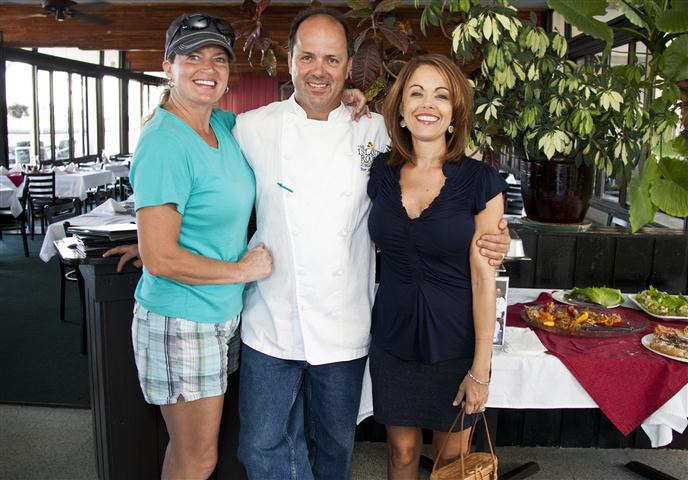 Cindy, Peter & Jolie at the Island Room in Cedar Key
We spent an hour mingling before the lure of a sunset over the water called us back to the boat. We loaded up and headed back out on the water.
With the sun setting over the Gulf of Mexico, we all kicked back smoking big Cuban cigars, sipping on tasty beverages and loving life.
Derrick said with a touch of sarcasm in his voice, "So this is what you have to put up with every night?"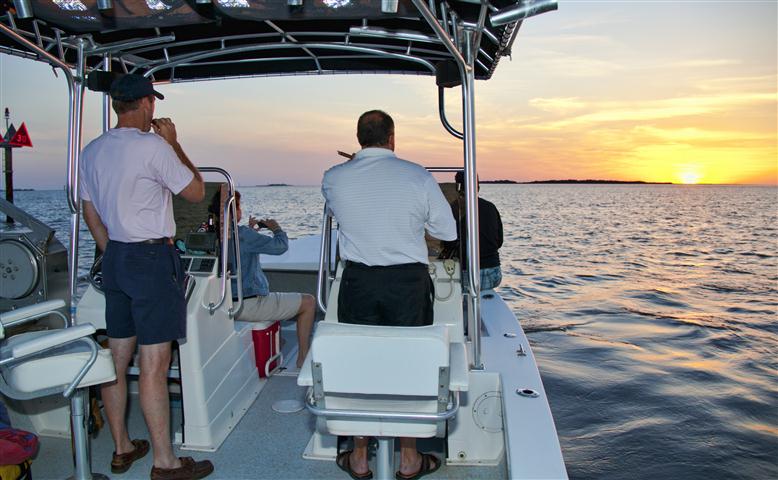 Life's Rough Sometimes!
We all just sat back taking in the sunset, letting that warm, salty breeze keep the bugs at bay and enjoying our evening on the water. Sometimes life can be tough, other times you have moments like this.
Monday May 2nd - Back to Reality in Cedar Key
We drove back home after staying one more night in St. Augustine. What a cool little city. Cindy and I had visited this historic little town a few times in the past, but not while on our RV Road Trip.
It'll have to be one of our next destinations we go to and really saturate everything it has to offer. This time was more of a little party vacation because of the girls birthdays.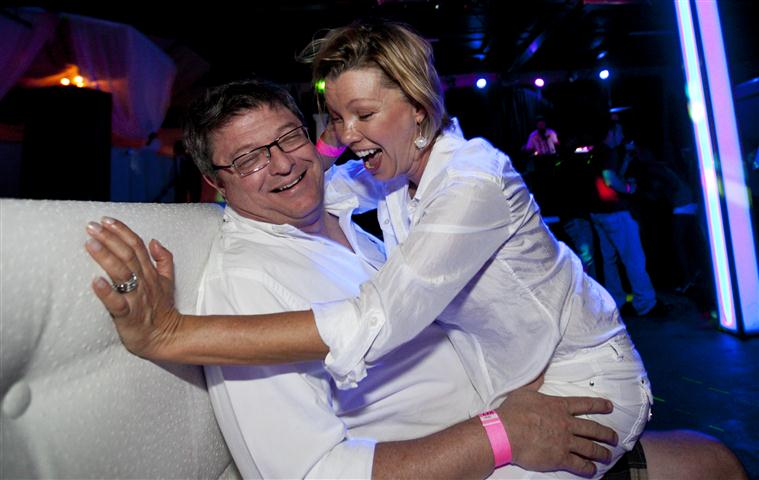 Who know what was so funny, but it was a fun night!
Saturday night we had went out partying, dancing and just having some fun. The girls got wild, Walter and I sat back laughing our butts off and the night ended with a bang.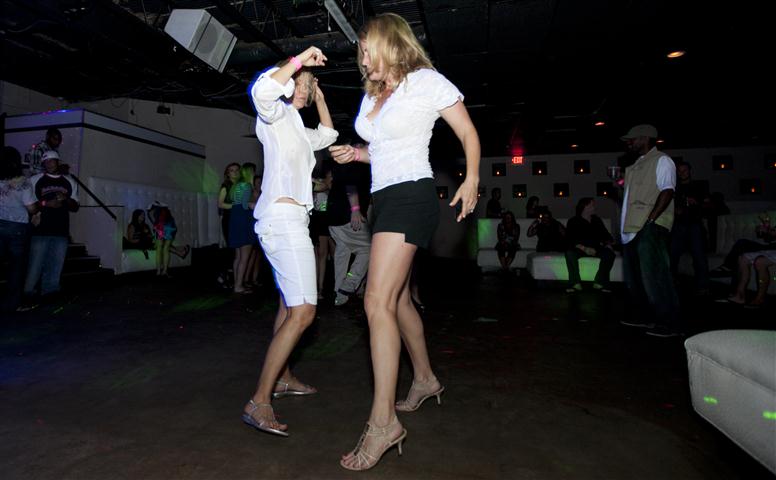 We arrived back at home and went straight back to work. Sunday was spent cleaning rooms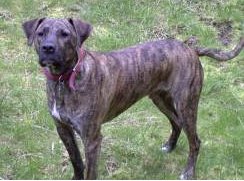 and getting back in the grove of motel/tiki bar life.
This week we have our best friends Derrick and Tish coming in for a visit, so the party isn't over yet. I'm sure we'll have lots of fun stuff to talk about at the end of this week.
Yesterday a nice young couple checked in and Cindy saw their dog in their truck. She asked about it saying "I like the looks of your Pit bull."
The guy replied back "It's actually not a Pit bull, it's a Plott Hound." I Googled Plott Hound and was shocked when the 1st photo I found looks almost identical to Luca. This is the photo of the Plott Hound I found when Googling this Breed.
I read about the demeanor of the breed and I think we've found what our rescue dog is.
All this time we've said things like 'He looks like he's got a mix of something else in him...maybe hound or lab?" But those were always just guesses. To see him beside a full blood Plott Hound, he looks like a fat twin. The guest staying here has a young female that is only 2 years old. Our boy Luca is pushing his 8th year and the last two have been spent sitting idle kicking back here in Cedar Key. In other words he's put on a few pounds of excess weight.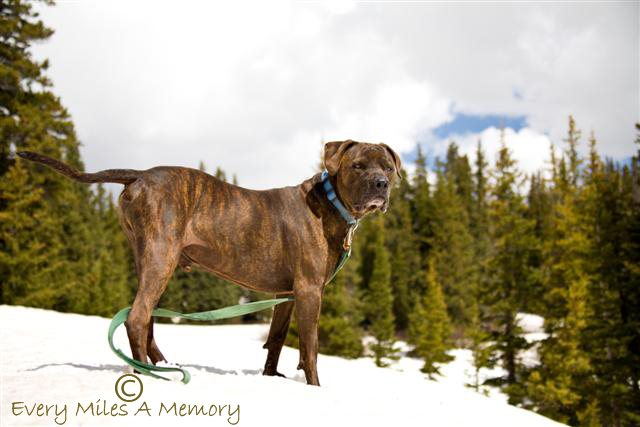 They look like siblings don't they! Obviously ours has a little more weight to him, but coming from a family that likes to eat, it makes sense.
This week we start our Captain's Class where I'll be getting my Captain's License. I've talked a bit about Heath and I scouting some areas for Bird Tours, and we've both decided to go ahead with it.
This means we'll be needed to get certified with the Coast Guard to become Boat Captains. This class will take 10 days of study before we get certified. Once that is done, when guests come into Cedar Key and are interested in seeing birds up-close for photography purposes, we'll be able to accommodate them.
We're planning on putting together some specialized tours where photographers will be able to come out with us, and we'll be able to not only get them close to birds, but with me on the boat, I'll be able to act as a photography guide to help them come home with shots they'll be proud to show their friends. I'll make sure they have their camera settings set to capture birds in flight, something that is especially difficult when shooting from a boat.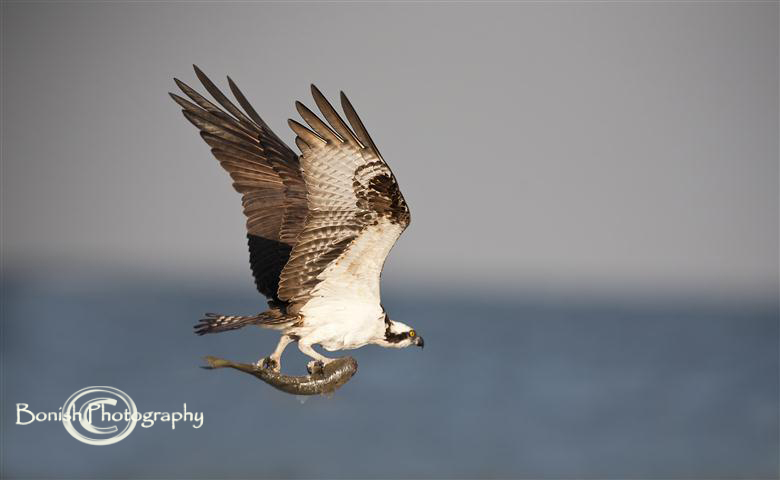 A flying Osprey shot from a Moving Boat, not as easy as it looks
So not only will you be getting a guided boat tour, but you'll be getting one on one guidance on your camera and how to come home with great shots.
If you don't have big lenses, our collection of lenses will be available for rent with the tours. There are boat tours already in Cedar Key, but none are catering strictly to photographers. Our other idea was to be able to drop of kayakers who want to go paddling on the Suwannee River or the islands that surround Cedar Key, but are worried they wont be able to paddle there and back.
We've had numerous guests ask us about shuttles to get them out to some of the islands, but calling any of the local boat captains none have been interested in this sort of service. So we thought we'd fill that void.
It might not make us rich by any means, but at least when guests come to town and ask if it's available, we can say "Yes" rather than "No, I'm sorry no one can shuttle you and your kayak to the surrounding islands."
This class should be fun, because I haven't been in any sort of classroom setting in quite some time. Hopefully I haven't burned too many brain cells. Stay Tuned.
If you're interested in any Photography Boat Tours, we're planning on our first one being available the first week of July when they open the circumference of Seahorse Key and the Bird Rookery will be bustling with activity. Contact me and I'll let you know what the tours will cost and what will be included.
Thursday April 28th - What a Crazy Month its Been
I need to apologize for being away from the blog for so long. This past month has been beyond crazy and I'll take the next few minutes to catch you up as to why I've been absent for so long.
At the end of last month, I got a new laptop when we finally saved up enough money to upgrade the motel's computer system so my old laptop could stay in the front office.
This would mean that rather then Cindy's computer being the main computer we use to make all the reservations on, we'd have a computer that would stay in the office at all times. We also tried to install a network system so all of our computers could be joined together.
This would mean that if we're out at the tiki bar with guests and the phone rings, rather than have to leave the guests out there by themselves so we could run into the office to make a reservation, we could simply make the reservation from a laptop at the tiki bar. This sounds easy enough, and it worked perfect for the first few days we had it installed.
Then the computers did some sort of update on their systems which caused everything to go into a hissy fit and now nothing seems to be working right. Of course this means that this is all my fault in Cindy's mind, but hopefully we'll get it situated soon enough. That in and of itself has been a total nightmare.
With me moving to a new laptop, something that hasn't been done in almost 8 years! (Yeah, I'm that cheap) It's been a total learning process since my new cpu has Windows 7, has a completely different version of Microsoft FrontPage which is what I use to create this website, and has Photoshop CS5 rather than my old CS3 version.
If learning one new operating system wasn't hard enough, try learning multiple ones all at the same time. My old cpu was totally worn out, had multiple keys that weren't working, had all its hard drive space used up and wasn't really upgradable due to its age and was giving me all sorts of trouble when I'd be trying to work on photos, update the website and do daily tasks. This new model is a 64bit version and has 6gigs of RAM so it's much faster, has a 500gig hard drive and multiple USB connections which is something my old cpu didn't have, but its still hard to teach an old dog new tricks.
In between all this computer learning that's been taking up most of my time, the motel has been full since mid-January, the tiki bar has been rockin' almost every night and did I forget to mention that in-between all of that commotion, Cindy and I became Grandparents!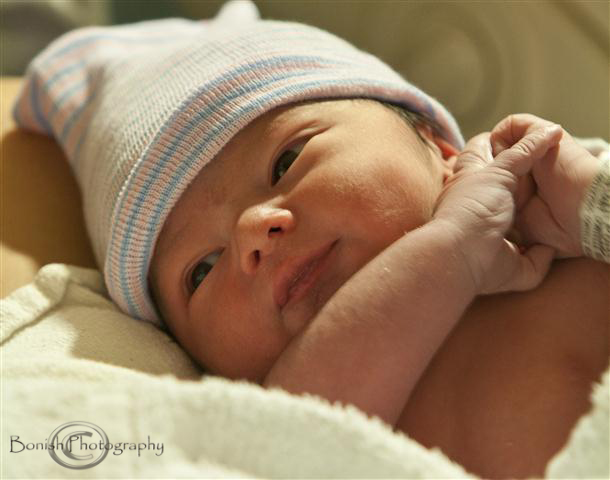 Baby Jazper awake and smiling only minutes out of the womb
Our daughter Donielle and our Son-in-law Allan had a beautiful baby boy, Jazper Aldon Castro on April 17th in New Orleans. Cindy and I had driven to New Orleans a few days early so we could help out with the new arrival.
We arrived on a Saturday evening after driving straight through from Cedar Key. We were both beat as we'd stayed up the night before packing and only getting a few hours sleep. When we pulled into Donielle's house, I said I was going to take a nap because at this point, we had only had about 5 hours sleep in the past 2 days.
Cindy said they were going to order some pizza and she'd wake me up when the pizza got here.
I remember laying down and crashing hard with some much needed sleep. About a half hour later Cindy was screaming at me to wake up. She shoved a piece of pizza in my hand and said "Get dressed, we're leaving to go to the hospital because Donielle is going into labor!"
I guess with all the excitement of her mom getting there a few days early, it sent her into an early labor. We raced to the hospital and thought "This will just be a false labor alarm."
While we were all sitting in her room watching the monitor tell us the labor pains were getting closer and closer, Donielle announced with a loud "Oh My God, I think my water just broke!"
The nurse looked under her gown and said "Yep, you're not going home now, you had better get ready for this baby to be born!"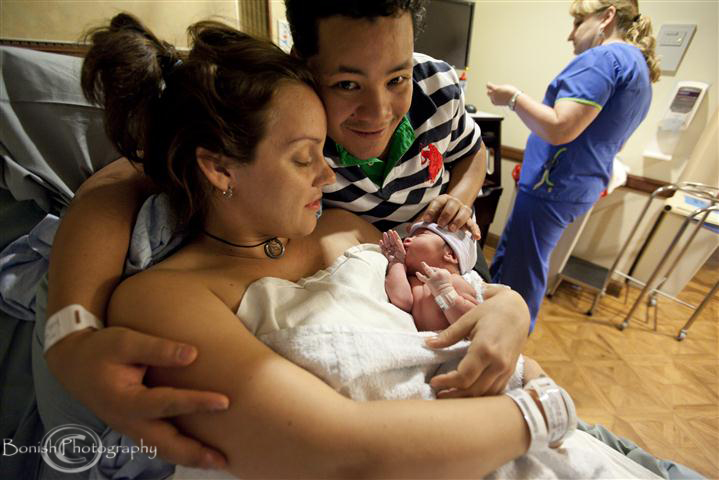 The nurse told us that once the water breaks, it can take anywhere from a few hours to a few days for the baby to actually come out. By this point it was about 3am. She suggested we go get a hotel room at one of the hotels right across the street and they'd call us if it got any closer to being born.
Cindy and I probably looked like walking Zombies at this point and thought that would be a good idea.
We said we'd find a hotel room and made sure they'd call us if anything changed.
We found a room at the Best Western and we were crawling into bed when Allan sent a text message saying "Get back here right now, the baby is coming out!"
We jumped back up, got dressed and raced back to the hotel. We were walking back towards her room when a nurse stopped us saying "You cant go in there! You'll have to wait till they finish cleaning up."
Cindy asked what they were cleaning up and she looked at us like idiots and said "Well they just had a baby, so they're cleaning up the room and the baby."
We had to go wait in the waiting room where Cindy was going insane that she had to sit here waiting and had just missed the actual birth of the baby. She finally just got up and walked out saying "I'm going in there, I don't care what they say."
A little while later Allan came in the waiting room letting me know I could come into the delivery room. We spent the next few hours celebrating and taking photos wiping away happy tears the entire time. What a life changing experience for all of us. I think its safe to say it was one of the most monumental moments in my life so far.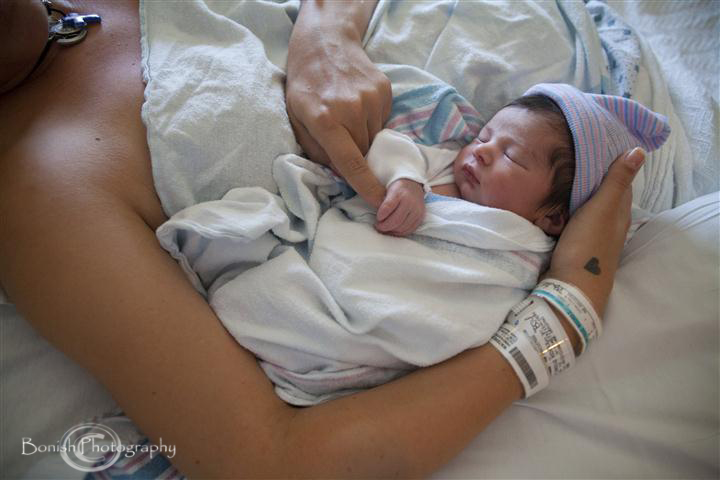 The Perfect Fit - Donielle and Jazper arm in arm
The next few days were a blur of activity coming home from the hospital and bringing them home to their house. Cindy and I spent an entire day cleaning and sanitizing the house to get it ready for the baby to come home. Once they all finally came home, I spent that first day with them before I had to leave to drive home to Cedar Key by myself.
We had our friends Fonda and Juergen watching the motel and we were still busy back in Cedar Key, so I needed to get home while Cindy was going to stay a few extra days helping the new parents get acquainted with their new arrival.
Once back home in Cedar Key, I unpacked and went back to work. For those who have asked to see more photos, I've uploaded a Gallery of Baby Photos Here. Thanks for so many emails and Facebook comments from all our friends who have taken the time to send us a congratulations. Its a pretty proud moment for Cindy and I and we're just happy and Thankful all our prayers have been answered with a healthy Grandbaby.
Cindy flew home a few days later just in time for her birthday.
We had a little party out at the tiki bar and welcomed the new Grandmother home.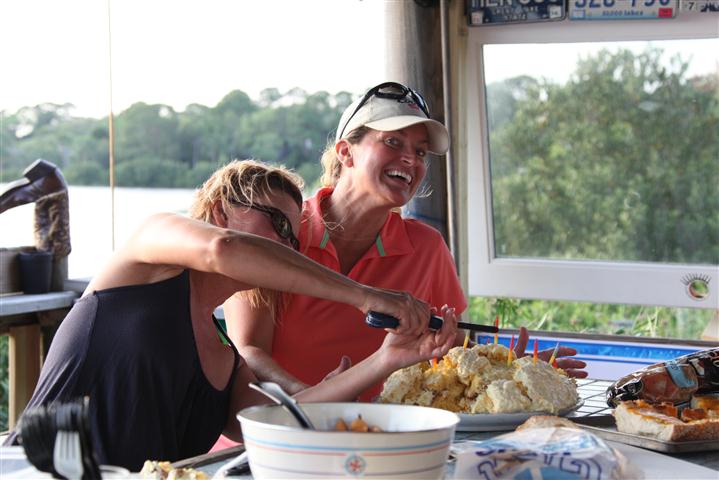 Luz lighting the birthday candles on Cindy's Cake
Our good friend Luz who's birthday was two days before Cindy's had invited us to go with her and Walter to the Jacksonville Beach area for a few days of relaxation. The birthday girls have spent the last few days kicking back at the spa, sipping cocktails down by the pool and just relaxing.
I've finally been able to get caught up on my emails, my photos and some much needed blog updates. I spent a few hours figuring out how to upload files from a new FTP site and I think I might be back to normal with my new computer.
Yesterday while Walter, Luz and Cindy stayed back at the motel, I drove down to St. Augustine to check out the Alligator Farm Bird Rookery. This Zoological Park is one of the oldest zoos in the country and was founded in 1893.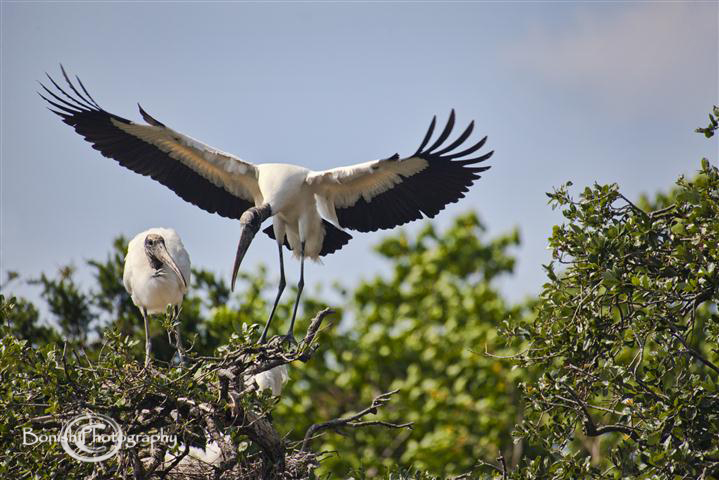 Wood Stork returning to the nest - Alligator Farm Bird Rookery
Photo by Pat Bonish - Canon 5D MarkII with a Sigma 50-500mm lens
I wasn't interested in the animals in the zoo, but when you have trees above a lagoon with alligators swimming around, the birds have a symbiotic relationship with the alligators and roost in the tree tops. The alligators keep predators from climbing the trees to steal the eggs and any birds that might fall out of the nest get cleaned up by the alligators to keep the spread of disease low.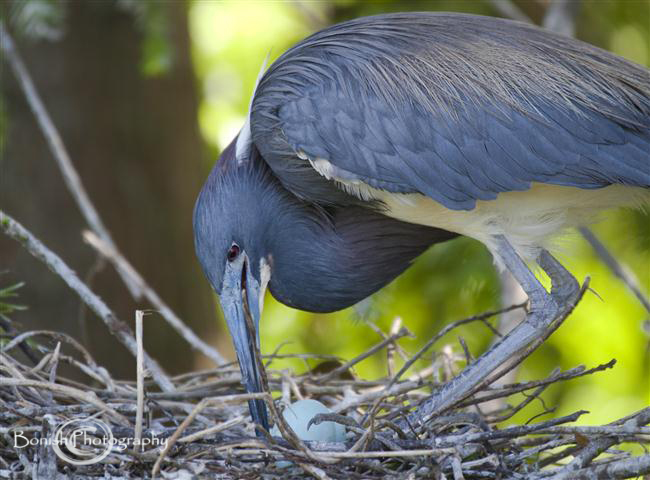 Tri-Colored Heron Tending to her Eggs in the Nest - Alligator Farm Bird Rookery
Photo by Pat Bonish - Canon 5D MarkII with a Sigma 50-500mm lens
All the birds in the tree tops are wild birds that just come to roost and lay their eggs. They're used to people being around even though they're wild animals. The zoo has a wooden boardwalk that snakes its way through the lagoon and you can shoot right down into the nests. It's pretty much a Mecca for bird photographers.
Its pretty amazing to see up-close and allowed me to capture images that would be impossible anywhere else. Well that is unless I was to bring a ladder out to one of the islands around Cedar Key so I could get up above the nests on Seahorse Key.
The girls are back down at the pool today which is giving me time to update this blog before we go back down to St. Augustine for another round at the Bird Rookery. This time I'm bringing Luz and Cindy so they can check it out and see what they think. Here is a link to the Gallery I've put together so far from the visit to the Bird Rookery.
I know there is so much more that has gone on since my last update, but at this point it would fry my brain to try and remember all of it. Heath and I have stayed busy on our boat outings testing a new trolling motor we got to see if it will help with our bird photography, and there are all sorts of new things going on and around the motel, but those will just have to be brought up in later posts.
I promise from here on out I'll update more often. There are lots of new things in the works, so I'm excited to be talking about them, I just cant spill the beans till they're officially announced. Till then, Hope everyone is doing good and is safe with the crazy weather that's been battling the Country.
Here are some photos from the past month to show you I've been really busy!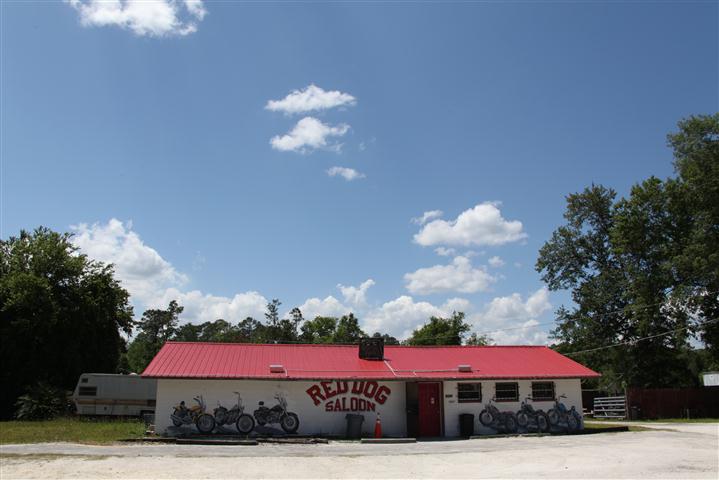 You know we had to stop and photograph this when we passed it in Starke Florida.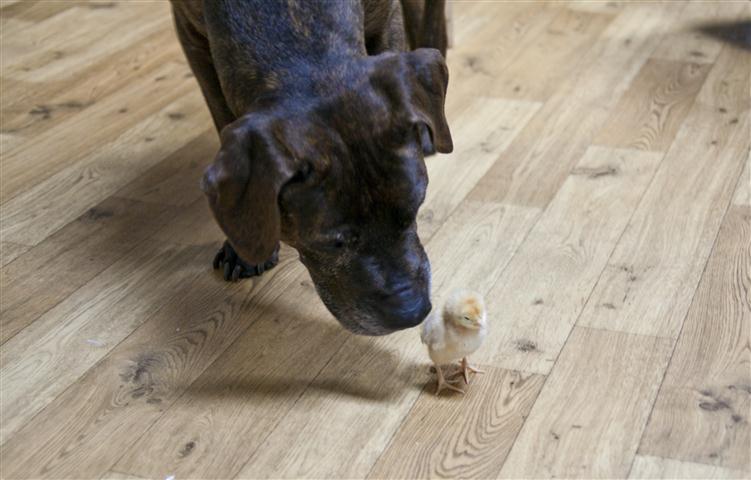 Luz thought it would be funny to give Cindy some baby chick's for her birthday with a note that said "From one young chick to another" Luca has become their protector from Lucy who wants them for lunch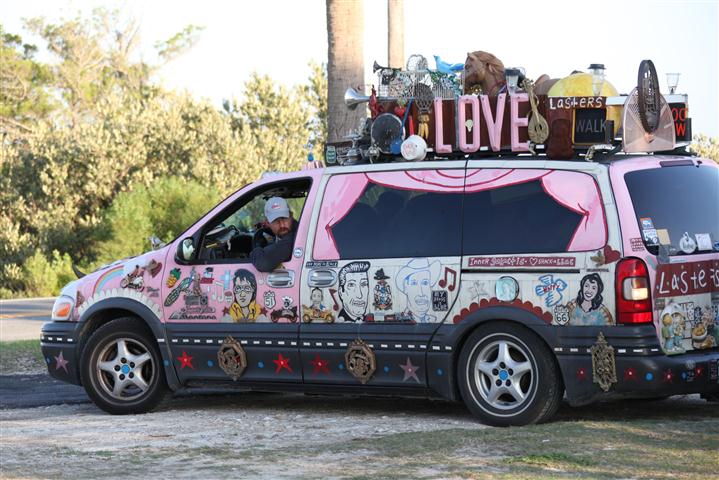 Backing in one of the Artists Campers that visited Cedar Key for the Fine Arts Festival -
Something tells me this draws just a bit of attention where ever it goes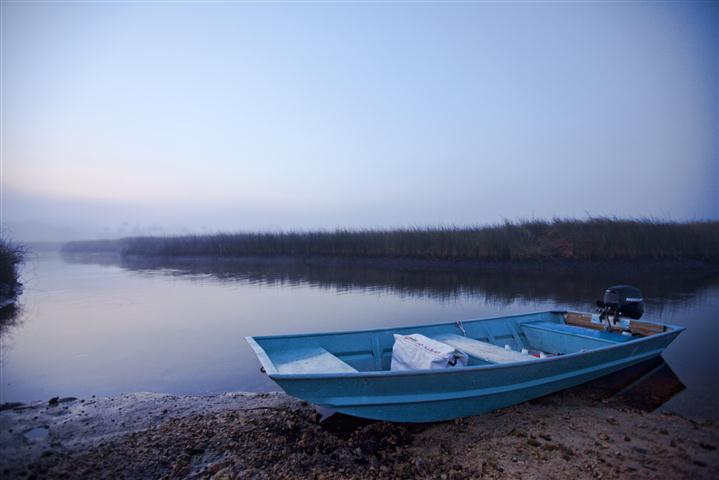 Foggy Sunrise while we try and seek out some new birding spots
___________________________________________________________________
Photo Gear We Use - Solar Tips, Fact's and Trick's we've learned while on the road
Camper Check List - A list of things we do before leaving camp. Again, this isn't gospel, but its a good start for those who might not already have a list made up.
Return to Top of Page
Need Unlimited photo storage- FREE Trial of Smugmug