When we realize our insignificance in this world,
it some how relieves the pressures from society to succeed -
Cindy Bonish 04/07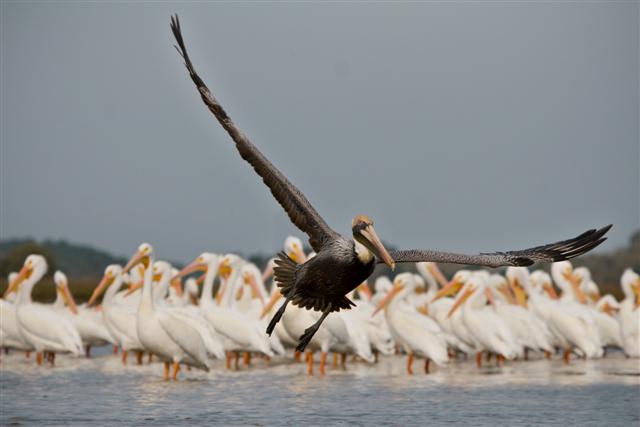 Pat's April 2010 Blog
If this is your first time here, you might want to start from the beginning of our fulltime Journey with our Past Blogs
If You Don't Know Me Yet, Click Here to Read Pat's Bio
****
Friday April 23rd - Home and Back to Work
I made it home safe and sound and all is good in the Bonish World.
Wednesday was a long and grueling day of driving. I drove the entire bumpy state of Louisiana with the camper getting beat to death by the awful roads, flew through Mississippi and Alabama in the blink of an eye, and made my way South to Cedar Key in the dark. Florida is so thick and lush right now and it was surprising to see how full the forests are compared to the rest of the drive that has little more than sage brush and scrub along the edges of the road.
Coming into Cedar Key, there is a little short cut you can take that is a back road out of Chiefland. It's really narrow and reminds me more of a Mexican road, because for some reason there is no shoulder on either side of the roadway and it's quite scary in the dark.
There is the white line to tell you where the edge of the road is, and on the other side of the white line is the grass. The road is very narrow, but I figured it was after dark, and the nighway isn't traveled all that often even during the day time, so I could just straddle the yellow line in the middle and have the entire thing to myself.
I was barreling down HWY 345 at what seemed like a locomotive speed and taking the tight turns much faster than I probably should have, but by this point, I had been driving for over 16 hours and just wanted to get home to my beautiful wife who had been sending me provocative Text Messages all day long in hopes of getting me home faster.
As I was coming around one particularly sharp curve, I saw lights coming towards me and within seconds had another truck coming the opposite direction around one of the sharp turns.
The truck was a dually so I couldn't see the boat it was pulling behind it.
I swerved out of it's way and into my own lane which of course sent the trailer swerving off the road. To get the camper back onto the road, I needed to pull the steering wheel hard so the camper wouldn't keep going and actually tip over in the soft shoulder.
That was when I noticed the boat behind the truck and thought "OH SHIT" I've just yanked the wheel to bring the camper out of the dirt thinking I'd be able to swerve back into the middle of the road behind the truck.
This sent me swerving the wheel the opposite direction to keep the camper in my own lane and for a few seconds, I thought it was a goner.
I'm not sure if the camper and the boat actually brushed against one another, but if they didn't, they were so close you probably couldn't have slid a piece of paper between them.
It was at this point that I slowed way down and took a breather.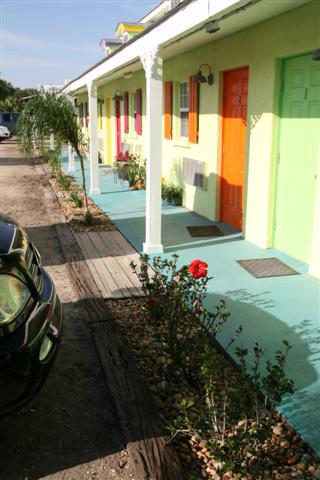 The rest of the way home, I caught my breath and counted my blessings. You know that old saying of "Accidents always happen within a few miles of home"
I was thinking to myself, 'I've just driven 2000 miles in 3 days and I'm going to get in a wreck within 10 miles of my house.'
So when I got home, I gave Cindy a big hug, cracked open a much needed ice cold beer and we sat out on the dock enjoying the hugs and kisses we had missed for the past 9 days away from one another.
Thursday I spent the day unloading the camper and the truck and mowing the yard. Then Cindy asked me to drive into Crystal River so I could pick up some supplies to finish the yard for this big weekend.
This weekend is the Cedar Key Arts Festival which brings in over 100,000 people to our little town, and Cindy's been trying to get this place looking it's best. Between her, Bruce and Lindsey, they've done a complete make-over on the place in the past week and it looks amazing.
So I've spent 3 full days, around 16 hours each day in a vehicle driving home to see my wife and what is the first thing she asks me to do once I've come home? She puts me back in a vehicle and sends me down to Crystal River to get her more plants.
This weekend is Cindy's Birthday Weekend, so I'm sure come Monday, I'll have tons of funny stories to re-tell.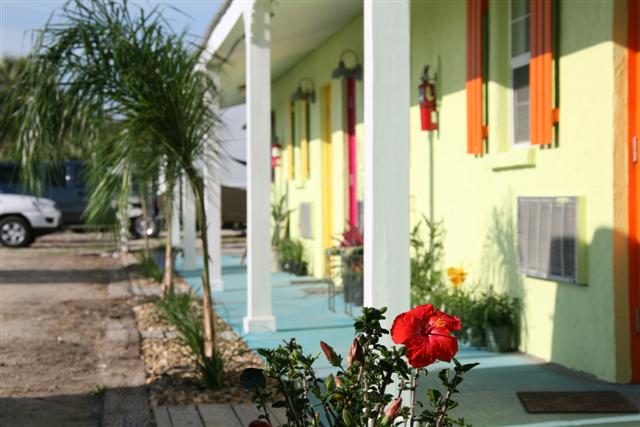 I hope everyone has a great weekend, and it's good to be home.
Tuesday April 20th - Texas is One Big Ass State
Driving alone today made me realize how much I love my wife.
I miss her cooking, I miss her conversation and I miss being able to share the things we see out the windshield with one another. I often times wonder if I could or would travel alone if anything was to ever happen to Cindy, but this trip made me realize that I'm not much of a solo traveler.
I've now driven for over 12 hours and the last hour seemed like a fuzzy dream, so I've decided to pull over in some truck stop an hour inside of the Louisiana border.
I told myself there was no way I was going to stop and stay another night in Texas.
Heading to sleep with the sound of idling diesels to keep me company, at least it's something I'm used to, even if I dont have Cindy's warm body to snuggle up against. Heck, at this point I'd take Luca in bed with me just so I'd have something to spoon.
Monday April 19th - East on I-10
The campground was bustling this morning with everyone packing up to head in separate directions.
For some travelers, this was the start of a big journey. Others had used this Overland EXPO weekend as the end of their adventure.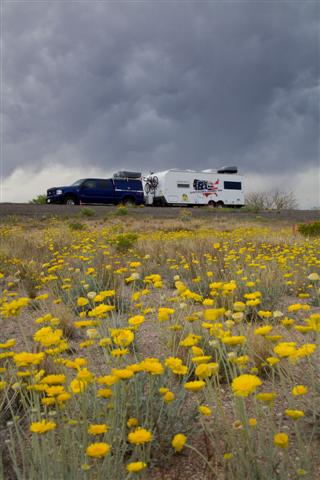 Doug Mote who was camped beside us was packing up his BMW GS Motorcycle to head down into the Copper Canyon area of Mexico. Jim and Petr, (That's not spelled wrong, he's Czech and they're too poor to use so many letters in their names) who have been camped right beside me the entire time and drove up from South of me in Florida were going to spend the next few days taking dirt roads out of Arizona and through New Mexico.
J. Brandon and Martin were going to take it slow while heading back up towards Nevada and I had the monumental task of crossing Texas by myself.
After spending the weekend talking with such experienced travelers, its clear to me that one journey has to end at some point for the next one to begin.
Doug Hackney talked about life being a series of chapters. Some of them are filled with adventure and fun, others are just a chapter to get you to the next stage of the adventure.
I think that's the chapter I'm in right now. Planning for the next stage.
When we landed in Florida in December, we closed the chapter that had to do with moving daily, seeing new horizons with every sunset and experiencing so many amazing things. I've finally come to grips with that.
We've now started to write a new chapter in our lives and this one might not be as fun to read as the last four years have been, but the job is needed to build the kitty which will get us back on the road.
Driving along by myself with nothing but the weekends worth of amazing stories to ponder back on, I'm pretty happy with the last few chapters of our book. The next few dont look all that much exciting for me right now, but I guess I'll have to deal with it.
Cindy and I will plan a few trips throughout the year and try to make them as fun filled as we can, but with a bank account as low as ours is (Zero), work is where I need to put my head for awhile.
Maybe I'll start on that book everyone keeps talking about. You do realize we dont write half the stuff we see and do in these blogs, especially not the juicy stuff! That's saved for the pages of a book that can be read long after the fact. Hopefully when I cant get in trouble for the stupid things we do.
Right now, all I want to do is get back home to Cindy and feel the warmness of her body against mine. After so many years of sharing our little camper together, the thing seems way too big with just me in it alone.
The weathers been crappy all day with strong winds blowing me around the road and rain drops bouncing off the windshield here and there. It's the perfect travel companion to keep my mellow mood company as I count off the miles and relive so many great memories we've experienced over the past few years.
Oh, and just as the sun set behind me, I spotted some giant blob on the side of the road. I hadn't seen any cars in some time, so I pulled over to see what the heck had been hit that was this huge. I was thinking it was a cow that had gotten out of the fence.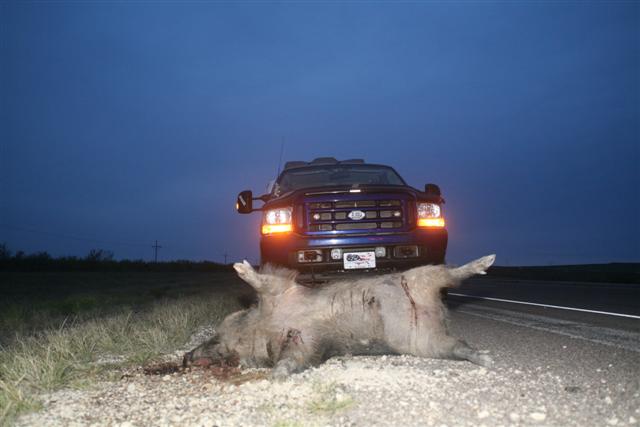 I now know why EVERY truck in Texas has those big grill guards. Yep, that's a giant hog dead along the side of I-10!!!!!! Imagine the shock on your face when you hit that in a Toyota Prius.
Sunday April 18th - Final Day of the Overland EXPO
Looking back, today was my favorite day of the whole weekend. I knew the grounds and the vehicles enough that I wasn't scatter-brained like I had been the last few days.
I already knew where everything was, and today I could just take my time, see what I wanted to see in detail, get to talk with the people I really wanted to talk to and just slow down a few notches.
It seemed like everyone was feeling the same way because the whole aura was more laid back today.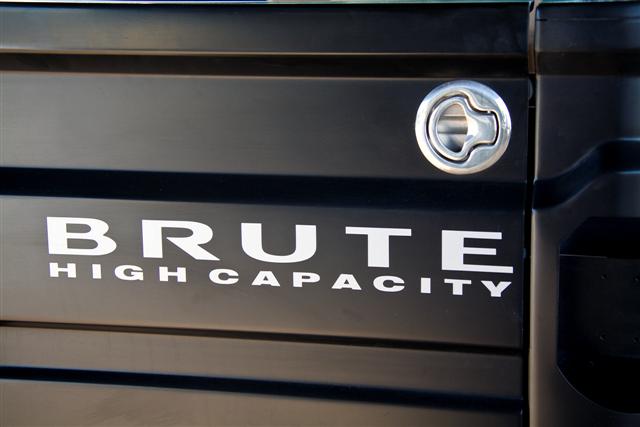 I spent some time talking with the guys from American Expedition Vehicles about their Jeeps, the things they do to them to make them so unique and how small their company actually is.
For me, I would rather spend my hard earned money on a company I can sit in a booth and talk to the guys who are actually making the vehicles by hand than sit and talk with a North American Rep who has never even held a wrench in his hand.
These guys are down to earth and like I said yesterday, unless you knew who they were, they'd never give the impression they're the ones that take a new design from the dream stage to the dirt and prove it can work.
While sitting there talking with them, a woman walked up and said "Hello, I'm so and so from JP Freek Magazine", which is a pretty big Jeeping magazine and she too couldn't believe it was the owners of AEV themselves working the booth.
I let them do their interviews and headed off to talk with some more celebrities in the Overland world.
I got a chance to finally meet Ara, from The Oasis of my Soul website I've been reading and following for so many years now.
Ara travels in a BMW motorcycle with a sidecar attached for his dog Spirit to ride in. Over the years, Ara and I have talked back and forth a bunch of times and I think Spirit is an identical twin of our Pitbull Luca. The only difference is Luca hasn't had his ears cropped and Spirit has.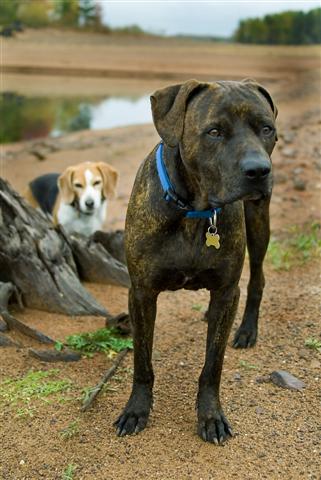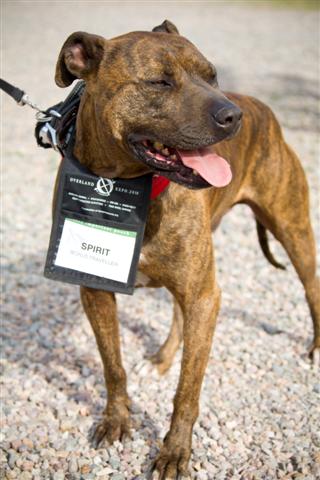 Luca on the left and Spirit on the right. Both have the same laid back attitude and love traveling
Spirit looks a bit more golden in that shot, but he was in the afternoon sun and Ara told me he's lightened up alot because of laying in the sand all weekend.
A got a chance to sit and talk with Ara about traveling and cameras. He talked of those 'WOW' shots. The one's he says "You dont have to do anything other than point the camera and snap what you see in front of you and it's an amazing image. It just makes you say 'WOW'"
Ara talked about making photos, and about how we can all do things like sitting around to wait for the right light, maybe use long exposures or filters to make the shot jump out at you, but it's rare to capture those times when Mother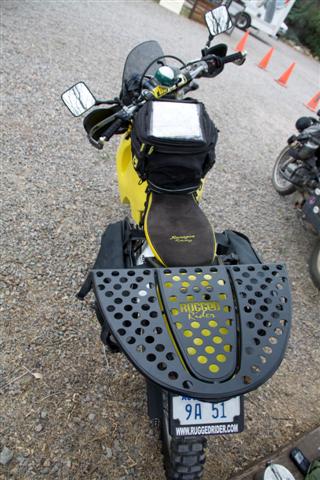 Nature opens herself up to you and gives you an image so beautiful, all you have to do is press the shutter button.
I also found humor in the fact that when we were talking about traveling with our dogs, Ara said "You know how some animals have separation anxiety, well I have Human-to-Dog separation anxiety." He laughed and went on to say "I dont like being away from Spirit for more than a few hours at the most."
We got to chat with Nicole, a beautiful woman who is about to leave on a solo motorcycle journey from California down into South America. We all sat around talking motorcycles, custom seats and the kindness of the Overlanding community.
Nicole lives in L.A. and told us she needs to learn how to work on her own bike before she leaves for her adventure. She wants to be able to do the basics of maintenance so when she's alone in another country, she can do her own wrenching.
Ara and I suggested she ask around on ADVrider to see who knows how to work on bikes and could spend a few nights teaching her the basics. If you live around the L.A. Area and would be up to it, shoot me an email and I'll forward your info onto Nicole to see if we cant help her out.

Nicole and Ara in front of Ara's rig. You can see Spirit taking his afternoon Siesta in the sidecar tub
Not that it matters, but she's beautiful, she's super nice and any woman with balls big enough to leave on a solo motorcycle trip into South America is pretty awesome in my book.
From the company of Ara and Nicole, I left and went to watch the Documentary being shown by Austin Vince and Lois Pryce about their motorcycle trip around the United States in a motorcycle with a sidecar attached.
Now this was really funny because this married couple normally does separate adventures on their motorcycles and this was the first time either of them would be driving a motorcycle with a sidecar, let alone with each other.
Just so you understand how big their résumé is, Lois flew to Alaska, got on her motorcycle and drove it to Terra Del Fuego by herself. Austin and a group of merry motorcyclists rode their bikes from the Atlantic Ocean side of Russia to the Opposite side all the time sleeping on the ground and getting drunk on cheap vodka with the locals.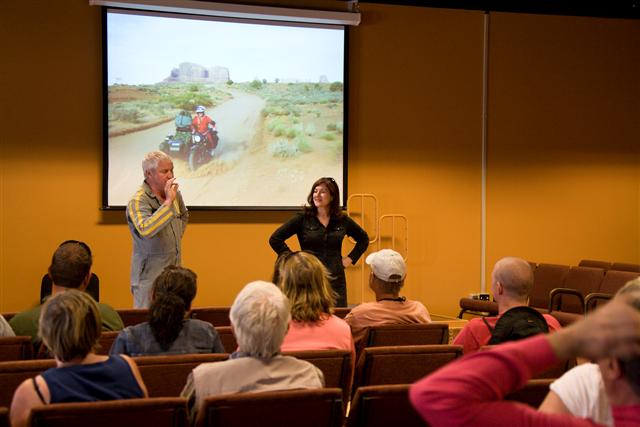 Both of them talked about how completely different the traveling in a sidecar equipped motorcycle was. You dont need to wear all the protective gear like when you have the chance that you might fall over when riding a normal bike.
They said that one thing alone made the trip completely different for them. They could travel so light it was almost like they werent even on a motorcycle.
Austin talked about being able to curl up in the sidecar's tub and fall asleep while Lois would be driving, and he's 5'10" in height.
They joked that the passenger who rides in the sidecar tub has a tough job of poking the driver of the rig in the ribs while taking hard turns, approaching traffic or doing anything when normal concentration levels should be peaked.
Their movie was hilarious and the two are more comedians than they are anything else. Austin is constantly making jokes about himself and the fact that they're British riding a Russian made motorbike in America. That itself sounds like the start of a bad joke.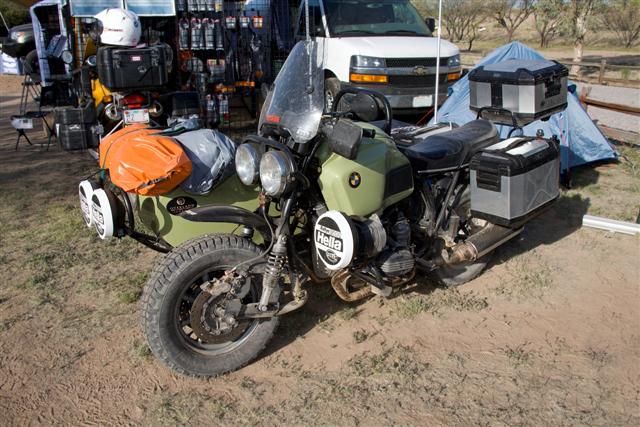 This custom sidecar rig had over 180,000 miles on it!!
The #1 thing they warned about is when traveling via Motorcycle with a Sidecar attached, be ready to be stopped and talked to no matter where you go. They would even film themselves pulling up to stop lights when the neighboring vehicles would Scream out questions and ask what it was they were riding.
I guess in the normal world of day to day activities, sidecars are a rarity. What they came away with from their adventure was a motorcycle equipped with a sidecar is the Ultimate Couples Adventure Vehicle.
Jeesh, I've been trying to tell this to Cindy for years now.
The event ended with a BBQ/Awards ceremony for those who had bought the full package ticket.
The food was awesome and while sitting around mingling with the attendee's, I ran into a guy I went to High School with.
Jim O'Riley and I go way back and have shared some crazy adventures together. I'm talking things like riding dirt bikes up in the Silver Lake Sand Dunes in Northern Michigan, drinking till the sun came up around bonfires in Milford and throwing punches side by side in fist fights against our rival high schools back when we were young and dumb.
Jim had ridden over from California on his KTM and was having a total blast. We caught up on the past 15 years of life and shared stories on a bunch of crazy friends who are now scattered all around the country.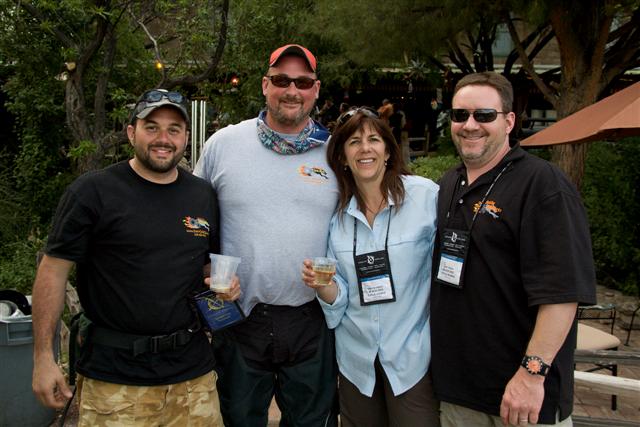 L-R = Todd and Jim with Martha and Kurt from Black Dog Cycles
It was great seeing him and getting a chance to knock back a few cold ones with an old friend while at EXPO.
The night ended with the big awards ceremony and lots of speeches and applause for the Overlanding community. It was an amazing end to probably one of the best events I've been to in a long time.
Oh, one other thing I wanted to mention.
While Cindy and I were in Baja a few years ago, we kept hearing stories about a couple traveling all the way from Arizona to Cabo San Lucas and back on ATV's. They were only taking trails and the wildest part was they had a dog with them they had found along the way that rode on the seat of their ATV the whole time.
While I was standing in the buffet line to get my food, I started talking to the couple in front of me and guess who it was....Yep, the crazy ATV couple.
They are now planning their next trip which is going to be in a Land Rover with a Pop-Up camper on the back so they can have a bathroom with them. First words out of her mouth, "I'll never do a trip like that again without having a toilet with me...enough squatting behind a bush for months on end!"
I cant wait to follow along in their next adventure and it was an honor to meet up with two people that could tackle an adventure like that.
Saturday April 17th - Day 2 of Overland EXPO 2010
Today was one of those days where I had to keep pinching myself to make sure I had woken up and wasn't still dreaming.
There is so much to see here at the EXPO, and yesterday I was worried I was going to miss alot of it. So today, I started bright and early with the sunrise and was out wandering the grounds.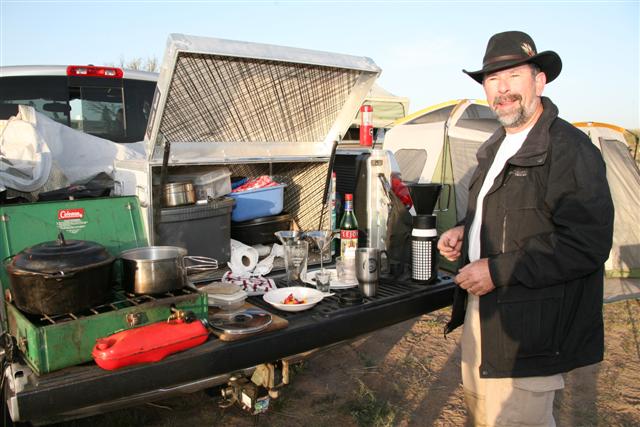 J. Brandon Cooks his breakfast off the back of a truck, what more could you ask for?
I had a full boat of presentations I wanted to take some notes on, ranging from Security while Overlanding, Capturing Your Journey, which was put on by Brian Slobe who is a great photographer, and a few more Round Table Discussions with the Overland Master Classes.
It's very hard to make your way around the grounds due to so many people stopping to talk with you, really cool things to stop and look at and my suffering from A.D.D. so badly.
I'll be headed in one direction with a purpose of going to hear a presentation in one of the seminar rooms. On my way there, I'll stop to talk with someone for a few minutes, then see a bright shiny piece of metal and be drawn to it like a mosquito to a bug zapper.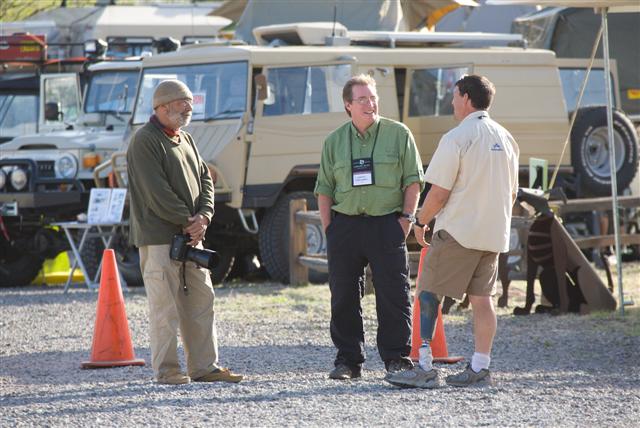 L-R = Ara from Oasis of my Soul, Doug Hackney from Hackney's Adventures and Lance from Disabled Explorers sit around talking shop
A half hour later, I remember that I was headed to the seminar and this whole routine starts over again.
So in reality, my day consisted of me walking in circles and doing nothing but talking with fellow travelers about our passions. Sounds like a great day had by all!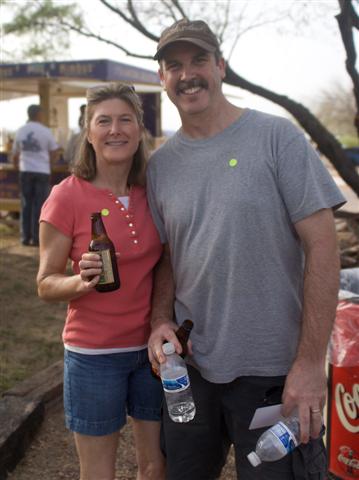 While making my way back to the camper for some lunch, I bumped into Don and Denise Wessel. You might remember them from our stay in Arizona a few years back when we all went out a few different times to just hang out and talk traveling.
They live in Phoenix and came down for the day to meet Ara and Spirit. Don and Denise are both avid motorcyclists and are contemplating putting a sidecar on their Triumph bike for future journeys.
We caught up on the past few years and made plans to meet for a drink or 3, later at the EXPO happy hour.
After lunch, I made my way back to listen in on the Overlanding Master Class. This was being moderated by Doug Hackney who is actually considered one of the major Higher-up's in the Overlanding world.
Doug and his beautiful wife Stephanie have circumnavigated the globe numerous times on many different vehicles. They've spent years on a motorcycle in foreign countries and have some amazing stories to tell of their adventures. Over the years, I've sent Doug a few emails asking his expertise on various subjects and was always amazed, despite how busy I know the two of them are, that I usually got an email back within the same day that would be multiple pages long with so much more information than I needed.
Talking with multiple people around the EXPO, everyone says the same thing about the Hackneys, "They're very good people and a riot to sit and talk with."
It would be too hard to put into words the questions that Doug asked his panel of esteemed guests and the earth moving answers they came back with.
We're talking adventurers like Austin and Lois Vince, Ted Simon, and Gary and Monika Westcott. This group alone holds records of being the firsts to travel from one side of Russia to the other, one doing it on a motorcycle and the other doing it in a truck.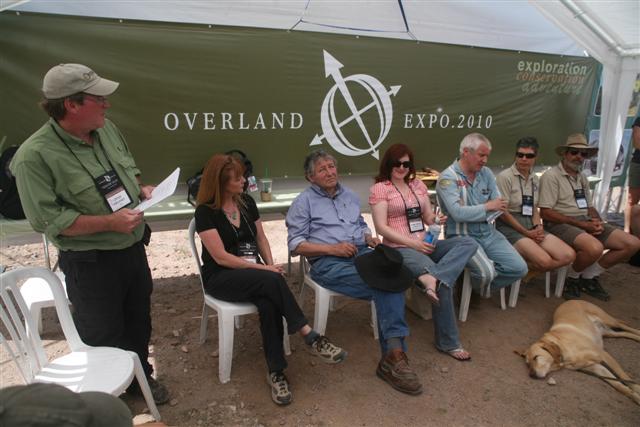 Doug introducing the Master Class of Explorers
Gary and Monika talked about having to cross a river that was the sole reason no one thought this could be done. To prove it could be done, they waited till the middle of winter so they could make the river crossings when the water would be frozen. Remember this is Russia we're talking about. Russian winters are just lovely I've heard?????
To hear Gary talk about crossing a frozen river with his full size truck breaking through the ice in sections. The whole time he was thinking that at any second the rig was about to fall through the ice....well you could feel the tension and I found my hands were clenched as he talked of how white his knuckles were to the steering wheel. He also said the day they crossed the river was the warmest it had been in weeks and it was -20° Below Zero!
Everyone who reads the blogs knows that I'm a collector of quotes, so I was happy to jot down a few I heard from some of my favorite explorers.
When asked by a audience member about the mental state one must put themselves into before leaving for an extended adventure, Doug Hackney said "Know that when you leave home, you also leave a part of that person you were, behind you."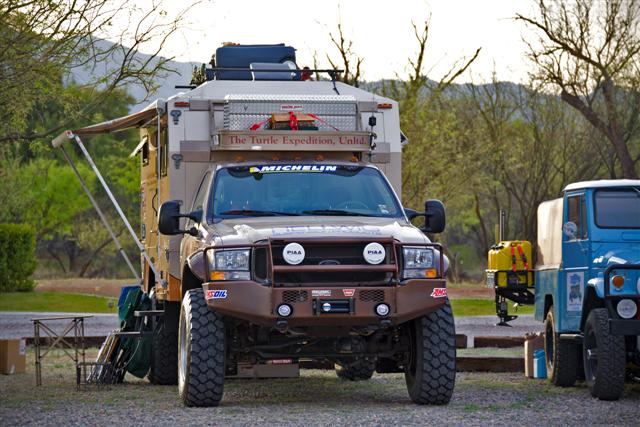 The Turtle Vehicle the Westcott's currently use
When asked about the security warnings everyone seems to burden you with, Ted Simon, of Jupiter's Travels said "No matter where you go in the world, someone already lives there." Think about that one for a minute, it's pretty eye opening to realize that where you're so worried about going to is already someone else's neighborhood.
Gary and Monika, from the Turtle Expeditions told a great story about their worries and fears before they crossed Russia, and remember this meant they had to cross many sections, including Siberia in the winter.
They explained that a village elder had told them after they spoke of their worries that he wanted them to check their pulse. Then he asked them to place their hand on their hearts. Gary and Monika had asked all of us in the audience to do the same.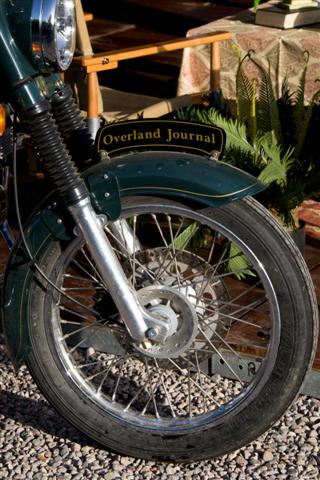 While everyone sat around with their hands on their chest feeling their heart beat, they simply said "No matter where you go in the world, everyone's hearts beat the same."
They told us when they heard those words from that village elder, they knew they could cross Russia and take their truck anywhere they wanted and the people were the last of their worries.
Another question I thought was interesting was when Doug asked the distinguished panel, who have all used various forms of mechanical transport to roam the globe, "With all your experience, what one vehicle would you chose to continue to travel in."
Lois Pryce and Austin Vince obviously chose motorcycles because that's what they drive, and said it's the best form of transportation to move around the world in. Ted Simon said "Which ever vehicle you feel most comfortable in." and Gary Westcott said
"I'd pick an American made pick-up truck." He went on to say "99% of the roads in the world have been built with American made trucks used in the construction. Anything larger than a standard sized truck will be too big, and if there was a rock or obstacle in the road, a foreign sized truck will have already hit the rock and moved it out of the way for you."
When the discussion ended, it was getting close to Happy Hour and the outdoor bar was filling up fast with people coming back in from their days activities and seminars.
I met up with Don and Denise and we sat talking about life while sipping on some local beers from the Nimbus Brewery.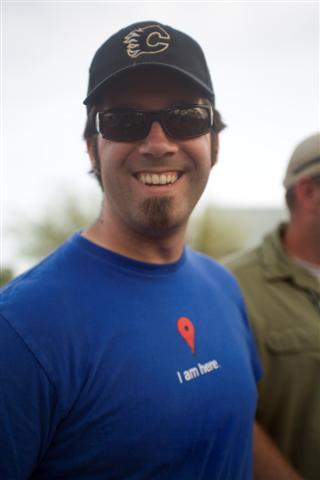 Happy Hour was a mix of all walks of life and you'd see people who have never even been off-road or on an adventure, talking with those who have circumnavigated the globe numerous times.
I watched as one young guy was on his cell phone talking with whom I guess was probably his wife/girlfriend back home.
I heard him say as he looked around all wide-eyed "I'm not around any of the big-wigs right now, but this place is loaded with them."
What he didn't realize was standing only two feet away from him was Gary and Monika Westcott who were talking with a bunch of big-wig's from the Camel Trophy Series.
Ara and Sprit were talking with the Hackney's and another group of distinguished explorers only a few feet from the guy.
On the other side of him, about half the staff from the Overland Journal was laughing and enjoying the end to a good day, and the table behind him was the owners and staff from AEV who was drinking with the guys from JEEP.
So this young guy who is so excited about being here has no idea that he's surrounded by Big-Wig's, but they're all just so laid back and down to earth, you'd never know it unless you knew who they were.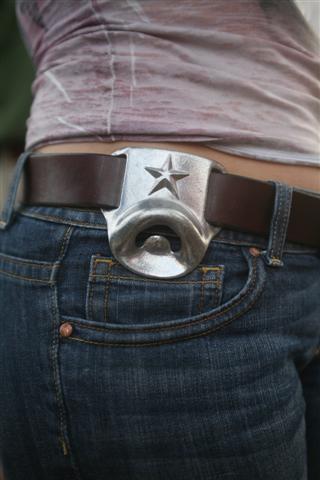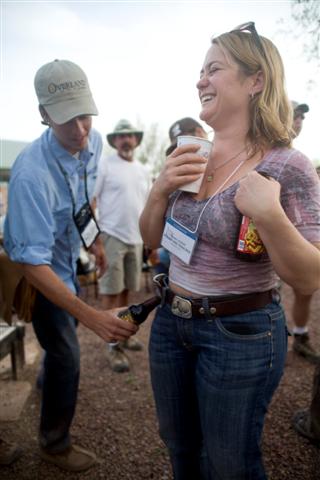 When a prototype bottle opener/belt buckle was spotted on the hip of Yvonne Litaker of Adventure Trailers, Overland Journal Staff member Bobby Curtis was right there to partake in a product test. Always working, these Overland Journal Product Testers are!!
By this point, Don and Denise had wandered down to the steak house to get some food and I was talking with Tom Dolaskie and Kristian Saile who are a couple of really cool guys putting together the 3rd Annual U.P. Overland Adventure.
The first year Cindy and I were on opposite sides of the country during the summer months while they were putting this amazing trip together around Michigan's beautiful Upper Peninsula.
And last year we were home, but it sold out so fast, we werent able to join in.
This year, I'm thinking we're going no matter what. It will be in August, so Florida's grueling heat will be a nice place to escape from. Funny part is, I called Cindy to talk to her about this and she said she had already made up her mind, we were going.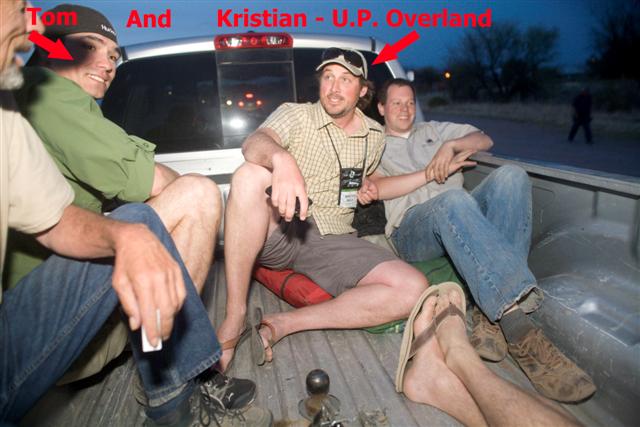 The gang on the way to dinner
She told me there is another member from the Expedition Portal Forum who is staying at the motel right now and she's been sitting around the last few days talking to Dave about the last few U.P. Overland Trips. I guess Dave has went to both of them and cant say enough about how awesome they are.
So I called Cindy to ask if we could go and she tells me "We're Already Going!" Oh Yeah, our next little adventure is already in the planning stages.
While talking with Tom and Kristian, they asked if I wanted to go out to dinner with the guys from Jeep and AEV, and we all jumped into the back of a Dodge Power Wagon and headed over to the Long Horn Steakhouse.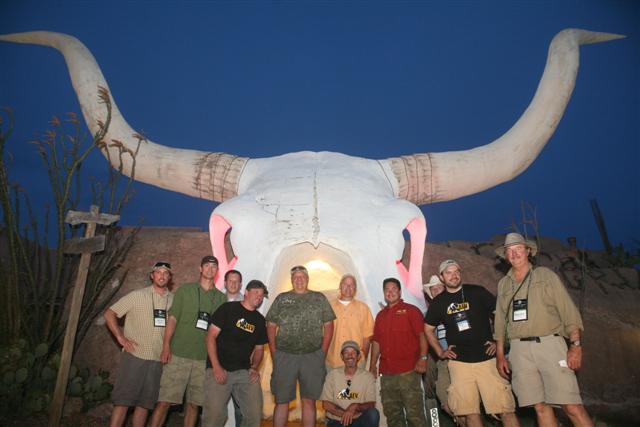 Too Many to List, but put it this way, if you drive a Jeep, you have these guys to thank for the cool styling and amazing features you see in the body styling
The rest of the night was spent sitting around a huge table with a bunch of really cool guys. We talked Jeeps, exploring the world and snowmobiles.

You dont want to know what Tom has everyone laughing so hard about in this shot, but notice his hands and take a guess
AEV is headquartered out of Montana, so the snowmobiling is epic when you have 9' of snow to play with all winter. Dave, the owner of AEV was sitting right beside me and had me drooling with the photos he was showing me of the areas he rides his sled during the winter months.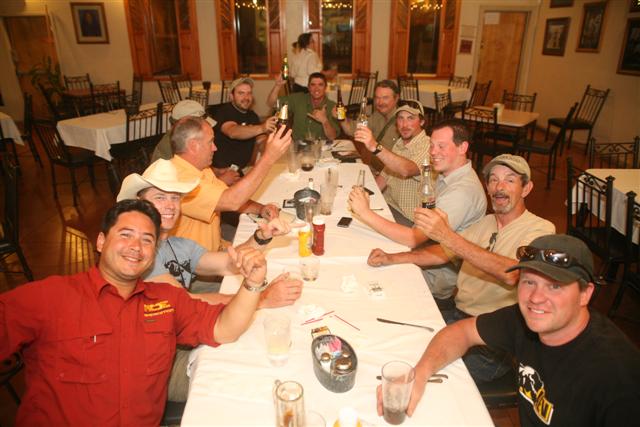 The night ended with a big toast and some new friends made. We all made our way back to our camps and I fell asleep within seconds of hitting the pillow.
Another amazing night in Arizona!
Friday April 16th - The Overland EXPO Experience
Wow, what a day today has been. From waking up at 5:30am to get ready for the 7am meeting for us presenters. The 8am kick off for the event. My presentation at 9am that went pretty smoothly, considering I went 99% off the top of my head, to the 11am Round Table Discussion that included me along with some of the Overlanding Worlds most esteemed explorers.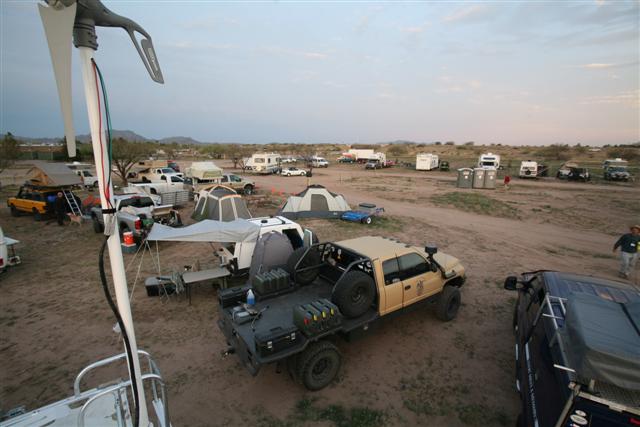 It was like an overload of amazing things to see, great people to talk with and hearing stories of fellow travelers that rival anything I've heard in my life.
To look around the campground and just the grounds in general here on the Amado Territory Ranch, its the equivalent of allowing a kid loose in a candy store. Some of the trucks are huge and way over built, but you still have to respect them for the craftsmanship put into them and the ability they have to travel off-road carrying everything they do.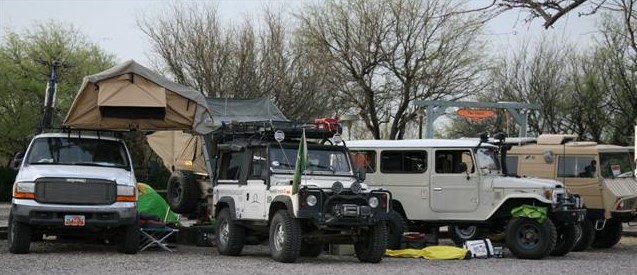 The ranch that is hosting the EXPO is an amazing piece of property in and of itself. They have a motorcycle skills course for those who like to travel on two wheels. There are mud pits to teach participants how to properly rescue stuck vehicles, a skills course for the trucks to learn how to climb over obstacles safely, and dozens of other areas I haven't even gotten a chance to see yet.
I've had a chance to meet a bunch of people who I've talked back and forth with on various forums and who have contacted us over the years via our blogs, but I've finally got the chance to put a face with a name. It was a very rewarding day for me.
I finally got the opportunity to meet some fellow explorers who I've been following since I was in High School...people who got me started with dreams of becoming a gypsy when I grew up and could go out to explore the world on my own. It was amazing to meet them and have them consider me an equal, rather than just some young kid drooling all over their shoes while telling them about all the things I've read about them.
That is the one thing with this community of roaming Nomads, there is very little Hierarchy, you can have one person who has traveled the globe over and over, via motorcycle, truck or on foot talking and sharing great stories with someone who might only take one adventure each year, but they're talking with the same enthusiasm.
My only thing I'm pissed off about is the fact that Cindy isn't here with me. While out on the road, Cindy has always said things to me like "It drives me nuts that there are never any women my age who are into what we're doing."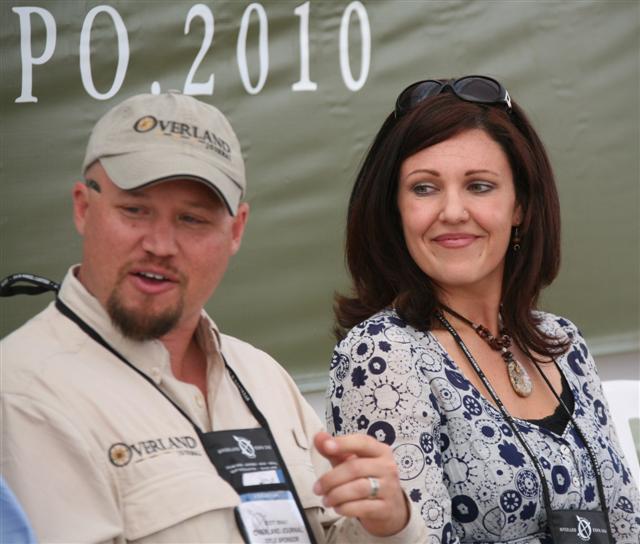 I agree with her, because most of the folks we meet are simply weekend warriors who dont really understand the entire fulltime travel lifestyle.
They ask a ton of questions about why we're doing what we're doing, or constantly tell you how lucky you are to be doing what you're doing, but dont get the real reasons why we live the way we do or they too would be out there enjoying the free life.
I really wish that she could be here to see how many women are in attendance that are her age, and have the exact same feelings she does when it comes to our wandering lifestyle. I think for once, she would find a sense of camaraderie that is hard to find amongst women travelers.
As men, we have tons of guys to look up to and draw from who have gone out before us, but might not be the traditional Sports Athlete or Movie Star associated with hero status. There are tons of guys who are out doing the adventure lifestyle thing right now that I hold up on a pedestal, but few women I can think of. There are a few women out there, and the best part is, 90% of them are here at the EXPO giving presentations on their travels.
I just wish that Cindy could be here to enjoy this as much as I am. I honestly dont think she knows what she's missing.
One of the Round Table Discussions that was given today was with the head honchos from Jeep, Land Rover and Suzuki, which are all sponsors of the Overland EXPO.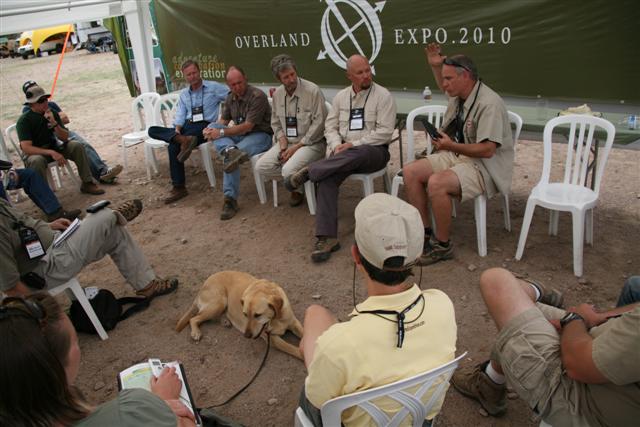 R-L = Scott Brown w/Jeep, Scott Brady w/Overland Journal, Rob Burns w/Land Rover, David Bolt w/Suzuki and Jonathan Hanson w/Overland Journal - The woman in the yellow shirt in front of me is Monika Westcott with the Turtle Expeditions and the guys legs you can see that are crossed in the front row are from the Outdoor Channel Television - Dont you love that there is a dog just chilling out in the presentation! The EXPO is VERY dog friendly
It was interesting to sit and listen to them talk about where they think this tight knit community is headed, and then ask for audience participation as to what us consumers in the real world of exploring are looking for when it comes to the future of their vehicles.
I've said all along that I'd love to move to a Four Door Jeep Wrangler with the Rubicon package and be towing a small Casita/Scamp sized Travel Trailer behind it. You could go from big and bulky, which is what I consider us now, to light and streamlined and be able to go just about anywhere you could point the front end.
I was able to talk with some folks who are doing their part to try and help place skilled Overlanders in developing countries to put their expertise to good use.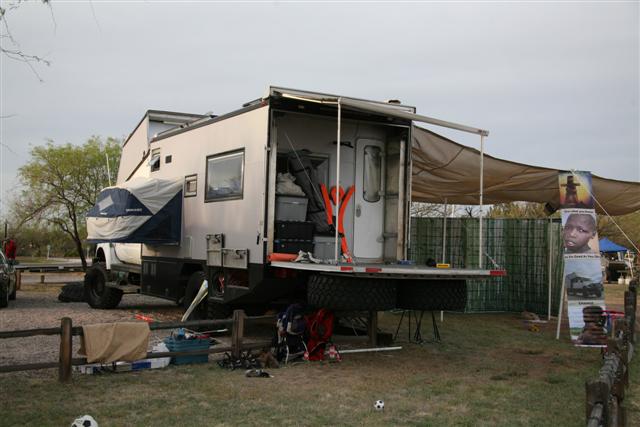 The Muskoka Foundation explained that in this day in age, there are a ton of people who have expertise or a high degree of skill in certain fields, but they might not have the money to donate to help out these underdeveloped communities in far flung areas of the world.
Just because they dont have money doesn't mean they cant help. What these explorers do have is time that they can donate and the ability to be sent around the world to teach these skills to small villages or communities.
This way, those who volunteer their time get a global journey mixed with a good cause all rolled up in one package. If you think this is something you'd be interested in, make sure you check out the Muskoka Foundation.
Another group that is here that is really making a difference is the Disabled Explorers. This group of adventure seekers all have one thing in common. They're confined to wheel chairs or they're missing a limb.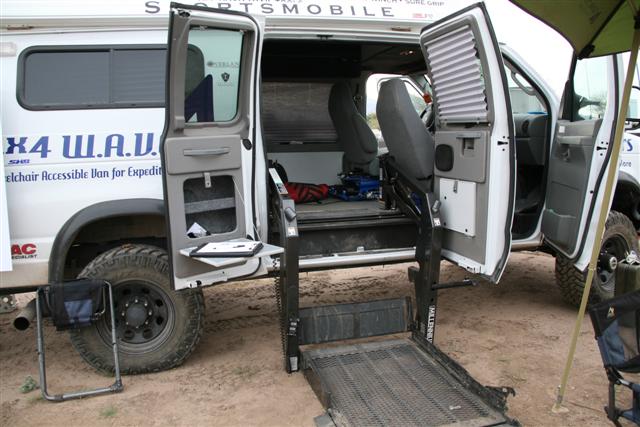 Disabled Explorers Sportsmobile
You might not think this is that big of a deal, we see people in wheel chairs every day. Yes you do, but do you ever see them off-road in a vehicle that can bring them out there in their wheel chair and get them back home safely?
Getting the truck stuck, and having to get out to get it unstuck while in a wheel chair is not an option for these folks. The Purpose Built Sportsmobile is handicapped accessible and can bring them along in comfort, and make sure they all get home safely.
They even have these really amazing wheel chairs that have little rubber tracks with electric motors so once they bring the wheel chair bound person out into the wilderness, they can let them get out of the truck and go see it first hand.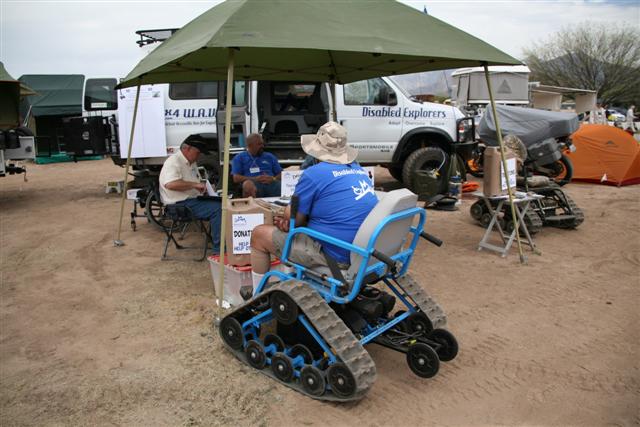 These are things you dont think about until they explain that, sure the big truck is needed to take them out exploring. But what do you tell the person you've just brought into great outdoors, maybe for the first time, but they cant get out of the truck because the chair they're confined to has narrow street tires.
It's an eye opening experience and really gives you a warm feeling to see people making such a difference.
While talking to the guys from Jeep about my love of the 4-door Wrangler, I started talking with a couple of guys who had come over from California. Joe and Bryce were also talking with Scott about the whole Jeep thing when the topic shifted and Joe and I started talking about travel (There is alot of that talk here this weekend, if you can believe that)
Joe was telling me about some of his past travels and about his son who used to work as a guide down in Chile.
After awhile of talking, Joe asked what I was doing this evening and if I'd be interested in going out to dinner with him and Bryce.
There is a really nice Steak House here on the grounds of the Ranch that he suggested. Since the last 4 days I've lived off of cereal, bratwurst, some bananas and a few oranges, a steak dinner was already making my mouth water.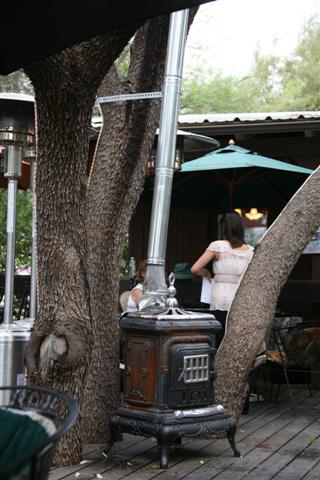 Of course I accepted the offer and he said he'd go make reservations. We agreed to just plan on meeting for Happy Hour around 5:30.
I wanted to listen to another Round Table discussion being put on by the editors of Overland Journal Magazine about the inner workings of my favorite publication. If you've never seen this magazine, which is more similar to a coffee table book, do yourself a favor and get a subscription.
You wont be disappointed.
Once the presentation was over, my day was finished and a cold beer was sounding really good. I met Joe and Bryce over at the Steak House where Four Wheel Campers had bought the first round of drinks for all who attended tonight's happy hour.
Our night was a mixture of colorful stories about Joe's travels down into Mexico, lots of laughter from the antics we all shared with one another and great food cooked to perfection.
How amazing is it that I sit talking with a guy and his son for a few minutes about Jeep's, and he's now buying me dinner and entertaining me with some of the best stories I've head in a long time.
This community is awesome and the more I mingle with it, the more I feel at home. I cant wait for tomorrow and all the presentations I plan on absorbing.
Thursday April 15th - Big Push to Overland EXPO 2010
7:30am in some Rest Area along I-10, Texas - With yesterdays hick-up's and with me now being behind schedule, I've got a big day ahead of me.
It was pouring rain all night, so there was no way to make up for lost time. The truck and trailer were fishtailing all over the road from the combo hydroplaning in the slick slop blanketing the highway.
Both hands were starting to cramp up from squeezing the wheel so hard to hold it within the lanes and my voice was shot from singing my heart out to keep me awake. Thank You B. B. King Blues Station!!!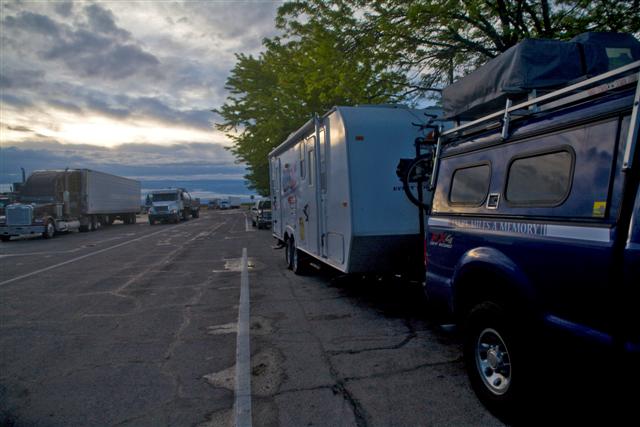 I woke up this morning to that soothing melody of idling diesel engines beside me and felt like I was back in my element. That Gypsy Jacket I had hung in the closet is back on and fits like a glove.
My plans for today are to make it to Tucson, find a Flying-J to empty the holding tanks and refill the water. Wash the two day old stinky clothes I've been living in and wash down the road grime off the camper.
I have to be at a presenters meeting by this afternoon at the Overland Facility, so I've got a big day of driving ahead of me.
Do they make 10 Hour Energy Drinks? I think I've built up a tolerance for these 5 Hour ones and why dont all Rest Areas offer free Wi-Fi and dump stations? Man would this make traveling for us Dirtbags so much easier.
Thank You Texas Department of Travel for the Free Wi-Fi in your rest areas. I think other states could learn from the Great State of Texas.
Wednesday April 14th - A Little Hick-up in the Schedule
11:30pm Somewhere along I-10 between Junction and El Paso - I-10 through West Texas on a rainy night while jamming to hard hitting Blues music on the radio is the equivalent of a one night stand with a Two-Bit whore in a drunken haze.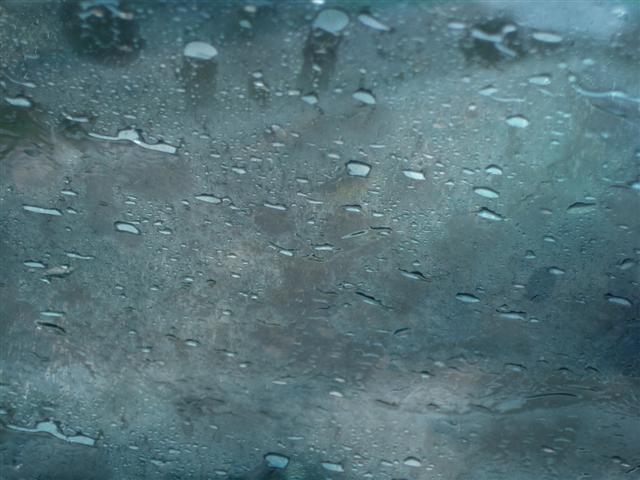 My visions blurred from the heavy rain on the windshield.
My minds numb from singing so loud for hours on end to keep me awake, and I'd be an idiot to do this a second time.
I'll probably wake up tomorrow feeling all guilty, hung over and ashamed like that man who's on the business trip and just cheated on his wife. Only difference is I would never cheat on Cindy with anyone but the open road.
Sorry honey, she's just too sweet of a mistress.
4pm San Antonio, Texas - What an awesome visit I had with Shane and Steve in Austin last night and I left Austin with a really good feeling in my head knowing that a good friend was finally on the right track in his life.
This morning we all sat around talking and catching up on old times and what's been going on the last few years in our lives while away from one another.
A little background on Steve so you will know why it was such an awesome visit. A long time ago, back when we were all young and dumb and thought we owned the world, Steve made a really bad decision one night when he got behind the wheel of a car after drinking and caused an accident.
In that accident, an innocent woman lost her life. Steve was sentenced to 15 years in prison for his stupidity. During that time, his younger brother died who Steve was very close with. So you can imagine the pain of spending most of his youth holed up in a cell and missing some of the most important times in his family's lives.
Over the years, he'd get out from time to time on parole, but he never learned that getting out meant he had to straighten up and walk a straight line, so he was usually back in the clink in no time.
Each time he'd get out, I'd usually talk with him around our home town to hear him say things like "This time is going to be different, I'm gonna clean up and not act like an idiot."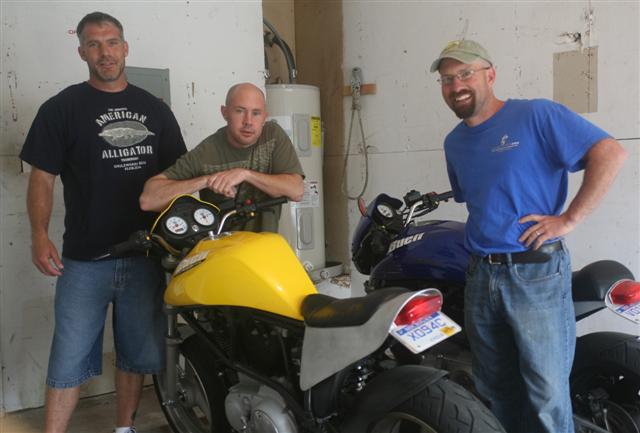 Then I'd hear he fell back off the wagon and violated his parole. This time, I can honestly say Steve sounds and looks like a completely different person. A person with a mission to crawl up out of his past life and start a clean new one.
He spoke with such clarity about what his goals were and how excited he was to have the opportunity to start again. He also spoke of his religion, how he's become spiritual and the demons he has to deal with on a daily basis knowing that he killed another human being. It was a pretty emotional morning.
So sitting around this morning was like watching an old friend come back around. I've known Steve for a long time. Since we were in Junior High School, before we all started getting into our troubles and being these rebellious teenagers, so I know deep down, he's a really good person.
It was good to see that good person back and with so much enthusiasm behind him. It made me look at things differently knowing that all you have to do is put some of the past behind you and simply look ahead at the new avenues that lie ahead of you.
I said goodbye to the two of them and got on the road a little later than I had planned, but I'll drive into the night any day to spend such quality time with good friends.
Once on the road, I was talking with Cindy while I was driving about how I wanted to have the locations on the camper where the General RV logos used to be covered up.
Since are agreement with them ended a few years ago, I had neglected to take the vinyl graphics off the camper. When we got to Cedar Key, and I finally had some spare time to take the graphics off, the camper finish itself was marred from years of sun damage all around where the stickers had been.
Even with the logo pulled off, you could basically see it engrained into the side of the camper. It looked worse now than it would have to just leave the vinyl on.
Cindy suggested that I find a vinyl graphics shop where I could get some new graphics made to stick over the messed up section of camper.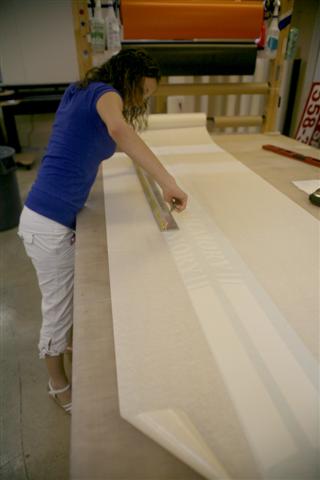 I was joking with her saying "Yeah, like I'm just going to see one along the side of the expressway."
Just then, I looked over to see a huge sign that read "Banners - Printing - Signs"
I told her I had to go, hung up the phone and crossed 4 lanes of traffic so I wouldn't miss the exit.
When I walked in, I told the pretty little girl behind the counter what I wanted done, and Carrissa said it was my lucky day. They werent too busy and if I had an hour or so that I could wait while they print them up, they would be able to apply them while I waited.
Now what are the chances of that happening? So, while I'm sitting in the camper making myself some lunch and updating this blog, Carrissa and her co-workers at Red Hot Enterprises are outside covering up the old with brand new Low-Key Hideaway vinyl graphics.
I figure if I'm going to be towing this giant hunk of empty billboard around the country side, I might as well make it useful for the motel and tiki bar!
I'm now way behind schedule, but the weather in Texas is crappy today, and I have nothing but the long and boring drive of West Texas ahead of me for the rest of the afternoon and into the night, so I figured I might as well get this done while I have the chance.
I'll let you know where I end up tonight and make sure I get some photos of what the finished product looks like, but right now they're putting them on in the pouring rain!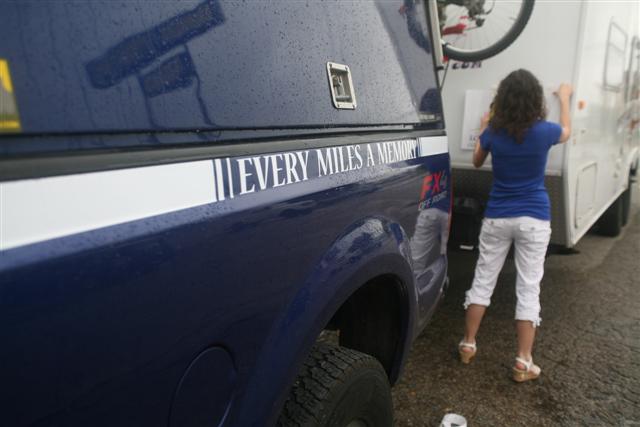 It was Hard to watch Carrissa put on the Decals if you know what I mean
Wednesdays Totals = 437 miles traveled in 7.7 hours. 43.4 Gallons of fuel burned at a 10mpg average.
Tuesday April 13th - The Road and the Radio
11:30pm Austin, Texas - After a long day of driving through Louisiana and Eastern Texas, I've landed in Austin Texas.
A good friend I grew up with moved here over the winter and when I had said something on Facebook about leaving for Arizona, he suggested I stopped by for a visit.
Looking at a map, we figured it would be quicker to veer off of I-10 and go through Austin anyways.
So I pulled in late this evening and we've sat up all night talking and catching up on old times.
As a surprise, another good friend who we both went to high school with was in town for a visit and it was really refreshing to get to see the two of them and see how well they're doing in life.
What a great side bar to the trip and a good way to catch up with old friends.
1:40pm Baton Rouge, Louisiana - The road is a lonely place when you're alone. I dont know how those who travel by themselves for long periods of time dont go insane.
If it wasn't for the fact that both times I've passed one of the guys with their thumbs up there was no way I could pull over, I would have picked up both the hitch-hikers I passed just to have someone to talk with.
When you have a brain that never stops thinking about stupid stuff like mine does, it's hard to sit alone in a vehicle for too long of a time period. I think I'm starting to drive myself insane with my crazy thoughts.
The speech that I printed out, that I'm supposed to be rehearsing while I drive, I now think is crap and I honestly have thoughts of just ditching it and going the entire 50 minute time frame off the top of my head.
Then again I'll probably get up in front of the crowd, freeze up and read word for word the speech I already have and never even look up off the paper...LOL Let's hope not.
I went to bed last night dead tired feeling like I had been drugged. I wasn't too happy with how far I had drove, but I think the 2nd pitcher of margarita's Cindy had made the night before had my head a bit fuzzy all day yesterday.
Add to that the massive amounts of bodily fluids I had lost in the heat while packing everything up, and I think I was just exhausted.
Right before I went to bed, after I had shut down the CPU, I tried the refrigerator one more time and the igniter kicked in and it sparked right up. So I was able to turn the inverter off and run it normally off of the propane.
This morning, with the batteries fully charged and a beautiful sunny day ahead of me, I switched it back over to electric mode and left the inverter running. This way I save on propane and use the sun to keep my food and beer cold.
Sort of seems silly doesn't it! Silly if you're as broke as I am and dont have the money to waste on propane.
So I pulled over for lunch at a Cabela's along I-10 so I could get out and stretch my legs a bit. I'm bored silly and thought I'd go wander the isles of this huge outdoor store to stretch my legs and take a break.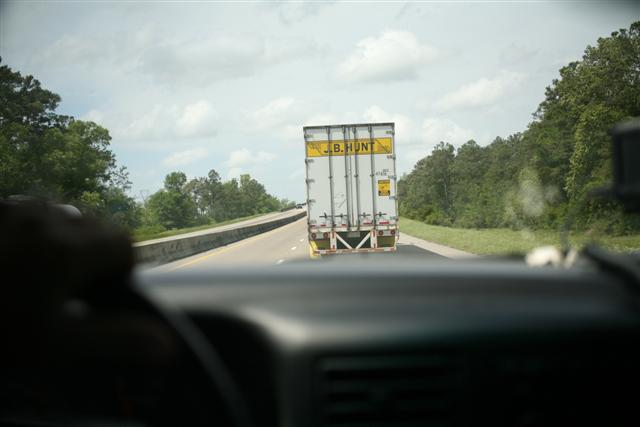 I'll do Cindy a favor and make sure I leave my wallet in my truck so I cant come out with a new AR-15 and a stock pile of ammo.
I'd like to say a huge THANK YOU to Mr. J.B. Hunt who allowed me to draft off the back of his truck for the last 300 miles.
I was tucked right up against his bumper and got an amazing 17mpg average while using his wind to pull me along. That's pretty dang good when you think I was towing a 9000lb camper behind me the entire time.
The roads in Louisiana are horrendous and it feels like the bridges are a foot above the rest of the road surface.
When doing 65mph and you hit the front edge of the bridge, the truck about leaps into the air with the camper weaving all over the road behind me. Coming back down the other side of the bridge you go through the same death wobble as you drop off the bridge onto a bumpy enough road you almost think you're back in Michigan.
When I came in the camper to make myself some lunch, the place looked as if a storm had passed through it with everything all over the floor and things thrown about everywhere.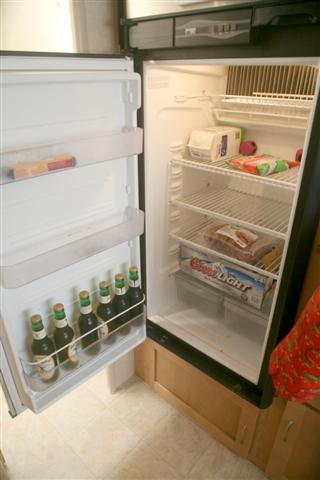 I find looking in the Norcold refrigerator funny. When Cindy goes shopping, we have a hard time fitting all the groceries into the big 10 Cubic Foot ice chest.
I came out with a full cart last night and the only things in the fridge are a gallon of milk, a case of beer, a 20 pack of bratwurst, some string cheese and a block of cheese to go on the crackers I bought.
Sounds healthy and like a true bachelors diet doesn't it. I did buy a 10 pack of Ramen Noodles and a box of spaghetti noodles with some sauce so one night this week I can just make a big pot of spaghetti that I will be able to pick at from time to time.
I guess I should pay more attention to how well Cindy keeps me fed and let her know how much I appreciate it more. I remember when we first started dating and I was coming off of living with my older brother for the past few years.
Our fridge consisted of multiple cases of beer, a bottle of ketchup, a bottle of mustard, a bottle of hot sauce and few pounds of marijuana he always kept in the freezer.
The cupboard always had a case or two of Ramen Noodles and a fully stocked liquor shelf, and other than that, there wasn't too much to eat in our place.
So meeting Cindy and eating home cooked meals was like finding a little slice of heaven. Throw in the fact that she was one of the hottest girls in the West Palm Beach area, and I thought I had died and gone to heaven.
Ok, lunch is over, I'm headed into Cabela's. Wish me luck.
Tuesdays Totals = 868 miles traveled in 14.4 hours. 69.4 Gallons of fuel burned at a 12.4mpg average.
Monday April 12th - Back in a Wal-Mart Parking Lot with the Diesel Engines
10:45 pm Marianna, Florida - After 5 hours of driving, I'm pooped. I dont have Cindy to keep me awake and it's dark with nothing to look at except for the taillights fading into the night.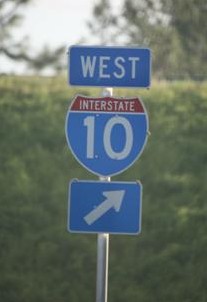 I decided rather than risk falling asleep at the wheel, I might as well pull over and conk out for the night. I stopped at a Wal-Mart because I had never stocked the fridge with groceries before I left, so I might as well kill two birds with one stone and get my supplies which will also give me some dinner, and a spot to sleep for the night.

I came out with a cart full of food to keep me Fed Up for the entire week only to find the refrigerator not working. Come On!!

Only thing I can think happened is I was spraying some 303 Protectant on the refrigerator grill cover this morning while I was packing everything up and it must have glazed up the igniter.

I'll have to clean it tomorrow when it's light outside and I'm thinking more clearly. Right now I'm too tired to think straight and I have no idea what's wrong with it. Luckily the batteries are fully charged, so I just kicked on the inverter and I'm running the fridge off the electric switch.

This way the milk and beer I just bought wont spoil. Does beer spoil? Well warm beer isn't all that good, so I'd say it does.

I'll let you know what I figure out in the morning once my brain is rested.

A little more than 5 hours of driving got me to Marianna Florida for the night, so tomorrow is going to have to be a big day of driving....Good Night

Mondays Totals = 276 miles traveled in 5.6 hours. 26.1 Gallons of fuel burned at a 10.5mpg average.

Monday April 12th - Leaving for Overland EXPO 2010

3pm Cedar Key, Florida - With a crazy weekend of planting, painting and photography, I'm packed up and ready to pull out of Cedar Key this morning.

Our work campers, Bruce and Lindsey have this place looking so good, it's hard for me to leave. It's amazing how much faster the work goes when you have good help.

They've done in the past few days what would have taken Cindy and I a few months to do. Rather than just let things pile up because we've got so much on our plate, Cindy and I can keep on one project and set them loose on the next.

Last night, they wanted to make us a farewell dinner, well me a farewell dinner since Cindy's not going, so we had amazing food and drinks in their camper.

With the two of them working in unison over the stove, music playing in the background and an amazing sunset out the front windshield of their big Class A Coach, it was a great way to have something to want to rush home to.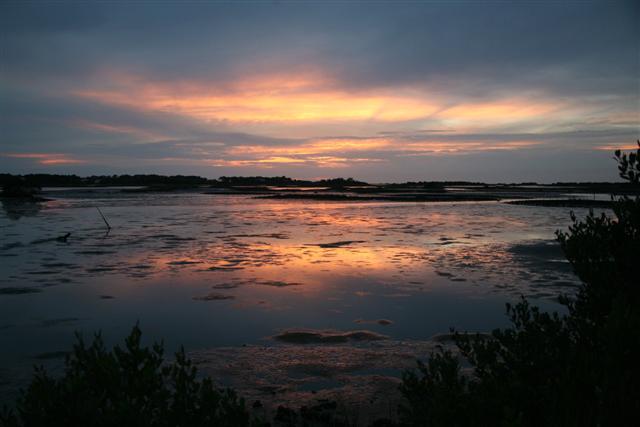 The Italian dish they made for Cindy and I was probably the best food I've eaten in a LONG time. Cindy actually woke up this morning and the first words out of her mouth after "Wow, it's amazing how good you look when you first wake up....Just Kidding...was Would it be rude if I went and asked them for seconds of the food we ate last night?"
With Cindy and I working so hard, she hasn't been working over the stove like she used to love to do when we were on the road and dinner was something you really looked forward to.
Now, we sort of come shuffling in around 8pm, dragging our worn out legs behind us and throw what ever we can find in the fridge into our mouths before we fall asleep.
So Bruce and Lindsey's gourmet meal was awesome! Thanks Guys!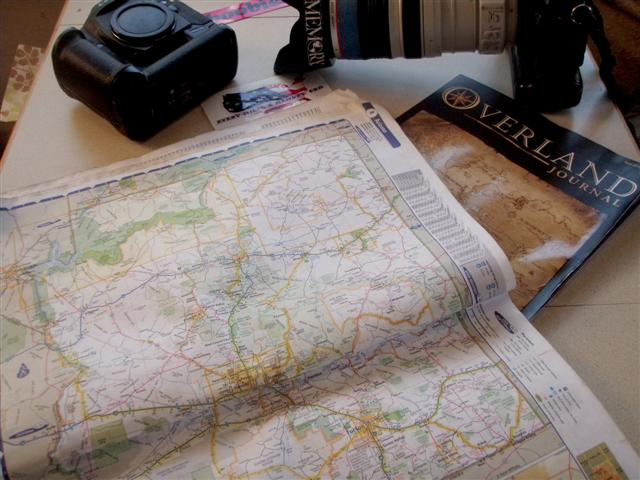 After writing, re-writing and having Cindy change about every other word of my presentation I'm supposed to give at the Overland EXPO, I think I've finally gotten it down to something I can work with.
I really hate that I'm going to this event by myself. This is such an honor to be invited to something this big and monumental and going solo feels like I'm cheating on Cindy. I totally feel guilty for leaving her here on her own, but I wouldn't miss this opportunity for the world.
I still have to keep reminding myself that I'm going here as a presenter, and not just as a guest. I hope I dont make a total fool out of myself when I have to get up and talk in front of so many people.
Last night over dinner I was telling Bruce and Lindsey how nervous I am and they both said "Pat, we watch people come in and out of here every day and you have no problem talking to any of them."
I said "Yeah, but that's different, I dont have a problem talking to any one person face to face, especially when I'm in my comfort zone of my own place, usually with a beer in my hand."
We all laughed and I said "Maybe they'll let me give the speech with a beer in my hand so I feel more relaxed."
So the camper is hooked up, the truck is all loaded with the camera gear, my speech is printed out so I can rehearse it on the long drive to Arizona and I'm ready to go.
I went into Crystal River yesterday and bought enough paint to keep Cindy, Bruce and Lindsey busy for the next week and I'm trying to update my blog one last time before I pack up the computer to shove off.
Wish me luck and the next time I update this, I'll be doing it from the comfort of the camper. My little home on wheels I've been missing so much. Only problem is I'll be doing this journey solo and I'm not sure if I like that.
Friday April 9th 2010
A few nights ago, we had a very nice couple staying with us. They came back to the motel after a long day of paddling the Back Bayou behind the Low-Key Hideaway and told me about a Great Horned Owls nest they had spotted.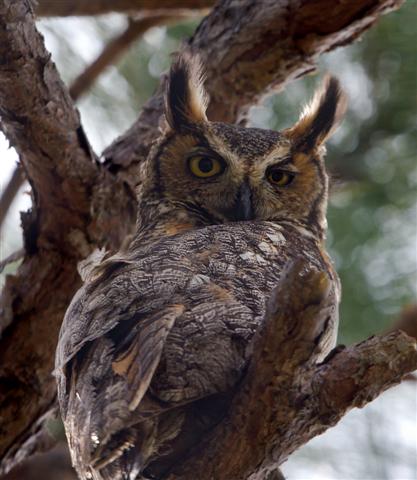 Of course I was ecstatic and had to know the exact location. They told us while we were all sitting around the Tiki Bar watching the sunset that there are two baby owls in the nest right now and the adult was just hanging out watching them as they paddled by.
You know that the next day, after my chores were finished, it was the first place I went to. Yep, just like they said, a huge nest with two fluffy fledgings hanging out on the branches like clumsy drunks.
Reading up on the owls, I learned that the babies dont leave the nest till they're at least 6 weeks old. For the next two weeks they'll climb around practicing their wing flapping and gaining the balance that owls are so known for.
One of the babies was very active while the other one didn't do much more than sleep and look around every now and then. The other one crawled up and down various branches the entire time I was there.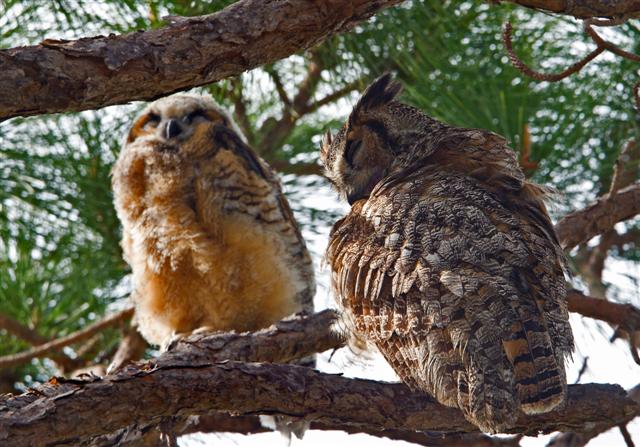 The one that stayed still was trying to sleep while sitting up, but I dont think it's mastered this task yet. Like some comedy skit, each time it would start to fall asleep, it would almost fall off the branch before it would wake up and regain it's balance.
It would look around like it was making sure no one saw that last clumsy move, then it would go back to trying to fall asleep.
After a few hours of just watching and learning their afternoon habits, I came back to the Hideaway where everyone was gathered out on the dock for the evening sunset.
Some clouds had blown in, so our view of the setting sun was foiled by Mother Nature, but to make sure we keep our guests entertained, one of the Cedar Key dolphins put on a show to rival Sea World.
While everyone was sitting out on the dock just mingling and talking, someone pointed out a fin surfacing a few hundred yards off the dock.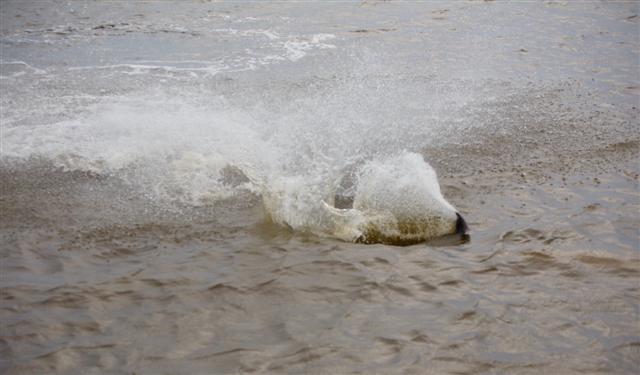 We sat watching as the fin came closer and closer from time to time creating big splashes when it would go charging after a school of fish.
While we were all sitting there watching, it came swimming right up to the dock and almost went right under us before it turned and headed back out into the bayou.
What a show!!
That ended the evening the best way I could ask for.
First thing this morning, I was up and heading back over to the owls nest to see if I could get some better shots of them.
This time, one of our guests, a photographer from Texas named Horst came with me and we spent the morning in the pine trees just watching the owls do their thing.
As we sat watching, one of the adults flew from its perch and went into another section of the nearby woods. It wasn't gone but a minute when it came flying back with a large bird in its talons.
It flew into the nest, dropped the meal off for the babies to eat and flew back into the woods where we lost sight of it.
These owls are some of the best camouflaged birds I've seen. Unless you see exactly which branch they land on, you might as well give up trying to find them. They just blend in that good.
After awhile of watching, we drove around the island scoping out some other Osprey nests and seeing if we could get any other opportunities for good shots.
I had work to do back at the motel with a full switch-over of rooms coming in today, so I had to go back and go to work.
The rest of the day was spent cleaning rooms and making beds while one group of guests left and another full group came in for the weekend.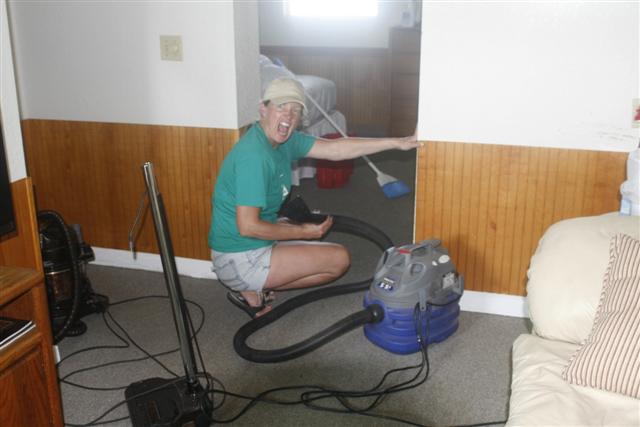 Cindy yelling at me for taking pictures when I should be cleaning
Soon the days chores were finished and it was Happy Hour. We have a very nice couple staying with us right now who came back to Cedar Key to purchase a piece of property.
Jim and Nikki stayed with us a few months back in their Airstream camper, and while visiting, they decided they liked the Cedar Keys so much, they put an offer in on a lot downtown.
They called last week to tell us their offer had been accepted and they were coming back down to sign the paperwork.
We were all going out to dinner to celebrate their new purchase and talk about life's travels. Like us, they've spent their lives roaming the United States along back roads, off-road trails and hiking the backcountry.
Over dinner and drinks, we shared stories and laughed about various places and people we've met along our journeys. Life is so fun when sharing it with other people and these are some of my favorite things to talk about.
From one restaurant to the next, we shared drinks and stories and laughed till our cheeks were sore. When last call was finally given, we headed home marveling at how dark the skies were and how quiet Cedar Key is at night.
It was a great day all the way around. From starting it out with a fellow photographer/traveler who was a joy to sit and talk with to ending it with new Cedar Key property owners.
Wednesday April 7th 2010
Where do the days go? The past few weeks just seem to have flown by.
With guests coming and going at an alarming rate, family visiting for the Easter Holiday and planning for the Overland EXPO in Arizona, there is not enough time in each day.
Let's try and catch up real quick. In the past week, my sister and brother-in-law and their family of 5 kids came in for a visit. If the normal 5 kids aren't enough to keep anyone busy, the oldest niece brought along a friend for their vacation.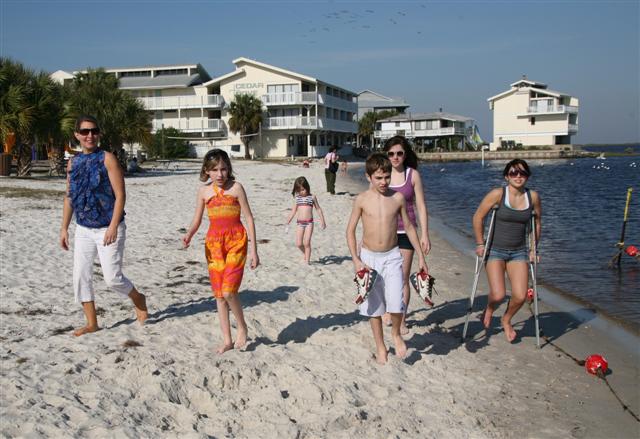 Enjoying the Warm Cedar Key Weather at the Beach
I'd have to give it up to Monica and Sean because they have some awesome kids and I love spending time with all of them, but man-o-man, 5 of them wears you out quick.
Luz let us use the boat one day and take them out to the islands so they could enjoy white sand beaches and the beautiful warm weather we've been having. Spring has finally reached Florida and the warm weather is picture perfect.
Right before they showed up, we had 8 new palm tree planted around the back of the motel. I let a few people in town know that I was looking for mature palms and didn't want to have to buy the smaller new ones which would block the view out onto the water.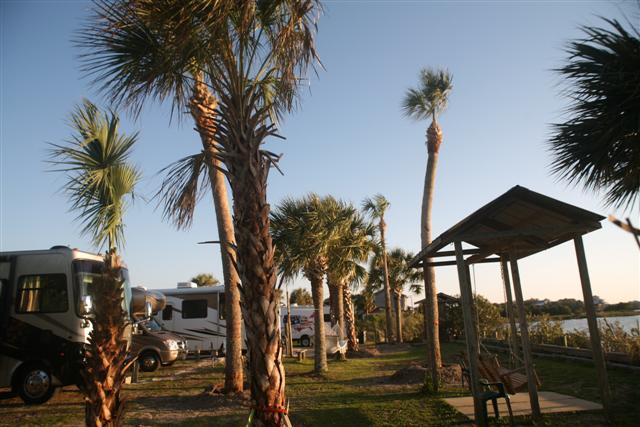 All I needed to do was tell Luz that I wanted some trees and that day she came by the motel saying "I spoke to Greg, and you need to go talk with him. He has a bunch of trees he's trying to get rid of and said you can have them!"
I went and spoke with Greg who works for the City of Cedar Key. In the town of Cedar Key, you aren't allowed to cut down any trees. You can trim back 25% of the trees, but you cant remove them completely. It's a way to try and keep the island vegetated and not allow people to come in and clear cut the area for development.
But you can move the trees as long as they stay on the island. So this worked out perfectly for Greg and I. He had a lot he was trying to sell and the trees were so tall, they were blocking the view from the homes balconies.
I was looking for tall palms and Greg told me if I paid for them to be moved move, I could have the trees for free!!!
What a difference big, mature trees make. The property looks completely different and if we had the money, I'd put in 10 more. The motel now looks like a tree farm, but boy oh boy does it look nice.
Thank you Luz, and Thank You Greg!
Bruce and Lindsey arrived and have already given the place a make over with the work they've been doing. Bruce and Lindsey are fellow RV'ers who answered Cindy's plea for work campers and in their first week, they painted the back of the motel, weeded all the flower beds and enjoyed a few sunsets with all of us out at the tiki bar.
Bruce and I both found that we have a serious dislike for the No-See-Um's that crave our blood. Our legs look like we have a bad case of Chicken Pox from all the red welts covering them. Add to that my sun burnt feet from going out on the boat with the family and putting sun screen on every part of my body except my feet, and I look like some sort of freak show from the knees down.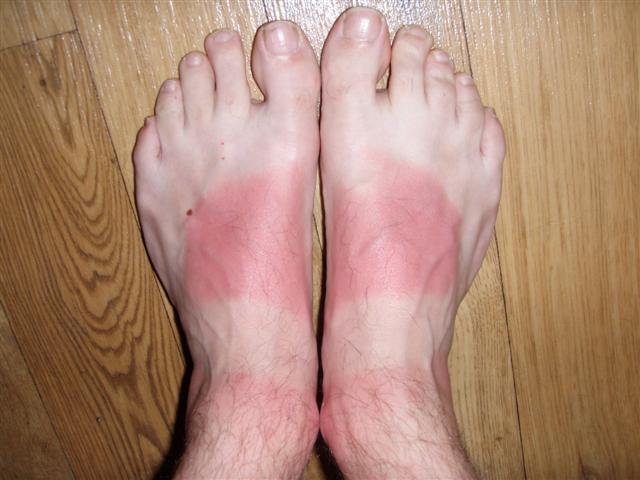 I think I'll be keeping my pants on for some time now. While sitting outside last night enjoying the sunset with the guests, one girl who is a Wildlife Biologist told us there are over 60 different types of No-See-Um's in Florida.
When I asked what their purpose in life was she couldn't really answer me. She said that only the females bite and the males are the worker drones who get nectar...of course this gave us men in the group many comments that guaranteed we all slept on the couch. But they're annoying as one could imagine and as soon as the winds die down, they attack. Thankfully, we almost always have a breeze blowing.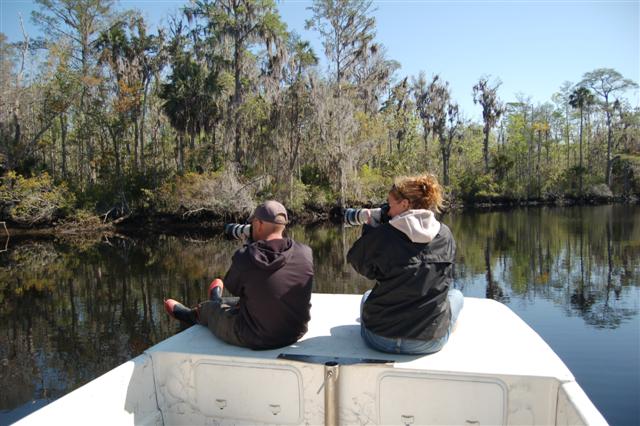 Cindy and I enjoying our Boat Ride on the Suwannee - Photo by Luz
Luz took us out on a boat ride up to the Suwannee River with her cousin a few days back, and all I can say is "I Love This Place and the Photo Opportunities it Offers."
We floated up a calm black water river with alligators, herons, turtles and the base of the Cypress trees covered in a thick layer of blooming color. What a beautiful time of year in Florida and the warm spring breezes are keeping away the majority of the bugs and allowing us to enjoy it for all it offers.
Remind me to re-read this in August.
___________________________________________________________________
Photo Gear We Use - Solar Tips, Fact's and Trick's we've learned while on the road
Camper Check List - A list of things we do before leaving camp. Again, this isn't gospel, but its a good start for those who might not already have a list made up.
Return to Top of Page
Need Unlimited photo storage- FREE Trial of Smugmug