When we realize our insignificance in this world,
it some how relieves the pressures from society to succeed - Cindy Bonish 04/07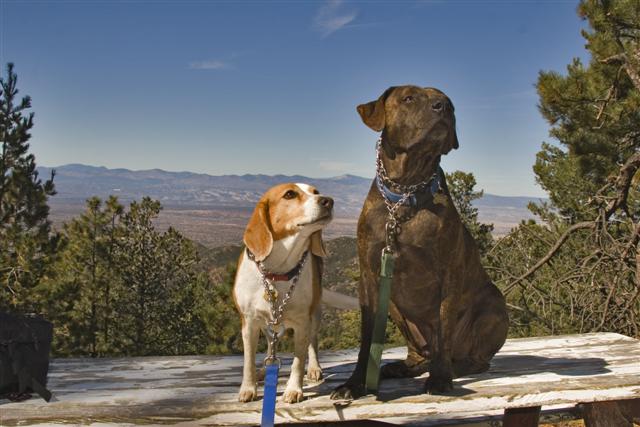 Cindy's December 2007 Blog
Every Miles A Memory
Feel Free to browse past blogs for plenty of travel ideas and many of the places we've been in our first 12 months on the road.
January Blog February Blog March Blog April Blog May Blog June Blog Summer Blog October Blog November Blog
Cindy's Current Blog
Photo Gear We Use -
Solar Tips, Fact's and Trick's we've learned while on the road
Well-behaved women seldom make history
__________________________________________________________________________
If you haven't read any of the earlier blogs, you might want to start there to catch up on how we got here.
Saturday December 1st 2007
Pat and I headed out to see what the day might bring us today. I cleaned the immense amount of Lucy hair from the back seat of the truck while Pat worked on the computer inside. I tell you what, Pat is on the computer at least 6 hours every day, always tweaking something on the site or finding new places for us to go and see. I just don't have that long of an attention span I guess, it would drive me nuts to be in one spot for that long.
One bonus to cleaning the truck today was that the wind was so extremely strong that I basically just had to open up the 4 doors and let God's gust take all the hair away. If I didn't love these animals so much, hair clean up would be a very strong reason to get rid of them.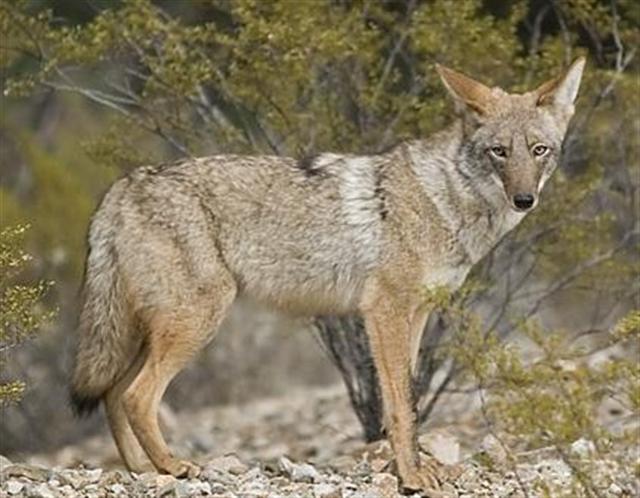 As we were driving out of Gilbert Ray Campground, we got a chance to see a coyote up close since it ran right out in front of us, then just stared at us while we took pictures of it. It sure is neat to be able to see the animals that we hear all around us yipping into the night. They don't look nearly as menacing as they sound.
We took off to Tucson looking for a Wal-Mart to replenish our dried goods. I never by meat or fruits and veggies at Wally World simply because they are so over processed to keep them fresh for months on end. I read that the airtight containers which hold the extremely strange colored meat have been treated with a chemical to make them stay fresh for 4-6 weeks!! That's gotta be good for us. Instead, we buy all our foods at local grocery stores and just get our dried goods at a Wally World.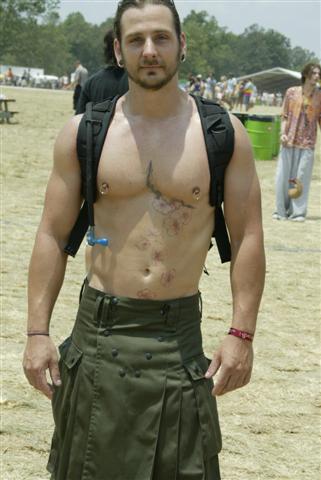 In Wal-Mart I felt like it was highway rush hour, buggies passing me at a high rate of speed, people avoiding near crashes by inches. Everyone was in a hurry and each isle had at least 20 people in it. I had to wait in line to get to any shelf. It was just crazy how many people were rushing around as though the store was going out of business. Does anyone remember those terrible videos of the express looting during Hurricane Katrina? This was the same kind of atmosphere except for all of these people paid for their stuff.
The express check out was 25 items or less, 20 other cash registers were open, each having at least 5-10 people waiting to check out with at least a month worth of stuff in their multiple carts. I tried to stay calm, knowing that I was in no big hurry since we had no plans for the day. I thought of a photo that I once took and it took me away to a much better place.
When I finally got out to the camper 2 hours later I must have looked like a crazy woman. Pat just laughed at me and got back on the computer. We did have quite a nice experience in the parking lot though, we met Joe, a nice fella who is also into computers and mapping software, so he and Pat kept each other occupied all night while I read.
Sunday December 2nd
Today was an action packed day filled with lots of eye candy and learning. We spent our morning with Joe, learning some more stuff on the computer, Pat was in heaven just picking Joe's brain on Baja and tips for when we head that way, then we took off for Tumacácori National Historical Park. The first week end in December all of the missions have a celebration to honor the Saints which brought Catholicism to the Natives here in Arizona.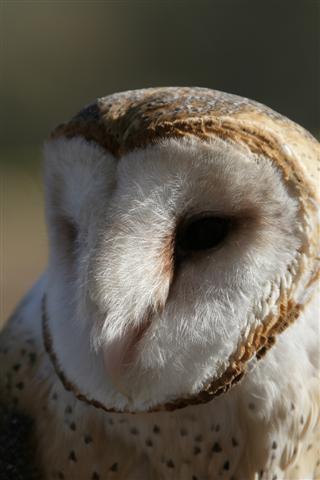 As we pulled up to the mission, not knowing of this fine tradition, we were hard pressed to find a parking space. Mission San José de Tumacácori is located a half an hour from Tucson, within the Tumacácori National Historical Park. We walked into the midst of the celebration which offered Native foods prepared right in front of us, live music and dancing from a local band and booths set up for the area parks which are open to visit.
Besides the food of course, one of the first things that caught my eye was a hand held barn owl which allowed people to get close to her and learn a bit about her. We learned that this creature had been rescued by an organization called Forever Wild. This year alone, the Barn Owl has mothered 11 baby owls which had been abandoned by their birth mothers.
Pat and I will be going to the Forever Wild Animal Rehabilitation Center so I will fill you in on more about it later. For now we continued through the property to get to The Mission.
The San Jose de Tumacácori Mission is in stark contrast from the San Xavier mission which we saw the other day. I believe that this Mission was in much too bad of shape to be able to refurbish the architecture as they had at San Xavier. At one point in the history, this Mission was used basically as a stable to keep horses and cattle. I guess sometimes we don't think about the importance of history until it is just that, history. How awful is it that the beautiful walled in cemetery was used to hold the local cattle!?!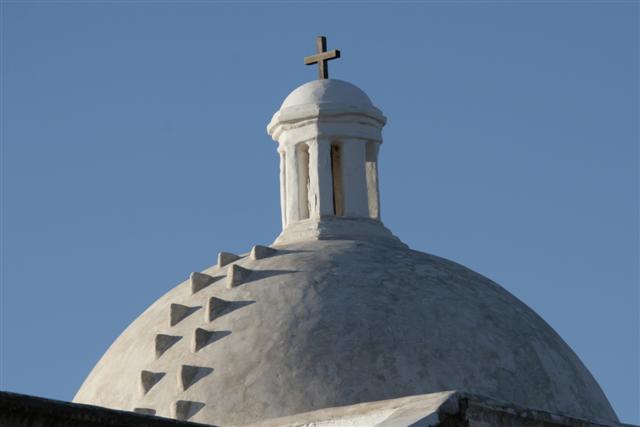 The neglect of the Mission didn't make it a bad thing though, Pat and I both remarked that we enjoyed this Mission just as much if not more than the elaborate one we saw the other day.
We hung out and took pictures for a couple of hours until I could not resist the smell of the home cooked Tacos, Burritos and Quesadillas any longer. I went to grab a bite to eat while Pat continued his quest for that perfect photo. Just as the sun was about to set, Pat informed me that we had to get to San Xavier for their celebration which started at 7 pm.
Make sure to check out the Gallery for Mission San José de Tumacácori.
San Xavier celebration started with the boom of fire works and kept us enthralled with the culture of the Tohono O'odam Native American culture through out the night. We enjoyed a Native American dance as well as the ceremony in the church. Followed by some incredible music that played through out the night. At 1 am I heard the guitars stop for the evening and the neighborhood was quite again.
Make sure to check out the Gallery for the Mission San Xavier for plenty of photos.
Monday December 3rd
We woke up this morning with the intention of finding a hike or a bike ride to get our blood pumping. Since I have finally shaken this cold, I really want to get back into the swing of things with some exercise of some sort besides walking the dogs. Pat was checking the emails and had gotten a few from a friend of ours named Brett who is from Michigan and wanted us to meet him in Texas.
Well this is an 800 mile trip which will take two days and I think it is totally ludicrous for us to go, but I said "Aye, why not?" We are sort of bored here in this part of Arizona, although it is beautiful here, we need some interaction with a rowdier crowd like we found in Scottsdale. Not that Nancie was rowdy but we had alot more stuff to do.
Apparently, Brett works for Dirt Bike Television and he would like for us to do a story for the paper we work for back in Michigan about the race called The Red Bull - Last Man Standing Race. It sounds like one heck of a ride on Enduro bikes with a grueling 40 mile trail. Last year 128 people entered and only 2 finished. If we can get all hopped up on Red Bull and watch leather clad men, covered in mud while challenging one another to the end, well, that's why were going to Texas.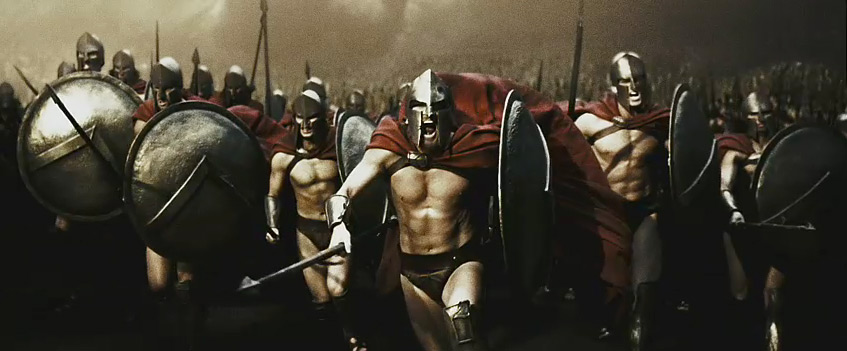 This is what I'm envisioning!! Yeah Baby!
After a breakfast of freshly made fry bread topped with chipped beef with green chilies, cheese, tomatoes, beans, onion, jalapeños and hot sauce, I was ready to begin our 800 mile trek. God Bless Pat. I wish I had child locks for the front windows also. The truck would then become a huge blue rolling Dutch Oven.
Tuesday December 4th
After spending the night and some quality time at the Flying J, catching up on laundry, watching some TV and also getting in some great people watching, we headed out for the long track across Texas. Pat pointed out to me that a sign in the parking lot and at the front door states "NO LOT LIZARDS" which we both found pretty amusing. I'm assuming that means girls for hire, but who knows?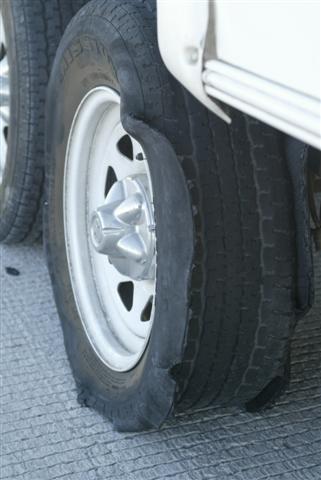 The first thing I did while we were driving is read through the instruction manual for Pats new toy. This thing was driving me crazy, stating that we were at one point dropping down to 1.9 miles per gallon while driving up hills. I told Pat to turn it so that I couldn't see it so I wouldn't see the money just blowing out of the tail pipes. Actually that might give me a bit more satisfaction.
When we went back through the instructions, we discovered that Pat had not set the gauge correctly after the first fill-up. With an easy fix, we found our sweet spot between 59-62 MPH and ended with a 14 MPG average which made us feel much better about taking this unexpected trip.
We ended up having our first blow out while doing 60 down I-10. I must say that I was very impressed with the fact that Pat did not get all crazy or angry and had that tire changed in a matter of minutes. It worked out that he didn't need a jack or anything because of the way the camper was leaning into the ditch to stay out of the way of traffic.
We spent the rest of the day singing camp songs and I gave Pat a manicure, I love when he does girl things with me.
Wednesday December 5th
Another day of open roads and ghost towns. This whole ghost town thing is understandable with the fact that the economy in the United States is really hitting small town America. I am guessing that the Cities with more technologies and bigger, better, cheaper stores are the reason for these declining areas. The towns that we drive through still have a few residents in them, however most of the main streets are vacant, leaving the memories of better times long forgotten.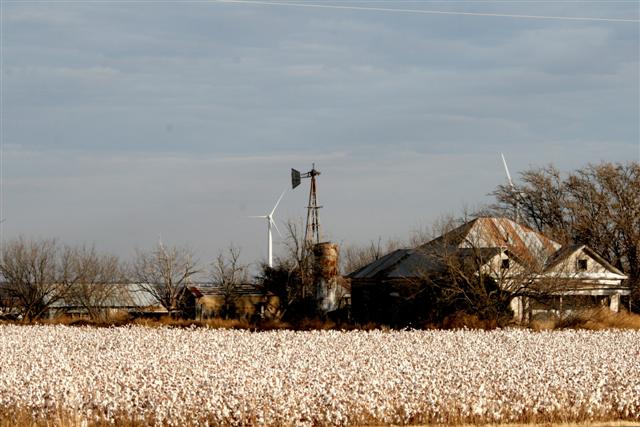 Pat and I had this great little fantasy that these abandoned towns would be pretty much free to anyone who would want to try and bring some life back into them.
We talked of bringing all of our family here and letting each person pick their own house, start a business that would prosper and have all of our nieces, nephews, brothers, sisters, parents and close family members start a new life and make our own economy with each others helping hands.
Hey, it was a long trip and sometimes imagination is our friend.
Thursday December 6th
We were driving toward The Red Bull - Last Man Standing entrance and reminisced of how much this place reminded us of the Chuck Wagon Races in northern Arkansas. I can only hope that we have as much fun as we did there. This event is held on a 3000 acre farm which is owned by a husband and wife team. This is the third year the event has been held in Bulcher Texas although I hear that it might be the last.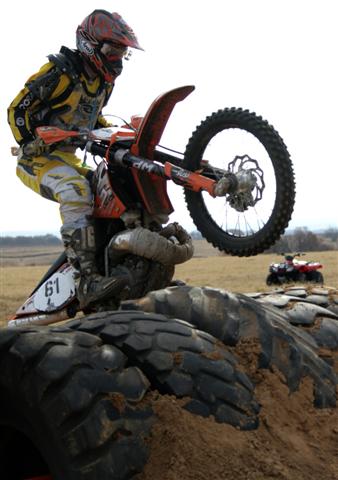 We met up with Jim (Utah Jim) and Brett (Uncle Brett) and parked our camper in the middle of a big field which was roped off for venders and press. We road our motorcycle around the event and got to know the lay of the land. Utah Jim had bought a flat screen TV from Wal-Mart the day before and he was playing some videos from last years event. Man this looks like a nail biting event that is extremely dangerous.
I had no idea what we were in for until we saw these videos, if anyone gets a chance to watch this event on cable, please take the time to watch it. You can also find plenty of the rougher sections on YouTube.
I was on the edge of my seat the whole time just by watching the video. Me and the boys headed to the Red Bull tent which had all the wiring sensation of Red Bull that one could possibly want, some big screen TV's playing extreme sports videos and some new people for us to meet.
We stayed in the tent until we wore everyone else down, then went back to Utah Jims place to chill and have a couple of beers. By this point in the night, I had done enough listening to the guys talk (I was the only girl with 20 guys) enough that I was getting the bike racing lingo down. The two stroke, the Christini Two Wheel Drive, trials riding and enduro racing are just a few items that I got schooled on.
Hopefully by tomorrow, if anyone asks me a question about a bike or has a conversation about racing, I can follow along, if not add some input.
Friday December 7th
Today was the qualifying event which 175 people from around the world have proven themselves worthy of being able to enter. This was a grueling trail of obstacles, uphill, downhill, mud bogs and who knows what else since the 20 mile trail was not scene by neither I nor the riders before it was raced.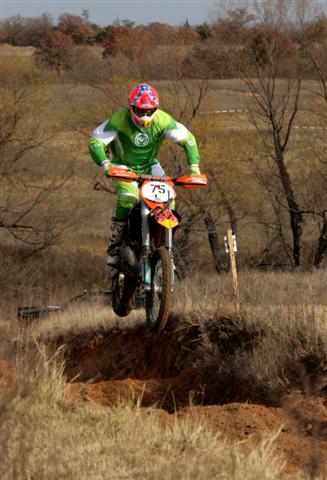 What it came down to was 100 riders were able to enter the official Last Man Standing competition with the hopes of winning the first place prize of $10,000 whoppers. In my opinion, I don't think this is about the money for the riders as much as for the sheer pleasure of saying you had the chance to compete.
The qualifying gave us a glimpse at the different techniques each rider used to make it though these treacherous trails to be the most efficient. One rider that stood out amongst the rest would the the winner of the last two years, David Knight. It seemed as though Knight wiped out the competition, staying miles ahead of the other riders.
Some of the riders I felt really bad for, the way they struggled through what other riders made look so easy. Some of the riders wiped out within the first 100 yards of the start line, one within 15 yards.
Don't get me wrong, some parts of this course would be hard to hike over let alone balance on two wheels over. The thing that amazed me even more is that in all of this testosterone, one girl survived the first cut. This young lady, Maria Forsberg, kicked butt coming off of the starting line and actually took 84th place!
After a long day, tromping around the tracks, taking millions of photos with my adrenaline pumping on overload, we say the first 30 people finish and headed to the camper for a bit of a rest. We met up with the boys again at the Red Bull tent where we enjoyed an awesome meal catered by Rudy's BBQ. Pat and I hung out with some more new friends and also had the pleasure of meeting the first and second place riders, David Knight and Taddy Blazusiak.
We gave an informal interview with David who took the first place spot at the finish line. The three of us chatted it up for about an hour until he went back to his trailer to rest up for the big race tomorrow. As usual, we had way too much fun and ended up making a late night out of it. I would post some pictures of the fun we had except as seen through Pats eyes, all of them are blurry.
Saturday December 8th
It's the morning of the first race and Pat and I are having a hard rime leaving our nice warm bed for the bitter cold day outside. Yesterday it was in the 80's and today it is overcast, foggy and in the 40's. I thought only Michigan had weather like this, but we are lucky enough to find shocking changes in weather in Texas also. I started my day off with the breakfast of champions, two hot dogs and a Red Bull.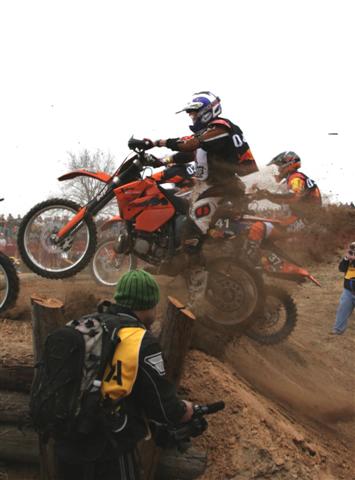 Pat was not feeling so well so he opted for the no food plan for the big day ahead of us. Luckily, they started the race a bit late due to the overcast skies which blocked the helicopter shots.
Hoping that the haze would burn off, the sponsors delayed the start for 45 minutes. This gave us a few more minutes to nurse the throbbing in our heads before we would hear the shot of the Civil War cannons to begin the grueling race.
The pounding of my heart quickened when I could hear the first sounds of the high pitched 2 strokes and the throaty sounds of those 4 strokes racing to conquer their first obstacles. We were with Video Jim, waiting for the aggressive riders to zoom past us, searching for what makes them stronger. Video Jim is from New Jersey and was picked up from the Dallas airport yesterday morning, just in time to get all of the action on tape for Dirt Bike Television.
Jim and I ended up hitting it off right from the start, he is a great guy to hang with just like the rest of the guys we met here. He was funny, jumping around like a little boy with ants in his pants, trying to find the perfect angle to capture the intensity of this race. It is hard for me to imagine that any film could relay the amount of adrenaline that the riders as well as fans have flowing through their veins today.
We watched all of the riders at the beginning of the race struggle with the man made obstacles, some riders falling over, only to pick up their bikes and hit it again with even more zealous courage the second time. When all 100 riders had passed us, we jumped onto our motorcycle and zoomed to the first God made obstacle, Joshua Tree.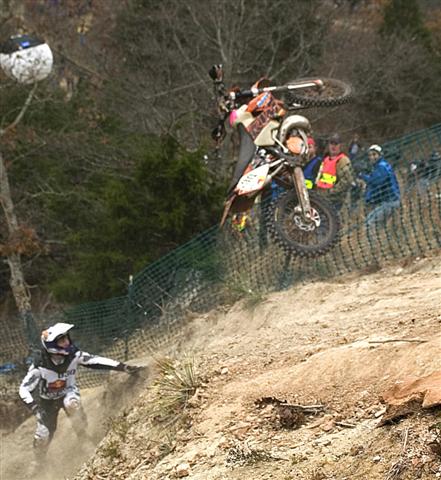 Our first thought was to get as close to the action as we could with out being in the way. We waited patiently for the riders to accent the mountainous, rocky, sandy hill that went on forever.
We stayed just outside of the green plastic safety fence and waited for their arrival. David Knight came through first and climbed like he was on flat land, followed by Taddy and 8 other riders were within a few minutes of each other.
Not far behind were the rest of the riders which is where we saw the actual difficulty of this climb. Time and again, a rider would be followed down the hill by his motorcycle not far behind him. Some would get stuck in the knarly rock formations and have to struggle to get their bikes to move either up or down. Within 10 minutes all of the photographers had moved to a newly found safe spot to get their shots.
I preferred, after Video Jim had rolled down the hill to greet me with an "I almost died right there", to go to the bottom of the hill. Pat moved to the very top and Video Jim was bopping around in between, trying to avoid the rapid fire of gravel shooting from under the spinning, knobby bike tires at a high rate of speed.
After we couldn't stand to watch these guys get eaten up by Joshua Tree any longer, we headed out to the next challenge, Texas Stadium. This was basically a hole in the earth where rain fall and natural erosion has worn away the softness of the land and has replaced it with sharp jagged rocks and fallen limbs and leaves.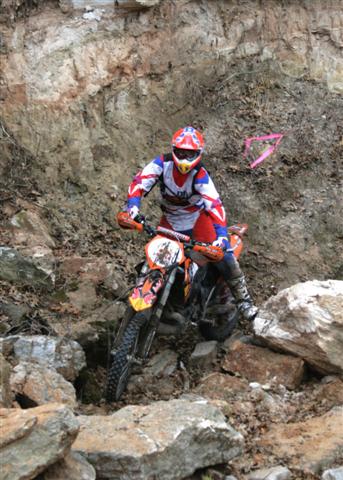 Again David Knight was the first to pass through this unforgiving path followed by Taddy. Both riders made this look like an easy challenge as they stormed right through the part in the earth. The next rider to come through was almost a half an hour later.
We didn't have the time to get to the third big obstacle before the lead riders were through it. I heard from the Red Bull announcer that Taddy had passed David in the Triple Threat which is even more treacherous than the last two challenges. We hurried to the finish line to see Taddy pull through followed close behind by David. The only other racer to pull passed the finish line in time was Ten-time national trials champion Geoff Aaron.
We all went back to the hospitality tent to scarf down some good grub before the second heat of the race started. To our surprise we managed to find time for a cat nap before the night race began just a few hours after the day race had ended.
Night Race
Due to some confusion from the event staff, no one knew how the race was going to be ridden. We were first told the course would be followed backward and Triple Threat would be their first obstacle, however that route was changed to riding it the same way they ran the day race.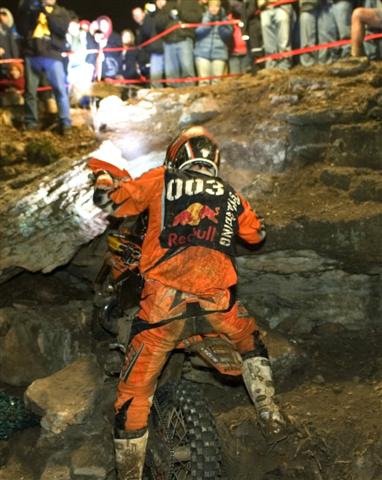 We had already found a great spot at the Triple Threat obstacle so we stayed since we had seen the other two obstacles during the day. I actually had a great time, talking with a couple and their son who were very funny who we shared alot in common with. Pat stood in the middle of the green fenced in area on a huge rock, waiting for the riders to approach.
The wait was long and cold, during which we heard that David Knight had dropped out. Apparently he had Phenomena and was extremely dehydrated. He had thrown up twice over his handle bars, forcing him to forfeit. I can't even imagine the disappointment that would overwhelm someone who had struggle so hard for the past 48 hours to do his best to win this trying event.
It was definitely worth the wait for the remaining riders, even if only two had survived. Taddy came through first and conquered the rocky terrain with a mild degree of difficulty. Geoff came through and threw caution to the wind and vaulted his bike up 15 feet in the air by wailing on the throttle. This forced his bike up a 5 foot rock face without the effort of pulling the heavy machine up it with arms that probably seemed to weigh as much as the bike by now. The power surge was adequate enough to launch the bike to the top of the formation, this also however put a hole in his radiator.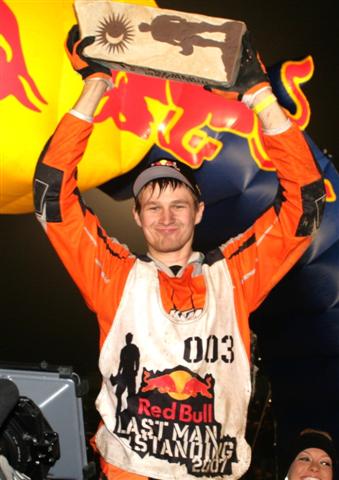 Apparently a 2 stroke engine will run for 2-3 hours without water in it and he completed the race about 30 minutes after Taddy.
This had to be one of the most thrilling events that I have ever been to. I wasn't sure how everything would pan out for me being a stranger to the people we met here, Utah Jim, Video Jim and Uncle Brett, while also being a newbe to the great sport of Enduro racing.
I told Pat "This is the best 800 miles we have driven yet, worth ever mile of nothingness to experience this event and these people.!"
In addition to all of the new things we experienced, we had an endless supply of Red Bull and superb food provided by Rudy's BBQ. Just a few days of recouping in our cocoon is all we will need to make this a week of a life time.
Make sure to check out the Gallery for some great pictures of our weekend
Wednesday December 12th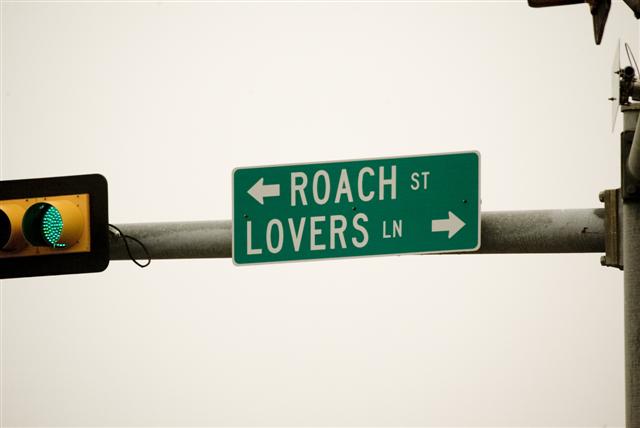 The past few days have been spent driving back towards Arizona at a slow rate of speed due to icy road conditions. We have spent the past few nights at the Carlsbad Campground just recouping after the long weekend. Yesterday I woke up at 7 am and was taking a nap by 10:30 am.
That's the beauty of this nomad lifestyle, no place to be in a hurry. We are going to try and take the afternoon to explore the Carlsbad Caverns so we will let you know how that goes.
Thursday December 13th
Pat and I decided not to go to Carlsbad Caverns since we would rather go when we can see the flight of the bats which is in warmer temperatures.
Instead, we opted to see the White Sands National Monument which is further west from Carlsbad. Our drive over to White sands along Route 82 reminded me of the hills of West Virginia during a snow fall. As we climbed in elevation, the snows became more prevalent and the abandoned homes became more obscure.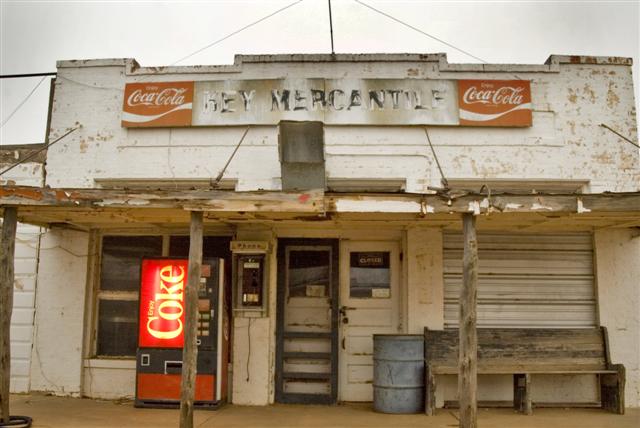 I keep telling Pat as we pass whole towns that are just empty, that I'd just love to spend a day wandering around in some of these ghost towns looking through the houses and stores. It just amazes me when we stop sometimes and look in the windows and the house looks fully furnished with plates and pictures still set up. What happened and why did the people who lived here leave without taking anything with them?
By the time we reached the peak of our climb in Cloudcroft, the area had gotten a few inches of snow the day before and what was left dotted the hill sides with bright patches of white. This was the first time we have seen significant snowfall since we had left Michigan last January and we have no intentions of sticking around in it.
Cloudcroft was supposed to be our destination, but both of us looked at each other and said "Lets see if the backside of the mountain would be warmer." As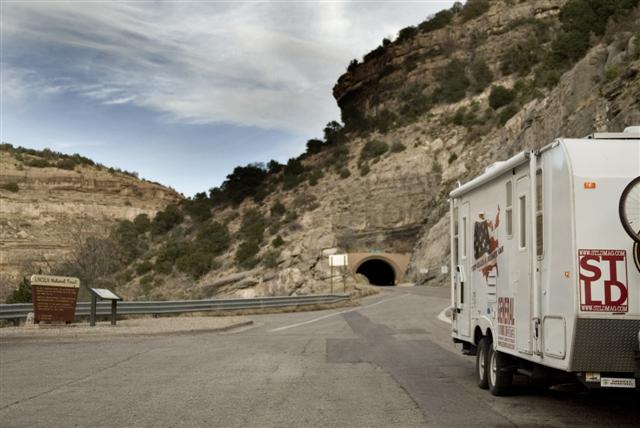 soon as we crested the peak, and started the long decent, the snow disappeared and the temperatures warmed up.
We pulled into Alamogordo to spend the night since Pat had to wait for a phone call from Verizon on Friday afternoon. We were having some troubles with our Verizon Broadband card and couldn't get it to work in Carlsbad. While Pat was on the phone with the Verizon technician, he had asked which way we were headed and asked if he could call us back when we were near a cell tower. The next cell tower that was in our direction just happened to be the town that overlooked White Sands, so it worked out perfect.
It is really great how efficient the Verizon company is with its customer service. When I think that I wasted thousands of dollars paying Nextel for the incompetent service they gave, it makes me mad.
Friday December 14th
As we had pulled into town yesterday, we could see the white sands glowing in the distance at the base of a long range of mountains. It almost looked like it had snowed in only a narrow path at the base of the mountains. We started the day off early by driving across the valley floor of the Tularosa Basin and were confused when we thought we saw what looked like herds of African big game animals on the missile range.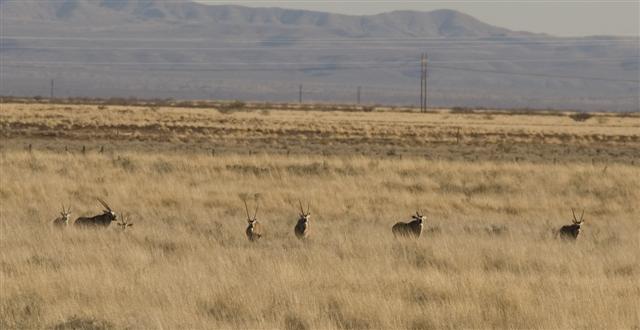 When we checked in with the visitor center before entering the National Monument, we asked what these animals were. I was right when I told Pat that they werent Prong Horn Antelope like he thought. Apparently back in the 1960's, the New Mexico government thought it would be a good idea to introduce African Oryx to the area to bring in big game hunters.
As always happens with the introduction of non-native species, the animals thrived in this environment and soon became a nuisance to the White Sands flora and fauna. Since there are no natural predators to take them down like in Africa, their numbers exploded and they soon started eating much of the native plants that are so important to the desert.
The government had to construct big fences to keep the Oryx out of the White Sands area and now have to monitor them constantly. Once a year, they close down the White Sands Missile Range which has become their sanctuary and open the area up to hunters who want to hunt the beautiful animals.
Talking with the Park Rangers in the visitors center, it seems as though we keep hearing the same story at all of the National Parks we visit. The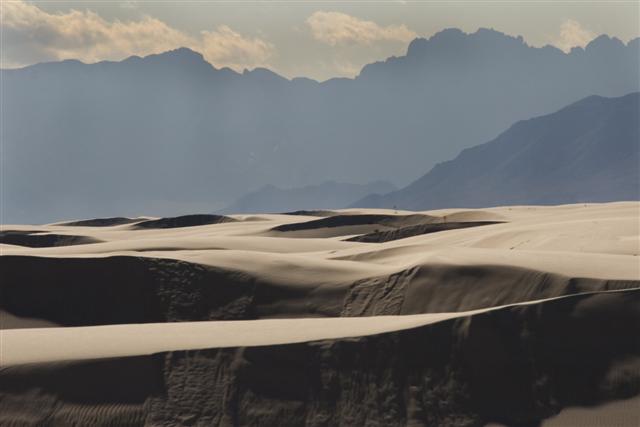 attendance is dropping and the Government is doing nothing to improve that. We both commented on the fact that there are no high quality pictures on the Park Sites to attract visitors and no advertising dollars are spent to promote tourism.
We try our darndest to promote the visiting of the National Parks System and especially those that are less heard of, since sometimes they are the most beautiful ones.
I only hope that the Parks don't fall into a loosing money situation (something the Government is causing to happen) which could end up in the selling of the property to big business and then who knows what the destiny of these beautiful places would become.
Pulling into White Sands National Monument really made me think that we were driving in snow. I expected any minute we were going to spin out or do a donut in the middle of the road because we were going way to fast for this snow covered surface. I think Pat even tried to make us spin out a few times, but to his dismay, he couldn't get me to freak out.
We spent the rest of the day tromping around on the endless mounds of white gypsum sand. Once we got into the middle of the park, with 275 square miles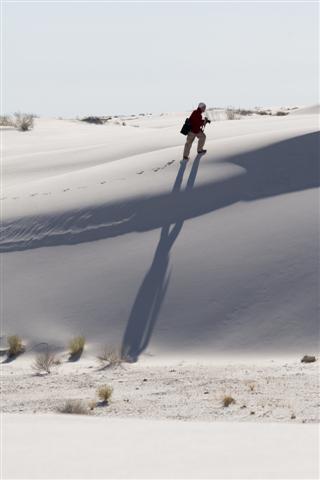 of white dunes surrounding us, hearing nothing but the sounds of the wind for a couple of hours was very therapeutic.
At one point, I told Pat to stop talking and we both just sat and listened to the sounds of nothing. When you let your ears get tuned to the sound, you could hear the tiny grains of gypsum bouncing across the endless ripples. As we sat gazing into the distance, we could see sand blowing in little dust storms coming towards us and decided to start heading back towards the truck.
By the time we had walked the mile back to the truck, the wind had become so strong we couldn't take photos any more. Once the wind picked up, even through the temperatures were in the low 60's, the wind-chill made you hunker down for protection. The sun was setting fast and without earmuffs and gloves, that nasty wind cut right through you and I felt it in my bones.
The rest of the night was spent with Pat on the phone with his new best friend from Verizon. There was so much time spent waiting for things to load and the computers to reboot, that you would have thought it was two girls gossiping over a coffee date. Hopefully this poor guy from Verizon was used to talking with people, because we all know Pat could talk anyone's ear off.
Finally our computer was back up and running, and we sat watching the 476 emails download as the system booted back up. Needless to say, it was a long night of answering emails and playing catch-up.
Saturday December 15th
We spent our morning downloading photos, uploading things to the website and writing out Christmas cards. I can't believe that we wrote out over 50 cards this year. Usually I think I send out maybe 10, but I guess being away from the family and everyone that we know adds more people to the list.
This Christmas is going to be the hardest one I can remember for our family. It'll be the first time I can think of that Pat, our daughter and I wont be with family for the holidays.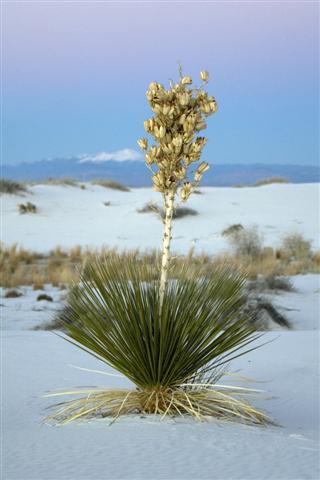 When we owned the Red Dog Saloon, we used to close down for Christmas and invite the entire family to the bar. We would bring in a few couches and have football playing on all the big screen televisions. With an open bar and more food than any small town could eat, the day consisted of eating, drinking, napping and playing cards till the wee hours of the night.
We tired to write it into the sales contract when we sold the place that our family had rights to the Holidays, but the new owners didn't go for it.
As the afternoon light was fading, we drove back across the valley floor to White Sands so we could be there for the sunset. If you've ever noticed the lighting at this time of the day, it is the best lighting to take photos in. If you ever do any reading on professional photography, you'll notice that 99% of cover shots are taken at sunrise or sunset.
One seminar we attended in Detroit, the speaker told us that the magazine he shoots for wont even look at a photo unless it was taken during those golden hours of the day. It seems as though we are never anywhere near a camera at sunset, so we were pretty excited about this opportunity.
We had brought the dogs with us for this adventure since they had been cooped up in the RV for the last few days. Normally our big dog Luca loves to play in the snow.
When we lived in Michigan he used to run around the back yard sliding in the slippery white stuff like a little kid on the first snow fall. One thing that he used to love to do was eat the snow. He would take big mouthfuls every chance he got.
When we pulled up in the White Sands parking area, Pat opened up the door and he took off running for the White powdery stuff. The first thing he did was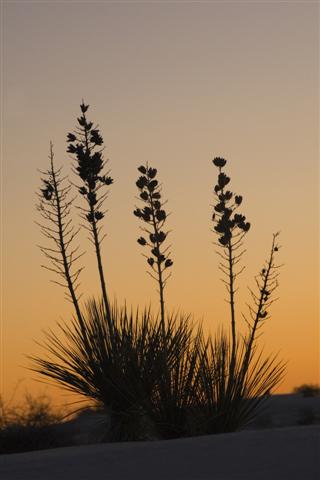 take a big mouthful of gypsum probably thinking it was snow. Pat and I were laughing hysterically while he just stood there spitting sand out of his mouth confused as could be.
The dogs were a riot in the dunes. They love it when they have open area and can run free. Even Lucy who is normally an old bitch, was running around like a little puppy.
For some reason the surface of the sand made a hollow thumping sound when the dogs ran on it, and you could hear them running around like a herd of horses coming at you. Every now and then I think Luca would forget that it wasn't snow and would naturally go to quench his thirst from all the running by taking a big bite of sand. I'm sure tomorrow he's going to poop out a big white sand log from all the gypsum he ate.
When the sun was set, and it was too dark to take anymore pictures, we climbed back into the truck and headed back to the warm Sunline. Thank goodness we were staying somewhere that had shore power, because the temperatures were hovering right above freezing and our little electric heater was working overtime to keep the camper warm.
Pat uploaded a gallery of our images from White Sands National Monument, and you'll have to check them out and decide for yourself. I'm happy to say that Pat was so impressed with my pictures, that he used almost all of mine for the gallery this time rather than his.
Sunday December 16th
This morning our day started off with one of those "Are you ready yet" kind of days. I could not get Pat off of the computer so I suggested that we just stay at the same campground for one more night. I wanted to make sure that he was completely finished with his projects so that he wouldn't be on the computer all night tonight.
Pat insisted that I was the one not ready and he was only occupying his time with his computer until I was waiting in the truck?? By the time we left the campground, it was 1:30 and the day was half over. I asked Pat where we were driving to today and he said Bisbee. My response was that Bisbee is 259 miles away and he said we could make it there in 3 hours.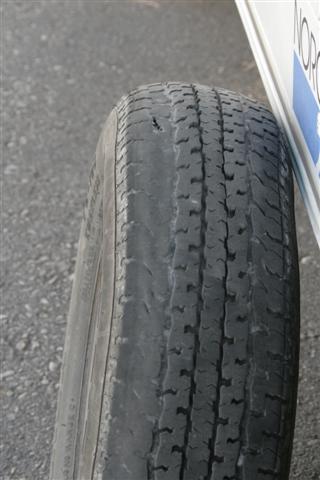 I started cracking up and said "Yeah, if we drive 100 miles per hour we can make it in 3 hours." We both got a kick out of his goofiness then pulled over for gas for this quick trip to Bisbee. Pat asked me to get the tire warranty information out since he had to change another tire.
This is our second Mission tire that we have replaced in the same amount of weeks. I have to tell anyone that is buying a camper, do not buy the tire warranty. It is a pain in the butt. We just found out that we have to keep the defective tire until it can be expected before they will replace it, that eliminates the first tire replacement. We also have to fax the Tire Warranty Company a copy of the purchase receipt, with explanation from the tire dealer why he replaced it also including the original copy of our signed contract. This still doesn't mean that they will replace the tire, I guess it all depends on how they feel that day.
While Pat was changing the tire, I went into Wally World for a couple things that I had to have. I came out with two new dog beds, some window Shrink Wrap Film for the living room/ family room/ den/ library and a new space heater.
The two dog beds take up the entire floor space in the front room and the dogs love them. The only reason why I bought beds is because most of my night is spent keeping the dogs from sneaking into the bed while we are sleeping. They have mastered the technique of being very quite and stepping one foot at a time into the covers so that they don't disturb us. Many times I wake up in the morning with the Pit Bull spooning me and the Beagle sleeping between Pats legs, never knowing that they have snuck in to our bed.
I think it gets too cold in the living room for them when they sleep on the floor, besides our bed is much softer. Hopefully these new beds for them will keep them on the floor and out of our bed.
I spent the evening putting the Shrink Wrap on the window, trying to keep from putting a lock and key on Pats jaws.
Why is it that whenever a woman does a chore around the house, the man gives constant instructions? This would be OK if the instructions weren't included with the kit, however they were and I was ready to throw him outside until I finished.
As soon as I blow dried the shrink wrap we could tell instantly that it was going to be a big help with keeping the draft down in here, funny but it also helps with the noise. We enjoyed a big helping of left overs for dinner while I watched one of the two channels we are able to receive without having cable. Pat was again on the computer all night so I turned in early.
Our road travel time ended up being about 2 hours today, maybe tomorrow we will make it to Bisbee.
Monday December 17th
We haven't made it to Bisbee yet but we are real close. We decided to pull into the Wal-Mart parking lot in Douglas to grab some dinner before we would move on to Bisbee for the night.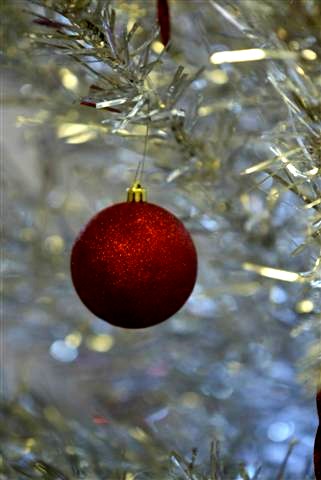 I ended up buying our Christmas tree this evening and getting the decorations for it. I am feeling very homesick and thought maybe some Christmas cheer would make me feel better. It took me all of about 15 minutes to arrange the tree, hang the bulbs on it and Velcro it to the kitchen table.
Pat laughed at me but I feel a bit more festive when I see my Charlie Brown Christmas tree at the head of the table.
After filling our gullets, walking the dogs, shopping and putting away the purchases, we both said "Forget it, we will just sleep here." Despite the air raid sirens and what sounded like gun shots all night, I slept like a log. When I first laid down I could hear coyotes trying to out screech the sirens, but then I fell off into my own little dream world.
Tuesday December 18th
We woke early this morning to get the heck out of Douglas. Our drive to Bisbee was short and we found a cute spot that overlooked the downtown historic business area from our camper window. The Queen Mine RV Park is small, quaint, and clean.
We found the park though the Passport America card however, this is the peek season for them and they did not honor the card. It is only $26 a night so that's not to bad and we are able to walk into town.
We spent the day walking though town, taking pictures and enjoying the history this place has to offer. At one point we passed a bar which had been closed down. The place still has all of the full liquor bottles on the back bar and has a For Sale sign on it.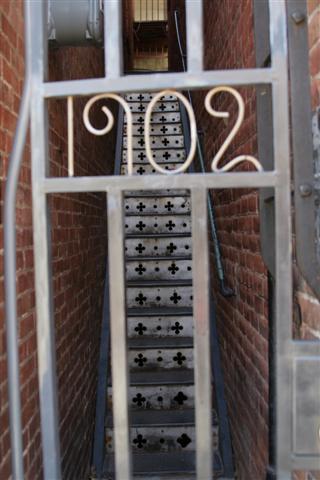 I looked in the windows and told Pat that I can hear this place calling me to come in and make it a social place again where people meet to have fun. Sometimes it's hard to leave behind what I have known forever and what I know that I am really good at.
We walked the town for a long time, looking into windows of homes for sale and old places that have been left behind in a rush to find a better place. Apparently this used to be quite a big city back in her mining days and most of the old miners places have been refurbished and displayed like doll houses along the narrow side streets.
We ended up at The Bisbee Grand Hotel for a frosty beverage. This is a pretty cool place with pool tables and dart boards and a big old back bar. I can imagine what a rowdy place this would have been in the early 1900's. Bisbee in that time had over 47 saloons, all filled with hard working miners eager to forget the long day they had put in underground.
We bellied up and were enjoying the atmosphere when before long we had started talking to the couple next to us. Todd and Suzanne had just moved to Bisbee a month or so ago and they were enjoying Todd's day off together. We had alot in common with them, travel being one things we both enjoyed. They have done much of their traveling to exotic out of the country places so they filled us in on some of their favorite spots.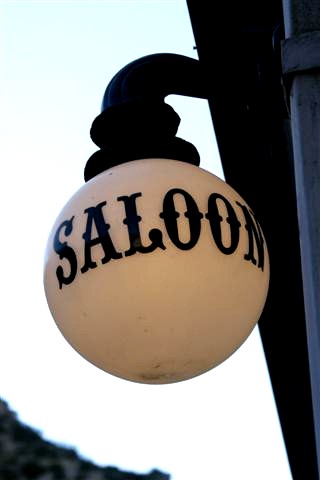 Todd has the resemblance to a cute Will Farrell and Suzanne looks like Anna Nicole only not fat and not dumb. We enjoyed each others company so much that we decided to go to dinner together at a local restaurant that we could walk to.
I guess with us being out on the road so much, when we find people that we enjoy their company, we don't want to say goodbye. Keeping this in mind, I believe that I invited us over to their house for a late night cocktail.
We loved their place nestled on the side of the hilltop with a huge wrap around porch and a no maintenance yard. We had great conversation, a bit of dancing and a few glasses of wine. Todd drove us home after we all unwound and were ready to call it a night.
We said our goodbyes and made some plans for tomorrow to go to lunch. Thanks guys for the great hospitality and making us feel like old friends.
Wednesday December 19th
We got a late start today, not getting out of bed until noon and enjoyed some down time. We had made some plans with Todd and Suzanne for a Mexican lunch and did another short tour of the town.
I really like Bisbee, it has just the right amount of eclectic people to make it interesting, mix that with all of this historic beauty and it's a place I would like to visit again or recommend to anyone visiting Southern Arizona.
Meeting some really nice people always adds to the ambiance of someplace we visit. We are fortunate enough to have the type of personalities that we aren't shy and can get to know people real easy. After lunch we exchanged information so that we can keep in touch through email and such and said our "Goodbyes."
Pat and I rented some movies and hung out for the rest of the night. We watched The Bourne Ultimatum and SuperBad. I thought I would bust a gut while we watched SuperBad for its stupid humor, but that is just what I like every now and then.
The third installment of the Bourne series was just as good as the first two if not better. By the time it ended, my palms were sweating and I was stressed out from al the suspense.
I am sure everyone has seen these movies by now seeing how we are so far behind in new releases. I would recommend both of them if you haven't seen them though.
We are making our way back to Cottonwood tomorrow to visit with a friend from Vegas for the Christmas holiday. Christine will be staying with us for a couple of days and we will spend Christmas together. We have known Christine for many years and I can't wait to see her. She has the best sense of humor and we laugh the entire time we are together.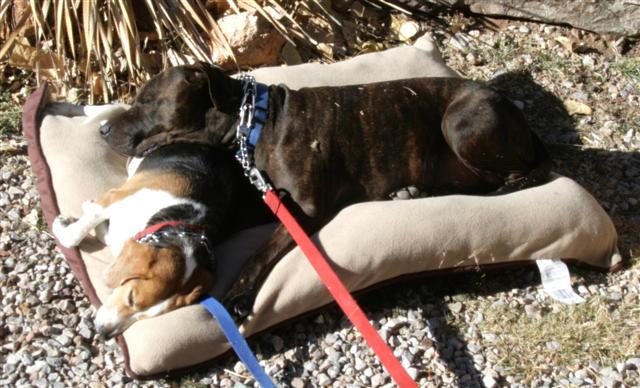 Just a super cute picture of Lucy being used as a pillow while the pups enjoy the Arizona sunshine.
Thursday December 20th
Well much to my surprise, we have ended up in Scottsdale already. We drove straight through from Bisbee and arrived here around 7:30 pm. We found a Wally World parking lot and are going to crash here for the night.
When we stopped to get gas yesterday I went in to pay and the gentleman behind the counter who said "How can every mile be a memory if your sleeping through it?" Apparently my yawning and stretching gave it away.
I asked the guy if my husband had somehow called ahead to have him say that since Pat always gives me a hard time about sleeping while he has to drive. I have learned to where my sunglasses even when it's not sunny out so I can sneak in a few winks.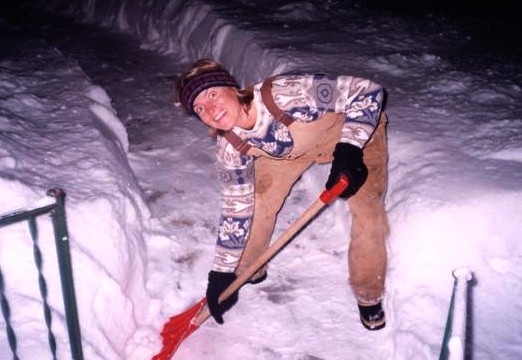 I can't believe it's only four more days until Christmas, this 70 degree temperature is like an oxy-moron for the winter season. I think I can handle it though, at least for this year. Nest year we will be home for Christmas, that's for sure. I do miss the winter wonderland that Michigan can supply for a cold Christmas morning.
This was what we woke up to one Christmas morning. Pat had to shovel the roof to keep the weight of the heavy snow from collapsing the roof in. I was stuck with the porches so that we could get out of the house. It was still coming down when we took this picture. I believe we had close to 18 inches over night!!
Every year the whole family, and sometimes guests, go to my sister-in-laws house on Christmas eve. Monica supplies us all with new Christmas Pajamas and slippers and usually some kind of small gift on our pillow. We spend the night after a big dinner and some drinks so we can wake up to the kids screaming with excitement that Santa has arrived.
When the plethora of kids wake us up, usually at least 10 hung over adults, will come down stairs for a huge breakfast and opening of presents. We all hang out and watch movies all day in our PJ's until Pats sister kicks us out.
We bring the dogs and all to enjoy the family festivities of playing in the snow or the yard while the adults play eurche, eat, drink and be Merry. I sure will miss that special family time and all the hugs and kisses that go with it.