Wandering re-establishes the original harmony which once existed between man and the universe. ~ Anatole France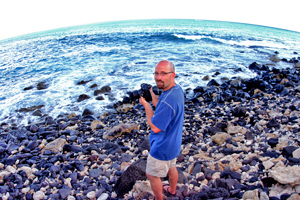 Pat's Blog January 2007
If this is your first time here, you can start from the beginning of our fulltime RV Journey or jump to any of our Past Blogs
For Those That Don't Know Me, You can click here to read my Bio
The Start of Our Journey

January 8th 2007 I had planned on keeping this site updated with the amount of work it took us to get to the point of leaving, but much to my surprise, getting ready for a 2 year fulltime trip on the road is much more work than I expected. The last few weeks have been a whirlwind of emotion and stress and let's just say, you don't want to hear about it. Leaving your family and friends and heading out on the road is very heart wrenching and although I know this is a trip we've dreamt of for years, I didn't know leaving would be this emotional.
I think there is just so much spinning around in our heads and it's hard to believe we're actually doing it. Waiting to leave is the hardest part. We were ready to go a few days ago and now we have to wait another few weeks for the truck cap we're having custom built to arrive. I joke with Cindy and say I'm going to be late for my own funeral, as it seems we're always running behind for everything.
The past few weeks we've been staying in the camper in the driveway and it hasn't been bad at all. I know it'll be different when were in warmer weather and most of our time will be spent outdoors, but just being in it for this short time we've already figured out quite a few tricks on how to gain extra room in any/every available space. Plus, once we're out of Michigan, the bulky cold weather clothes will be stored away, and thin shorts and t-shirts will be the attire hanging on our backs, so that should save considerable room inside the small living space.
We still are working on finding a TV/DVD combo that'll tuck against the wall and be able to swivel around in the living room area. I'm having my computer worked on right now so we can try and combine a few items to save even more space inside the camper. By the time we're done, we should be able to live comfortably in our little shoe box.
January 13th 2007 Working people frequently ask retired people what they do to make their days interesting.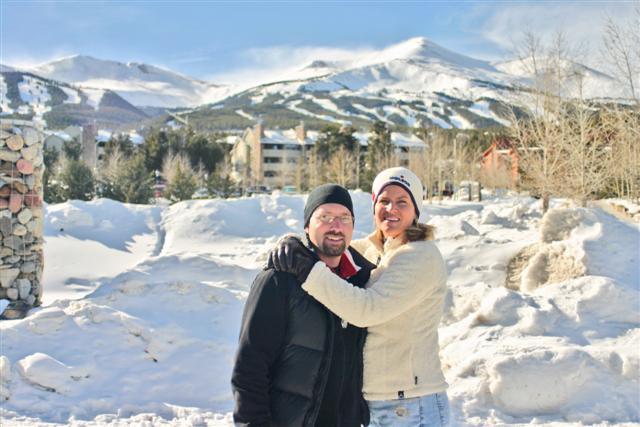 Well, for example, the other day Cindy and I went downtown shopping. We were only in the first shop for about 5 minutes. When we came out, there was a cop writing out a parking ticket.
We went up to him and said, "Come on man, how about giving a guy a break?" He ignored us and continued writing the ticket. I called him a heartless Nazi dictator. He glared at me and started writing another ticket for having worn tires. So Cindy called him a useless dickhead. He finished the second ticket and put it on the windshield with the first. Then he started writing a third ticket.
This went on for about 20 minutes. The more we abused him, the more tickets he wrote. Personally, we didn't care, because it wasn't our car, but we try to have a little fun each day now that we're retired.
January 14th 2007 I finally went and bought a DVD/LCD TV for the wall in our bedroom. The Trailer came with a fold down table that just didn't make much sense? How are you supposed to move the TV and fold the table down every time you walk past?
By taking the table off the wall and installing a swing-away mount, the LCD now can swing out of the path while you walk past, and positioned anywhere you want it while in the room to view it. It has a built in DVD player which means the only cord to the one that plugs into the wall.
What has surprised me most is the reception we get just off of the small antenna on top of the coach! My parents have one of those monstrous antenna's on their roof and don't get as good of reception as we get in the camper parked in their driveway?
We've finally figured out a way to hold the computer stuff, the printer and most of the electronics in the living room. The problem is I have to get my brother-in-law to build it and you see, him and my sister have FIVE kids!! Needless to say, free time is very limited and we're hoping to leave in a few days. SO fingers are crossed and we're hoping to be on the road by this Friday at the latest.
January 19th 2007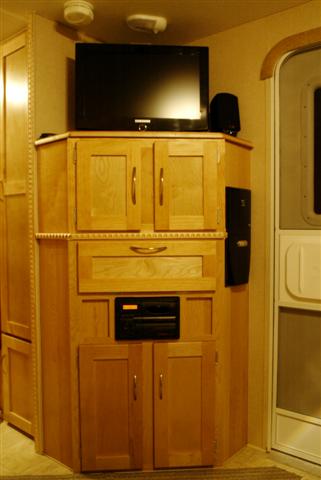 The living room entertainment center is finished!!! After a few days worth of work, (really only a few hours), but it was shuffled in-between a few days, it's finished! It looks fantastic and turned out better than I thought it would.
I cant believe it looks so good and like it came from Sunline - it matches so perfect. I'd like to say a huge "Thank You" to my brother-in-law Sean Donovan, who went over and above what I could have asked and spent numerous hours helping me.
I wish there was some way I could repay him, but he wont except any money so I'll be indebted to him for quite some time? My sister even called in a friend who is a professional woodworker to make the cabinet doors for us. Like I said, they look fantastic
The Journey Has Finally Begun!
January 21st 2007 We left Michigan this morning around 11am after spending the early A.M. packing up and loading last minute things. We had a big family dinner last night with Aunts, Uncles and all sorts of family coming over to say their good-bye's. How great it is to have such a close-knit family and know you're loved by so many. We are truly blessed.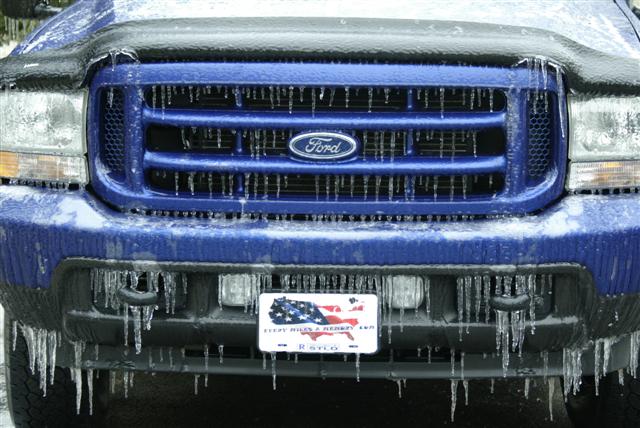 Then First thing this morning we said our good-byes to our wonderful parents who have been so kind to lodge us for the last month and FINALLY shoved off.
I was eager to get on the road, but with a winter snow advisory in affect, driving was anything but pleasant. That mixed with the ice building up on the kayaks on the roof, the bike tie-downs coming loose every few miles and the people who don't know how to drive in the winter - the first day was anything but appealing. There! I got that off my chest, no more Debbie Downer.
I think our Fun Train is a little overloaded, but within the first month, I'll bet we'll purge so much stuff, that we'll be right where we need to be. The train is a little longer than I expected but I just couldn't leave any of those toys at home.
I would like to give a huge shout out to our daughter who bought us this Camper!! Thank you so much for allowing us to spend your inheritance so we could have this lovely Sunline!! HA! HA!
We drove all day and were in no hurry to get anywhere. Leaving Michigan we took 23 South all the way down through Ohio - Is this the fastest route? NO! But like I said, we're in no hurry. We planned to stay in a campground on the Ohio/Kentucky border, but decreasing weather made us pull over right after it got dark. Besides, we don't like to drive in the dark anyway. So our first night is spent in a Wally World parking lot in Southern Ohio. I'm not sure who's louder, the 300 Horsepower Diesels idling beside us or the wife and pit-bull snoring in the bedroom. LOL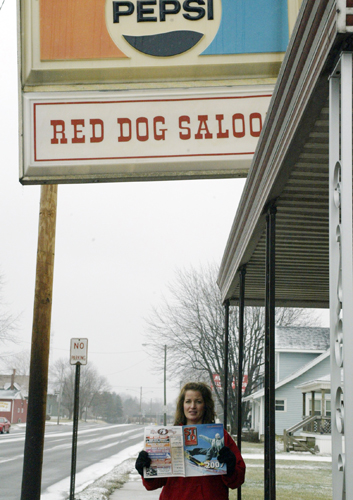 Before I get to far ahead of myself, we were passing through Fostoria Ohio this morning and while sitting at a stop light, I looked across the street and saw a Red Dog Saloon! We had to get a picture since we've lived in a Red Dog Saloon for the last six years. I'll be damned if it wasn't closed with it being Sunday and all! We got the picture and headed on our way.
I know it's hard to tell, but that's Cindy with the January issue of the Smalltown Lowdown with an advertisement for the Red Dog Saloon of Milford on the back cover. We just had to get a picture!
Hopefully tomorrow will be a little warmer and not such awful weather. We're heading towards South Carolina and then on to Georgia's Cumberland Island for some kayaking. See ya' soon.
January 23rd 2007 Lets just say we're going nowhere fast! We drove 260 miles today in 7.5 hours!!! You'd think I was pushing the rig! I guess it's NOT how far we've gone, but what were seeing along the way. Actually the mileage is sort of irrelevant, we were driving in the mountains in Kentucky and West Virginia and it was somewhat snowy, so the top speed was around 45 m.p.h.
I hope this doesn't sound too bad, but West Virginia is dirty! Passing through all the coal mine towns, the houses are covered in a black soot, the roads are covered in a grey film and everything looks like you've just stepped back in time 30 years. It really makes you appreciate what you have when you see another way of life.
I'd love to spend some time in a few of these towns and get to know some of there residents, because I bet they're good down-home people. Not like the snooty type where the first thing out of their mouth is "What do you do?", "How much do you make?", "Where did you go to college?"..e.t.c.
We saw some beautiful waterfalls and driving through the mountains was great. West Virginia has some great scenery as long as you're away from the coal mines. Problem is, the coal mines are everywhere.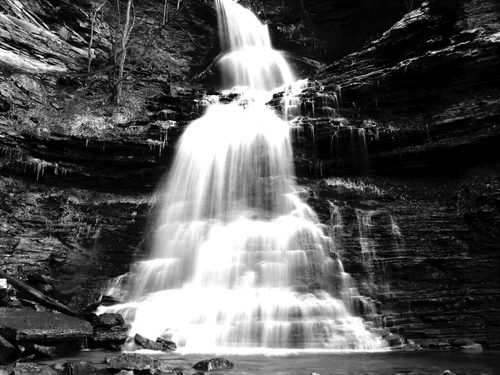 Gauley Falls, West Virginia
For those of you that travel by RV, we were lucky enough to have some info passed on by family friends. Flying J gas stations have full dump facilities for RV's. Being as Michigan's campgrounds are all closed this time of year, we couldn't find anyplace to dump our holding tanks.
So we stopped at a Flying J and dumped the tanks for free! We also found the cheapest fuel of the trip so far with diesel at only $2.33 a gallon and while dumping the tanks, noticed a wire that had broke under the coach. It was just for one of our tank heaters and was fixed in no time, but the Flying J ended up being a life saver and took up an hour of our day.
We're having a little bit of trouble with our wiring in the coach? Cant seem to figure out why nothing is charging and our batteries are dead even though we were charging them all day? We'll make a call to Chris or Carl over at General RV who installed the system and see if they cant solve the problem over the phone.
They have already done this a few times for us with other questions we were having trouble with. I'm sure it has to do with something we're overlooking, but we're new to this, so every day is something brand new.
Were heading towards warmer weather, because this cold crap is starting to get to us.
Wednesday January 24th 2007
Yesterday was pretty exciting. We were traveling through Virginia and got a little turned around on some back roads; looking at the map, Cindy said, "Hey, where not too far from Monticello." With no time line or direction to go, off to Thomas Jefferson's place we went. T
he landscape there was beautiful!! Rolling hills, sunny skies and old growth trees that really leave you speechless. The home is amazing and considering he lived well over a hundred years ago, it's still quite modern. I can only imagine what it might have looked like bustling with all the slaves and craftsman working on the gardens and tending to the house work. Sort of like a small village in itself.
The house isn't as big as it is just cool that it had modern amenities like any house would today, yet was built in the late 1700's. The gardens and landscape is what is so beautiful.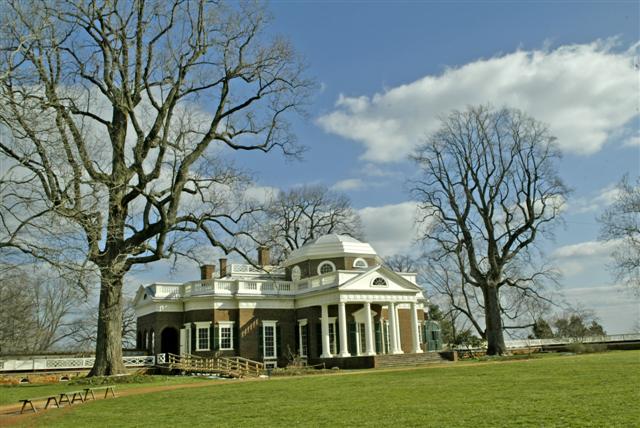 View of Monticello from the West lawn
From Monticello we left and took some back-roads down through the Heart of Virginia. Taking I-15 South makes for some great scenery. Who cares if the speed limit is only in the 50's, the farms and rolling hills is what this trip is about. We pulled over at this little grocery/gas station (Weston's Grocery) to get a soda and stretch the ol' legs and met the nicest group of men.
We got to talking about the Virginia Record Catfish he had pictures of above the register and I had to go get Cindy out of the truck to see this. She wouldn't have believed it if she hadn't seen it with her own eyes. Imagine a Blue Catfish weighing in at 92 LBS!!!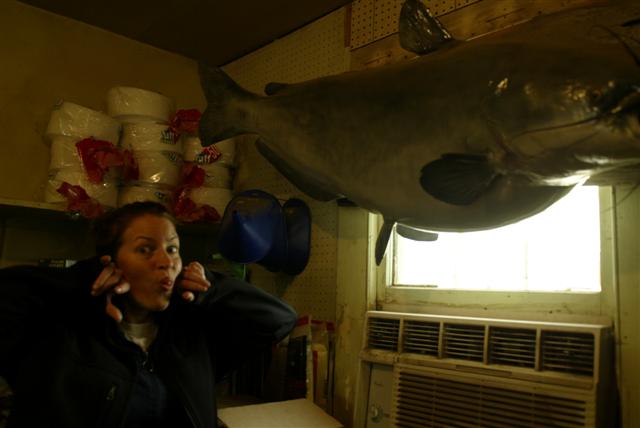 I know it's hard to see, but that Cat Fish is the Size of Cindy
These guys asked about our rolling caravan of toys and we got to talking. It was hard for us Michiganders to understand them due to their heavy Virginian accents, their words just sort of rolled off the tongue and blended together, but they were very nice and let us take some pictures of the monstrous Catfish they had mounted on the walls.
It's great to meet new people and seem what different cultures do in this big ol' country of ours.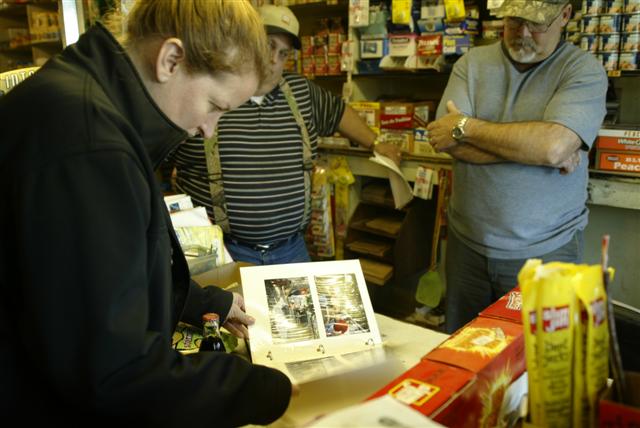 The Boys @ Weston's Grocery Showing off their Local Fish
From Weston's Grocery we headed south towards North Carolina but only made it a few miles before stopping at the Longwood Park on the John H. Kerr Dam & Reservoir. It was starting to get dark and we needed to see if there were any open sites.
A sign at the campground entrance said the sites were free if you didn't need hook-ups, which we don't. The place is beautiful and right on a gorgeous lake with the sun setting out our back window; the fire pit even had a stack of wood left over from the past camper! Our first night in a campground and I want to stay. If they're all like this, we may never go back to the normal life.
After some dinner and a little while downloading the pictures from the days travel, we played a few mean games of Scrabble where Cindy tried to come back from the spanking she took last night in a few card games of Gin. The power was starting to flicker so it was off to bed. Temps were dropping fast and that down comforter was feeling pretty good right about then.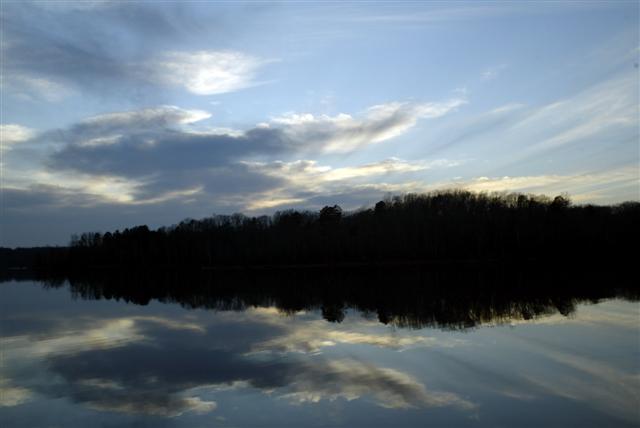 Picture Cindy took of our Campground view in John H. Kerr Park Virginia
We woke up this morning to the dogs shivering trying to get under our blankets with us. Cindy got up and yelled "It's 42 degrees in here!" We have to figure out this electrical situation.
I got on the phone with Carl from General RV back in Michigan and after some time explaining that I cant run everything in the camper at the same time, I think we need to rethink our electrical habits. No more getting in and turning everything on like you would at home. You need to think about what's on and if it's going to draw more power than needed. Conserve is the key word here.
Sorry this is so long of an update, the temps are already climbing into the 50's so were off for a hike.
Thursday January 25th 2007
We basically took a day of rest yesterday and spent the day cleaning up the cab of the truck now that we're finally in some warmer temperatures. The campsite we were in was so peaceful and quiet and with the warm sun bringing the daytime temps up to the mid 40's we just couldn't be stuck in a truck all day again. There were a bunch of little things that needed to be done, that I just couldn't do in Michigan in the single digits and now that those little things are off my mind, I can relax a little.
We were up early this morning and got on the road. It was another beautiful day outside and cruising down I-15 leaving Virginia and rolling through North Carolina was a great drive. We've come to the conclusion, that when the house you're living in becomes unlivable, you just slap another one up beside it or throw a singlewide trailer in front of it and move in to that?
We stopped in a few towns that looked like time had forgotten about. Signs hanging in the windows from the 50's and nostalgia galore. I love towns like this. We also found a radio station that kept us reliving songs we had long forgotten about.
This station, 93.5, out of North Carolina was playing songs from almost every generation and in no order. One would be from the 70's and then jump to a current one. They would go from Motown to Country to Rock-N-Roll. We were singing along with the windows down loving every minute of it! Too bad more stations don't take the hint and stop playing the same 10 songs over and over.
We've started getting emails from a few people throwing out some hints and tid-bits of info to help us out. All I can say is keep em' coming, we love to learn from the experienced campers who have already done this and learned the hard way. Thanks Hutch and everyone else who has sent over some messages and tips, we really enjoy hearing from all of you!
Pulling into Surf Side Beach where Cindy's brother lives, we saw a campground right on the beach and thought lets give it a try. We needed to get a site with full hook-ups to be able to fully charge our batteries and empty our black and gray tanks.
Cindy came out and said they wanted $26 a night, Oh Well, that's what most places wanted just to let us dump our tanks. Once she came back out, we found out the place is the largest RV campground in the United States and is the size of the small town we live in in Michigan! It has everything you could possibly need and is right on the ocean!
For only $26 a night, that's a steal. Granted it's off-season, but we're not one to want to hang out in an RV park anyway, so the fact that the place is almost empty is fine by us. We were getting worried that the farther south we get this time of year, we might run into some trouble if we need to find a campground and we haven't made any reservations.
But so far, we've been very lucky finding everywhere almost empty. I guess we're not far enough south yet.
So we pull in to this beautiful camp ground Ocean Lakes Family Campground and Cindy grabs the dogs to let them see what a beach is like. They've been born and bread in Michigan all their lives and never seen a beach before. While I'm setting up the jack stands and leveling the coach, Cindy comes running up telling me to "Come Quick" I thought maybe someone was drowning or there was an emergency.
We ran to the beach to see two dolphins playing in the surf only a few yards off the beach. It was a great welcoming present and a really cool sight. We sat and watched them play for a while till we had to go back and warm up. The temps are still only in the mid 40's and there is a nice breeze that's blowing off the beach, so it's not as warm as were making it out to be. But a hell of a lot better than the Ice storm we came out of.
We've been joking with each other as to what the locals are going to think when they see us two pasty white Michiganders strolling around in our shorts. Sorry for that visual but I'm almost thinking of going to a tanning bed before getting into a pair of shorts.
Tomorrow we might take a field trip down to Charleston to see some of the historic district. Well have to see what the weather is like as they say a major cold front is blowing in. We might just have to keep heading south. Take care
Monday January 29th 2007
Sorry we haven't updated the site in a few days but we've been doing a ton of running around and family things and I didn't feel as it would be too exciting to write about. Spending time with family is never long enough, and once again we have to go through the emotional part of saying good-bye. Cindy's family is great and I love spending time with them. It was great to be here visiting for the week.
Yesterday we went down to Georgetown to bask in some of the historic sights. The town is beautiful, but man does it smell due to the local Paper Mill across the street.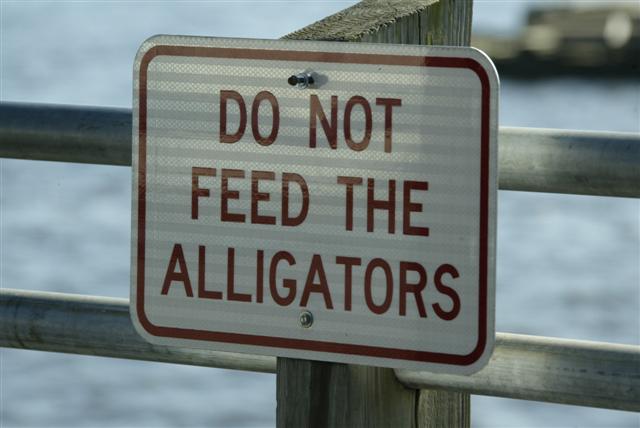 There was a sign on the boardwalk warning to "Watch for Alligators" which we both agreed if one attacked us, the dogs would be sacrificed...LOL (Just Kidding, Not Really)

We stopped for lunch at a little bar (Buzz's Roost) on the boardwalk only to find out the dogs are a great conversation piece. The town drunk came over to talk, and like feeding a stray cat, he ended up sitting with us for over an hour telling us his life story. Living on a sailboat locally, sleeping on the local bars so often the owners hand him a pillow when he sits down to the funny stories of him picking up some girl the previous night. It was like being back at home in the Red Dog Saloon and was sort of comforting in a weird way.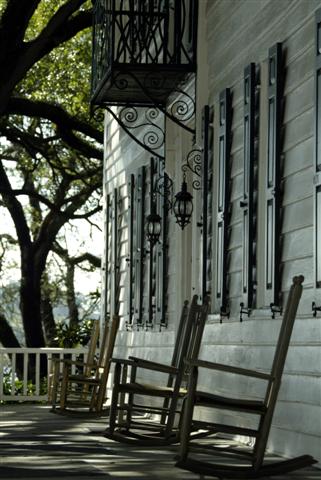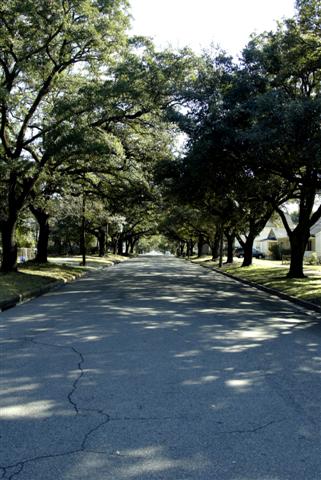 Imagine the History that's taken place on this front porch dating back from the late 1700's The streets in Georgetown are like Tunnels
After lunch, we headed back home to the camp ground and the radio weather forecast was a cold front was moving in. The Temps were dropping down into the low 40's!?!?! Are we ever going to get away from this damn cold?!?! Time to pack up and head farther south!!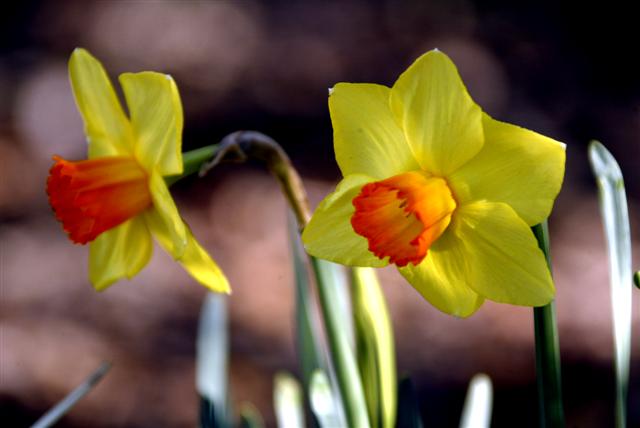 Flowers were blooming in the mid 60's, but with cold weather on its way, it's time to move south
With the Motorcycle carrier all fixed up, the driving should be a little less stressful. We found a local welder (Owens Steel) that moved the channel the bike sits in from the outside a little closer to the trailer to try and keep the weight over the hitch and reduce some of the bouncing. Why I didn't think of this when John was building it in the first place is beyond me, but it's fixed and I'm much happier now.
Hopefully we'll have some new fun stuff to report on in a few days after moving South. We're heading south down I-17 as a new found friend recommended via email (Thanks Hutch) We've been getting quite a few emails from people offering suggestions and tips as where to go, and a few tid-bits to make traveling life easier.
I was surprised when another couple that we've been following for a few years shot us an email congratulating us on shoving off and starting the trip. Sort of cool to know we are now considered equals to some hero's of ours. Check their site out at RV-Dreams. They've been living the dream for a few years now and we've learned quite a few things by following their site.
Tuesday January 30th 2007
After leaving Surfside Beach yesterday, we had taken a tip from a friend who had emailed us saying that I-17 South was a nice drive. It's not nice, it's next to perfect! Almost no traffic except while going through Charleston, and some great scenery along the way.
One thing about South Carolina roads, they're not full of pot holes like in Michigan, but they're bumpy as all get up and make pulling a trailer hell because it bounces around like a pin ball behind us. When we pulled over, a few of the cabinets had come open and stuff was scattered throughout the camper. This is the first time that had happened and I'm sure it wont be the last, lucky for us, everything that had fallen out was non-breakable.
Traveling through the South, one thing you notice is the pine trees that line the roads. They're not like our Northern Pines at all. Their needles grow very long so they almost look fuzzy. The Oaks are giant and dripping with Spanish Moss that sways in the wind, the swamps are huge and the grass sways all the way to the horizon. It makes for some beautiful country and as long as you stay out of the bigger cities, the towns and villages we pass through make you think you're driving back in time.
Remember, most of these towns and villages date back to the dawn of our country as we know it. Some look like they haven't changed to much except for adding electricity.
We stopped at the Hampton Plantation which was just off of I-17 and explored the area for a few hours.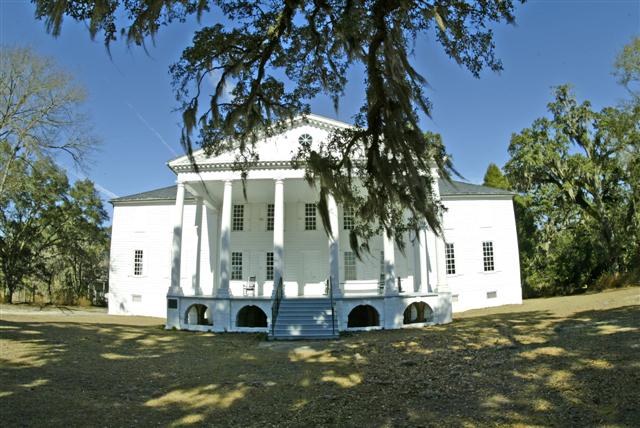 Another thing about traveling anywhere in the south in January, it's off-season and almost everything is closed?!? Fine by me, because we haven't had to deal with any crowds and have been able to see everything we've stopped at without having to pay an admission.
The weather is still a little on the chilly side, but I'm not complaining after I hear what my family and friends in Michigan are dealing with right now. I'll happily take low 40's over the single digits any day.
The Hampton Plantation was beautiful! The grounds stretched out for miles. In its hey-day it was the largest rice producing plantation in the United States during the late 1700's. The house itself is huge and surrounded by old growth oak trees that would dwarf any house smaller than a Mansion.
One tree right in front of the house is named "The Washington Oak" because when George Washington visited the plantation in the late 1700's the owner said she was going to have the giant oak cut down because it blocked the view off the front porch.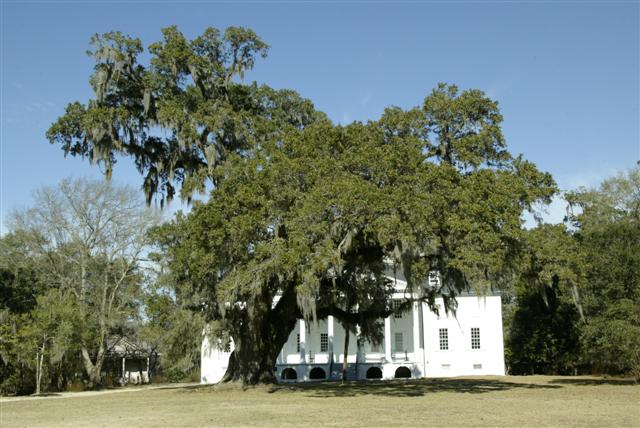 Washington suggested she keep a tree of that size because of it's age and the thing is still standing tall and strong.
After leaving the Plantation, we headed farther down I-17 and turned East towards Edisto Beach. Turning off the main road, if you can call a two lane blacktop Hwy a Main road, you really see some character in the homes. This is marsh country and everything is on stilts, even the trailers! We found the small tourist town of Edisto deserted this time of year, and seriously could have swerved from side to side the entire time on the main road and not ran into anything. We never saw another car or vehicle. Sort of eerie.
We pulled into the Edisto Campground and again, found a beautiful campground all to ourselves. It would be hard to pull through this campground in anything larger than our set-up.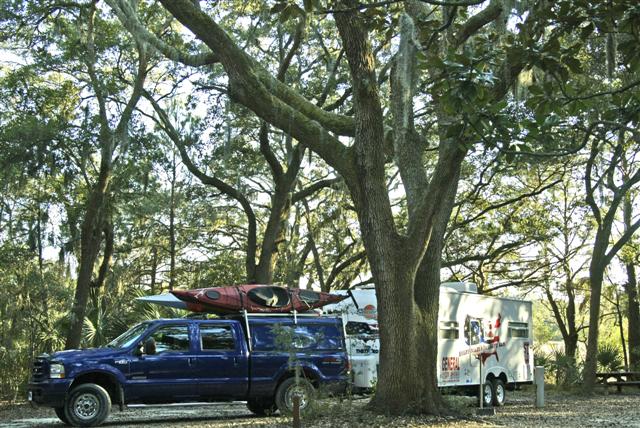 The road is more of a path and the trees act like a tunnel covering the entire camp area. It would be easier to compare this place to a nature preserve than a campground.
Quiet, secluded and with electric and water hook-up's, we can run our little ceramic heater and not have to burn-up our propane supply.
Check out our January Gallery to see all the pictures from the past few days of travel. I rode my motorcycle around today, and after having the battery die on me and being stranded on the side of the road for a few hours, I think I need to stop and get a new one ASAP.
Luckily for me the Edisto Presbyterian Church is beautiful which is why I was pulled over in the first place. I had stopped to take a few pictures of the cemetery behind it that has tombstones dating back from the late 1700's! A few people stopped to see if I needed help, but I guess jumper cables here in the south are something that isn't needed too often, as no one had them.
Finally a nice man called a friend who would be passing by in a few minutes and he had cables with him. Finally back on the road and I had to stop because I was getting to cold. It was great to finally be on the bike and logging some miles. The sights are beautiful and I cant wait to get to some warmer weather so we can do some outdoor activities.
From Here you can jump to the February Blog, move on to the March Blog or just skip to the Current Month's Blog if you want to see where we're at this week.
Return to Top of Page