When we realize our insignificance in this world,
it some how relieves the pressures from society to succeed - Cindy Bonish 04/07
2007 Year in Review
2007 was our first year on the road full time in our RV, and what a year it's been. We've learned so many new things while on the road, but most of all how great the people are that we met along the way. If we could say one thing, it would be "Don't believe any negative thing the media tells you about this country or it's people."
No matter where we've been, whether on the East Coast snorkeling with manatee, enjoying the Cajun culture in the deep South, the beautiful sights and rivers of the Mid-West or deep in the South West along the arid desert climates, we have yet to run into anyone that hasn't gone out of their way to show us great hospitality.
Before this year, we had never spent a night in an RV. Our first 6 months were our biggest hurdles. Every day was a learning experience and in that time, we realized how wasteful we were when we lived in our stick built house. The things we've learned in only one year about conserving can and should be used in every day life to help conserve and stop wasting so much.
So we thought we'd put together a list of things we've learned in the last year along with answering some of the many questions people ask us. These are in no certain order, just random questions we tend to hear all the time. Some of the other questions were ones that we answered on the Sunline Owners Club Forum when they asked us these same questions at our 6 month time frame.
From the Beginning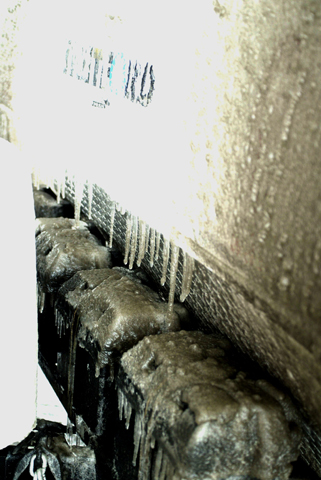 We left on January 21st, 2007 during a nasty ice storm that was blanketing much of the North East. Making our way South very slowly, we didn't find warm temperatures till we reached South Florida. We got frozen out in South Carolina and again in Orlando before we finally landed in West Palm Beach where we spent the entire month of February camping into March in nice warm temperatures. The rest of the year can be followed along on Our Blogs, if you haven't already been reading them.
In this first year, we've driven a total of 24,316 miles with not a hint of trouble from our truck. We camped a total of 263 nights in our Sunline. 113 nights were spent boondocking for free and the other 150 nights were spent camped in some type of campground we had to pay for.
Why only 263 nights you ask if we full timed all year? Well during the months of July, August and the first two weeks of September, we stayed in Michigan in our parents driveway while we had went back home to sell our house. Although we slept in the camper every night, we still don't consider that truly camping.
Our total cost we paid for campgrounds for the year was $2589.00 Which means our average cost for camping was $17.26 per night that was spent in a campground. That's not that bad when you consider our house payment per month when we lived in Michigan was right around $1500. That didn't include any utilities, so all in all, I'm thinking we saved some money this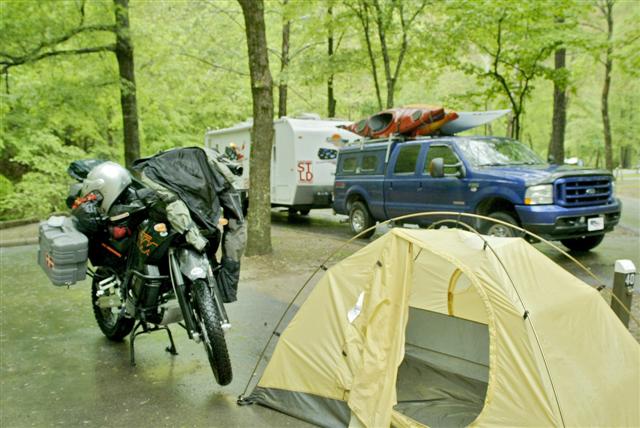 year. Cindy and I try and keep our maximum campground fee under $25 per night. Many nights were spent much cheaper than this with many of the state parks being under or around $10 per night.
It's a toss up whether you can consider staying in a $10 campground with no hook-ups boondocking or an actual campground. Usually if the campground we stayed in has any type of amenities like running water or electric, than we considered it a paid campsite. If we stayed in a site that you had to pay, but it had nothing except a place to park, then we considered that boondocking.
If you do the math, the average cost per night added to the amount of nights spent Boondocking, we saved $1950.38 by staying for free in random places. What does this mean for the average camper? Should they install a full array of Solar Panels so they can boondock?
Our answer is almost always "If you plan on camping many nights in remote places, then the cost might be worth it." If you're just a weekend warrior who always camps in a full service campground, then I think a full solar array would be a waste of money. For us, we plan on full-timing for multiple years, so we hope that as time goes by, we'll more than pay off our cost of installing the Solar Panels and bank of 6-volt batteries.
Now that we have a year under our belt, we know that Boondocking will be much more common in our second year and the money will be saved more and more each month.
What Was Our Favorite State? (This is probably one of the most asked questions)
Pat - Probably Arkansas or New Mexico. Both surprised the hell out of us because we hadn't heard too much about either of them.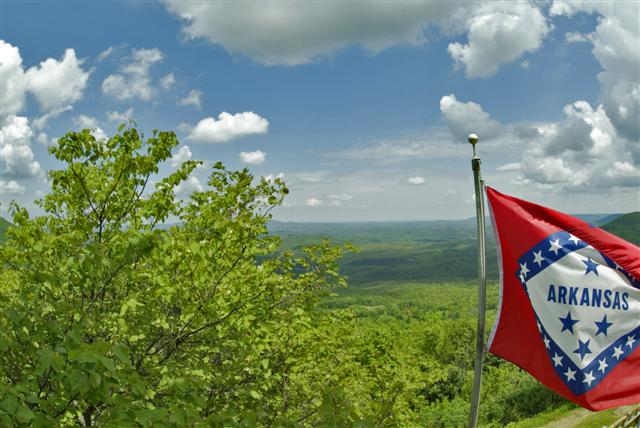 Arkansas has dozens of world class rivers to paddle or fish in and unlimited hiking trails. New Mexico had so many places to hike mixed with beautiful scenery in every direction we looked, that we compare it to everything else.
Cindy - Arkansas! It had so many different attractions to offer and the people were great. The kayaking was unlimited, the hiking was great, the fishing was top notch and the state has the best selection of campgrounds that we've been in so far. This is were we also learned of the CCC and their amazing work.
Where Was Our Favorite Campground?
Pat - This was one of my hardest questions for some reason. Each place we've stayed has its own unique experience. Sitting by a camp fire, watching the stars and sipping on a cold brewskie after a long day of paddling, hiking or biking is my favorite. Each campsite has some great memories. But I'd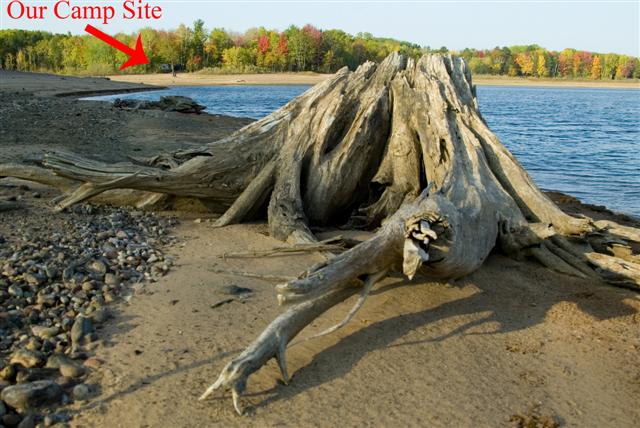 probably agree with Cindy, that Bond Falls was just magical due to the circumstances.
Cindy - Bond Falls! The solitude, the amazing night sky mixed with the fall colors reflecting off the water. The fact that it was late in the season and we were experiencing an amazing Indian Summer with unseasonably warm temperatures. Sitting beside the fire till the sun came up and the fact that we were the only campers there and the most amazing full moon. It was magical for me and wont be matched anytime soon.
What is the One Thing We Miss the Most?
Pat - I miss the closeness of our family and many outings we all got together for. I also miss the bar life and the many wild antics that were part of our life for so many years. If I could only tell of the stories we have from those years at the Red Dog, you'd so understand.
Cindy - Gardening and working in my yard. Digging in the dirt playing with my flowers. Spending time with close friends and family.
What is the One Thing We Like the Most?
Pat - The fact that we move almost constantly. I love meeting new people, I love learning new things and experiencing new things. So really this is living a dream for me. I cant imagine anything better and have no idea how I'll ever go back to a normal life, if there is such thing as a normal life.
Cindy - Being on vacation every day and the ability to be where ever we want whenever we want. Being on the beach one week or in the desert the next. If we like an area, we don't have to leave till we get bored with it.
What is the One Item We Couldn't Do Without?
Pat - The solar panels. It's just amazing to me how many campers we meet that have never boondocked? Without our solar panels, we would be stuck in a campground much more than we'd like to be. Many of our best memories have been out in the boonies all by our lonesome and without the solar set-up, we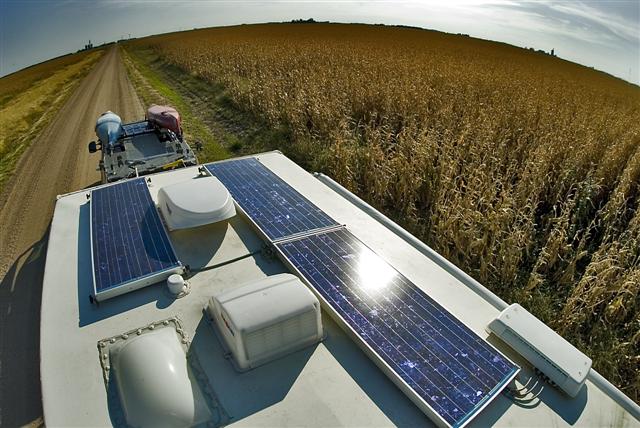 couldn't have been there.
Cindy - A full size refrigerator! I love to cook and always keep a full vegetable drawer along with all the fixings to make a top notch meal at anytime. This is one of those items you don't think about till you have to work around it. My freezer and refrigerator are always stuffed full and if we would have kept our original unit, we would have to do much more shopping and less camping.
One Item We Made the Mistake of Buying?
Pat - Probably the Macerator. I thought we'd use this all the time but we've found that dump stations are around every corner. Especially in the western states, many of the gas stations even have dump stations for those of us who like to boondock.
Cindy - The macerator. We thought we'd use this much more than we did, and honestly we've only used it twice. That means $300 just sits and rots taking up space in a storage locker. It was alot of fun to watch Pat in his latex gloves the first time we used it and the seal wasn't tight. With sewage spraying all over his hands and me running away laughing, the $300 was almost worth it.
What is the One Thing We did before Leaving that we are Glad We Did?
Pat - Enough research to know we had the right camper and most of the needed equipment. Since we've been on the road, if we would had just went and bought any-ol' camper, I think we would have been updating and upgrading weekly. Since we've been on the road fulltime, we've only really added a few things, and those were minor things like Fans and air-bags to the truck...etc

Cindy - Spent lots of time with friends and family, so much so that they were probably sick of us. That and selling all of our materialistic things, and feeling that freedom to know you don't need to have those things to live comfortably.
What is the One Thing We Wish We Would Have Done Before Leaving?
Pat - Nothing really, my motto has always been "If I needed something or wanted something, I went and got it and figured out a way to pay for it in cash before I bought it." I've worked my butt off to make sure all the little luxuries we have on this journey, we don't owe on. This way they can never be taken away from us.

Cindy - I wish we would have made all of our friends and family write down their addresses, birthdays and email addresses. When we lived at home and owned the Red Dog Saloon, we just naturally saw all these people on the holidays, their birthdays and special events, so this information wasn't needed. Now to try and contact them or send them Christmas cards, Birthday cards or just a simple message involves major research to contact some of them.
One Item We Found that We Never Knew Existed?
Pat - Military showers. I had only thought these were something you did while camping in a tent and needed to clean off after a long day of hiking. Who would have thought that we would take them routinely and come to love them?
This was not something I was used to when we used to come home late at night reeking of smoke from the Saloon and take a long hot shower with no worries of how much water we were wasting or how much hot water we had in the first place.
Cindy - Velcro, we knew it existed, but we never knew how much we'd use it till we left on this adventure. Not wanting to screw holes in the walls of our camper, we use Velcro for almost everything and each day find new uses for this amazing creation. And no, it wont keep Pat's mouth closed, I know, I've tried!
Our Favorite Place for Food?
Pat - Louisiana! No matter where we went in this state, the food was amazing. Prejean's (pronounced pray - johns) was some of the best food I've ever had in my life, and have yet to find a restaurant that matches the diverse menu. Four of us ate there and everyone of use cleared our plate clean enough to put back on the shelf.
No other state except for Tennessee has this diverse of food to choose from on the menus.
Cindy - My own kitchen. So many places I am longing to eat at, and once we visit them, I'm disappointed with the food. It's a curse to like your own cooking that much.
Our Favorite Place for Nightlife and Entertainment?
Pat - Either Memphis or Nashville. I love blues and country music, and these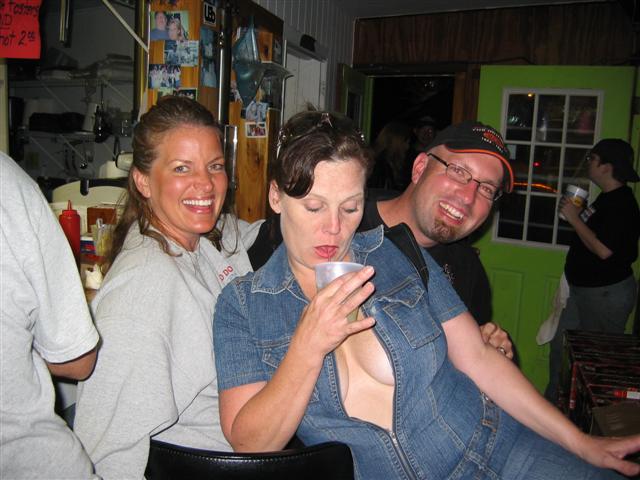 two cities are home to the birth of both. The Bayou of Louisiana is third when it comes to damn good music. Cindy and I both feel in love with the Cajun Music of this area and the funky little bars that host these local bands.
Cindy - Cedar Key! Probably because we were guided by our campground host and a designated driver to all the local bars which all had entertainment. If they didn't, we became the entertainment. How can you beat being miles out into the Gulf Coast with numerous bars to chose from only broken up by fishing shacks. I would say Louisiana but Pat already chose that.
What is the One Thing We Did After Leaving that We Were Glade We Did?

Pat - Make that final decision to actually leave and find a few good web forums like the Sunline Owners Club where we got so many questions answered while we were on the road fulltime.

Cindy - I cant pinpoint one thing, but looking back at the economy in Michigan, I'm glad we sold our business and homes when we did. Buying a home or business is not out of our agenda in the future, but I'm glad that we don't have to worry about this in these tough times.
Right now our lifestyle doesn't require a huge income and the roof over our heads is paid for, so I think we made the right decisions when we did.
What is the One Thing We Wish We Would Have Done After Leaving?
Pat - Go slower and see more!! 100 miles a day is too fast. After one year, we've realized that we have missed a bunch of cool stuff in some states that we passed through. We're not in any hurry, so we need to realize to slow down.
Cindy - Planned economically for more than a two year trip. Once on the road, we've realized our planned budget for only two years is going to have to be stretched to 3 to 5 years. I'm scurrying to figure out how to stretch it and cant seem to pull any dollars out of my butt. If anyone can come up with any ideas, please feel free to let us know.

Best Piece of Clothing to Have?
Pat - A good fleece jacket. I've almost worn out my Patagonia fleece in one year with how much I wear it. The beauty of fleece is you can wear it almost year-round, and it keeps you comfortable. It's light weight, dries almost instantly and keeps you warm even if it's wet.
Besides my camera it's the one piece of gear that I bring anywhere we go.
Cindy - My Molson Hoodie. If you've seen any of the galleries, you'll know that I have this piece of clothing on in almost every picture. This was given to me by my best Friend Derrick and although it's not a technical piece of clothing, its so comfortable that I find myself wearing it almost everywhere.
It's not lightweight and not a wick-away material like most of our other clothing, but the sleeves are long enough to function as gloves and I never need to carry a hat because of the hood. It's just one of those articles of clothing that I practically live in as you can probably tell from most of the pictures.
What is the Hardest Thing We've Found about Living on the Road Fulltime?
Pat - For me it's the Dogs. They take up way too much time and we've had to cancel a few things, or change plans because of them. I know Cindy will kill me for saying that, but they're just too big for how much we move and do outdoors. Maybe if we had two toy terriers that weighed a pound a piece, it'd be different. But a 90lb. pit bull and an old ornery beagle has been my biggest thorn in the side this past year.
That and laundry! If we only had enough room to have one of those small washer/dryer combos, it would make this unavoidable task that much easier.

Cindy - The hardest thing for me is being the navigational engineer. Pat is always changing his mind on where we should go and how to take back roads to get there. This leaves me with the gazetteer, the atlas and the GPS to contend with. God forbid we get lost in any part of the trip because Pat will freak out and blame it on me, leading to a lengthy non-talking timeframe between him and I. I'm sure we all know by now I am not a good non-talker.
Pat - I feel I need to defend myself. I don't blow a fit because we got lost, I blow a fit because Cindy thinks it's OK to tell me that we just passed the turn and never thinks how we're going to turn around? This happens way too often for her having a GPS, a detailed map and anything else she might need to find our way. A few times, getting lost has found us some really cool places, so I don't mind it that bad, but I do need to control my temper better.
What is the Easiest Thing We've found with Living on the Road Fulltime?

Pat - How little you really need. Half the stuff we brought hasn't come out of it's box yet. We packed a lot of stuff for out West, and now realize that we're out West and don't need it. Put a tag with a date on everything in your house, every time you touch it, change the date. Tell me how often you actually use everything in your life right now. You'll be amazed at how much junk you think you need to live comfortably!! It's actually quite liberating.

Cindy - The easiest thing about being on the road is waking up early. When you wake up at 7am, hike, bike, kayak or just travel for 4 or 5 hours a day, a 9pm bedtime doesn't sound too late.
So waking up at 7am without the alarm isn't hard, I'm in no hurry, it just comes natural. I've also come to the decision that waking up to an alarm clock has to be the worst thing you could possible do. Why in the hell does anyone want to wake up to a screeching sound that snaps you out of a comfortable sleep?
Our Favorite National/State Park?
Pat - Almost any of the parks in Arkansas. Petit Jean State Park is one that comes to mind with it's many hikes, full service camp facilities and endless activities to keep us busy. But almost all of the State Parks in Arkansas were top notch.
Cindy - Bandelier National Monument. I'm sure it was the time of the year, but the campground we stayed in at night was completely empty. Which allowed us to listen to the coyotes at night, see the elk prints in the morning and lay out naked all day long reading my book in the warm New Mexican sunshine.
Passing the herd of Mule Deer while hiking back to our camper from the Ruins, only added to our memories. Climbing the 30 rung ladders to explore the Anasazi Ruin Cliff Dwellings cured my fear of heights and made it a spot to cherish.
One Item We Wish We Could Change?
Pat - Our fresh water and grey water capacity. This limits us to how long we can stay out in the boondocks. Grey water is our biggest concern and we wish we would have opted for larger holding tanks.
Cindy - I wish we would have made our cabinet lower in the living room so we wouldn't break our necks every time we watch a movie.
What is the Most Important Thing We Want to Do/Accomplish in 2008?

Pat - Slow down and see more. Take better pictures and get deeper into the culture with each new place we see. I know this is probably the only time in my life I'm going to get the chance to live like this, so slowing down and seeing more is a main goal of mine. Oh, and Spend Less!!

Cindy - Slow down and smell the flowers. It took us one full year to realize we don't need to be moving non-stop, so my goal for this year is to drop the theory that we're on vacation, and have to return back any time soon.
A Few Things We Thought We'd Need, but Ended Up Returning or Getting Rid of in the First Year
Our Full Size Mattress - A year before we had bought the camper, Cindy had bought an awesome pillow-top mattress which was one of our reasons for finding a camper that had a full size queen bed.
The only problem is this mattress was a bit oversized and took up valuable space in the bedroom. When every inch counts, we decided to swap out the mattress for the stock one that came with the Sunline 2499. We had kept the larger mattress in the camper for the first 6 months, and didn't swap it out till we got back home in July. By swapping them out, we saved over 50lbs and gained almost 5 inches all the way around the bed.
We spent $100 and bought the thickest memory foam mattress pad we could find. This made the somewhat thin stock mattress 100% more comfortable. For the weight savings and the much needed room we gained, this made a big difference. I should also say that our Sunline came with a really nice mattress to begin with. We've seen some campers where the stock mattress was a piece of foam and a cover and I wouldn't sleep a night on it.
Portable Satellite Dish & HD Receiver - We thought this was something that we would have to have, but after the first few months, the satellite dish was still in the box, and the receiver was just taking up space. We were paying a monthly fee and not using the service at all.
One time I tried to set up the dish so we could watch a program we really wanted to see, and after an hour of fiddling with the dish, I packed it back up in the box and returned it the next day.
For us, we spend so much time outside and working on the computer with our website and our pictures, that we really don't have time to watch TV. Unless it was the InMotion type that is always set up on the roof and finds it's own signal, I really don't think the hassle is worth the benefit of having TV. That is unless you're a TV fanatic and cant do without it.
Plastic Folding Tables - We had bought one of those small plastic folding tables before we left, and then Cindy got one of those nice Aluminum Folding tables for setting up our outdoor cook stove on. Again, after months on the road, we had never taken either out of the back of the truck.
Every campground we have stayed at has numerous picnic tables for each campsite. It doesn't matter if we are in the middle of the woods or in a developed campsite, they all provide picnic tables.
For the weight and space they were taking up, we just ended up returning them back to where we bought them from. This is why it also makes sense to buy from a national chain while traveling so if you need to return anything, you know they'll be around.
BBQ Grill - Now this was one of those things that just goes hand in hand with RVing and camping. The only problem for us was we tend to move so much, we rarely have our camp fully setup.
Cindy has found it's easier to just cook inside the RV rather than be outside cooking every night. Now I fully understand if you are a weekend warrior and only camp a few times per year, but for us, this is full time and we tend to move non-stop. So don't get me wrong, we'd normally keep a BBQ Grill while camping but decided to get rid of ours.
Cindy also only likes a real Charcoal Grill, and we just got frustrated with the weight, the moving of the Grill, Charcoal, Lighter Fluid and everything else that went with the setup for how little we used it.
Large Cooler - The first weekend we went camping in our RV we knew we didn't have enough space in the refrigerator. We thought we'd need a big cooler that we could keep extra stuff in.
That was before we got the Norcold 10 Cubic Foot Refrigerator/Freezer. We had brought along a large cooler thinking we would keep it just in case, but after a month on the road, we had never packed it with anything and it was taking up valuable space.
We do keep a small personal cooler that we can keep in the truck to keep sandwiches or a few sodas cold while going on a day trip, but we dumped the big cooler fast.
A few Tips & Tricks we've learned in our first year on the road.
Passport America - This RV membership costs $45 to join, and enables you to stay in select campgrounds for half price. We waited till we knew we were going to be staying in an area that had a few of these campgrounds to choose from, and in a single week of camping for half price, we more than paid off the membership cost.
The membership is good for one year, so in that time, we feel that we will make our money back tenfold when it comes to savings. Make sure to check with the campgrounds as many have blackout dates, but over the course of a year, we'll save some serious money.
Recycling while on the Road - Being major recyclers when we lived at home, it was killing us to be tossing out so much recyclable stuff while on the road. What we've learned to do, is carry a few of those heavy duty washable plastic bags (The type you're supposed to use for grocery shopping when you don't want to use their bags) in the back of our truck.
One is for aluminum and steel cans and any other plastic that's recyclable. By crushing any of the cans and squashing anything plastic, we are able to go for long durations between recycling centers. The second is for cardboard or paper products that are recyclable.
Kudos to states like New Mexico and Minnesota that had recycle centers at every State Park and a collection center in each town we passed through. In this day in age, it's just amazing that this isn't mandatory for every state.
We also try and stay away from anything in glass containers simply because of their weight and breakability factor while bouncing down the back roads of America. We've found it is also harder to find recycle centers that accept Glass containers. This is weird considering that it is less expensive to make glass from recycled materials than it is to produce the product from scratch.
A Good Set of Water Filters - This was another thing that didn't take too long to figure out. At first we were only using our fresh water tank for cooking, flushing and showering. For drinking water we were buying bottled water. DON'T DO THIS!
The price added up quick, and the amount of plastic bottles we were wasting was just astonishing. We bought two Whole House Filters from the local hardware store and put a Charcoal filter in the first one with the most expensive Class A filter in second one. We also bought a food grade 5 gallon jug that we keep filled for drinking water, but can reuse over and over. The five gallon jug is more of a back up, or if we're boondocking then we only use that and save the 40 gallon fresh tank for everything else.
Filtering the water through two filters is amazing how good it makes it taste, and the set of filters cost on average $25 a month. They say that the filter is good for up to 6 months, but we never know where we are getting out water from, so we stay safe and change it about every month or around there. This not only saves us a ton of money, but we never have to worry about our drinking water right out of the tap. And the main reason is we no longer have all those plastic water bottles to recycle.
Less Is More - We learned this the hard way. When we first left, we thought we needed to bring so much stuff to make the trip enjoyable. What we found was the more things we had with us, the more we needed to shuffle them around every time we needed to get to anything.
This is also when we learned the saying "The Best Things In Life, Aren't Things!"
It didn't take long before we were filling bags with clothes to be donated to Goodwill, BBQ Grills that rarely got used, but took up valuable space and just odds and ends that never came out of the storage bins all got tossed out or I should say 'given away' to people that might be able to use it.
I weighed the amount of clothes I gave away at one time to Goodwill, and just my clothes were over 50lbs worth of extra stuff!
I'd still say that we're still a bit overloaded when it comes to junk, but some things we need to keep just incase that time arises when we might need it. Or at least that's what we keep telling ourselves.
Wilson Signal Booster and Antenna - We only just found this, but it's something that I wish we would have had all along. This small amplifier hooked up to a short antenna boosts our cell phone signal along with our broadband connection to keep us online even when we're out in the boondocks.
You can read the full review of how we installed this simple amplifier and what a difference it made.
GPS - There is no need for me to explain this too much, by now everyone should have one or know what they are, but I honestly cant imagine traveling without one. Our unit, recommended to us by Tom & Mary at the Sunline Meet & Greet has saved us so much fuel and kept us in the right direction, that I cant imagine traveling without it. Not to mention the amount of arguments it's kept us from happening when it comes to getting us lost.
Another great thing we learned from Tom was about the POI Factory Website. This website is filled with free Points of Interest that will help you find just about anything you are looking for.
Satellite Radio - Another item that we cant imagine being without. For over 20,000 miles our satellite radio has kept us awake, and listening when normal signals just couldn't keep up. For anyone who spends time behind the wheel, this is a must.
Digital Cameras - I don't even have to go into detail on this item. But our adventure wouldn't be the same and I'd go as far as to say would be next to impossible if we were still shooting 35mm film. To see what equipment we use, check out our Photo Gear Page
Forums - I know this doesn't seem like something that would help you with a long distance journey, but being a member of a few different forums was a life saver.
From getting questions answered for free to getting so many hints and tips on great places to visit, many being ones you could never find in a travel guide. Learning so many things that kept us from making these mistakes ourselves was a huge help.
By surfing the forums, it made our first year tolerable without making too many costly mistakes.
Our Dirt Bag Cover for our Motorcycle - We bought the motorcycle brand new, and within a few states of trailering around with it behind us, it looked like it was a few years old and was taking a major beating.
Once we found the Dirt Bag Cover, I gave it a good washing and it's stayed nice and clean for the last 10,000 miles.
Adding Extra Scissor Jacks - While home, we had General RV install an extra set of Scissor Jacks in front of the wheels on the camper. What a difference this makes while camped.
A Good Attitude - This is a must. Luckily for us, Cindy and I are both really easy to get along with and can go with the flow in just about any situation. Traveling full time would be impossible with a poor attitude.
The Mind Frame to Just Slow Down - It took us way too long to shake the idea that we werent in a race and had to get back to anything. I'd say our first 6-8 months we would both get a little antsy if we sat still for any longer than a day or two.
We're now just starting to realize that we can sit back and relax when the weather isn't cooperating or just chill when we find an area we really like. This is one of the biggest obstacles to let go of.
Return to Top of Page
Need Unlimited photo storage- FREE Trial of Smugmug