When we realize our insignificance in this world,
it some how relieves the pressures from society to succeed - Cindy Bonish 04/07
Hiking Equipment List
Hiking has to be one of our favorite past times. It makes no difference if the hike is easy, strenuous or just a short paved pathway, being in the outdoors anywhere is better than being cooped up inside. I'll hike any trail you can put me in front of and as long it isn't too dangerous, then I might do it twice.
It seems every time we used to go hiking, there was always that one thing we would forget. I used to think we had everything until I would search through my pack for ever only to realize it was still sitting back in the camper.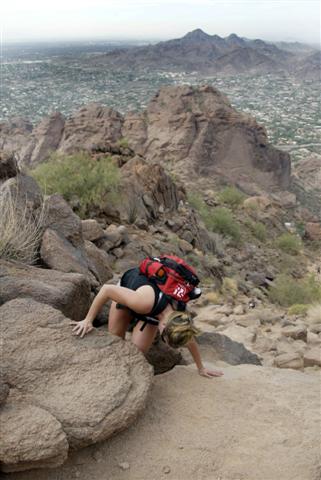 Finally I got smart enough to make myself a list of everything we need whenever we go hiking. Now we just check it off as we pack it and before we leave, we give the list a quick once over. If there is anything we forgot, we know before we ever leave the camper.
If we notice that we are always bringing something that isn't on the list or leaving certain things out that we never use, it's easy to add them to it or delete them if we think they aren't needed.
Feel free to copy this and add your own personal items that you use whenever you go out hiking. That way you wont forget anything and will always be prepared.
Of course before we ever head out into the wilderness, we always check the weather to make sure we know what's in store for us. If backcountry permits are required, we obtain them before heading out, and we let a few people know of our intended route and expected time we plan on returning.
Take Nothing But Pictures Leave Nothing But Footprints
Every Miles A Memory Hiking List
Personal Equipment (Each of us should have)
* Hiking Boots

* Back Pack - Each pack should have our Emergency Kit (See Below)

* Sunglasses

* Wide Brimmed Hat

* Sunscreen

* Cell Phone in a Ziploc bag (Turned off, but brought for emergency)

* Map of trails we plan on hiking through

* Headlamp or flashlight - Preferably both - Make sure batteries are fresh

* Whistle - Attached to shoulder strap of backpack

* Large bottle of water - Depending on length of hike there could be more than one

* Lunch or enough snacks to get us through the hike with some left over

* Compass

* Watch to monitor your time

* Knife

* Multi-Tool

* Rain Jacket - We each have one that folds up to a small pouch

* Layered clothing - We always bring a few different garments depending on the weather - It's better to be prepared then stranded. If its warm and we're wearing shorts, then we pack a pair of Polartech pants in each backpack in case the hike lasts longer than we planned

* Hat and Gloves - Unless it's summer

* Small Tripod that fits in outside pocket of backpack

* Camera with extra batteries

* Binoculars

* Birds of North America Guide Book

* Laminated pamphlet of Snakes of North America

* Small roll of Cloth tape for blisters or repairs to pack

* Small package of Wet-Wipes

* Note pad and pencil

* Insect Repellant

* Carabineers - Each pack has assorted sizes, but a minimum of 2

* Business Cards - We always run into people and they always ask what our website address is.
Emergency Kit we always keep in our Backpacks
* Small First-Aid kit

* AA Mag-Lite with a LED Bulb and an extra set of batteries

* Waterproof Matches, Lighter and two Candles in a Ziploc bag

* 10' Length of nylon rope

* Multi-Tool

* Epi-Pen - I'm allergic to bee's

* Good size length of Duct Tape rolled around the handle of the flashlight

* Emergency space blanket

* Rain Poncho

* Two Glow Sticks

* Glock 9mm with Competition Trigger and 2 back-up magazines
"People are more violently opposed to fur than leather because it's easier to harass rich women than motorcycle gangs."
This list is much like the list for our Kayak Trips, it can be added onto depending on the length of the hike. If we were to be hiking overnight, then this list would obviously be much longer and include items like our tent, sleeping bags, sleeping pads, cooking equipment....etc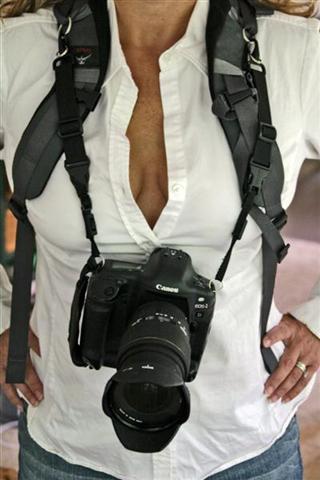 We figured we would just start with the basics that we bring with us on every hike we go on. We both have backpacks that are good and broken in, and very comfortable, which is a must for hiking. My pack also has a slot for a 60oz water bladder which will up our water carrying capacity if it's really hot or the hike is longer than normal.
We also have buckles that attach to the shoulder straps of our packs to hold the cameras. This way they are always right at your fingertips, but your hands are free to grab ahold of something if need be. I'd recommend this item to anyone who hikes regularly as it's one of the most useful accessories we own.
The Emergency kits stay in the packs and we never take them out. That way if something was to happen and we need to get out of the truck, camper of the area we are in quickly, we know at least the basics will be in there when we need them.
Urban sprawl = Cut down all the trees and name the streets after them
Return to Top of Page
Earth First! We can Mine the Other Planets Later