When we realize our insignificance in this world,
it some how relieves the pressures from society to succeed - Cindy Bonish 04/07
Kayak Equipment List

Any day spent on the water is a good day in my book. Cindy and I love to paddle whether it's in a sea kayak on some open water, a shorter play boat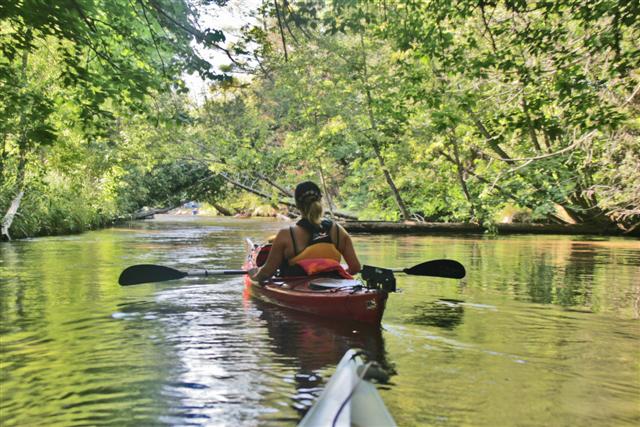 down a fast flowing river or a relaxing day spent in a canoe floating along some lazy stream. We've been paddling since we first met each other and have fantastic memories on rivers all over the country.
We've put together a list of equipment that we feel is a must have for any paddle. You'll have to remember that Cindy always teases me and calls me MacGyver, so some of these items might seem unnecessary, but there has been many times where these items came in very helpful on some of our journeys.
Every time we try and pack lighter or leave a few items behind thinking they wont be needed is when we need them most. I have a few waterproof bags in a plastic bin with most of this equipment stored all together. When we get ready to head out for a day on the water, I can usually have this entire list packed in the time it takes Cindy to make a lunch.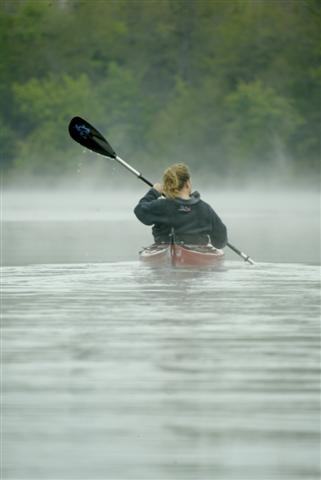 First things first, before you head out to paddle any water, you should do a bit of research to know what you're in for. It would be foolish to launch the boats into an area when you haven't checked the weather forecast and might not know alternate points where you can take the boats out of the water if nasty weather approaches.
Never head out without letting someone know where you are headed, what route you plan on taking and what time you think you'll return. This is just common sense, but can be overlooked way to easy when you think the river might just be a lazy day of floating. We've been stranded more than once when an unexpected storm has kept us shivering on the shore longer than we planned on being on the water. You can never be too safe when it comes to paddling.
**********************************
Like I said, some of the items here are not necessary on every outing, but you may wish to carry them as we do for safety's sake. I'd rather be safe than sorry any day and the weight is not noticeable while paddling.
Day Trip Checklist
* Kayak

* Paddle

* Spare Paddle

* Spray Skirt (This depends on the type of water you'll be paddling in)

* Life Vest or what is known as a PFD (Personal Flotation Device)

* Bilge Pump

* Sponge (We use big cheap ones we found at the Dollar Store)

* Whistle (We both have these attached to a lanyard on our PFD's)

* Towline attached to each end of the kayak with a carabineer

* Map of the route you plan on paddling in a waterproof bag

* Compass

* Deck Bag - Attaches to the top of the kayak in front of the cockpit to hold items we use while paddling like camera, map, water bottle and some energy bars

* Small dry bag for items you must have accessible in the cockpit

* Large dry bag (We carry one large one with a change of clothes for both of us incase we were to capsize)

* Wet Suit (This is also dependant on the weather and the water temperature)

* Rain Jacket & Pants

* Good Water Shoes (Something that your feet will be comfortable in being wet for many hours)

* Paddling Gloves - If the weather is cold, something that will keep your hands warm while wet

* Wide Brimmed Sun Hat - One of the most important items!

* Sunglasses - Polarized lenses will make the day that much better

* Sunscreen - Probably the next most important item!

* Basic First-Aid Kit - This should be kept in a waterproof bag

* Flashlight and a Headlamp - We carry one for each of us

* Change of shoes if you plan on getting out and doing any hiking

* Ziploc bag with some toilet tissue folded for necessities

* Quick Dry Camp Towels - Very lightweight towels with high absorption

* Duct Tape

* Water bottle

* Lunch - Plan on bringing enough food for the entire day. This is one area you don't want to skimp. Paddling is much more tiring than you think, and you don't want to bonk half way through the day

* Cell Phone in a waterproof bag - Turn it off, it's only for emergencies

* Good Multi-Tool - You never know when you might have to make a repair

* Binoculars

* Knife - We both keep one in a pocket in our PFD's

* Camera - This could be a list in and of its own. If you're not into photography, then just a simple point & shoot camera in a Ziploc bag will do fine. If you're into photography, you might want to look into a housing for your camera or a inexpensive bag like the EWA type. You'll be amazed the wildlife and beautiful scenery you'll encounter on the water and will be disappointed if you forget this item.

* Basic Emergency Shelter Equipment - A small tarp, light blanket and a few chemical heat packs in a dry bag can be a life saver if you get stranded

* 50' of good waterproof rope

* A few carabineers attached to our PFD's - These also have 100's of uses

* Extended Grabbers? Not sure what they are called, but I found them at a hardware store and we use them to pick up trash while on the river. Any time we're out, we try and pickup anything we can reach to keep America beautiful

* Trash Bag to hold any items we might pick up along the way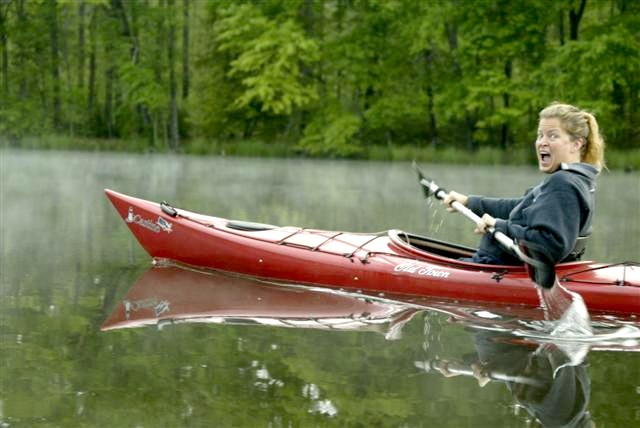 This list we bring with us every time we are on the water. If going over night or for multiple day trips, then we would add quite a bit more gear, but that would depend on the season and the type of water we are paddling in and I saw no use in listing that here.
Obviously many of these items are seasonal. Spray skirts are only used when paddling in open water where waves will be crashing over the cockpit or in the winter when they keep body heat in the seating area. We only carry one spare paddle and one deck bag.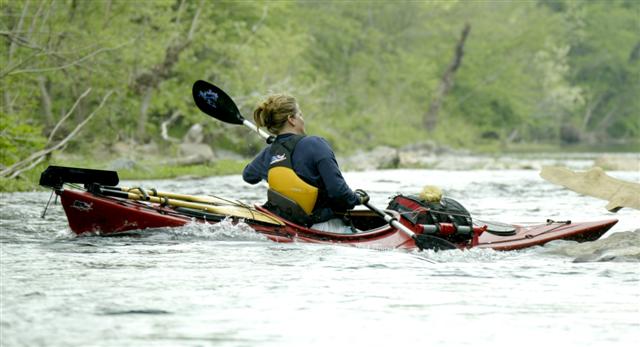 Depending on where and what type of conditions we're paddling in, the camera gear can vary from one point & shoot in an underwater housing to the larger D-SLR's with a host of lenses. This is also Murphy's Law, every time we only bring a small camera, we spot a once in a life time shot, yet when I lug the big equipment along, it usually is a calm day with nothing too wild happening.
Our Kayaks and Why We Chose What We Did
When we first started paddling, we spent many days in a canoe. We never owned one of our own, we always just rented from livery's near the river we were paddling. Then one year we tried kayaks and have never gone back. There is nothing wrong with a canoe, it's just that kayaking gives us each the freedom to go where we want and at our own pace.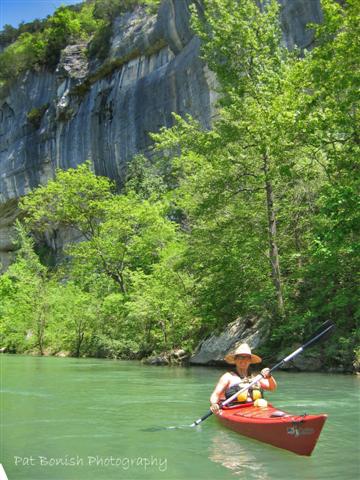 Our first kayaks were smaller play boats or Rec. Boats which is short for Recreation. These boats were around 9' in length and had a large opening for a cockpit. They were great on fast flowing rivers and turned on a dime. Neither had bulk heads, or dry storage areas but were just usually used for shorter paddles. These shorter boats were perfect for some of the faster flowing rivers in Northern Michigan where we used to steal away any chance we could.
Then we moved up to kayaking on open water. This is when you need a much larger boat for the stability and its tracking abilities. Adding a rudder on the rear only made the open water routes that much easier. Kayaking along the shoreline of Lake Superior is breathtaking and something that everyone should experience, especially along the Pictured Rocks shoreline.
On one of our most memorable adventures, we paddled out one afternoon to watch the sun set with the sheer cliffs as a bright orange backdrop. As the sun was setting behind us, we noticed a giant harvest moon creeping up over the horizon. With a little encouragement on my part, I was able to talk Cindy into staying out on the water well after dark to watch the moon fully rise.
Once this gigantic moon was high up in the sky, we were amazed at how bright the turquoise water was. We could turn off our head lamps and paddle by the light of the moon where we could even see the bottom on some sections of Superior's crystal clear waters.
Another time we were paddling in Copper Harbor Michigan when we spotted a giant golden eagle on the rocks above us. We sat floating in our boats admiring this humungous bird when it leapt into the air and swooped right over our heads. I almost rolled over in my boat trying to duck out of the way and Cindy was screaming at the top of her lungs, half laughing, half frightened to death. We watched as it soared down the coastline probably chuckling to himself at the terror it had instilled in us.
These are just a few of our paddling memories, but I could go on and on. Needless to say, we love to paddle. We've met many wonderful people on the water, brought family with us on some rivers, nieces and nephews with us on others and never once have we had a bad time. Even if you do end up in the water, which has happened many times, you still get to laugh about it afterwards. (Sometimes at the scene of the roll over!)
At one time we owned 5 kayaks and most adventures we brought two smaller boats for the fast flowing river trips and two longer ones for open water. On this adventure, we've brought just two boats. I paddle a 14' boat and Cindy's is 13'9". Both have rudders which make a huge difference if it's windy or if you're paddling with a current.
There is no need to recommend any certain brand for you to try. They all have their pro's and con's. If I could recommend one thing, it would be to get a boat that fits you comfortably and make sure where ever you're buying it from has a good return policy. Some places will allow you to rent the boat you want and take it out for a paddle before you decide if it's what you want. I know I probably rented 4 different boats before I made the final decision on mine. Cindy found hers within her third rental. REI is a shop that comes to mind.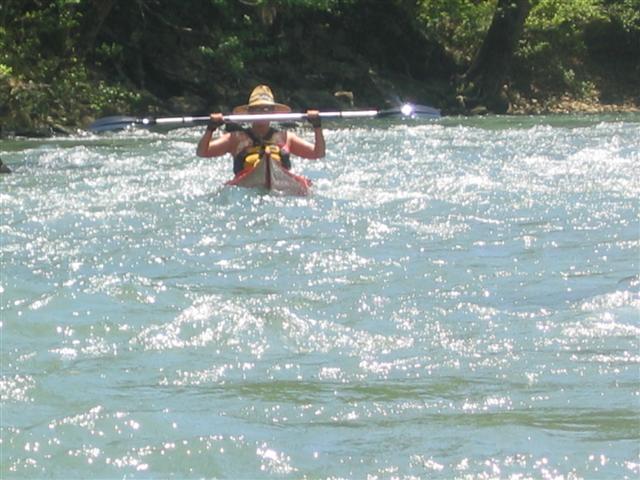 We chose to bring the longer boats on this trip for a few reasons. Once you're used to a bigger boat, you can maneuver it on faster water with a little work, and still have the ability to paddle open water if you get the chance. If we would have only brought our smaller boats, open water would be out of the question. So we sold them to a friend who we knew would put them to good use and only kept the longer models. One good way to find a kayak is to look at the bulletin board at the local outfitter, or check with a local livery. We bought our smaller play boats for next to nothing when the local livery was getting rid of their older models to move up to the latest design.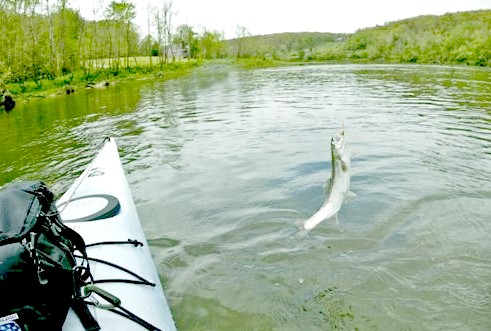 One thing that I would love to try is white water paddling. Rodeo kayaking looks like a riot and when I get the chance, I'll probably become as addicted as I am with many of my other sports I cant get enough of.
If you've never paddled, it's something that almost anyone of any physical ability can handle. You go at your own pace, and as long as you pick the right rivers, it's something the entire family can enjoy. We have so many memories on different rivers, it would be hard to put them all on paper. We've paddled with huge groups of friends for big get-togethers, paddled with manatees in Florida's natural springs and spent multiple days by ourselves all alone with Mother Nature. That's the beauty of paddling, there is something for everyone, it's just up to you to go out and do it.
It is horrifying that we have to fight our own government to save our environment -
Ansel Adams
Earth First! We can Mine the Other Planets Later