When we realize our insignificance in this world,
it some how relieves the pressures from society to succeed -
Cindy Bonish 04/07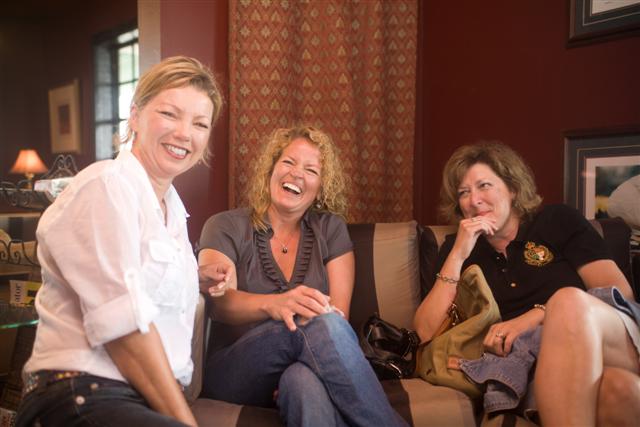 Luz and Tish Laughing at my Goofy faces I make for Pat and his camera
Cindy's April 2010 Blog
Every Miles A Memory
Feel Free to browse past blogs for plenty of travel ideas and many of the places we've been in our first 12 months on the road - Past Blog's
Solar Tips, Fact's and Trick's we've learned while on the road
Well-behaved women seldom make history
____________________________________________________________________
If you haven't read any of the earlier blogs, you might want to start there to catch up on how we got here.
Cindy's April Blog All Wrapped Up in One Post
Woo doggies, this has been one hell-ov-a month! How did I ever think that at one point in this adventure, I might get bored? Everyone told us that March and April are the busiest months here, but by no means was I ready for this on our first season.
As I look through the books on the last managers sales, we have tripled what they did in March and quadrupled what they did in February!! Might I say that I do love the challenge this place is offering, the good nights sleep when the day is over, as well as meeting all the new people that have come to visit, so dont think that I'm complaining.
Our little Tiki Bar, although it is not open for business yet, has become quite the gathering place. We usually go out their around 5 or 6pm and invite who ever is staying with us, maybe some friends and it always seems like we have family that are visiting to join us for sunset Happy Hour.
My bewitching hour is usually around 8:30pm, which is when I come inside to take a shower and hit the sack. Every weekend we have had a full house since the middle of February and it looks like this will continue thru the middle of May. We've had a great visit with my family, a visit from Pat's sister and her entire family which was lots of fun and I find it hard to figure out which day it is because of how busy we seem to stay.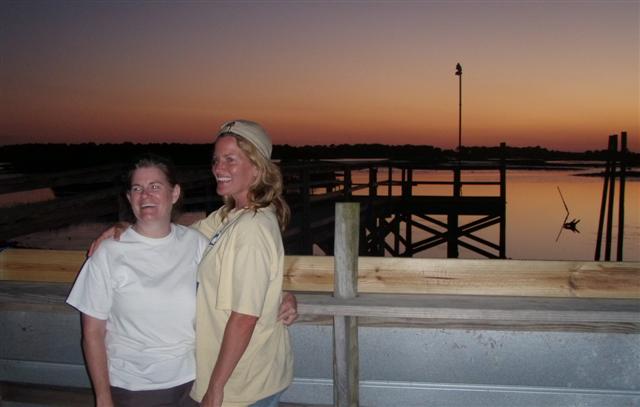 Rare shot of me and Lindsey actually staying awake after the sun has set!
Pat and I have figured out a system where he strips the bedding and the towels in the morning, then goes on to re-make the beds and vacuums. I clean the kitchen, bathroom and what ever lies in between which makes our lives much better than arguing over who does what.
I usually have to drag him kicking and screaming into getting the day started, but as you guys know, he keeps you all posted about our day to day lives on his blog which is just as important. This is honestly the second time that I have had some free time to focus on the blog before my mind gets all wound up in my chores for the day.
As you all know, Pat went on what I like to call 'vacation' for almost 2 weeks and that was really a kicker here on my end. I think I got about 3 hours of sleep a night, not only because I had so much work to do, but because I can't sleep without Pat here to snuggle with. It was hard to wake up in the morning and not have him here or have him to talk to and goof around with all day long.
That is what keeps this place an adventure rather than a job, having the two of us laughing and cutting up and arguing with one another. Granted it took me a few days to figure that out, but by the time day 7 rolled by, I was desperately missing him. Thank goodness that Bruce and Lindsey were here because I had so many chores planned while Pat was gone, it kept my mind off of missing him and they were here to help.
We all rallied together, as well as my friend Luz who came by each day to help redecorate each room, completely paint Room #2, plant and mulch pretty much every new flower bed, as well as my garden and we still had time to enjoy a few dinners together and do some crafty stuff in the mean time.
While Bruce, Lindsey and Luz painted Room #2, I made some headboards for the king size rooms out of some old wooden doors that Pat had purchased on Craig's List. Luz and I each made a wall wreath out of shells that we had gotten off of one of the surrounding keys during one of our Girl's Nights. And while we were at it, I covered an ugly lamp with hot glue and stuck shells in the glue which resulted in me not being able to feel my finger tips for a few days due to the third degree burns.
Bruce hung some shelves in our office that we made out of old cabinet doors, as well as the two of them rescuing enough rock from our back, disgusting flower beds to put them out front in the new and improved beds. They got rid of all of the grass and weeds in the parking lot and mulched what beds we could with what we had available. They've been working their butts off!!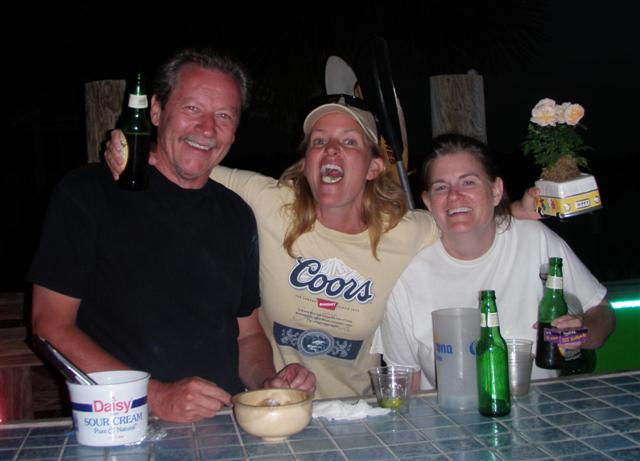 Bruce and Lindsey hanging out at the Tiki Bar with Cindy who has a mouth full of Garlic! This was after a bunch of Martini's and Bruce ran out of Garlic Stuffed Olives, so they thought it would be fine just to put whole garlic cloves in the drink!?!?
These were the most productive weeks we have had since we got here and I'm sure that Bruce and Lindsey thought I was crazy for never stopping. I had to keep my mind busy some how and this was the perfect antidote.
Luz and Lindsey were real life savers in the decor department. I had done and redecorated the rooms so many times that I had lost sight of trying to keep this place together. I would buy new stuff, but knowing that so many other things had to change before I could make them work together, I would just put the newly purchased items in a corner and then forget what my original plan was.
The girls really made it all work and I love it!!! Bruce finished painting the outside, so this place just looks incredible. When Pat finally came home from vacation, he was shocked at all that we had accomplished and hopefully he likes it as much as I do, which I know he does because he keeps talking about how much we did while he was gone.
Last week was my birthday and the people that were staying with us, Daphne and Pete made it special with a nice gift and a card. I can't really explain the people that we have had come to visit us in the last few months. They all have been so nice, generous and just great to be around.
I wonder if all motel owners are as lucky as we are when it comes to our guests? We also had a couple here that had come a few months ago and camped with us in their Airstream. They liked Cedar Key so much that they ended up purchasing some property here.
When they came back to close on the lot, they stayed in one of our rooms and the 4 of us got pretty darn close. We keep in contact thru email and we will keep an eye on their new lot until they can get back and take care of it themselves.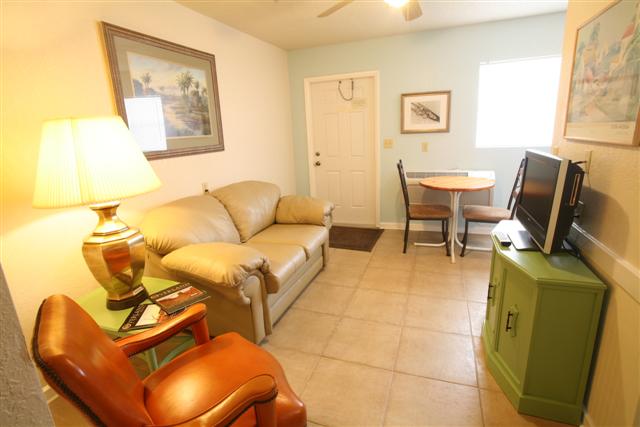 While Pat was gone, I had a return customer stay in one of the rooms but they hadn't been here in years. We got along just great, so I gave her the tour of all the rooms and the new projects we had just completed. Julie told me that she works with shells as a side business and gave me some pointers on how I could improve my projects.
I took the advice from her and came up with a great new wreath that is awesome, thanks to her. She also told me that her and Rick would be back to see us soon because they really like it here. A week later they were checking back in and brought me this incredible shell candle that Julie made and also a box of shells with some inspiration included!
The night before my birthday, Pat had informed me that my 5 weeks without buying groceries in Chiefland was going to have to end. He informed my that he was having a party for me on my birthday and that I was going to need to shop for it all and get the house presentable.
He asked me to get ready to go out to dinner tonight since we really had nothing in the fridge and I could just go shopping in the morning. I took a shower and got ready while he putted around the house and did a whole lot of nothing. I kept insisting that I was starving and when he refused to get ready, I walked outside to sit on the swing while pouting about my chore filled birthday.
While I was sitting there, two creepy looking people came walking up and said, "Hey! We want to check in". Thinking in my head about how rude they were being while I was in a good "pout mode", I realized that these 2 weirdoes were our best friends from Michigan, Derrick and Tish, disguised in long wigs and big sun glasses!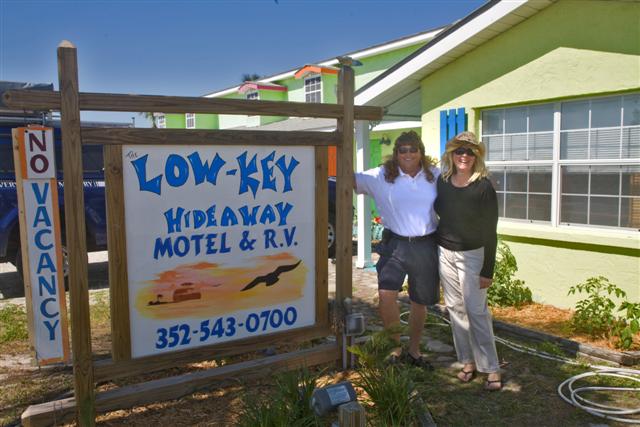 The tears began to flow as I gave them both a big bear hug, laughing the whole time since I had just called Tish last week and read her the riot act since they had not come to see us yet. She had known for a month that they were coming here to celebrate mine and Derrick's birthday which are 2 days apart.
I can't explain how great this made my entire month! I had missed them both so much and have seriously been gripping to Pat for some time now about them not getting here to visit us yet.
What continued was 4 fun filled days of excitement, laughs, lots of beers and plate upon plate of fresh seafood. Our slogan for the weekend is that it's not a visit from the Smigiel's until somebody pukes, usually Pat. He didn't fail us and on day #2 he had a bad morning hugging the toilet which resulted in a slow start into the afternoon of partying, but he caught up by the end of the day.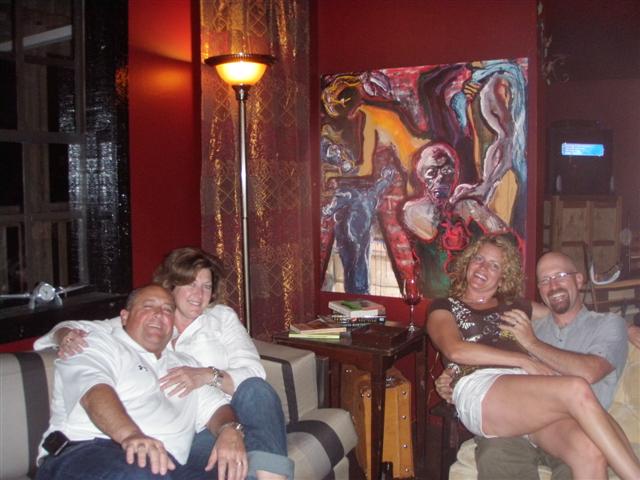 Derrick and Tish left on the 27th and it was hard to say goodbye to them. They're the type of friends that are just a riot to be around. Never any fighting or having to explain one another, and just the types of friends that includes lots of talking, laughing and great memories.
So yesterday was double dose of vitamins and water as to replenish our minds and our livers. I finally went grocery shopping and after a $500 purchase, I vowed to not wait that long again. No junk food, no bread and no booze so we can now get back to our regular schedule. It also never fails that each time the 4 of us have a 4 day weekend, I usually gain 7-10 pounds! This time was no different.
I think once the swelling of my liver goes down, I should be able to fit into my clothes again but it sure in the hell was worth it. Thanks everyone for making this one a birthday that I won't forget.
I woke this morning with my big dog snoring next to me and Pat stealing the covers and thought about how I love my life and how blessed I am to have the people that make it so complete.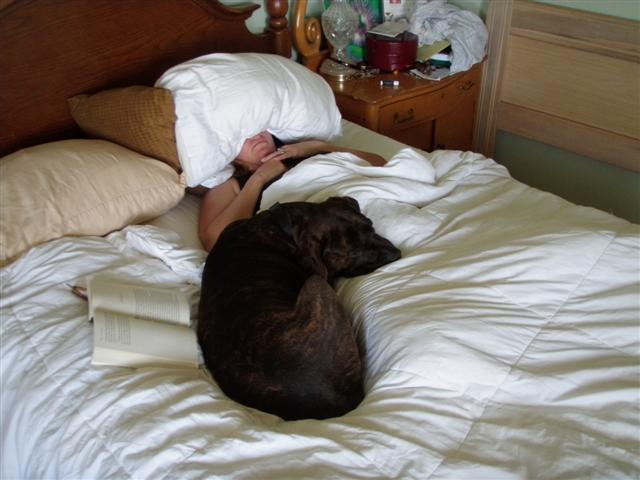 There we have an entire month wrapped up in a few paragraphs. If I had more time, I would tell you about the baby owls that we found, the Sea turtles that continually pop up out of the mulch trying to find their way to the ocean, the dolphin that fish behind our dock every other day or the great friendships that we are building here in Cedar Key, but I don't want to bore you and my mind is starting to fill with the things I need to do.
Until next time, thanks for reading and talk to you soon.
Return to Top of Page
Need Unlimited photo storage- FREE Trial of Smugmug