The world is a book, and those who do not travel, read only a page ~ Saint Augustine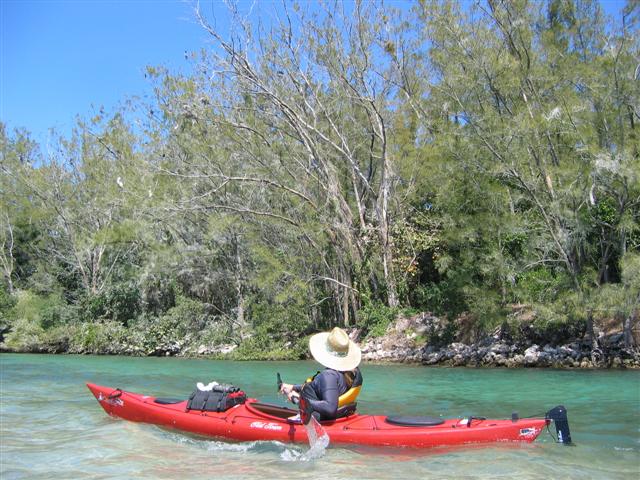 Cindy's March 2007 Blog
Every Miles A Memory
January Blog February Blog April Blog Current Blog
________________________________________________________________________
If you haven't read the January Blog or the February Blog, then you might want to start there before jumping ahead to this months. If you've found yourself here by mistake, then you can move onto the Current Blog
March 6 2007 Roger & Pat Make a Visit from Daytona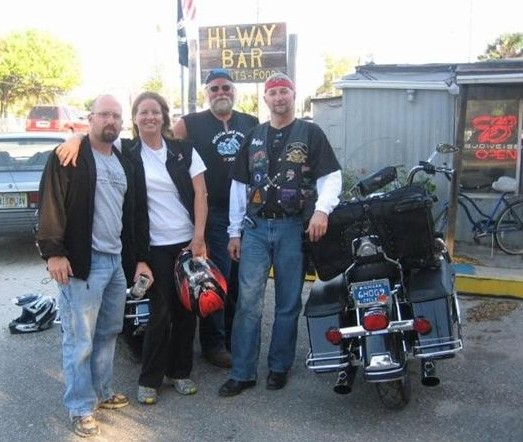 Today we woke up to hear from a friend of ours from Florida and rode our motorcycles to meet him and a buddy half way between both our locations. They came to Daytona for bike week. We had lunch at the Hi-Way Bar and it was actually very good considering it didn't look much like a place to eat.
I'm sure that a lot of drinking goes on there though considering all the people were called by their first names by the nice bartender. Those are the kind of places that I enjoy, no false fronts as to who does what and how much $ someone makes, just regular people coming together to share some stories and friendships. I think my husband calls them Dive Bars and he loves them even more than I do.
After lunch we tried to find a place to camp in an RV Park and the least expensive place was $68 and it was the size of a postage stamp, so we opted for the parking lot at Applebee's instead. It seems like after a long day of running around it really doesn't matter where we put our heads on a pillow for a few hours.
March 7 2007 Anna Marie Island & Relaxation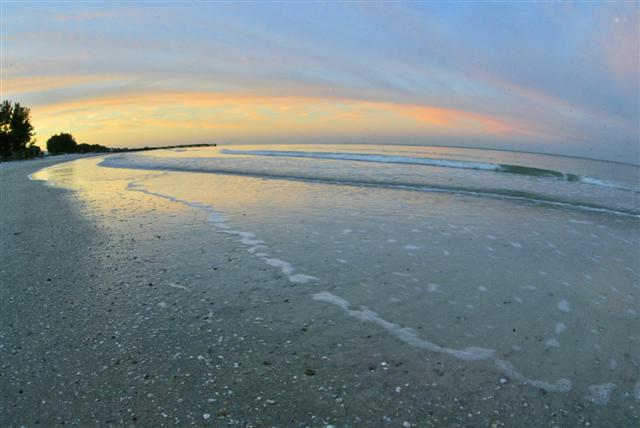 Pat and I woke up this morning at 4 am and decided we would go and watch the sun rise on Anna Marie Island. We got there quite early because we had a couple of hours of moon light to enjoy before we began to see the sun come up. I brought my beach chair, a cup of coffee, and a blanket and sat for around three hours just thinking about what a great creation this world is, enjoying the 20 different kinds of birds, the flying fish, the dolphin and my 2 dogs all while not moving an inch.
After it warmed up, I squeeezzed in to my swimsuit (I thought all this home cooking and exercise would make the pounds fall off....NOT!) and laid in the sun for around four hours. Most people are trying to get a tan, me, I cover myself in a 30 SPF and wear zinc on my face due to the fear of wrinkles and skin cancer.
Pat stayed inside and worked on the computer all day while I read a book named Kite Runner which made me constantly ball my eyes out!! (Pat thought that was hysterical) After many hours of R&R I made some crab legs for dinner and just as we were cleaning up and getting ready to move on we heard a very loud pounding on the door. The officer was very stern in the fact that we must move our camper, I'm sure the lady staring out of her window all day at us was very glad to see us go.
Being the monetarily conscious person that I am, I suggested a cozy little spot in the back of a parking lot for our sleeping arrangements for the evening which worked out just fine.
March 8 2007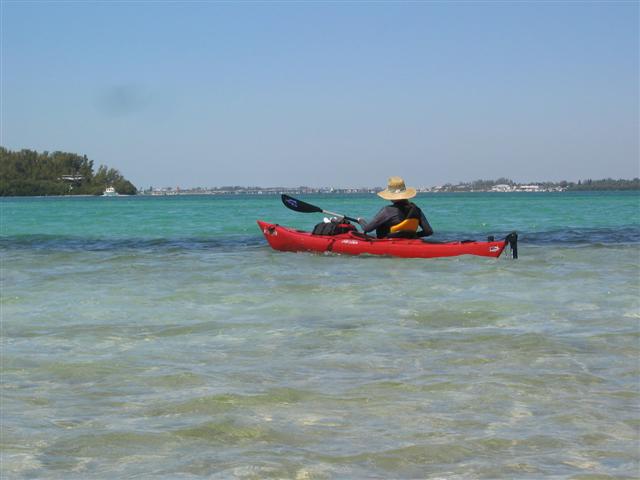 Got up early again this morning and went kayaking on the bay here at Anna Marie Island, which proved to be quite a challenge. The funny part is the whole time that the waves were crashing over my boat and I could feel the sea sickness beginning to turn my face green, I was blaming it on Pat.
Why is it when something goes not exactly as expected, it is your spouses fault. If he would have made the wind blow a little less, I would not be struggling so hard to keep my kayak from being constantly flooded with salt water. When we got out it was around 2 o'clock and we loaded everything up and headed North to venture closer to our next destination.
We found a quaint little campground just as nightfall came upon us called The Oasis. The couple that ran it were very sweet and we met some nice people while doing laundry there also. I was commenting to Pat that I couldn't believe what a find we had discovered for the minimal price of $18 a night when the camper began to vibrate. We were working on our .88¢ 10"x18" puzzle when a loud horn came ringing through the windows.
It was at that point we realized we were around 25 yards from a train track which ran a train through every half hour from 7 pm until midnight. It wasn't so bad though, it gave us a couple of good laughs and made me realize, if it's too good to be true, well you know how the saying goes.
March 9 2007 2 Miles into the Gulf of Mexico - Cedar Key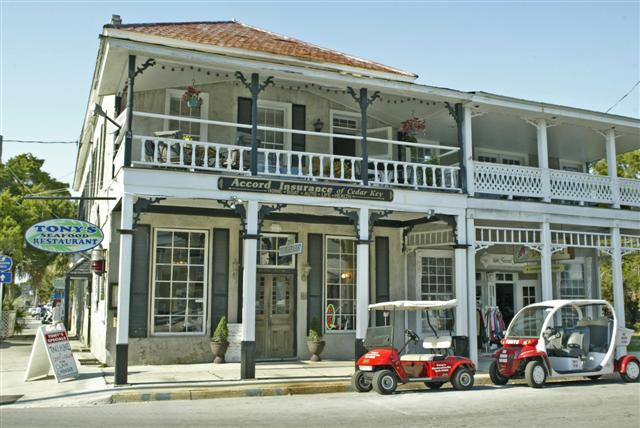 Got up this morning and cleaned the angora sweater worth of dog hair out of the back seat of the truck, gave the dogs a bath and we began on our way. You don't notice how bad it is till we drive with the windows down and the cab of the truck is like a tornado of Dog hair.
We stopped a couple of times on the way north just to go into some of the little old stores on the side of the road. We made a quick stop at a fruit stand and man is the fruit awesome. We ended up taking a wrong turn which landed us in Cedar Key.
What a great little town to just relax and take some breathing time (except for the empty clam shell smell) We found an RV spot right on the water at Castaways Resort & Tiki Bar and after meeting the Owner Dan, we're going to stay and relax for a couple of days.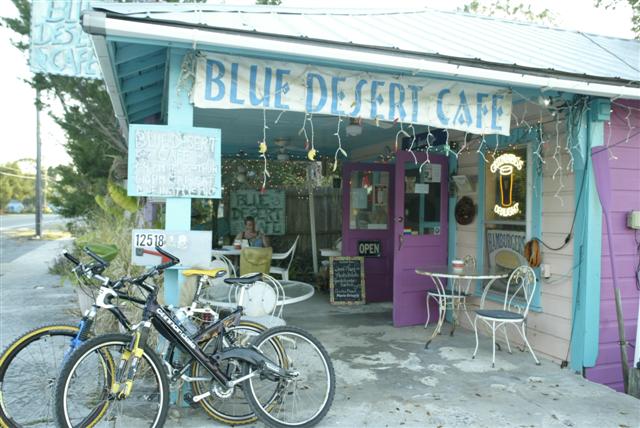 As soon as we got the camper into the spot, we unpacked our Mountain Bikes and road the 2 miles into town spending the afternoon sight seeing. With the sun setting on the Gulf, we enjoyed a nice dinner at a small restaurant owned and operated by the Chef, Therese Cavagnaro, called The Blue Desert Cafe. I think we stayed a bit to long considering it was pitch black on our ride home. It was so black that I had to get off of my bike and walk it for fear of hitting something in the road or sidewalk.
The blackness sure did make for some great star gazing when we pulled into our camp sight around 10 pm. We walked out onto the fishing dock and had no fall off from street lights to keep us from seeing every star in the sky.
March 10 2007 Cedar Key Saturday Night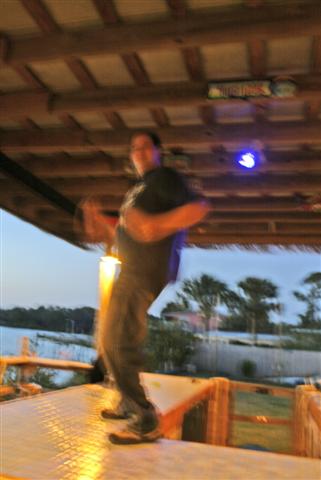 Woke up early again and enjoyed the sunrise while taking the dogs for a walk. We were getting ready to go into town when Pat noticed someone was working at the TIKI BAR next door.
I walked over and met Phil, the bartender, and struck up a conversation about something that neither of us cared about but he was nice enough to appease me with his opinion. During this trip we have definitely figured out who is a good server, bartender and who isn't.
My thoughts are if they take their time to make you feel comfortable while at their establishment during your stay that is great. Phil fell into this slot considering we told silly stories and compared theories on Cuba, fish, gator and music and never missed a beat. Phil dancing on the bar to some great Cuban rhythm.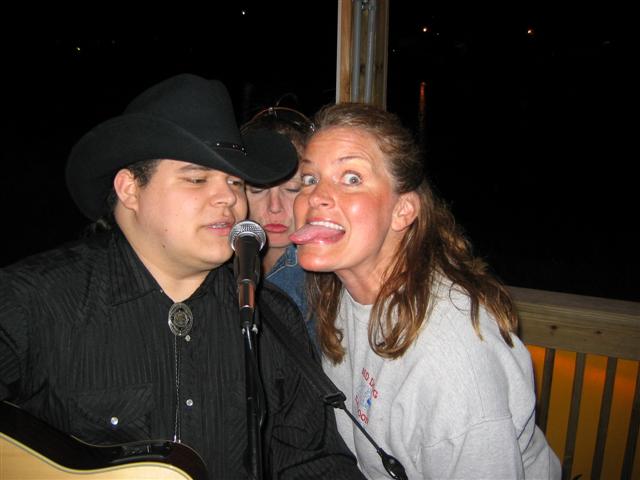 Dan the owner came by and offered to take us into town and have a designated driver take us home so no one had to worry about getting home safe. I must say that this quiet little drinking town with a fishing problem sure does liven up at night.
What a good time we had with the locals, as usual I tried to whittle the microphone from the entertainers hands and croak out some songs which I make up the words as I go.
We met a nice lady who continually sang D_I_V_O__R_C_E with the worst tune I have ever heard. This nice lady also decided that everyone in the bar should she the busty investment of $7800 that she made for her self while continuously giving me a lap dance, which I think she might have practiced before some where. We had a great time and would recommend anyone to enjoy Cedar Key not just for it's food and night life but for the people and the beauty of the Key.
March 11 2007 Dog Daze on Cedar Key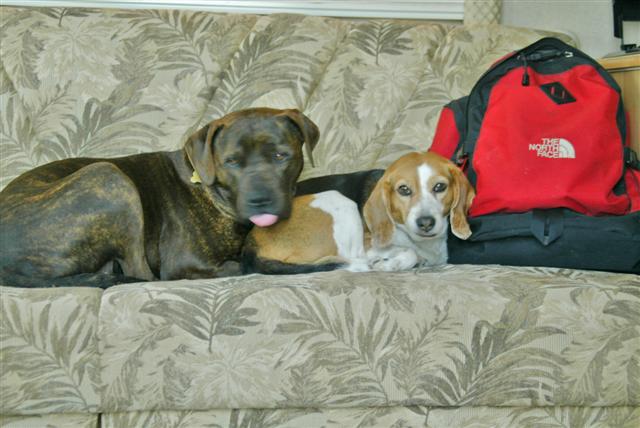 Sundays are always such lazy days for us including the dogs. We hung out around the camper enjoying the scenery and catching some rays. We took a ride out to the Suwannee River and tried to find some gators but no luck.
We debated on which dog would bring out the largest gator and then felt bad for even thinking it. We have decided against kayaking the Suwannee after hearing about the Sturgeon attacks!! I guess they are real aggressive this year and two people were killed. Came home late and had a nice dinner (Damn I can cook) and watched some TV. I think we are hitting the road tomorrow, But I'll say we'll be back to this great little town again some day.
March 12 2007
We drove most of the daylight hours today so we could reach a small Island in the north-west part of the state, landing on the Island of St. George at around 4:30 in the afternoon. We pulled into the State park and found no vacancies for camping for the next couple of weeks so we just made dinner and listened to the sounds of the gulls and the waves until sunset when the park closed.
We had to drive around 20 miles until we could find a park to stay for a couple of days since our plans were to come back and take some pictures and ride bikes, spending a day on the Island.
March 13 2007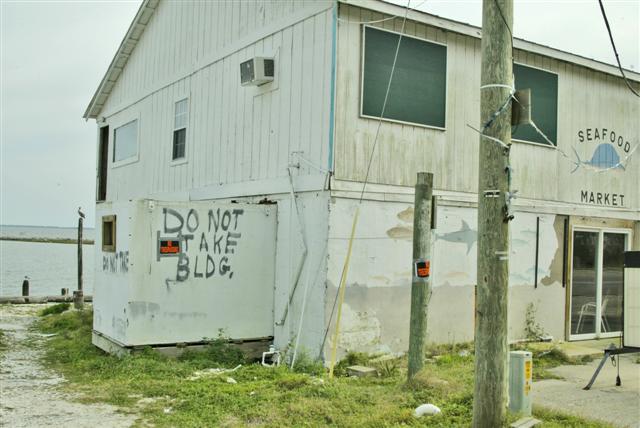 St. George Island & Utter Seclusion
I woke up this morning to the realization that we have no food. We have been in such desolate areas that we haven't seen a real grocery store in days. Luckily the Carrabelle Palms Campground has a convenience store on it where I could pay $3.50 for a half gallon of milk and $3.00 for a loaf of bread (Believe me I was thankful).
We had some breakfast and I made some PB&J's and we were off for the day to St. George State Park. The ride there is filled with beautiful homes and quite a bit of demolition. Our assumption is that the large amount of hurricanes two years ago were never recovered from. It is a shame because it looks like this was at one time a tourist destination and now it is one motel after another that have been abandoned. The upside to this is that we spent an entire day on the beach only seeing one other person.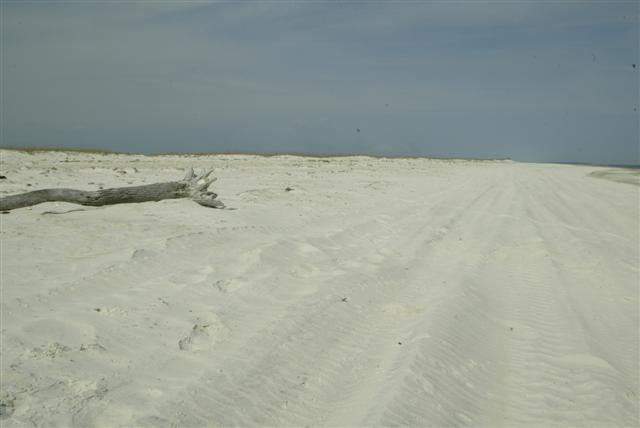 We rode our bikes for a while until we reached the end of the paved road. We decided to keep walking in the sand after the road ended to see if we could reach the tip of the Island. After walking for a bit, Pat informed me that the Trek was two and a half miles one way.
Our hike in the deep sand to reach the end of the Island was at first a great idea, but after around a mile it became a challenge with my flip flops flip flopping sand on to my butt with every step. After taking off my shoes we began a conversation about shin splints and how to repair them tonight when we got home. It was worth the hike to enjoy the seclusion and beauty that seemed untouched by man. As an after thought and feeling the clenching in my toes and shins I now know why we were the only ones out there to enjoy this part of the park.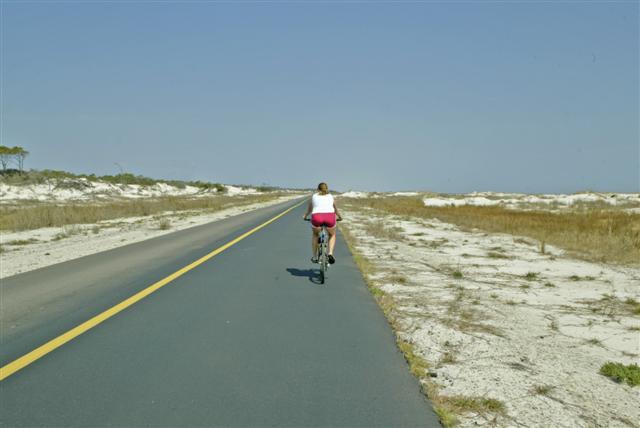 Upon arriving home I made an agreement with Pat that I would try to stay up past my usual 10 o'clock bed time. I looked at the clock and with exhausted excitement I thought I had made until 11 pm. It was at that point that the 10 o'clock news came on. You see we are on the border of the time change line and after figuring out it was not our oversight of the Day Light Savings time observance, that whole thought process made me so tired I had to go to sleep (Sorry Pat).
March 14, 2007 Black Water State Park & Hurricane Lake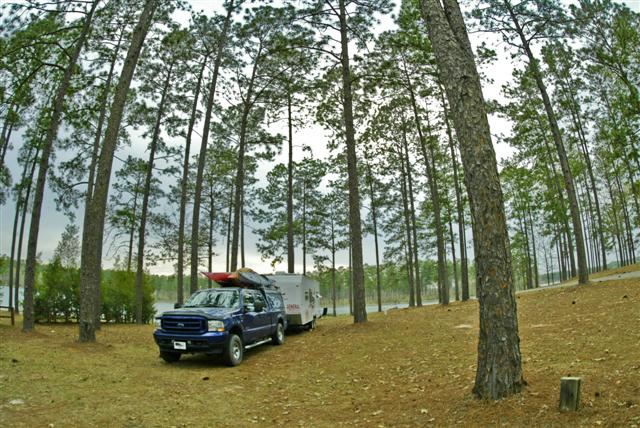 Today is actually the 19th and since we have been so far out in the wilderness we have not been able to get online. Here is where the hard part comes in, remembering what the heck happened four days ago!!! I will do my best to rustle up a memory or two.
We drove for quite a while to find a destination which Pat had decided on called the Black Water State Park. This was a bit in the North-West direction but it was a good choice for camping. We had the place pretty much all to ourselves and the view was great, over looking Hurricane Lake. We asked a gentleman that was fishing how big the lake was and his reply was Gigantic. We had some dinner and got settled in for the night. It was so quite and breezy we could hear the wind coming from miles away.
March 15, 2007
We woke up in the morning to one of the only rainy days we have had since we've been on the road. It was a relief to just hang out, play scrabble (Which I won all 3 games) and just laugh with each other for the entire day. I really didn't mind that we didn't kayak because my out of shape body is hurting from the past week of vigorous exercise.
March 16, 2007
On our way into town I had noticed that we had passed a canoe-kayak livery on which I assumed we could have them shuttle our kayaks to a good place on the river and give us a good idea of the length of time we would be on the water and such. Carlis and Valinda Hardy who own the Action on Blackwater River company were very helpful in giving us some tips and directing us to the best spots. The river was very slow flowing and low this, however, made for a lot more maneuvering thru braches and around rocks and brushing by tall, red clay and sand banks which I really enjoyed.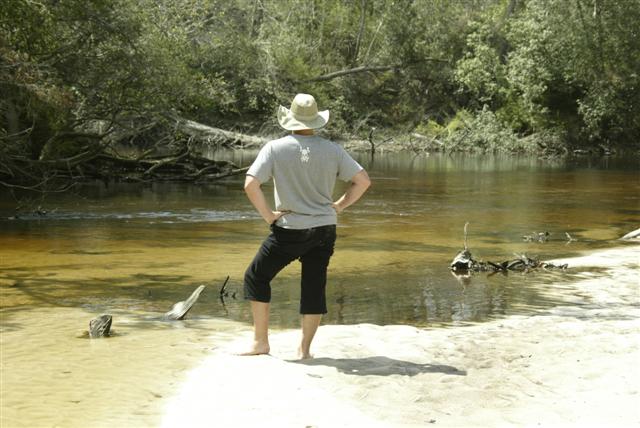 After the 4 hour trip we were both pretty tired and geeked at the same time. We went back to our little cabin on the lake and Pat started a nice fire and I made some dinner and we celebrated with a bottle of great champagne which was given to us by a good friend back in Milford (Thanks Joe).
We gazed at the stars and talked of our great fortune of getting this time to do our own thing and almost fell asleep outside.
Another early night and a great nights sleep ahead of us.
March 17, 2007 Happy St. Patty's Day!!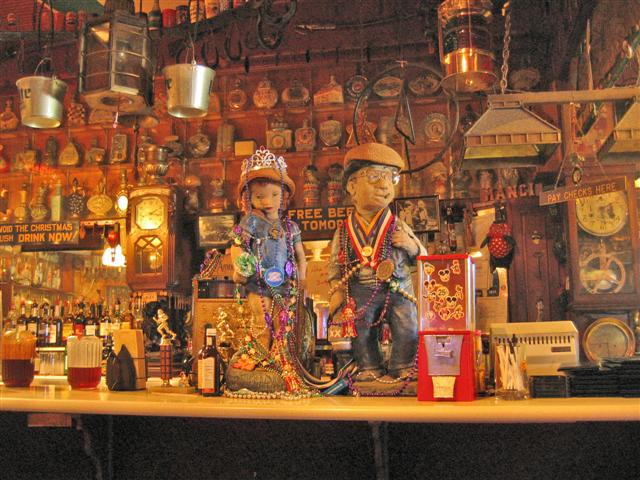 This is the first St. Patricks day we've had off together EVER and I can't say it was to exciting. We spent most of the day driving to Fairhope Alabama, looking for a really cool bar which we had read about in a magazine.
When we got there we found out it had burned down 2 years ago!? We ended up at another establishment which a local gentleman had recommended to us called, Manci's Antique Club. This place was unreal with the collection of memorabilia hung on the walls.
I guess this is a third generation owner and the stuff he had displayed had been there for that long I think. We had lunch and a beer and went back to the camper to find a place to stay for the night. While we were parked, a gentleman named Max had struck up a conversation with Pat about kayaking and offered to take us to a great place just an hour or so away.
I can't believe the amount of generous people we have come across in the few months we've been gone, it sure does make you feel at home where ever you are.
We had so much laundry to do and were out of food, so the rest of the night was spent at a plaza with a grocery store and a laundry mat in it. Well the luck of the Irish wasn't with me when I fell asleep at 9pm!!
March 18, 2007 Max's Secret River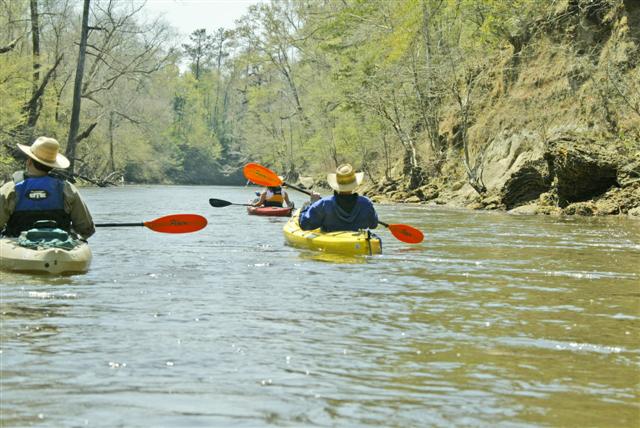 We woke up at 5 am and started of the day right with a big breakfast and the feel of excitement in our stomachs. I don't know if anyone else gets like this but the thrill of the unknown is sometimes the best thing for me.
Not only did we not know where we were going, which I'm used to, but we didn't know who we were going with. It turns out that we had one of the best days yet.
Max had brought a friend with him named Jim and the four of us kayaked one of the most serene, beautiful rivers I have ever been on. It seems like we were old friends, just catching up on the past. Asking about wives, kids, jobs, relatives and home towns made me feel like one of the group, not the only girl with a bunch of guys on a kayak trip.
Thanks Max for the hospitality and the history on the area, we had a great time.
March 19, 2007 Playing Catch Up and Other Goofy Games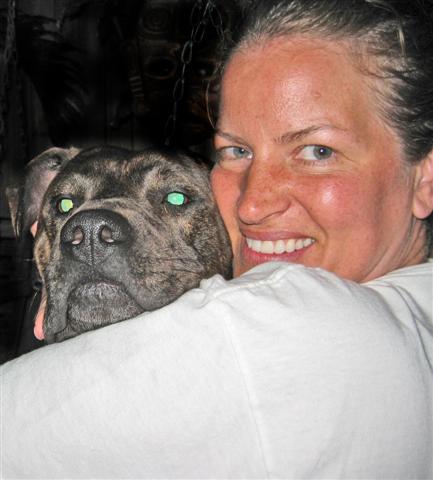 This morning we woke up early and Pat got on the computer to catch up on the 106 missed emails that we haven't read yet. We actually sat in a parking lot until almost five in the afternoon checking emails and updating the website.
Sometimes I feel sorry for Pat when we fall so far behind on emails, not because of the catch-up work but because the whole time I am saying, "Are you ready yet?" pretty much over and over for hours sometimes.
I will then start to huff and humm around the camper, scuffing my feet and opening and closing every cabinet like I have lost something very important.
After a lot of moving around and making annoying noises I will sometimes play finger puppets or play Jax on the table in front of him commenting on every stupid gesture that I make. After I have used up my less annoying tactics I will try jumping jacks beside him while stating that I am only going to do them while he is on the computer, just to get them out of the way (Like it's a daily regiment or something!).
By the time that I am worn out from all of the idiotic things I do, Pat is usually ready to go and I'm sure quite ready to strangle me.
We drove from Alabama to Mississippi and ended up staying in a parking lot with some abandoned FEMA trailers, unaware why at this late date after the hurricane they would still be put to good use.
March 20, 2007 Pulling into Folsom and More Time With Family
We woke up to the sounds of Mac trucks pulling in and out of the lot we were staying in and decided to get going. We arrived at my sisters house VIA HWY 60, WOW! what an interesting road.
We counted 11 turns to stay on the HWY in less than a half mile. Each turn bringing the road more and more narrowed. My sister has lived here for two years and she has never even been on the road?
I feel like we have arrived in Paradise with the long winding driveway coming up to the house while passing their horses and a large pond. They are currently having some work done to put in a grotto around the pool area and re-landscape the house after Katrina.
We got the grand tour of the 9000 square foot house and spent the rest of the day with my daughter and sister lounging around outside. They have the invisible fence here, so my dogs are able to roam around without a leash on. My sister also has 3 dogs and they're all having a blast playing and wearing themselves out.
March 21, 2007 Downtown New Orleans & The French Quarter
Since we have been on the road we have been waiting for our passports to arrive at my in-laws house. After many hours (about 24 hours total!!) on hold with the passport agency and numerous emails we have finally learned that we have to pick them up ourselves if we want them before our trip to Jamaica on Monday the 26th.
Fortunately New Orleans if one of the 7 passport agencies in the US. We went downtown all day and checked out the devastation that is still a common presence in the area.
Downtown New Orleans and the French Quarter are exactly as I remember them; dirty, smelly, and filled with history and culture.
One day down here is plenty for me and I find myself missing the serenity of our small home away from home.
The rest of the week we will be doing family stuff so I will not be online again until we get back from vacation. I'm sure we will have lots of good stories for that time as these are great friends we are going with and they love to have fun.
Make Sure to check out our March Gallery for tons of cool pictures from this months adventures.
Need Unlimited photo storage- FREE Trial of Smugmug