When we realize our insignificance in this world,
it some how relieves the pressures from society to succeed - Cindy Bonish 04/07
Bonnaroo Music Festival 2007
Manchester Tennessee
Our Bonnaroo Gallery

Building up to this event, Cindy and I had no idea what to expect. Two of our writers who work for the Smalltown Lowdown back in Michigan who knew way more about this type of music that we were supposed to meet in Manchester, had to back out at the very last minute due to a tragic death in the family. So now, the two of us, the photographers in the group, would have to try and take in multiple shows while having to get some good shots at the same time.

Sounds easy enough; that is until you read through the schedule and realize with over 50 bands performing on multiple stages, many performing at the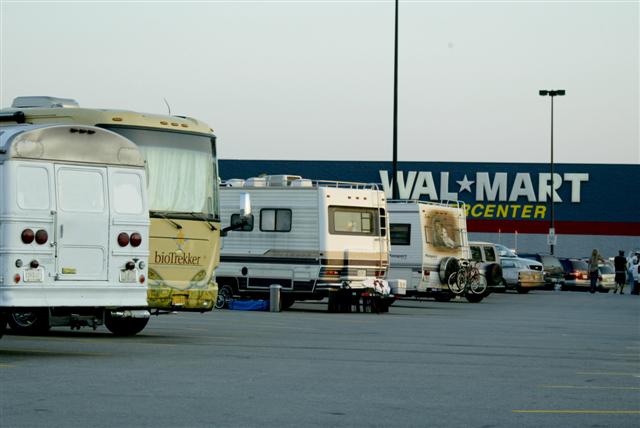 same time, covering this colossal event short handed was going to be very hard.
You have to get into Manchester a few days in advance to get into the long line which just gets you into the campground.
The Wal-Mart in Manchester is enough of an experience that I couldn't wait to get into the show. RV's of every type, from VW Buses, to RV of all types to tents and then there was people just sleeping on the ground.
They say the event brings in a few million dollars in revenue for the 4 days it's in town, so the local people just deal with it. I'm sure many of them probably leave town to get away from the hordes of people.
Then there is getting into Bonnaroo which was wild enough. For the simple fact that we travel full-time in our 25' Travel Trailer, when we heard they didn't allow dogs, bikes or motorcycles; we already had 3 strikes against us and we weren't even at the gates yet, this was going to be a bigger ordeal than we had planned.
We found a kennel in the small town of Manchester Tennessee to house our two dogs for the weekend and we knew that was a good idea. The temperatures we soaring around the high 90's and with us wandering around a 700 acre farm, which was the festival grounds for the weekend, we were worried about the dogs well-being anyway. The motorcycle was dropped off at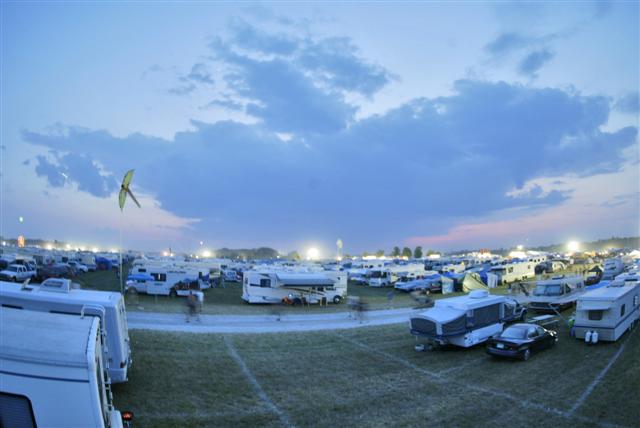 a local shop to get some needed repairs and two of our 3 strikes were taken care of.

What to do with the mountain bikes that ride in the bed of our tow vehicle? We pulled up to the gate for the mandatory vehicle search, and the bikes were found immediately. Not like we were trying to hide them or anything.
They told us we wouldn't be allowed in with them, and after pleading with a supervisor who was called over, we came to an agreement that if we took off our wheels and locked them to the fence at the entrance, we would be allowed to enter with just the frames left in the bed of the truck.
This was a good thing since we had just waited in line for multiple hours just to get to this point. Some weren't so lucky and were turned around to get rid of what ever contraband they had hidden in their vehicles. We were told by one guard that they were looking for drugs and weapons. "No need to worry if you have personal consumption, we're looking for pounds and kilos!" he said to us with a smirk on his face.

Camping & Partying at Bonnaroo

The first thing I noticed when we pulled into the sea of RV's, was the amount of rental units. If you plan on attending an event of this magnitude, do yourself a favor, and rent an RV for the weekend. With summer temperatures hovering around 100 degrees, who wants to be camping in a tent for 4 days straight?
RVing is a must, and bring more water than you think you're going to use is an understament. They actually have a Surviving Bonnaroo section on their site that lists all the required gear you'll need. Things like Sunscreen, a light weight long sleeve shirt to keep as much of your skin covered, a bandana to cover you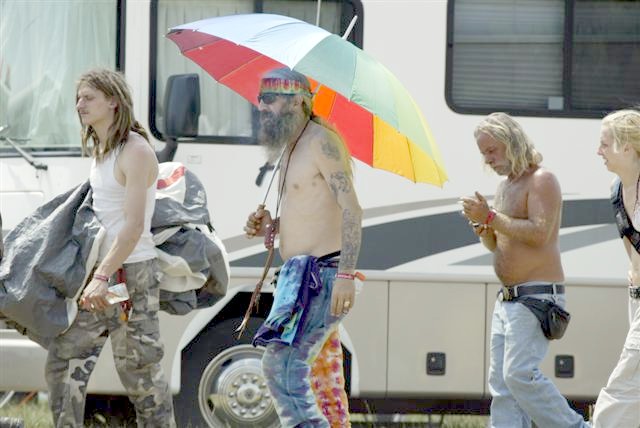 mouth during the dust, a wide brimmed hat to keep your head out of the harsh sun...etc Any of the high quality fishing shirts that are made of very lightweight, breathable material will be your best bet to staying comfortable.
Sitting in our campsite, we could count 10 rental units within eyesight. One person we talked with told us every RV Shop in the state was sold out of rental units for this weekend. If you want to rent one, you have to make your reservations several months in advance.

The rental RV's on both sides of us were filled with groups of people who had traveled from all over the United States. One group who was camped near us consisted of four guys in their mid-40's who had all been high school buddies. Once a year they got back together somewhere and partied for a few days. This year they got the "Ok's" from the wives, and all met in North Carolina to rent an RV (The closest place with an available unit) and drive across the state of Tennessee for a week of music and fun at Bonnaroo. Like us, they were virgins to this event.

Our neighbors on the opposite side from us were more the typical Bonnaroo attendee's. This group consisted of multiple individuals who ranged anywhere from young 20 something's to mid-30's. The mixed group of males and females had a few who had been to every Bonnaroo event, and a few who were experiencing it for the first time. They too had rented an RV for the weekend and said they had to make their reservations 8 months in advance!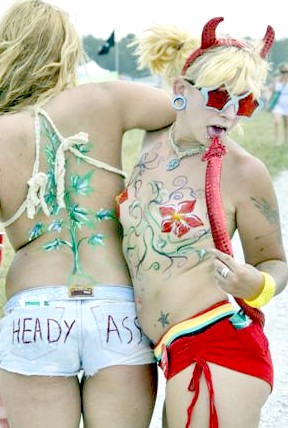 The camping is one thing, the music is what everyone comes for, but the People Watching is world class. This event brings together all likes of cultures and lifestyles. You'll see a group of 20 year old girls, skipping down the dusty road to one of the shows, followed by a few hippies in their golden years.
One couple was sporting some of the longest dreadlocks I've ever seen on man or woman. They must have been growing them out for decades. In the debilitating heat the Tennessee summer had in store for us, the clothing was very scarce if any at all on many of the participants. Some guys were stripped down to their tightie-whiteies, and one girl was in a bikini carrying all her clothes folded on her head! Many just chose to go topless with their bodies painted, and some were covered from head to toe with cloth and only their eyes showing.

We saw a guy that looked like Father Time himself, rocking out to Tool, while a few young kids in their diapers played in the sand with their parents enjoying the show beside them. One groovy 6 year old was sporting a set of blond dreadlocks down to his shoulders. I noticed he was laughing at the topless girls that had just walked past him who were painted from head to toe in primary colors. This event definitely has something for everyone who enjoys music.

I'll try and be even to all the bands and try and not mention just one, but if I had to, I'd mention that Tool had the crowd whipped into such a frenzy, I didn't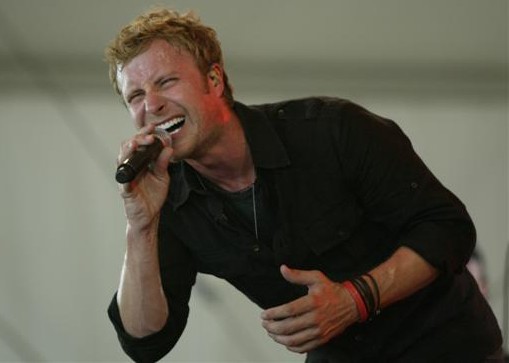 even dare go near the stage. They played for almost 3 full hours and the energy coming from the crowd could have powered a small city.
Dierks Bentley was the only country music artist at the show, and had one of the biggest audiences of any band of the weekend. His performance with Sam Bush was fantastic and one of my favorites of the weekend. Dierks put on such a stage show, I cant believe he kept his voice in tact!
The Fire Cracker Jazz Band performed such an energetic show in the sweltering heat; it was just amazing that none of them fell off the stage from heat exhaustion. You would have thought there was a water hose attached to there heads from the amount of water flowing down their brows.

Ziggy Marley performed to a pumped up crowd, and jammed for over 2 hours with his rhythmic sounds. The smell of his native grown crop floating above the swaying fans was so strong; you could see the haze from two stages over.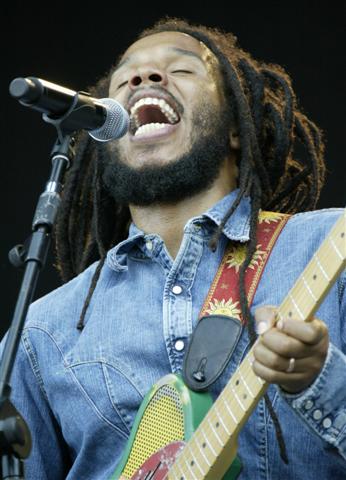 Then there was The Police!! What else is there to say about this band other than "It was just amazing!" For me, I was never really a big fan of their music when they were popular in their hey-day, but with years of different music tastes coming and going, you just know they are classic.
Cindy and I both commented on how much musical sound came from only three guys on stage. Songs went on for 8 to 10 minutes with reggae, rock and blues all mixed into one. I know this show was one for all attendee's, as you couldn't fit another person in the grounds!

When they sang their ground breaking hit that launched their career – Roxanne – You could hear every person in the audience, male, female, young and old sing along word for word along with the band.
Who doesn't like to scream out "Roxanne", and twist the name as high pitched and long as your voice allows? It was very comical to hear everyone around us belting out their own rendition.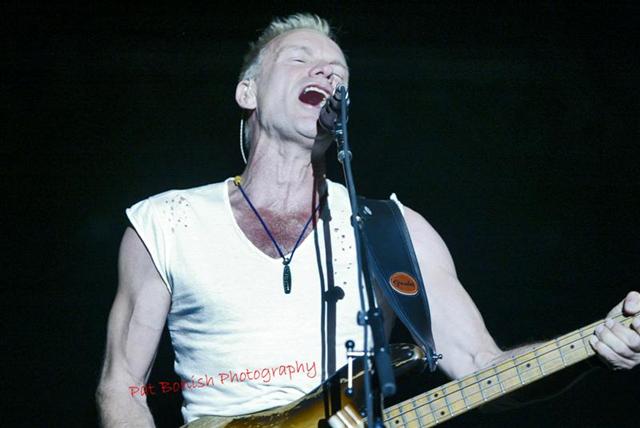 Sting of the Police, Belting out one of his Ballads
Conclusion

With so many bands, it's just too hard to talk about all of them. The music was fantastic and was everywhere around you. As you would lose the sound from one stage, you would walk into a the crowd from the next and be immersed right back into more fantastic music.
We found a few new bands we had never heard of who now will be added to our portfolio of hits. We also heard some of our long time favorites that we've been listening to for years. Some people we talked to had a specific list of must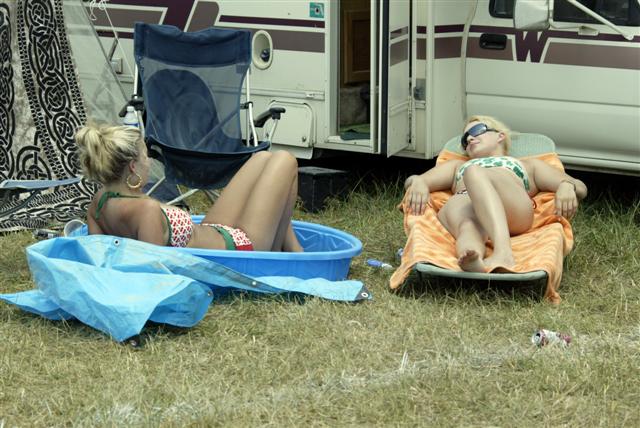 see performers, while others just picked a stage to hang out at and who ever played, that was the show they enjoyed.
For us, it was all about the People Watching and that funky atmosphere. Everyone who attended has their own story of Bonnaroo, but for our first time, we loved every minute of it. I'm not sure how long it'll take to get the smell of skunk off our trailer, and we never ran one over, but this event was one wild party!!
Like I said before, for many, Bonnaroo is a place to come and loose your inhibitions, for others, it's just being surrounded by great music and good friends. Anyway you look at, there is nothing but fun to be had.
Just do yourself a favor and bring an RV and a Generator, because there are no hook-ups and it's the middle of the summer in Tennessee. It can get HOT! Do your neighbor a favor and make sure your generator has one of the exhaust pipes that exhausts the gasses above the RV's and not into the neighboring camper.

Return to Top of Page
Need Unlimited photo storage- FREE Trial of Smugmug